As snow mountain play, back country, for approach of full-scale snow mountain climbing.
I want to enjoy the winter mountains more! For those who are thinking of it, one of the items that can get along well with the winter mountains is "snow shoe".
Snowshoes are also used for snow mountain activities, back country, and approaches to full-scale snow mountain climbing.
Even if you think "I want to buy"There are many types and I do not know what to choose.I wonder if there are many such people.
This time, a long-established mountain climbing and outdoor products specialty store in Kanda Jinbocho, TokyoMr. Yasuhiro Yokota of "Sakaiya Sports"To"Snowshoe types and characteristics of each brand"I was told about
◆ Snowshoe is roughly divided into 3 types
-For snow trekkingFor walking on flat ground

・ It is usable in snowy mountains such as back countryFor climbing

・ Similar to use on snow trail runFor racing
◆ What is the difference?
The race is a bit special, so what's the difference between walking and climbing?
・ Number of teeth

・ Do you have a heel lifter?
When walking wearing snowshoes, heels float and walk in the form of dragging the snow surface.When there is a heel lifter, you can put the heel on the heel lifter when the tilt angle comes out, and you can step on it as a whole.Without this, it would be toe standing and the power could not be transmitted,It will only cut the snow surface.
Because
The one with a heel lifter and relatively many teeth is "for climbing", and the one without it is for "flat".
Please keep in mind.
◆ What model is there for "Climbing"?
Most of what we handle in Sakai or Sports"For climbing"I am usingThe most major or well-selling is
MSR's "Lightning Ascent".


The best reason to be chosen is "cool" (lol)There is also lightness,The thinness when stored is also attractive.
When I get a sense of volume, when I put it on a BC (back country) zack and slip on a board or put it on a large zack, when such a heavy thing comes to the outermost side, it is pulled more backward.
later,Compared to other manufacturers, all parts can be removed, and in particular, the board can also be removed from the band, so repairs will work if you have spare bands when the band is broken locallyThat is also a convenient part.

In terms of easy repair work, it was when the band broke off locally.ATLAS"Spin drift"Is also excellent.
Other models areNylon bandAnd recentlyBore(I use a type that rounds and tightens a circular dial).
I can fix the bore by bringing in my own tools, but because the parts are small, it is actually quite difficult to say that I can do this during snowstorm or snowstorm activities because of snowstorms.
For it,Roughly "spin drift", or boneless making makes repair easy.
It feels like it's sewn up with a single band, but the extra band that keeps it together is a spare band, which you can remove and use immediately.
◆ Which snowshoe is the easiest to walk?
It is ATLAS that I think is the easiest to walk personally.
Snowshoes are made by MSR, TSL, TUBBS, and many other manufacturers, but each one has a binding binding pin and a deck pinning pin. By pinning, the foot can only move in the same direction with the deck against the deck.Spring loaded suspension,Resin suspensionBecause I stopped at this, I also move this way, but also this movement.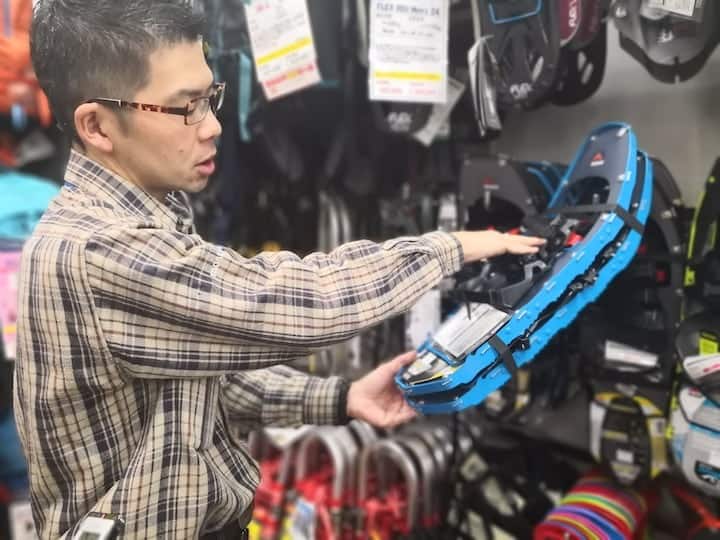 For the slope,
If you put your feet straight, your feet are straight but the snowshoe bites firmly against the snow surface.
Although the snowshoe bites into the snow surface firmly, the foot can be placed straight.
So,The burden on the ankles is light.
■ Spring loaded suspension (SLS)
This system is designed to make it easy to maintain a comfortable and balanced posture even in mountainous fields where the slope of the snow surface and the topography change significantly. Connect the binding and the frame with a strong belt with high spring effect. The strong repulsive force of the belt is used to absorb the shock and convert it into a driving force. The snowshoe accurately follows even the intense movement, enabling more accurate and light footsteps. (Patented)
Quoted from ATLAS official brand site
Sakaiya Sports Echo Plaza
Directions
● For customers coming to the store by public transportation
・ From JR Chuo Sobu Line "Aqueduct Station" East Exit, walk 10 minutes.
・ From the subway Hanzomon Line, Mita Line, Shinjuku Line "Jimbocho Station" 4 exit, walk 7 minutes.
● For customers coming to the store by car
There is no parking lot in our shop. Please use the coin parking near you.
store information
"Echo Plaza" is a proposal shop of Sakaiya that provides information on the latest trends in outdoor products, as if it were echoing in the mountains.
In a wide space of about 280m2, we have developed big items such as Shack Pack with 550 items or more, as well as goods such as shuffling, camping equipment, GPS and lights.
| | |
| --- | --- |
| Store name | Sakaiya Sports Echo Plaza |
| Address | 101-0051 Showa Building 2F, Kanda Jimbocho, Chiyoda-ku, Tokyo |
| Telephone number | 03-3262-0583 |
| FAX number | 03-3262-0486 |
| Business hours | 11: 00-20: 00 24 hours a day, except the first day of the year |
| Handling product | Backpack, Shruff, Trekking Accessories, Clock, Compass, GPS, Hat, Gloves |