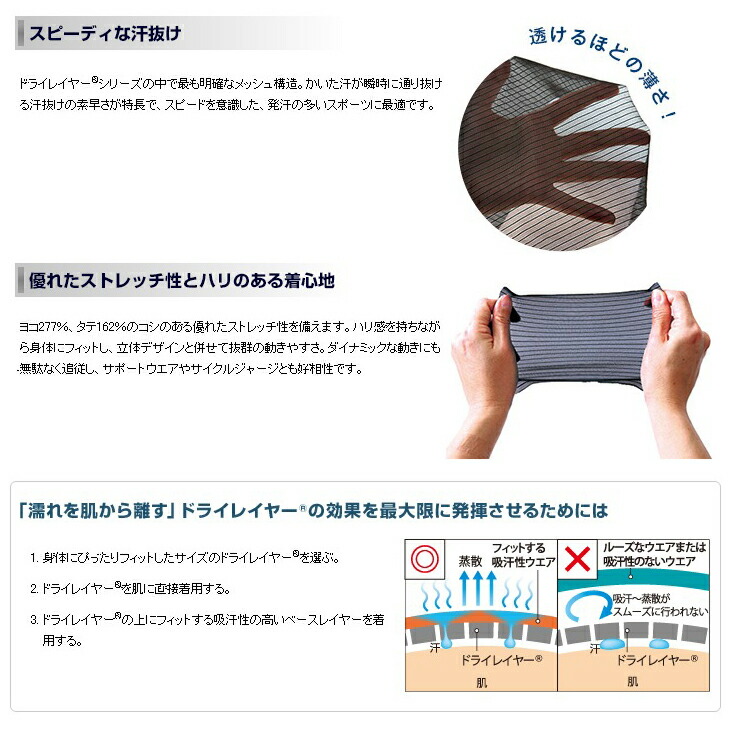 It has excellent durability and water repellence, and it is a dry layer that removes wetting from the skin when worn directly on the skin.
Even if your sweat-absorbent quick-drying wears with sweat or rain, wearing a dry layer prevents the skin from getting wet and significantly reduces the risk of hypothermia.
Power mesh was speed consciousDry layer active in sports with a lot of sweatingis. It is recommended for trail running and bicycles where you want to suppress unnecessary temperature rise and prevent sweat cold at the same time. Support wear is also compatible with the excellent stretch and high fit that follow dynamic movements.
By adopting left and right integrated non-swing pad to hold the bust in the plane, it is recommended for running etc. because the vibration of the bust can be effectively suppressed.
■ Superior stretchiness and fit with comfort ■ Non swing pad adoption that suppresses the shaking of the bust
■ We keep skin dry by superior durable water repellency (XNUM X washing / X NUM X point) and reduce wet cold
■ Sweat component is hard to remain on skin, and it is hard to smell even if we sweat

Weight 67g
Material Body: Polyester XNUM% Polyurethane 85% Inside front part: Polyester XNUM%, durable water repellent finish
Country of origin Japan
Fine track
FUW0817
Protect your body from the cold of sweat and rain
PORTALFIELD
Expert review
Shake prevention effect large
Holds the non-swing pad so that the bust is pressed from above, and controls the swing firmly. The difference between a normal bra and a tank top, so the shoulder is wide and thin, so it is difficult to bite.
While there is an effect to prevent sweat cold, coarse mesh is comfortable and provides adequate ventilation in the hot season.
Without layering bra + dry layer, it is also easy to finish with 1 pieces.
Because the rubber of the under bust is a little hard, it becomes softer than ◎.
Stress free
Wearing feeling
I felt the texture of the fabric when I felt the hand, but there was nothing particularly uncomfortable when wearing it, and I was surprised at the outstanding breathability.
The pad portion is thinner compared to other manufacturers, and the heat buildup has also been improved.
However, because it has a structure to hold the chest part by shaking prevention (non-wandering pad), the weakness that looks a bit poor is also ....
Because the fabric is firmly to the back, sweat treatment on the back is quick and comfortable.
Above all it is a good place of the bra tank top that it is not necessary to overlap with the bra + inner.
You can concentrate on running! Fit bra Bra tank top

From the item description of the manufacturer (Fine track)
■ Dry layer for athletes®
■ wearing with excellent stretch and firmness
■ Non-vibration pad adoption which suppresses the vibration of the bust
■ Excellent durable water repellency <100 wash / 80 points> keeps skin dry and reduces wetness
■ We keep physical strength in stable warmth
■ Sweat component is hard to remain on skin, and it is hard to smell even if we sweat
■ A feeling of wear that is stress free with high fit by solid design that we pursued thoroughly
The bra is unexpectedly bulky. Well, this will lead to a lighter package.
This product is also available at Sakai or Sports LaLa Sakai. (Please pardon if out of stock)
It is safe because you can purchase while comparing various products while receiving advice from experts who are rich in product knowledge.
Because the size and weight of the product, and the sense of size at the time of storage can be actually confirmed for the hand, those who are concerned should check with Sakai or Sports LaLa Sakai!
Sakaiya Sports LaLa Sakaiya
| | |
| --- | --- |
| Store name | Sakaiya Sports LaLa Sakaiya |
| Address | 〒101-0051 2-46 Kanda-Jimbocho, Chiyoda-ku, Tokyo |
| Phone number | 03-3262-0568 |
| FAX | 03-3262-0569 |
| Information | 11: 00-20: 00 24 hours a day, except the first day of the year |
| Handling product | Women's clothing (other than mont bell) Women's rainwear |
Access
● For customers coming to the store by public transportation
・ From JR Chuo Sobu Line "Aqueduct Station" East Exit, walk 8 minutes.
・ From the subway Hanzomon Line, Mita Line, Shinjuku Line "Jimbocho Station" 4 exit, walk 6 minutes.
● For customers coming to the store by car
There is no parking lot in our shop. Please use the coin parking near you.
 Shop Information
2008 Year 10 Month It is a specialized shop that specializes in ladies wear, opened on 25.
We will welcome you with our full range of products and services. All staff members are women, so we can handle detailed consultations such as sizing for female customers. Leading the first-class outdoor brand, because it has a wide lineup of women's wear from the outer jacket to underwear, making it easy to do total coordination!

.