It is a super-lightweight multi-shell pants with a special XNUM layer, using a newly developed waterproof breathable material "Ever Brace XNUM X D".
While maintaining the different dimensional stretchability of Everbless, it achieves even lighter weight.
It has both a comfortable fit and good skin, and it can be used as a lightweight waterproof shell for spring and summer in many outdoor activities such as mountain climbing and trail running, as well as mountain climbing and climbing.
Color: Black
Size: M (waist 74 to 82 hip 90 to 98 inseam 74 to 79)
Material: (front) X NUM X denier stretch nylon lip, (back) X NUM X D dot, (interlayer) everbless coating
Weight: 200g
Country of origin: Japan
PORTALFIELD
Expert review
With a sense of security
Light
Balance
2.5 layer, not heavy with sweat and condensation
3 / 4 zipper, convenient for removal and ventilation
Harness of moderate cloth which is hard to stick to body even if it is blown by wind,
It is GOOD that is equipped with functions that you want in the UL series that wants to balance a sense of security and lightness.
From the item description of the manufacturer (finetrack)
Super lightweight compact
While being durable and stretchable for all-round use, the jacket is extremely lightweight, with XNUM x g (M size M), and can be stored in an overwhelmingly compact manner.
Hard to contain water, good skin away
The back side with XNUM X D dots has good skin separation and is hard to contain water, so it won't get wet even if it gets wet. From hard activities such as mountain climbing and climbing, we are active in mountain climbing and fast hike.
Simple design with scraped waste
Simple design with scraped waste
Clothing tends to be sweaty and heavy, but with this, it seems that there is no concern.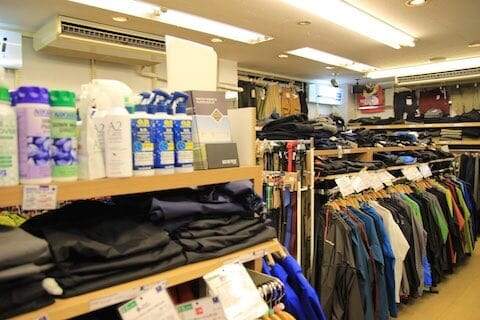 This product is Sakaiya Sports Wear HallBut you can buy it. (Please pardon if out of stock)
It is safe because you can purchase while comparing various products while receiving advice from experts who are rich in product knowledge.
The size and weight of the product, and the sense of size at the time of storage, etc. can actually be checked for the hand, so those who are concerned should check at the wear hall!
About Sakaiya Sports Wear Hall
| | |
| --- | --- |
| Store name | Sakaiya Sports Wear Hall |
| Address | 〒101-0051 2-48 Kanda-Jimbocho, Chiyoda-ku, Tokyo |
| Phone Number | 03-3262-0432 |
| FAX Number | 03-3262-7285 |
| Business hours | 11: 00-20: 00 24 hours a day, except the first day of the year |
| Handling product | General wear for men · Rain wear · other accessories for men · Maintenance gear |
Directions and Parking
● For customers coming to the store by public transportation
・ From JR Chuo Sobu Line "Aqueduct Station" East Exit, walk 8 minutes.
・ From the subway Hanzomon Line, Mita Line, Shinjuku Line "Jimbocho Station" 4 exit, walk 6 minutes.
● For customers coming to the store by car
There is no parking lot in our shop. Please use the coin parking near you.
 Store Infomation
The Sakai Sportswear Hall (1 Building) deals with all kinds of outdoor, mountain climbing and trail running wear.
We have confidence in our assortment of wear covering all major brands in Japan and abroad! Above all, at the 2 floor, the Canadian brand 【Arcterix Special Corner】 is permanently installed with the best lineup in Japan! Even if you are a beginner, the staff will guide you carefully. Please feel free to contact us.【1F】Shirts, light jackets, windshells, softshells, slacks【2F】Underwear, support tights, trail running shorts, ARC'TERYX / XNUM X mesh / WESTCOMB wear corner【3F】Rain wear · Alpine jacket · Over pants · Down jacket · fleece※ Women's wear in general is handled by "LaLa Sakaiya".