A winter alpine style outer shell pants with an Everless breathable fabric with exceptional dimensional stretch properties that stretches horizontally.
In places where high mobility is required, "Ever Breath Knit" with even better stretch properties is placed to achieve stress-free mobility.
It has details that support hard snowy mountain activities, such as anti-grease properties that are not slippery on the snow surface, link vents that instantly drain stuffiness in wear, and crampons that protect the hem from skis and crampons.
■ Applicable for winter alpine climbing, ice climbing, snow mountain climbing, etc.
■ Outstanding mobility as an outer shell
■ Link vent equipment that allows efficient ventilation in the wear
■ Equipped with details that can be used on snowy mountains
■ An anti-grease property that is hard to slip on the snow surface and enhances safety when sliding down
■ Pants are equipped with Eisen Guard
Weight: 550g
Material: Table: 100D4WAY stretch nylon ox Back: 20D knit Intermediate: Ever breath membrane
Country of origin: Japan
PORTALFIELD
Expert review
It's easy to move and it's hard to get stuffy.
In addition to the ease of use, such as placement of the zip of ventilation and waist adjustment.
It is a guy who is sure to climb the snowy mountains.
From the item description of the manufacturer (finetrak)
Features
Tough fabric with different dimensional stretchability and ever breath only on the part that needs momentum®Arrange the knit panel. Outer shell for dynamic movement in snowy mountains.
To hard snow mountain activities
Ever Bless with XNUM denier in jacket, XNUM x denier in different dimension stretch in pants®We adopt the highest strength material. Even with hard activities, it boasts the strength and durability of peace of mind.
It is hard to slip on the snow surface
It has a fabric surface structure with antifriction to the snow surface and anti-grease property to enhance the safety when sliding off.
Instantly discharge the stuffiness in the wear
Original waterproof breathable material with the highest level of breathability-Everbless®Reduce the stuffiness at the time of action.
In addition, the heat trapped when there is a large amount of exercise, link vent®Can be discharged instantly by opening the
Mr. Miyabe has no mistake! If you say that, there is no doubt. Recommended!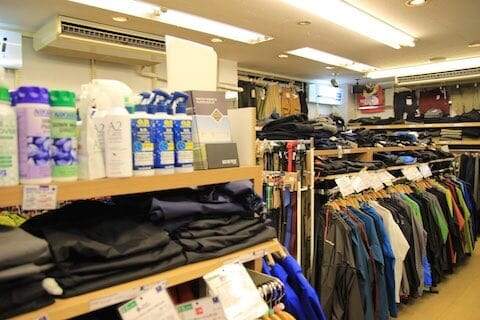 This product is Sakaiya Sports Wear HallBut you can buy it. (Please pardon if out of stock)
It is safe because you can purchase while comparing various products while receiving advice from experts who are rich in product knowledge.
The size and weight of the product, and the sense of size at the time of storage, etc. can actually be checked for the hand, so those who are concerned should check at the wear hall!
About Sakaiya Sports Wear Hall
| | |
| --- | --- |
| Store name | Sakaiya Sports Wear Hall |
| Address | 〒101-0051 2-48 Kanda-Jimbocho, Chiyoda-ku, Tokyo |
| Phone Number | 03-3262-0432 |
| FAX Number | 03-3262-7285 |
| Business hours | 11: 00-20: 00 24 hours a day, except the first day of the year |
| Handling product | General wear for men · Rain wear · other accessories for men · Maintenance gear |
Directions and Parking
● For customers coming to the store by public transportation
・ From JR Chuo Sobu Line "Aqueduct Station" East Exit, walk 8 minutes.
・ From the subway Hanzomon Line, Mita Line, Shinjuku Line "Jimbocho Station" 4 exit, walk 6 minutes.
● For customers coming to the store by car
There is no parking lot in our shop. Please use the coin parking near you.
 Store Infomation
The Sakai Sportswear Hall (1 Building) deals with all kinds of outdoor, mountain climbing and trail running wear.
We have confidence in our assortment of wear covering all major brands in Japan and abroad! Above all, at the 2 floor, the Canadian brand 【Arcterix Special Corner】 is permanently installed with the best lineup in Japan! Even if you are a beginner, the staff will guide you carefully. Please feel free to contact us.【1F】Shirts, light jackets, windshells, softshells, slacks【2F】Underwear, support tights, trail running shorts, ARC'TERYX / XNUM X mesh / WESTCOMB wear corner【3F】Rain wear · Alpine jacket · Over pants · Down jacket · fleece※ Women's wear in general is handled by "LaLa Sakaiya".