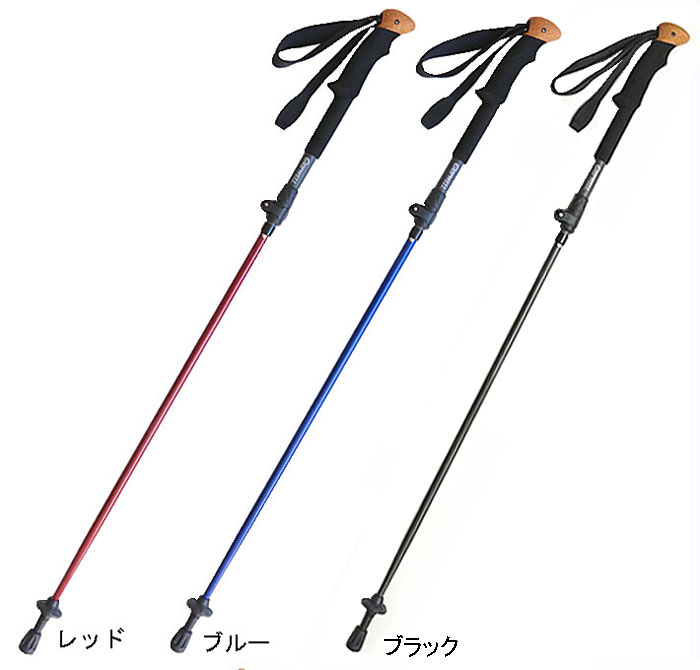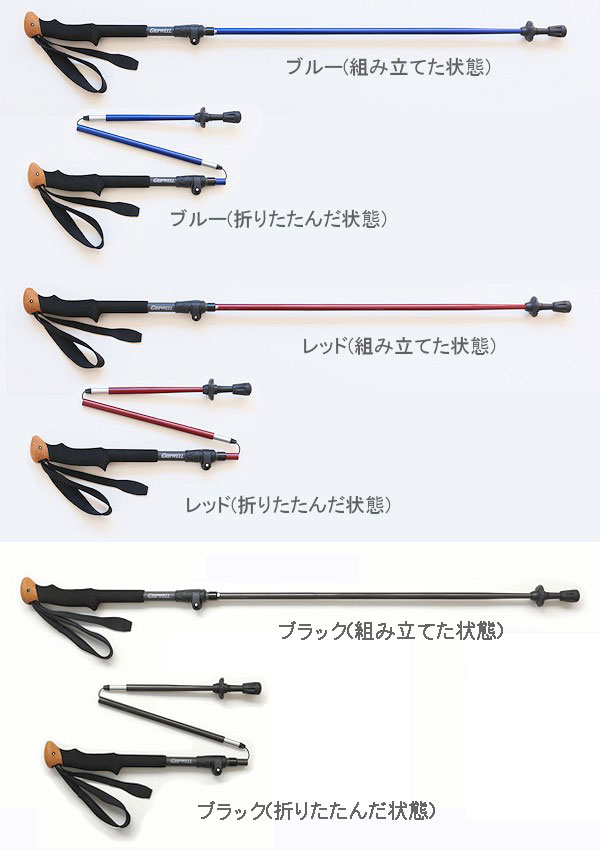 Gripwell (GRIPWELL) Rapid carbon
 
Lightweight design using carbon material for all shafts inherits the traditional grip well trekking pole. On top of that, Gripwell Trekking Pole adopts the first "folding type (※)" to improve portability while securing the strength as a trekking pole.
Storage length at the time of folding is only XNUM X cm. Convenient for storage when going out with a small backpack.
While maintaining the "light and simple" unique to Gripwell Trekking Pole, this model emphasizes portability and ease of adjusting the length.
※ This refers to a structure in which divided shafts are connected by a flexible and high-strength wire.
・ Length adjustment method: lever lock type
· Shaft material: carbon
・ Weight: X NUM X g (per X NUM X ・ end rubber not included)
・ Use length: X NUM X cm-X NUM X cm
・ Storage length: XNUM X cm
・ Length adjustable strap
・ Accessories: Point rubber ・ Normal ring ・ Carrying case ・ Velcro band
PORTALFIELD
Expert review
Storage size is compact anyway by folding. Moreover, because all the pipes are all carbon, the lightness is also outstanding.
If you get used to it, you can assemble it almost instantly.
From the item description of the manufacturer (Gripwell)
Made of carbon, anyway, "light!"
GRIPWELL Trekking Pole (Carbon Super Light, Gem Carbon) XNUM X weight is XNUM x g. The carbon part is adopted for the shaft part. Carbon is a lightweight and durable material used in aircraft and F1 machines. It can be made lighter without losing its strength.
It is approximately XNUM Xg lighter in pair compared with general aluminum trekking poles, and it is the lightest class in telescopic trekking poles. It is also excellent in weight balance and easy to swing lightly in the extended state.
Lightness is the most important point for trekking poles that you carry for a long time. Recommended for all those who do not have confidence in physical strength, "I want to lighten the equipment a little."
It is a trekking pole where aluminum is superior in terms of price etc., but carbon is a big advantage when considered from the viewpoint of "lightening even a little". I am satisfied with the high rating.
Read articles that Kaneko tells about with Gear Pickup!
Yamaki's gear report in the past is a superb thing that also won the "BEST BUY" of 1. In the late fall Tanigawadake. It is safe because it will be lightly and securely tightened even if your hands are cold due to cold. More
This product is also available at Sakaiya Sports Echo Plaza. (Please pardon if out of stock)
It is safe because you can purchase while comparing various products while receiving advice from experts who are rich in product knowledge.
The size and weight of the product, the sense of size at the time of storage, etc. can be actually checked for the hand, so those who are concerned should check at Echo Plaza!
About Sakaiya Sports Echo Plaza
| | |
| --- | --- |
| Store name | Sakaiya Sports Echo Plaza |
| Address | 101-0051 Showa Building 2F, Kanda Jimbocho, Chiyoda-ku, Tokyo |
| Telephone number | 03-3262-0583 |
| FAX number | 03-3262-0486 |
| Business hours | 11: 00-20: 00 24 hours a day, except the first day of the year |
| Handling product | Backpack, Shruff, Trekking Accessories, Clock, Compass, GPS, Hat, Gloves |
ACCESS
● For customers coming to the store by public transportation
・ From JR Chuo Sobu Line "Aqueduct Station" East Exit, walk 10 minutes.
・ From the subway Hanzomon Line, Mita Line, Shinjuku Line "Jimbocho Station" 4 exit, walk 7 minutes.
● For customers coming to the store by car
There is no parking lot in our shop. Please use the coin parking near you.
store information
"Echo Plaza" is a proposal shop of Sakaiya that provides information on the latest trends in outdoor products, as if it were echoing in the mountains.
In a wide space of about 280m2, we have developed big items such as Shack Pack with 550 items or more, as well as goods such as shuffling, camping equipment, GPS and lights.