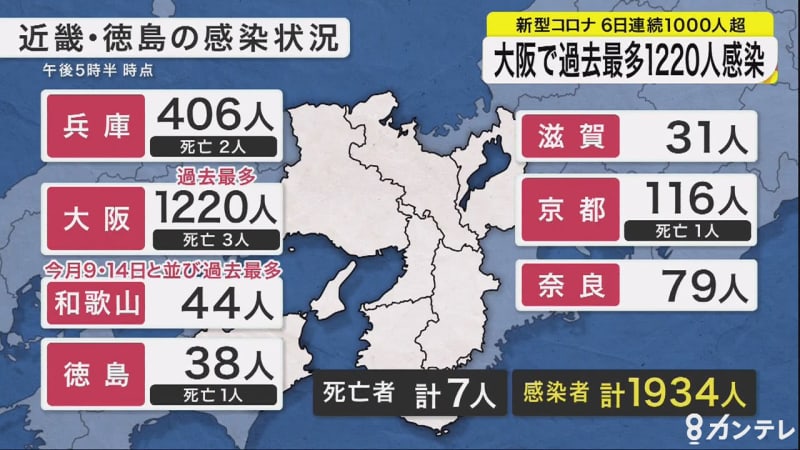 写真 
Infected the most 1220 people in Osaka Hyogo also has the most 406 people on Sunday New Corona
 
If you write the contents roughly
In Hyogo prefecture, 406 people were confirmed to be infected on Sunday, the highest number ever, and two people died. 
In Osaka Prefecture, 1220 new coronavirus infections have been confirmed, the highest number ever, and 3 people have died. ... → Continue reading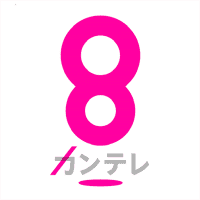 Kansai TV
"Kansai TV Broadcasting" (Fuji TV affiliate) news account. We will send you the latest news from Osaka, Hyogo, Kyoto, Nara, Wakayama, Shiga and Tokushima prefectures.
---
Wikipedia related words
If there is no explanation, there is no corresponding item on Wikipedia.
Hyogo
Hyogo(Hyogoken,British: Hyogo Prefecture) IsJapan OfKinkiに 位置 す るPrefecture.Prefectural office location TheKobe City.
Overview
It has long prefecture areas in the north and south, and has the largest area in the prefectures of the Kinki region. NorthSea of ​​Japan, SouthSeto Inland SeaIt is a prefecture bordering the two seas. The two sea border prefectures in Honshu are at both ends.AomoriとYamaguchi Except for, it is only in Hyogo prefecture. If you try to cross Honshu from Aomori Prefecture to Yamaguchi Prefecture by land, you will always pass through this prefecture.
Almost in the centerJapan Standard Time Meridian(135°E) passes north and south,Akashi CityIs due to thisAkashi City Astronomical Science MuseumThere is. In the central part of the prefectureChugoku MountainsLies in the east and west, making it a difficult transportation site.
The southern Seto Inland Sea coastHanshin Industrial Area,Harima Waterfront Industrial AreaJapan's leadingHeavy chemical industryIs an accumulation area ofKinki areaIt has the largest number of factory locations. On the other hand, from central to northernAgriculture, forestry and fisheriesIs the main industry,Depopulated area,Heavy snowfallAlso hold. Since the prefecture-based industrial activity index that averages these overcrowding and depopulation is the national average,Microcosm of JapanIt is sometimes said. Also in the southeastBetween Hanshin TheBed townAs a property, Kobe City (7th largest city in Japan) and the Hanshin region account for about 6% of the total population. The population of Hyogo Prefecture is the 7th largest in Japan, and the population density of Hyogo Prefecture is the 8th largest in Japan.
Regulatory country(Old country)SettsuWestern,Tamba countrySouthwest andTajima country,Harima country,Awaji countryMost of the prefecture area is composed of each of theOkayamaSince there were two cross-border transfers fromBeautiful landEastern,Bizen countryIncluding southeastern part[Annotation 3].HokkaidoSpans 11 countries next to (7 countries)Goki eight roads OfKinai(Settsu country),Sanin road(Tamba country, Tajima country),Sanyo road(Harima country, Mimasaka country, Bizen country),NankaidoSince it is divided into (Awaji Province), this prefecture, which spans the largest number of four regions in Japan, has been established in a way that almost ignores the ancient administrative divisions and regional divisions.Even in the current regional divisionTottoriLocated west of the borderWest HarimaThe western part of the regionAtlasIn the Kinki region page etc., it has been cut offChugokuMay be posted on the page.
Foreign currencyUrgent acquisitionMeiji governmentIs TajimaRaw silkTo export of SettsuKobe PortTo take advantage ofToshimichi OkuboBased on the plan formulated by Tsutomu Sakurai under1876(Meiji 9), the area of ​​the third Hyogo prefecture was confirmed. As a financial source for the development of Kobe, it used the tax revenue from the rich agricultural countries such as Harima and Tajima.
Edo PeriodThe clan placed inAmagasaki Domain-Mita Domain, To Tamba countryMt. Sasayama Clan-Kashiwara Domain, In TajimaIzushi Domain-Toyooka DomainThere is in Harima countryHimeji Domain-Hayashida Domain-Akashi Domain-Tatsuno Domain-Ako Domain-Crescent moon-Ono Domain-Mikusa Domain-Ashi clan-Yamazaki domainBut in AwajiAwa Domain (Awa Tokushima Domain) OfSumoto CastleThe Inada family,Flag book(Replacement)ofYamana familyMuraokaJinya, ReplacementIkeda familyThere was Fukumoto Jinya.
This prefecture, which has included diversity as described above, once existed.Socialist Federal Republic of YugoslaviaIn analogy to "HyogoslaviaSometimes called[Annotation 4], The prefecture also rides on this2018From (30)U5H=United 5koku of HYOGOIs being promoted[2][3].
Origin of prefecture name
It was in the current Kobe city of HyogoHyogo CastleIt is due to the government office being set up in. There was Hyogo CastleYabe-gunHyogotsu (formerly known asOwada Tomari) Was prosperous as a port town with a population of more than 2 at that time, but it was close to the northeast of Hyogotsu, and the town of Kobe, which became the de facto port, developed rapidly after the Meiji period. Hyogotsu is a local government name1879ToKobe WardAlso, as a port name1892I was swallowed up by Kobe Port.
The origin of "Hyogo" isEmperor TenchiIn the reign ofarmsIt also comes from the fact that there was "Tsuwamonogura (Hyogo)," which means the warehouse of.
Geography/Region
Wide skirt
Geospatial Information Authority of JapanAccording to Hyogo Prefecture, the north, south, east, and west edges are as follows, and the east-west length is 111.13.kmThe north-south length is 168.50km.
terrain
Osaka BayThe south facing the plain is a plain area, but most of the central and northern areas are mountains.hillsIt is a zone. The population is concentrated in the south.
Mountain
Main mountains and mountains
plateau
Hachibushi Plateau,Kannabe Plateau,Torokawadaira, Rabbit Wano Kogen, Kamiyama Kogen,Sugigasawa Plateau, Takuoka Kogen, Mihara Kogen, Mikata Kogen,Tomine Kogen,Mineyama Plateau
Plains/basins
Main plainsbasin
River
Main river
Main canyons/canyons
Torokawa Valley,Kirigaki valley, Komata River Valley,Akataki Valley,Ase Valley,Otomizu Valley,Tentaki Valley,Itoi Valley,Fukuchi Valley, Inagawa Valley, Transverse Valley, Kumanami Valley,Ojiro valley, Akanishi Valley, Itamami Valley, Yamada Valley, Naoya Valley,Horaikyo,Tachiunkyo
mainwaterfall
Lake
Main lake
In the prefecture,Awaji City13301 places are the most,SumotoNo. 7014, followed by Kobe City 6305. Awaji Island occupies about half of the prefecture[5].. On the other hand, in recent years, prefecture surveys have revealed that about 3 places, which is nearly 1% of the total, do not actually exist.[6].. However, even with that in mind, the number of reservoirs remains the highest in Japan.
Tameike number ranking
Tameike number ranking[7]
coastal
海
islands
Main natural island
Natural park/national park
National park
National park
National park
Prefectural nature park

Taki Mountain Prefectural Nature Park,Inagawa Valley Prefectural Nature Park,Shimizu Tojo Lake Prefectural Hang Prefectural Nature Park,Asago Gunsan Prefectural Nature Park,Otomizu Chikusa Prefectural Natural Park,Tajima Mountain Prefectural Nature Park,Nishiban Hill Prefectural Natural Park,Izushi Itoi Prefectural Nature Park,Harima Chubu Hills Prefectural Nature Park,Yukihikomineyama Prefectural Nature Park,Kasagatayama Sengamine Prefectural Nature Park
climate
NorthSea of ​​Japan side climate, In the southSeto Inland Sea climateSo the northern municipalitiesHeavy snowfallIs specified in.
Summers are generally hot. Mainly in the north and inland areasFern phenomenonbyExtremely hot dayOften occurs, and in the south, mainly in the coastal area between Kobe and Hanshin.Tropical nightOften becomes.
In the winter, the coastal area of ​​the Seto Inland Sea is warm, but the average January temperature in other inland areas and the north is below 1°C, and there are many winter days and it is relatively cold.MitaEven if you compare at the same altitudeNorth KantoIn some places, the temperature is lower than that in eastern Japan. In the northern area facing the Sea of ​​Japan(I.e.Under the influence ofprecipitationThe number of days and the amount of snowfall increase.Sea of ​​Japan polar air mass convergence zoneUnder the influence of, the snowfall will increase rapidly in a short time of half a day to a few days, and even in the plain areas such as Toyooka city area and Kasumi, it may become stagnation snow of about 50 cm to about 1 m. Even in the inland part of the northern part of Harima, comparing with the coastal parts and plain parts of the southern partprecipitationIf the number of days increases a little and the active snow cloud descends south from the Sea of ​​Japan, heavy snow of around 20 cm may occur. Even in the coastal area of ​​the Seto Inland Sea, mainly in southern Harima(I.e.And Koyuki,SleetThere are days whenSnowfallIs at most once or twice a winter, about 1-2 cm. Especially, the amount of snow from Kobe to Hanshin is extremely low.
Normal price in various places in Hyogo prefecture (Source:Meteorological Agency / Meteorological Statistics Information)
Average price
(Monthly)
Tajima
Kitaban/Tamba
North
Southern
Kami Town
Kasumi
Toyooka
Asago City
Yabu City
Oya
Tamba city
Kashiwara
Nishiwaki
Tamba Mt. Sasayama
Gogawa
Wadayama
Ikuno
average
temperature
(° C)
Warmest month
25.9 (August)
26.3 (August)
25.7 (August)
25.1 (August)
26.2 (August)
26.5 (August)
Coldest month
4.2 (August)
2.9 (August)
2.2 (August)
1.8 (August)
2.8 (August)
3.2 (August)
Precipitation amount
(mm)
Most months
255.6 (August)
241.3 (August)
206.6 (August)
270.5 (August)
228.6 (August)
217.2 (August)
201.0 (August)
227.7 (August)
Minimum month
104.1 (August)
105.4 (August)
81.5 (August)
67.1 (August)
89.0 (August)
43.9 (August)
37.5 (August)
52.2 (August)
precipitation
Number of days
(Day)
Most months
22.4 (August)
20.8 (August)
16.7 (August)
14.1 (August)
17.0 (January)
12.7 (August)
12.0 (August)
13.3 (August)
Minimum month
9.1 (August)
9.3 (August)
9.5 (August)
9.4 (November)
9.5 (August)
7.8 (August)
6.0 (August)
8.4 (August)
Average price
(Monthly)
Harima
Hanshin
Awaji Island
Northwest
Southwest
Southeast
Shishiwa City
Ichinomiya
Fukusaki
Kamigori
Himeji
Miki
Akashi
Mita
Kobe
Awaji City
Gunge
Sumoto
Higashiimajuku
Iejima
average
temperature
(° C)
Warmest month
25.4 (August)
26.7 (August)
26.4 (August)
27.1 (August)
26.5 (August)
26.4 (August)
27.6 (August)
26.1 (August)
28.0 (August)
27.1 (August)
26.3 (August)
Coldest month
2.3 (August)
3.3 (August)
2.9 (August)
4.0 (August)
4.8 (August)
3.5 (August)
5.1 (August)
2.3 (August)
5.7 (August)
5.4 (August)
5.0 (August)
Precipitation amount
(mm)
Most months
272.8 (August)
207.0 (August)
179.1 (August)
179.1 (August)
157.4 (August)
179.7 (August)
148.2 (August)
190.3 (August)
189.6 (August)
163.4 (August)
224.2 (August)
Minimum month
54.9 (August)
35.8 (August)
30.0 (August)
34.5 (August)
26.5 (August)
32.4 (August)
36.1 (August)
33.2 (August)
38.9 (August)
34.0 (August)
44.3 (August)
precipitation
Number of days
(Day)
Most months
13.4 (August)
12.1 (August)
12.0 (August)
11.3 (August)
11.2 (August)
11.8 (August)
11.2 (August)
11.6 (August)
11.3 (August)
12.0 (August)
12.3 (January)
Minimum month
7.5 (August)
5.6 (November)
4.7 (August)
4.5 (August)
4.4 (August)
4.9 (August)
5.3 (August)
5.8 (August)
4.8 (August)
5.5 (August)
5.2 (August)
Administrative division
There are 29 cities and 12 towns in the prefecture. In addition, the way to read the town is "chou". The village disappeared in 1962.
[8]
The following is a comprehensive set up by the prefecture for each regionOffice7 ofPrefectural bureauAnd 3 of "Citizens' Center[9]] Is described. The difference between the "Citizens' Bureau" and the "Citizens' Center" is that in areas where many businesses have been transferred from the prefecture, with ordinance-designated cities and core cities, the organization is slimmer than the "Citizens' Bureau" as the "Citizens' Bureau". ing. In addition,Estimated populationIs as of June 2021, 5[10]Of statistics.
Kobe area
Kobe prefectural center
Kobe prefectural centerThe following 1 city (9 wards) belongs to the jurisdiction, and the estimated population in the jurisdiction is 1,523,022.
Hanshin South Area
Hanshin Minami Prefectural Center
Hanshin Minami Prefectural CenterThe following three cities belong to the jurisdiction, and the estimated population in the jurisdiction is 3.
Hanshin North Area
Hanshin Kita Prefectural Bureau
Hanshin Kita Prefectural BureauThe following 4 cities and 1 town belong to the jurisdiction, and the estimated population in the jurisdiction is 713,837.
East Harima area
East Harima Prefectural Bureau
East Harima Prefectural BureauThe following 3 cities and 2 towns belong to the jurisdiction, with an estimated population of 715,031.
North Harima area
Kitaharima Prefectural Bureau
Kitaharima Prefectural BureauThe following 5 cities and 1 towns belong to the jurisdiction, with an estimated population of 262,270.
Nakaharima area
Nakaharima Prefectural Citizen Center
Nakaharima Prefectural Citizen CenterThe following 1 cities and 3 towns belong to the jurisdiction, with an estimated population of 569,624.
West Harima area
Nishiharima Prefectural Civic Bureau
Nishiharima Prefectural Civic BureauThe following 4 cities and 3 towns belong to the jurisdiction, with an estimated population of 244,527.
Tamba area
Tamba Prefectural Bureau
Tamba Prefectural BureauThe following two cities belong to the jurisdiction, with an estimated population of 2.
Tajima area
Tajima Prefectural Bureau
Tajima Prefectural BureauThe following 3 cities and 2 towns belong to the jurisdiction, with an estimated population of 156,229.
Awaji area
Awaji Prefectural Bureau
Awaji Prefectural BureauThe following two cities belong to the jurisdiction, with an estimated population of 3.
population
city
Hyogo Prefecture city population ranking (2008(As of 20)
Hyogo Prefecture city population density ranking (2008(As of 20)
Announced by Hyogo Prefecture2020CensusAccording to the preliminary results, the population of Hyogo prefecture as of October 2020, 10 was 1.
Adjacent prefectures
History
A regulatory country equivalent to the prefecture area
By the second prefecture integration,SettsuWestern part of (Yabe-gun-Awara-gun-Muko-gun-Kawabe-Arima-gun),Tamba countrySouthwest of (Taki-gun-Hikami-gun),Tajima countryThe entire area ofHarima countryThe entire area ofAwaji countryCame to be composed of the whole area. at the same time,Kinai(Settsu country),Sanin road(Tamba country, Tajima country),Sanyo road(Harima country),Nankaido(Awaji Country) and 4 regions.
After that, there were two cross-border transfers from Okayama Prefecture.1896(Meiji29 years) in OkayamaYoshino-gunIshii VillageHyogoSayo-gunTransferred to Yoshino-gunSankanmuraLarge printNakayama is Sayo-gunEgawa VillageIs transferred toBeautiful landHas started to include a part of.1963(Showa38) in Okayama PrefectureWake-gunNissa TownFukuura (excluding Terayama in the north) is in Hyogo prefectureAko CityIs transferred toBizen countryHas started to include a part of.
Notices
Old tomb18,351 places are No. 1 in Japan,(I.e.28,882 places are the second largest in Japan, and it is said that many of them have been cultivated since ancient times.
ProminentEnki ceremonyHarima country as a big shrineAkashi-gun OfUmi Shrine,Ibo-gun OfGradient Amaterasu Shrine,Shishiwa-gun OfIwaza University Namochi soul shrine, AwajiTsuna-gun OfIzanagi Shrine,Mihara-gun OfYamato Daikokutama Shrine, Settsu-Kuni of Muko-gunIwata Shrine,Iwa Shizu Shrine, In YabeIkuta Shrine,Nagata Shrine, In ArimaOnsen Shrine, Tamba-Kutani-gunKushiishi Window ShrineEtc.
Change of prefecture area
Chronological Table
Ancient times-early modern times
4th-3rd centuries BC-The Matsuho Dotaku excavated on Awaji Island is considered to be similar to the oldest Kojindani Dotaku.
Around the 1st century-The Gossakaito Uchigakiuchi site, the largest ironware manufacturing community in Japan in the latter half of the Yayoi period, will be built.
3st centuryLatter half - Nishijometsuka TumulusIs built.
4st centuryEnd ~5st centuryBeginning- Goshizuka Tumulus,Kotsubo Tomb,Miyayama Tumulus,Danbayama TumulusIs built.
Emperor Kinmei13 years(552?)- BaekjeHoly kingMegyo-ji (Nyu-ji) is founded by Megumi (monk: Dojo) who is the prince of (Shomyō).
Emperor Chung2 years(589?)- Prince ShotokuBy Totayama Shitennoji Holy Temple (Tsururinji Temple) Is founded.
Emperor Suiko11 years(603)- May 7,Toma PrincePrincess Toner, who is the princess of Akaishi, died, and Akaishi Higasaoka (Yoshida Otsuka Tumulus) Is buried.
Emperor Shumei3 years(631)- May 9, Emperor Shumei was the Arima hot spring (Arima Onsen) Take a bath.
Emperor4 years/DahuaNew Year (645)- Emperor KotokuBy the request ofGayain,Ryoji Temple,Eri Tenjoji Temple(Taihua 2 years (646)),Ichijoji Temple(Tsukaka 6 years /White pheasantNew Year (650)) is founded.
White pheasant 2 years (651)- HodoBy the hermitAsokoji TempleとIshimine TempleIncision.
Hirohito3 years(716)- Former EmperorBy the request ofTaizanji TempleIs built.
Postponement24 years(805)-Denkyo DaishiClearestBy Japan firstEsoteric BuddhismThe Nohfuku Gokoku Shrine, which is a religious siteNofukuji Temple) Is founded in the current Kobe city Hyogo Ward.
Sacred turtle2 years(812)- Owada TomariIs rebuilt.
Heaven10 years(833)- Emperor JunwaAs the royal templeWashinji Temple KukaiWill be invented by.
Niwa2 years(886)- Emperor MitsutakaBy the request ofSumaji TempleIs built.
Enki14 years(914)- Kiyoshi MiyoshiOwada Tomari repair by.
Kobo3 years(966)-By sex aerialEngyoji TempleIncision.
Security4 years(1174)- Kiyomori TairaTo Owada TomariSutra islandBuild (Keigashima).
Approval4 years(1180)-By Kiyomori TairaKyo FukuharaConstruction of.
8 years/Toshinaga3 years(1184)- Battle of Ichinotani.
Takehisa7 years(1196)- Heavy sourceReconstruction of Owadamari by performance.
9 years (1198)-Due to heavy sourcesJodo TempleIs built.
1300 eraFrom the middle1310 eraMid- Bunkanbo Tokuon(Hiroma) conducts a reclamation project in the Higashi-Harima region[11].
Motohiro3 years/Syokei2 years(1333)- Kamakura ShogunateDestruction. HarimaAkamatsu circle heart,Emperor GodaigoSide by side.
EngenFirst year/Kenmu3 years(1336)- Battle of MinatogawaでMasanari Suzukidie in battle.
Box office5 years/Yasunaga3 years(1344)- Takashi AshikagaByFukukaiji TempleIncision.
Box office7 years/Sadakazu2 years(1346)- Sadanori Akamatsu Himeji castleTheFortification.
CargillNew Year (1441)- Kayoshi no RanでManaka AkamatsuDestruction.
Kansei7 years/BunshoNew Year (1466)-Headquartered in TajimaSozen Yamana(Yutaka Yamanamochi)Mr. HosokawaFight with (Onin's rebellion).
Tensho7 years(1579)
Tensho 8 (1580)-Hideyoshi Hashiba (Hideyoshi Toyotomi) Attacked byMiki CastleFallen castle,Choji BesshoDestruction.
Tensho 17 (1589)-Toyotomi HideyoshiHanakuma CastleThe castle.
Keicho14 years(1609)- Terumasa IkedaRepaired Himeji Castle.
Genroku14 years(1701)- Ako DomainmainNaganori Asano Edo CastleInsideYoshio KiraCut the bellyReform. following year,Ako RoushiAttack (Ako incident).
Bakumatsu to the end of the Pacific War
After the Pacific War
Politics
Prefectural government
Prefectural governor
Prefectural assembly
finance
Heisei 19 year
Fiscal strength index 0.59

Group I (Financial Power Index 0.5 or more, less than 1.0) 17th out of 9 municipalities
Heisei 18 year
Fiscal strength index 0.53

Group I (Financial Power Index 0.5 or more, less than 1.0) 16th out of 14 municipalities

Standard financial scale 9461 billion yen
General account revenue 2 trillion yen
General account expenditure 2 trillion yen
Personnel expenses, property costs, etc. per capita settlement amount 1 yen (prefectural average 11 yen)
Number of employees per population 100.000 1,044.75 (prefectural average 1,173.11)
Laspeyres index 100.9 (prefecture average 99.6)
Real debt service ratio 19.6% (3-year average, prefectural average 14.7) *It exceeds 18%, which requires a permit to issue bonds.
Per populationLocal bondCurrent amount 65 yen (prefectural average 9471 yen)
Balance of local bonds
Municipal bonds for ordinary account, current amount ¥3 billion
Local bonds for special accounts other than the above, current amount of ¥4306 billion

Regional maintenance business accounts for 1172 billion yen, basin sewer accounts for 1240 billion yen, etc. otherThird sectorEtc. (51 corporations), etc.
Main debt guarantees: Hyogo Midori Corporation ¥187 billion, Hyogo Industrial Revitalization Center ¥143 billion, Hyogo Housing Supply Corporation ¥203 billion, Hyogo Road Corporation ¥161 billion
Heisei 17 year
Fiscal strength index: 0.49

II Group (Financial Power Index 0.4 or more, less than 0.5) 8th among 1 municipalities
Heisei 16 year
Fiscal strength index: 0.47

II Group (Financial Power Index 0.4 or more, less than 0.5) 10th among 4 municipalities
U5H project
U5H projectWas established in order to rediscover the "hometown" in Hyogo by individuals and individuals involved in Hyogo.Hyogo officialIs a project[13].."U5H" at the beginning is an abbreviation for "United 5koku of Hyogo". 5koku (five countries) is described in detail below.
5koku (5 countries)
National politics
House of Representatives OfSmall districtIs 12.House of CouncilorsThen, 1 ward is constructed in all prefectures.
Economy
A company headquartered in Hyogo Prefecture
Companies that have factories in the prefecture
Life and transportation
Transportation
空港
Train
Contact within the prefecture
Contact with neighboring prefectures
Wide area communication
道路
toll road
Free road
National road
Prefectural road
Other
bus
Businesses are generally divided between Kobe City and Hanshin, Harima, Tajima, and Awaji Island, but Kobe City is located in Awaji Island due to the opening of the Akashi Kaikyo Bridge.ShikokuToExpress BusHas developed, and many routes will extend to areas that cannot be covered by rail alone. In contrast to the urban Hanshin area, there are many depopulated routes such as Tajima. There were many public enterprises,Himeji City Bus,Akashi City Transportation Department,Amagasaki City Transportation BureauHas been withdrawn and has been transferred to the private sector. The main operators are as follows.
Port
Route
At one time, there were many connecting routes to Awaji Island and Shikoku, but many of them ended their role with the opening of the Akashi Kaikyo Bridge. However, long-distance ferries to and from Japan still depart and arrive at Kobe Port. Of the routes below, the ones that are not mentioned are ferries.
Domestic short-distance routes
Domestic medium/long haul routes
International route
Policemen
Medical and welfare
Education
University
National public university
private university
Women's University/Junior College
Vocational school
College of technology
Vocational school
Other education
Mass media
Newspaper company
Kobe newspaper

Daily Sports(Headquarters. Until the company was absorbed by the Kobe Shimbun in March 2010,West Japan(The address of the Osaka headquarters, not the Kobe headquarters, was printed on one side of the page, but now the address of the Kobe headquarters is listed.)
Shin Onsen TownHas a branch office and publishes newspapers for the Tajima region. In addition,2000In April (12), a branch office was opened in Himeji City and a Harima edition was issued.Osaka Nichi-Nichi NewspaperIs a subsidiary of the company (2008(20) Merged with The Press Osaka on February 2stSea of ​​JapanIt will be closed in September of the same year because it became a morning newspaper. There is a theory that the people involved in editing this Himeji branch (Harima version) were involved in the business integration with Osaka-Japan. Currently, "Osaka Nichiichi Shimbun"Kobe City-Amagasakiな どKeihanshinThe spot sale is sold in the commuting area.
TV station
Broadcast areaKinkiWide areaBelong to.
The following is HyogoPrefectural broadcastBureau
Education tv TheNHK Osaka Broadcasting Station(Remote control key ID 2 ch ) Has been the target area for broadcasting.
Independent station.Osaka Bay-Osaka PlainIn addition to being available for viewing in most areas of Osaka Prefecture,Cable TVRe-broadcasting outside of the area allows for widespread viewing.

Remarks
Osaka Prefectural BureauTV Osaka(TXNCan be received directly in the Hanshin area centering on Amagasaki city and Itami city, and some areas of Kobe city, etc., but basically broadcasting in TV Osaka in Hyogo prefecture is allowed by the current law. In addition, there is no prefectural broadcasting station Sun TVVarious circumstancesBecause TXN series programs cannot be broadcast due to, TXN series programs that are normally broadcast on terrestrial waves in 46 prefectures[Annotation 6]However, there is a problem that it cannot be viewed only in Hyogo prefecture. About TXN series, mainly in Harima areaTV setCan be viewed, but there is a risk that it will not be displayed due to weather conditions. More than half of the prefectureCable TVAlthough it has been rebroadcast outside the area of ​​TV Osaka in the station, it is not subject to rebroadcasting in the northern part of the prefecture such as Toyooka city and Shin Onsen town due to topographical problems, and it is also re-run in a part of the southwestern part of Shiwa prefecture such as Shishiwa city. Broadcasting has been put off.
Harima NadaIn the southwest part of the prefecture alongBroadcasting stations in Okayama prefecture and Kagawa prefectureThere are areas that can be received. In these areas1969Until (44)NHK Okayama Broadcasting Station,Nishinippon broadcasting,Sanyo Broadcasting) Only received.
In some parts of the north (Shin Onsen Town, Bikata District, Kami Town, etc.),Tottori-Shimane TV station (Nippon Sea TV,NHK Tottori Broadcasting Station,Sanin Broadcasting,San-in Central TV) Is available in some areas. This area also1968Until (Showa 43), we could only receive NHK Tottori Broadcasting Station and Nihonkai TV. Shiwa City Haga-choTogura PassIn some of the areas, there are areas that can receive San'in broadcasting among the commercial broadcasters in Tottori and Shimane prefectures. Therefore, in these areas, it is possible to watch programs that the Kinki area wide area station of the same series is not online.
other,Wakayama OfNHK Wakayama synthesisとTV WakayamaCan be received in parts of Kobe City and Awaji Island, and in southern Awaji Island (Minamiawaji City),TokushimaBroadcast station (Shikoku BroadcastingとNHK Tokushima Broadcasting Station) Can be received at some places. Also, with the eastern part of the prefectureTamba cityPart ofNHK Kyoto synthesisとKBS KyotoThere is a place where you can receive.
Cable TV
Radio stations
Although the broadcasting area belongs to the Kinki wide area, 3 stations in Osaka (MBS Radio-ABC Radio-Radio Osaka) Is poor reception because there is no relay station in the north.
Even in the south, reception is not good especially in the Harima area. However, good reception of Shikoku Broadcasting in Tokushima Prefecture is possible mainly in the south.
Although the area is limited, in the south, Okayama Prefecture Sanyo Broadcasting, Kagawa Prefecture West Japan Broadcasting, and Wakayama PrefectureWakayama Broadcasting, In the northShimane ・It is possible to receive San'in broadcasting in Tottori prefecture.
FM OSAKAand,FM802Is harder to get west and north. In Nishiwaki City and the surrounding area,Kiss FM KOBEThe reception is not good, but the reception itself is possible. In a part of the northern part (Shin-Onsen Town/Kami Town),V-airAre available in some areas. Between HanshinTamba city,ToyookaThen.Kyoto Ofα-STATIONCan be heard in many areas.
Incidentally,radikoWith the start of the operation, the 3 stations of AM/FM in Osaka, Radio Kansai, and Kiss FM KOBE will be able to listen via the Internet throughout the prefecture even if radio waves cannot be received.
AM broadcasting station

Independent station. radiko is distributed throughout Kansai.

FM broadcasting station

JFNseries. radiko is distributed throughout Kansai.

The foreign language broadcasting area (official area) of the prefecture is only Kobe and Amagasaki. However, listening is possible in the surrounding area. radiko is distributed throughout Kansai.

NHK Radio First Broadcast-Second broadcastIs southOsakaTo receive from. In the north, there is a relay station (Toyooka City, Kami Town, Shin Onsen Town) (however, Kasumi and Shin Onsen are only the first broadcast).

Radinet HyogoSee.
Traditionally,Broadcast target areaAs for the private broadcasting stations, all of the three, medium wave (AM), ultra-high frequency (FM), and television (TV) were independent broadcasting stations.2003In 15, Kiss-FM KOBE joined JFN. With this, all three prefectures with independent broadcasting stationsKanagawaIt became only. Kiss-FM KOBE can be heard in most parts of Osaka Prefecture, and there are no commercial FM stations yet.NaraThere are many listeners outside the prefecture.
Culture/Sport
Hyogo Prefecture is a collection of regions with different history,Customs,CustomCan see the difference. The sense of solidarity as a Hyogo citizen is not so strong, and it becomes the center of each area, such as Kobe City, Himeji City, Toyooka City, and Osaka City adjacent to the Hanshin area.Metropolitan areaHave a sense of belonging to. Therefore,Hyogo citizensIs rarely called. In fact, the Kenjinkai is also different in each region from where it originates (Tokyo Awaji Kai, Osaka Tajimajinkai, Kanto Hikami/Takigun Goyukai, etc.)[15].
dialect
dialectThere are various differences. In the southern part of the prefectureKinki dialect(Kansai dialect) is used, but in the northern part of the prefectureChinese dialectIsTajima dialectIs used. The dialects of the southern part of the prefecture are also in the Harima area, which was influenced by the Chinese dialect.Banshu dialect,Osaka DialentOf the Hanshin areaSettsu dialect, A dialect in between Banshu-ben and Settsu-ben, used mainly in KobeKobe dialect,Kyoto languageDraw the flow ofTamba dialect,AwabenOn Awaji IslandAwaji valve, And divided into small pieces.
Food culture:
local cuisine
Traditional crafts
Traditional crafts
Sports
baseball
サ ッ カ ー
basketball
rugby
American Football
volleyball
Membership is the Osaka Prefecture Volleyball Association.
Membership isHisamitsu PharmaceuticalSaga Volleyball Association with its head office. The practice base of the team isDaieiOrange attackersIt is located in Nishi Ward, the city of Kobe.
Other
A sports club based in Hyogo prefecture in the past
Hankyu Braves -> Based in Nishinomiya City during the Orix Braves era, and based in Kobe City during the Orix Blue Wave era.Osaka Kintetsu BuffaloesAfter being merged with the current Orix Buffaloes,2005As a provisional measure for three years from (17)Osaka=Osaka DomeIt was a double franchise with (Kyocera Dome Osaka),2008(20) (Actually2007(19)) After that, it was integrated into Osaka. But,KobeIn order to secure fans in Hyogo prefecture, including, about 20 games a year are held in Hyogo prefecture as a quasi-base. Also, the second army will be in Kobe until 2016KitaWas based in.
Kobe 9 Cruise(Kobe City: Kansai Independent League (first generation))
The player was transferred to Hyogo Blue Thunders, and the league participation rights were transferred to Forest Home in Yokohama City to become Kobe Sands.
The above three teams are officially inactive.
Sanyo Electric RailwayWas a baseball professional baseball team and was an independent two-team baseball team with no single army in history.
After leaving the club in 2009, Rokko Sharks accepted the players and resumed activities as Rokko Fighting Bull.Top westNo residue was allowed.
The female division of Kobe FC was the mother, and laterTasaki PearlManagement is transferred to and participates in the Japan Women's Soccer League.2008(20), due to management deterioration of Tasaki Pearl, withdrawal from the league and transfer of players disbanded.
Hisamitsu PharmaceuticalMerged with Tosu Springs to become Hisamitsu Pharmaceutical Springs.
2013 dissolution
Tourism
Tangible cultural property building
List of designated cultural properties in Hyogo,Kinki historical site list # Hyogo prefectureSee also
Important traditional buildings preservation area
Designation system based on prefecture landscape regulations
Wide area landscape formation area [16]
Starry sky landscape formation area
Cultural facility
Works set in Hyogo Prefecture
Works taken in Hyogo Prefecture
Since Hyogo Prefecture has various landscapes, it actively cooperates with many video industries.
movies
(See also below for movie works made in Takarazuka)
(See also below for works made in Nishinomiya and Ashiya during the Taisho era and before the war)
TV drama
In historical drama etc., the images of "Himeji Castle" are often used as "Edo Castle".
TV commercial
Yuko and Tatsuya Hanshin Line Story (2014)
Hanshin Electric RailwayIt is a TV commercial of.
People from Hyogo Prefecture
footnote
注 釈
Source
Related item
Habatan -Hyogo Prefecture PR Mascot
Buildings and tourist attractions in Hyogo
外部 リンク
Administration
Tourism
Sunday
Sunday(Nichiyobi) isSaturdayとMondayIs between週One day.カレンダーThen.redThere are relatively many examples written in.
Name in each language
The Japanese name isSeven daysIs one of(I.e.The date of.
JapaneseOther thanEnglish: Sunday,German: Sunday,Dutch: SundayLike Japanese, these are derived from "Sun's Day". Besides that"SundayMany languages ​​are called by the name derived from.
In many European languages, words from the SabbathSaturdayI am devoted to it.
Origin/History
The Old Testament
It is said that God completed the creation of heaven and earth in 6 days and took a rest on the 7th daySabbath TheSaturdayAnd the first day of the week is Sunday.
Hellenism
Hellenistic cultureDevelopedMediterranean worldSo, it first appeared in the 1st century BC as a sun-controlled day of the week, and it has been passed down to the present day.astrologyAs a result, Saturday became a bad day instead of being considered sinister and avoiding going out.
Nationalization of Christianity-as a worship day-
Since the 1st century, the sun god of Persia, India (Mithra) Is the main deityMithraism Roman EmpireAnd was widely worshiped. Ancient times,Sun godWas widely worshiped on SundaysworshipIt was a day.
キ リ ス ト 教Then,Gospel(Established in the 1st century-Christian chronology(See) Jesus is JewishSabbathThe day after (Saturday)ResurrectionIt is believed that I did it, but later, in commemoration of this, every Sunday(I.e.The worship service has started. Since the 2nd centuryRoman churchIs every yearPassover(14th lunar calendar)SacramentInstead of eating, he fasted until the end of Saturday and began to have the sacrament on Sunday. Then in the 4th century, Sunday in the Roman EmpireDays OffAnd then leave the emperor (Constantine I) Ordered. Although the emperor has certified all religions such as Christianity,state religionI didn't decide.In the 4th century, when the Roman Empire decided that Christianity was the national religion, worship days were set aside to widely repatriate heathens, and it is said that the Christian worship day was Sunday. The influence of the Roman Church increased,PascalProtected the (passover) sacramentAsia MinorThe Church's claims were rejected and it was decided to change to Sunday, which was considered a holiday.
Popular as a holiday
Generally in the Christian world this dayDays OffBesides, nowadays, even outside of Christianity, the custom of taking Sunday as a holiday is spreading.
In England1802The world's first "Factory Law" was established in theLabor movementAgainst this background, employers were legislated to give workers one day off per week. In some countries/regions, workers' rights are late to be recognized.PortugalHas legislated six days a week1911And1918South AmericaコロンビアNow, farm workers demand long-term work 6 days a weekstrikeI fought, but had been defeated. Postwar in Japan1947With the Constitution of JapanLabor Standards ActIt was stipulated that one day per week or four days per four weeks should be given. On the other hand, in the rural areas, a "living improvement campaign" was organized, and in order to realize the holidays for women who work as farmers, it was only once that they had set up regular holidays twice a month due to the autonomy of residents. Due to the increase in the number of workers in urban areas through the movement, the custom of working adults on Sundays has become widespread in Japan.
In the early daysMajor league baseballSo, because Sunday is a SabbathtabooWas being seen. HoweverAmerican associationAlso actively held games on Sunday and contributed to the increase in the number of spectators.
Sunday in Japan
In Japan, the Europeanization policy (Civilization) Was introduced in, and spread to rural areas through municipal offices, primary schools, etc. By the way, before the introduction, the government agency had a 5-day holiday (XNUMXthAs a result, the working hours increased by setting Sunday as a holiday.
The law that sets Sunday as a holiday for government offices throughout the country is"Law concerning holidays of institutions placed in the Diet" "Law concerning holidays of courts" "Law concerning holidays of administrative bodies"Therefore, the holidays of the relevant organizations such as administrative agencies and courts are set as Sundays (and Saturdays, holidays, and designated days). However, it also applies to private companiesLabor Standards ActNo specific day of the week regarding holidays is specified. Holiday lawTransfer holidayAlthough the provision of (XNUMX) does not apply to private companies, it is generally recognized that Sunday is a holiday because it is based on the assumption that Sunday is a holiday.
In the government office1876Until Sunday introductionFifty daysThe public holidays were the day after Satoshi and Saku (Tatsutachi: the first day of the month) (XNUMXth). However, for farmers who accounted for the majority of the population, the day when a regular "city" stands every month as a day off for agricultural work,A lectureThere are no weekly holidays, but rather the school was closed during the agricultural season to help the family business.1945In the past, depending on the location, there was only one monthly holiday.
Depending on the event or custom that has a fixed date and time, if the day hits Sunday, it may be changed to the next day or the Friday immediately before.
Transfer holiday
Nowadays, it is often a holiday, but there are some schools that do not have a holiday due to the nature of their work, as well as the school where they go to school for the sake of events. In this case, it is the closest to that dayWeekdayTheTransfer holidayOr take a regular holiday. Including the retail business that faces the consumerTertiary industryThe percentage of the population engaged in is increasing, and many business establishments do not close Sundays. In typical workplaces in the manufacturing industry, transfer holidays prescribed by the Public Holidays Act are ignored (Toyota calendarreference).
Apart from this, in Japan1973More Sunday andpublic holidayIn case of overlapping, transfer holiday will be established.
Traffic situation
Unlike weekdays, there are few train users in the morning and night, and a few train users during the day.[1]. for that reason,last trainThere are routes that will be advanced,Tsurumi Line-Meitetsu Chikko Line-Wada Misaki LineAs in the case of railway lines that are mainly used for commuting to factories, there are some routes where the number of trains decreases significantly from weekdays.
Route bus is mainly used to attend school (especially in rural areas) on Sundays (or holidays) may be closed on some routes.
In road traffic, roads may be crowded during the day around tourist destinations and commercial facilities, but it is a closed day for the logistics industry, so it is actually the day with the least traffic.[2][3][4].
Industries to be closed
bank-Government office-post officeMany of them are closed on Sundays. This was stipulated by law, but it has been amended so that it can respond flexibly according to the actual situation, and there are places that work on Sundays.[5].
publiclibrary-Museum-博物馆Most of them are closed on Mondays (closed days), butNational Diet LibrarySunday is a closed day[6].
Most medical institutions are closed on Sundays. Although there are no clear rules or restrictions regarding the setting of holidays, it is said that there is a problem with coordination with other services and staff.[7].
Sunday shock
Private middle schoolThe so-called prestigious schools in theTokyoInMay 2) By taking the entrance examinationConcurrent applicationIs restricted. However, if the day falls on a Sunday, someChristian Private Middle SchoolIn the case, the entrance examination is not conducted and may be set the next day. Therefore, the examinees of that year will be able to take the examinations in a combination of schools that cannot be applied in parallel, which increases the chances of admission. On the other hand, taking a test from a different group of test takers from the average year may change the difficulty level of not only the school concerned but also the school in the whole region, and it may be difficult to predict whether the student will pass or fail. In someSunday shockCalled.
A historical event on Sunday
In history, about the mayhem and slaughter that occurred on Sunday,Bloody Sunday Incident Sometimes called (Bloody Sunday). There are several cases referred to by this name, but the most representative of them are:
Articles whose etymology is "Sunday"
Program with "Sunday"
tv set
News and information programs broadcast only on Sundays
TV drama title
radio
Works on Sunday
Novel
movies
Song
symbol
footnote
Related item