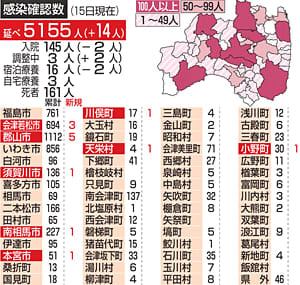 写真 
1 person in Fukushima Delta strain or Fukushima prefecture, 14 new corona infections
 
If you write the contents roughly
Of the 14 people, 5 were from Koriyama City, 3 were from Aizuwakamatsu City, 1 was from Motomiya City, Sukagawa City, Minamisoma City, Kawamata Town, Ono Town, and Tenei Village. 
On the 16th, the prefecture has a "L452R" mutation, which is likely to be a mutant strain of the new coronavirus "Delta strain" derived from India. → Continue reading
 Minami Fukushima Shimbun
A news site of the local newspaper "Fukushima Minyu Shimbun" that represents Fukushima Prefecture. Since it was first published in Meiji 28, we have been transmitting the latest community-based news as a "friend of the people of the prefecture". The prefectural news covers a wide range of local news by connecting 25 news bases in Fukushima prefecture. We are also focusing on recovery from the Great East Japan Earthquake and articles related to TEPCO's Fukushima Daiichi Nuclear Power Plant. We will deliver a variety of articles such as gourmet, sightseeing, events, readable serials.
---
Wikipedia related words
If there is no explanation, there is no corresponding item on Wikipedia.
Tenei Village
Tenei Village(Teneimura) isFukushimaNakadoriLocated inIwase-gunBelongs tovillage..The name of the village was taken from Mt. Tenei, which rises in the center of the village during the 1955 merger.[1].
Geography
The village areawatershed(Central watershed) IsOu MountainsAcrossAbukuma RiverWater systemShakado RiverBasinThe Pacific OceanSide andAgano RiverWater systemTsurunuma RiverBasinSea of ​​JapanThe distance from east to west straddles the side is about 36km, and it has been around for a long time.AizuとNakadoriIt was an important transportation hub connecting the two.Also,Agricultural waterOf the Agano River system that supplies agricultural water to the Shirakawa area of ​​the Abukuma River basin, which tends to be in short supplyHatori Dam TheEarth damBoasting one of the largest scales in Japan, the area around the gentle dam lake is accessible to golf courses, campgrounds, ski resorts, and English.British HillsIn addition to resort facilities such as these, there are many old hot springs scattered throughout the village.In the Köppen climate classificationWest coast marine climateBelong to.
Adjacent municipalities
Environment issues
History
Chronological Table
Administrative region transition
Changes in the Tenei Village area (chronological table)
Years
Date
Transition of administrative areas related to the current Tenei village area
1889(22th year of Meiji)
May 4
Municipal systemWith the enforcement, the following villages were established.[2][3]
1949(24)
May 4
A part of Oya village (Osato) is separatedOsato VillageWas launched.
1955(30)
May 3
Makimoto Village, Yumoto Village, Osato Village and part of Hiroto Village (Iitoyo, Shirako, Ogawa and Kakinouchi, Takabayashi) mergedTenei VillageWas launched.
Transition table of Tenei village area
1868
Before
First year of the Meiji era--22nd year of the Meiji era
Meiji 22
May 4
Meiji 22-64
XNUMX-present
Now
Makinouchi Village
Makimoto Village
Makimoto Village
Showa 30 years 3 month 31 Date
Tenei Village
Tenei Village
Tenei Village
Shimomatsumoto Village
Uematsumoto Village
Hatori Village
Yumoto Village
Yumoto Village
Tarao Village
Yumoto Village
Shimo-Ozato Village
Meiji 9
Osato Village
Oya village
A part of
Showa 24 years 4 month 1 Date
Osato VillageSeparation
Kamiozato Village
Anyoji Nittamura
Part of Kakinouchi Village
Hiroto Village
Hiroto Village'
Part of Takabayashi Village
Iitoyo Village
Shirako Village
Ogawa
population
Administration
Village Mayor: Katsuyuki Soeda (2011-current 3rd term)
legislation
Village council
Constant number: 10 people
Term of office: March 2012-March 24
Chair: Katsuhiko Koyama (non-parliamentary group, 3rd term)
Vice-chairman: Osamu Goto (non-parliamentary group, 3rd term)
| Parliamentary name | Number of seats | Representative name |
| --- | --- | --- |
| Japan Communist Party | 1 | Tokiko Oura |
| Abandoned | 9 | Keihito Osuga, Akira Hattori, Kazuyoshi Hirose, Kazuo Yangtsuma, Tsutomu Watanabe, Kihachi Kumada, Masataka Sudo, Osamu Goto, Katsuhiko Koyama |
*As of October 2014, 6.
Fukushima Prefectural Assembly (Sukagawa City / Iwase District Electoral District)
Constant number: 3 people
Term: April 2011, 23-April 11, 20 (Heisei 2015)
| Name | Parliamentary name | Number of wins |
| --- | --- | --- |
| Munekata Yasushi | Democratic and Prefectural Union Parliamentary Assembly | 4 |
| Kenji Saito | LDPFukushima Prefectural Assembly | 1 |
| Masanari Kawada | Fukushima Future Network | 6 |
*As of October 2014, 3.
Economy
industry
Tenei VillageYaconIs a special product, and PR activities are carried out in Tokyo and other places.Fried buns and sake buns are also famous and can be bought at shopping malls in Sukagawa City.
RiceRice / Taste Analysis Appraisal Contest: International ConventionIt is the only brand rice in Japan that has won the gold medal for 9 consecutive years.[4]
Education
primary school
Tenei Village Hiroto Elementary School (Oaza Iitoyo Shinyama 28)
Tenei Village Osato Elementary School (25 Osato Hatada)
Tenei Village Makimoto Elementary School (Makinouchi Bunsha 35)
Tenei Village Yumoto Elementary School (Oaza Tarao Aza Nonaka)
Junior high school
Tenei Village Tenei Junior High School (Large Shiroko character Nishihara 5)
Tenei Village Yumoto Junior High School (Oji Tarao, Gorinbayashiyama 10)
Transportation
Train
There is no train station in the villageTohoku ShinkansenPasses through the eastern part of the village, and the nearest station from the village office isJR EastTohoku Main LineKagamiishi StationOrYabuki StationBoth are about 10km away from the village office.
bus
highway
Tohoku ExpresswayKagamiishi Smart IC,Yabuki ICIs the closest, and both are about 15 minutes by car.
道路
Road Station
Famous places, historic sites, sightseeing spots, festivals, special events
Angel Forest Nasu Shirakawa (Spa Resort, Tennis Court, Campground, Cottage)
Hatori Lakeside Auto Camping Ground
Lake Hatori(Smelt fishing)
Northern Farm Tenei(Old: Tenei Horse Park)
Spa
Ski resort
Grandee Hatoriko Ski Resort
Ski Resort Tenei
ゴ ル フ 場
Taiheiyo Club & Associates Shirakawa Resort
Shirakawa Meadow Golf Club
Celebrity from Tenei Village
Works set in this village
Yoshiharu Tsuge Museum
2018Than,NPO corporation"Yudagumi" became the designated manager of the village and started to improve the boxwood museum.In the Yumoto area2014There is a 140-year-old village-rural exchange facility (also known as "Chieko's House"), which has won a special category award at the Fukushima Prefectural Architecture and Culture Award. In addition to exhibiting materials such as the complete works of Yoshiharu Tsuge and the magazines published at that time, it will be a base for disseminating the appeal of Tsuge's works, and it aims to open in June of the same year with the intention of making it a place for exchange between fans.Part of the Japanese-style room will be opened as a free rest area "Engawa Cafe"[5].
Tsuge was in the village in the 40sNiki OnsenIwase Yumoto Onsen, a manga modeled after an existing Yumoto ryokanNiki Valley』And magnificentThatched roofThe streets of Iwase Yumoto Onsen at the time whenイ ラ ス トI have left it in.Regarding the Yukoya Ryokan, there was talk of demolishing it due to aging, but in response to the persistent voice of Tsuge fans who wanted to keep it as it is, it was decided to build a new inn in another place while repairing the old building. Taking advantage of the fact that it is a place related to Yoshiharu Tsuge, such as being consideredRegional revitalizationIs progressing[6][5].
Impact of the Great East Japan Earthquake
Occurred in 2011Great East Japan Earthquake(Tohoku-Pacific Ocean Earthquake) Caused great damage such as damage to many houses in the village.Also, it occurred at the same timeTEPCOFukushima Daiichi Nuclear Power Plant AccidentAccompanyRadioactive materialThe outflow is also affecting Tenei Village.Social problems such as sluggish sales of agricultural products, falling prices, and impact on the tourism industry (hot springs and resort facilities) are occurring. As of May 2012, the air dose in the village can be confirmed in real time by the radiation monitoring information of the Ministry of Education, Culture, Sports, Science and Technology.[7][8].
footnote
References
"Municipal Name Transition Dictionary" published by Tokyodo, 1990.
Related item
"Today is good weather too』- Osamu YamamotoManga works.Yamamoto has purchased a house in Tenei Village, and describes his life before the Great East Japan Earthquake and how he planted rice after the earthquake.
外部 リンク
Administration
Tourism