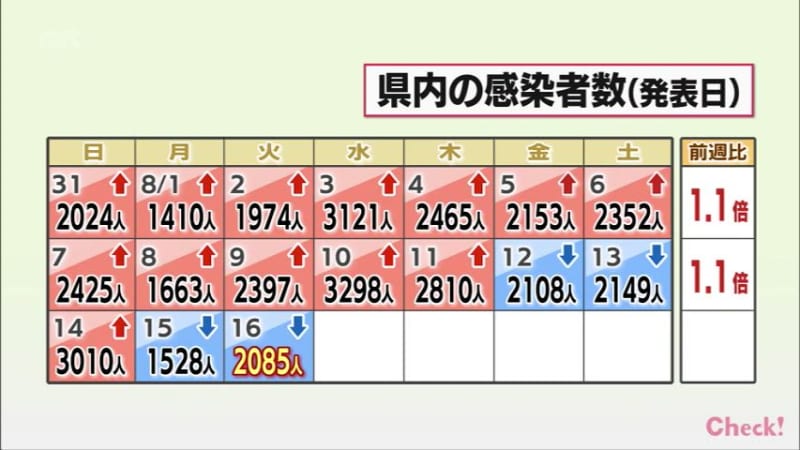 写真 
New Corona 16th Newly infected 2085 people in Miyazaki prefecture 1 people died 6 clusters Bed usage rate 52.3%
 
If you write the contents roughly
A total of 6 new clusters have been confirmed, including elderly welfare facilities in Miyazaki City and educational and childcare facilities in Miyakonojo City. 
On the 16th, 2085 new infections and 1 death of a patient were announced in Miyazaki Prefecture.new… → Continue reading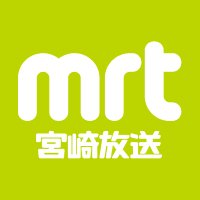 MRT Miyazaki Broadcasting
This is a news account of "MRT Miyazaki Broadcasting" (JNN series) in Miyazaki Prefecture.We will tell you the latest information on Miyazaki.
---
Wikipedia related words
If there is no explanation, there is no corresponding item on Wikipedia.

Miyakonojo City(Miyakonojo) isMiyazakiLocated at the southwest end ofCity.Miyazaki CityNext to the prefecture's secondpopulationIt is a major city with.
Geography
Miyazaki CityAbout 50km west-southwest fromKagoshimaIt is located at the southwestern tip of Miyazaki prefecture, about 90km east-northeast.It borders Kagoshima Prefecture from the northern part to the western part and the southern part of the city, and is a major city at the midpoint between Miyazaki and Kagoshima.
OnceSatsuma DomainVery close to Kagoshima dialect because it was a territoryVarious prefecturesSatsuma's culture is strongly preserved.HugeMiyakonojo BasinIt is located in the city and is the base city of the Miyakonojo basin area.Near the north and south of the center of the cityOyodo RiverFlows, the westKirishima Mountains, EastCrocodile mountainsIt is surrounded by.
In the entire city planning areaUrbanization promotion areaとUrbanization control areaIt is also the only city that has abolished the delineation of the city, and it is a spacious townscape.
climate
Located in an inland basin, the average annual temperature is 16.5 ° C, which is about 17.4 ° C lower than Miyazaki City (1 ° C).The annual rainfall is around 2,000-3,000 mm every year, and although it is heavy, the rainfall is slightly less than that of Miyazaki City.
Climate of Miyakonojo Special Area Meteorological Observatory (Ayamebarucho, Miyakonojo City, altitude 154m)
Month
1
2
3
4
5
6
7
8
9
10
11
12
Years
Highest temperature record

° C

(

° F

)
24.3
(75.7)
23.5
(74.3)
27.1
(80.8)
30.4
(86.7)
34.0
(93.2)
34.4
(93.9)
37.1
(98.8)
39.4
(102.9)
35.2
(95.4)
34.0
(93.2)
28.0
(82.4)
24.4
(75.9)
39.4
(102.9)
Average maximum temperature

° C

(

° F

)
12.1
(53.8)
13.7
(56.7)
16.9
(62.4)
21.6
(70.9)
25.5
(77.9)
27.1
(80.8)
31.4
(88.5)
32.1
(89.8)
29.3
(84.7)
24.8
(76.6)
19.5
(67.1)
14.2
(57.6)
22.4
(72.3)
Average daily temperature

° C

(

° F

)
6.1
(43)
7.7
(45.9)
11.0
(51.8)
15.6
(60.1)
19.8
(67.6)
22.7
(72.9)
26.7
(80.1)
27.0
(80.6)
24.2
(75.6)
19.1
(66.4)
13.5
(56.3)
8.1
(46.6)
16.8
(62.2)
Average minimum temperature

° C

(

° F

)
0.9
(33.6)
2.3
(36.1)
5.7
(42.3)
10.2
(50.4)
14.9
(58.8)
19.3
(66.7)
23.2
(73.8)
23.4
(74.1)
20.4
(68.7)
14.4
(57.9)
8.4
(47.1)
2.8
(37)
12.2
(54)
Minimum temperature record

° C

(

° F

)
−9.8
(14.4)
−8.5
(16.7)
−5.9
(21.4)
−2.7
(27.1)
2.3
(36.1)
9.1
(48.4)
15.0
(59)
14.4
(57.9)
6.3
(43.3)
−0.8
(30.6)
−4.8
(23.4)
−7.8
(18)
−9.8
(14.4)
Precipitation amount mm (inch)
66.1
(2.602)
106.2
(4.181)
163.3
(6.429)
184.3
(7.256)
207.8
(8.181)
559.7
(22.035)
447.0
(17.598)
320.9
(12.634)
314.2
(12.37)
131.6
(5.181)
94.0
(3.701)
74.6
(2.937)
2,694.2
(106.071)
Average days of precipitation

(≥0.5 mm)

7.6
8.8
12.7
11.1
11.2
18.0
14.5
14.4
13.9
8.4
8.3
7.3
136.3
% (I.e.
71
70
70
70
73
82
80
79
79
75
76
73
75
Average monthlyDaylight hours
167.2
155.2
169.4
173.9
169.2
103.1
168.2
183.6
149.1
172.4
158.5
164.8
1,934.5
Source:Japanese Meteorological Agency (Average value: 1991-2020, extreme value: 1942-present)[1][2]
Adjacent municipalities
Place name
Place name of Miyakonojo Citychecking ...
History
Heian periodTerminalManju3 years(1026)OsamuOf the captainNormal seasonIs later Japan's largestManorBecomes "ShimazusoDeveloped as a customs territory,1185In thatBossJob, next1186Soji JitoBecameTadahisa ShimazuIs the name of the manorShimadzu"ShimazuHistory starts.
Muromachi PeriodFrom the Shimazu familyMr. HokugoRuled, even in the Edo periodSatsuma DomainMr. Kitago (Miyakonojo Shimazu) continued to rule as one of the private territories (autonomous territory of the clan's honorary vassals).
Since the territory of Mr. Kitago was less than 4 stones and was vast even in the private territory, the castle of Miyakonojo was divided into 5 units, Yuba Taguchi, Kuruzumiguchi, Oiwataguchi, Takaoguchi, Nakaoguchi, and Yasunaga, Yamada, Shiwaike.・ Six of Nonomitani, Kajiyama, and UmekitaOuter castleThere was a system that could be called the mini Satsuma domain, which controlled the territory with a five-mouthed six-outer castle system that added (town). (This was a very special form in private territory, but MiyakonojoClanOr the Satsuma domainSupporterIt is also one of the reasons why some people misunderstand that it was.)
Boshin WarSometimes the first private territory was dispatched,Battle of Toba and FushimiからAttack on Aizuwakamatsu CastleServed until.After the Boshin War, the feudal affairs reform led to the direct control of the feudal clan.1869から1871 OfAbandoned DomainFrom the main clan to Miyakonojo JitoMishima MichiruWas dispatched to take outpost measures for modern reform.
For over a year since November 1871MiyakonojoIs the prefectural capital ofCounselorToSaigo TakamoriHad a friendship withKatsura HisatakeWas dispatched.
1877ToSouthwest WarWhen it breaks outKagoshimaPrefectural orderMt. Ooyama TsunayoshiAt the request of the local troopsSamurai,SquireIs collectedMetropolitan castle corpsWas formed and participated as the Saigo army side as one of the party Satsumi corps.Hisatake Katsura, who was a counselor in Miyakonojo Prefecture, is also serving in the Satsuma Rebellion.
Pacific WarAt the endMainland decisive battleAs a base forTojo East / West AirfieldWas constructed,army OfShibutai Battle of OkinawaAtSpecial forcesSortie in the operation.
Origin of city name
At the current location of Miyakojima-choYoshihisa KitagoThe name of the castle built byTonojo"From."
History
Municipal
Successive mayors
Former Miyakonojo City[3]
| | | |
| --- | --- | --- |
| Sanehide Takarabe | 1924-1926 | (1st term) |
| Morisakokuma City | 1927-1929 | (1st term) |
| Mt. Ooyama Tsunaharu | 1930-1933 | (1st term) |
| Shigeki Soki | 1934-1938 | (2st term) |
| Sanehide Takarabe | 1938-1941 | (1st term) |
| Shigeki Soki | 1941-1945 | (2st term) |
| Masuki Fujii | 1945-1946 | (1st term) |
| Morisakokuma City | 1946-1946 | (1st term) |
Successive mayors
Former Miyakonojo City
New Miyakonojo City
Parliament
Municipal merger due to the great merger of Heisei
2004年2月三股町を除く北諸県郡4町と「都城北諸合併協議会」を設立。2005年2月21日、合併後の新市名「都城市」、合併予定期日を2006年1月1日などとした合併協定調印式を行い、同25日に5市町が合併関連議案を可決し、予定期日どおり合併が実施された。
公共 機関
National office
judicial
Fukuoka High Court Miyazaki Branch
Incorporated administrative agencies and special public corporations, etc.
Prefecture administrative agency
Miyakonojo Prefectural Tax and General Affairs Office
Southern Welfare Children's Center
Miyakonojo Health Center
Northern Prefectural Agriculture and Forestry Promotion Bureau
Miyakonojo Civil Engineering Office
Economy
industry
Major companies headquartered in Miyakonojo
Handsman
Southern Japan Dairy Cooperative

Manufacture and sale of daily milk and milky carbonated beverage "Skal".Operation and management of Takachiho Farm.

Kirishima Brewery

Manufacture and sale of authentic sweet potato shochu "Kirishima", "Kuro Kirishima" and "Aka Kirishima".

Yanagida Shuzo

Manufacture and sale of barley shochu "Koma", "Aka Kage" and "Beisun".

Miyakonojo Sake Brewery

Manufacture and sale of sweet potato shochu "Hitomebore for you" and "Pride of Hinata".

Gyoza Maruoka

Manufacture and sale of "Gyoza" and "Gyoza with ginger".

Kyushu Kato Co., Ltd.

Food wholesale business.Kato Sangyo(Headquarters: Matsubara-cho, Nishinomiya-shi, Hyogo)2014(26) It was absorbed and merged on February 2, and disappeared, and was organized as the Miyazaki Sales Office of Kato Sangyo Co., Ltd.Inheriting the base and function of Kyushu Kato[6].

He runs a conveyor belt sushi restaurant "Sushi Tora" and a seafood Japanese restaurant "Nakamura".

Oura

Tojo DaimaruOperates (department store) and goes bankrupt in 2011.

Hazama Ranch

Agricultural corporation. Breeding of "kinako pig". The food recycling factory has been in operation since 2009.Manufacture of pig feed from food residues.Processing capacity: 50t/Day.DIY home improvement Handsman headquartered in the same Miyakonojo cityPrivate brandRipe for sale atCow dungcompostWe also manufacture products.

Country

Fattening, sales and wholesale of own brand beef "Ayame beef", operation of Ayame beef specialty restaurant "Log Terrace Country" (Miyakojimacho).

Yamae Food Industry

"Yamae miso""Yamae soy sauce"Manufacturing and sales.

Miyazaki Energy Create

Professional basketball team "Miyazaki Shining Sands"Management and operation.

BTV

Operation of a cable TV station.

Takachiho Silas

Manufacture and sale of 100% natural healthy building materials Shirasu wall "Satsuma Nakakirishima wall" and "Super Shirasu Soton wall W".

Miyazaki Takasago Industry (former:Kitamori PrefectureYamanoguchi Town)

GifuToki CityAn affiliated company of Takasago Industry Co., Ltd., which manufactures and sells roof tiles and bricks.For bricks, we make "new bricks" using the ashes of Shinmoedake, which caused enormous damage to the city, and "niconico bricks" made as figurines by making holes in the shape of eyes and mouth, using bricks as faces. ing.

Bobcat Kyushu Co., Ltd.

It sells Bobcat brand industrial machinery, especially skid steer loaders needed for the livestock industry in the Southern Kyushu region.

N more Co., Ltd.
Operates a ramen specialty store like Tomato Pasta, The $ nooup, and a chicken nanban specialty store, NERDBIRD.There is a head office in Miyakonojo, and there are 12 stores in Kyushu.
Post
Shiwaji Post Office (Collection and Delivery Office)
Takashirocho Post Office (Collection and Delivery Office)
Japan Post (Collection and Delivery Bureau)
Yamanokuchi Post Office (Collection and Delivery Office)
Takasaki Post Office (Collection and Delivery Office)
Miyakonojo Kaneda Post Office
Miyakonojo Takagi Post Office
Miyakonojo River East Post Office
Miyakonojo Korimoto Post Office
Miyakonojo Kitahara Post Office
Miyakonojo Ichimanjo Post Office
Chugo Post Office
Miyakonojo Higashimachi Post Office
Umekita Post Office
Miyakonojo Imamachi Post Office
Miyakonojo Himegi Post Office
Miyakonojo Matsumoto Post Office
Miyakonojo Takao Post Office
Miyakonojo Yokoichi Post Office
Post office in the villa
Takazaki Ehira Post Office
Maeda Post Office
Japan Post
Yamada Post Office
Sanyabaru Post Office
Miyakonojo Tohoku Post Office
Hayamizu Post Office
Ayamebaru Post Office
Miyakonojo Wakaba Post Office
Shimonagae Simple Post Office
Oiwada Post Office
Miyakonojo Enokihara Post Office
Simple post office in front of Gojitcho station
Shibita Post Office
Miyakobaru Post Office
Otobo Post Office
Natsuo Post Office
Sewage flow simple post office
Nonomitani Post Office
Nawase Simple Post Office
Mangatsuka Post Office
Ishiyama Post Office
Shika Simple Post Office
Simple post office at the foot of Yamanokuchi
Japan Post
Kei Igawa Simple Post Office
Sister cities/partner cities
Overseas
Region
population
Education
University
College of technology
Higher Nursing School
high school
public
private
Public elementary and junior high school
Special school
Child independence support facility
TV/Radio broadcasting
Since it is located on the prefectural border, radio waves from both Miyazaki and Kagoshima prefectures can easily enter, but in order to watch Kagoshima commercial broadcasting depending on the area, it will be described later.BTVYou need to subscribe to.
Broadcasting stations in Miyazaki prefecture
tv set
radio
NHK radio first 1
NHK radio first 2
MRT radio
For the above three radio relay stations,Miyakonojo Radio Relay StationReference
Broadcasting stations in Kagoshima prefecture
tv set
radio
Cable TV
BTV(Miyakonojo Bureau / West Bureau)

In the service area of ​​the Miyakonojo station, all four Kagoshima commercial broadcasting stations (MBC, KTS, KKB, KYT)Rebroadcast outside the areaIt is carried out.
Only the former Takasaki Town is a service area for the West Bureaus.
Transportation
Air route
Nearest airportMiyazaki Airportas well as the Kagoshima AirportThere is a direct bus from Miyakonojo Station or Nishi-Miyakonojo Station to Miyazaki Airport (both are located about 45km straight from Miyakonojo City Hall), but you need to connect to Kagoshima Airport by train and general shared bus.
Railway line
The central station is Miyakonojo Station (the nearest station to the city center is Nishi-Miyakonojo Station).
道路
High-standard highways (Highway national road)
Regional high standard road
General national road
Main local road
General prefectural road
Bus route
Express Bus/Express Bus
A highway bus that connects Miyazaki City and various places via the Miyazaki Expressway is on the Miyazaki Expressway.Miyakonojo Kita Bus StopStop at.Nanpu issueIn addition to Miyakonojo KitaTakasaki East Bus StopとTakajo Bus StopAlso stop.The limited express bus between Miyakonojo and Miyakonojo (West Miyakonojo Station) connects various parts of Miyakonojo city area with Miyazaki Airport and Miyakonojo City, and stops at Takashiro. It connects the city area and Miyakonojo Kita.
There used to be highway buses that depart and arrive in Miyakonojo city area, but now there are no highway buses that depart and arrive in Miyakonojo city area except for limited express trains.
General route bus
etc.
Famous places, historic sites, sightseeing spots, festivals, special events
It became the origin of the place nameTonojo(Currently: Miyakonojo History Museum)

Celebration Gosho (Shimazuso) A stone monument of the birthplace of the Shimazu family built on the site of the gate pillar
Sights/historic sites/tourist spots
Takachiho Farm
Kanemidake Park
Hayamizu Shrine
Kodama Shrine
Laspa Takazaki (hot spring facility)
Shimadzu Agar Factory Ruins
oldInfantry XNUMXth Regiment-XNUMXrd RegimentHeadquarters site (local hall)
Yamanokuchi tumulus
Yamada hot spring
Aoidake (Mountain Yamanokuchi, Miyakonojo City, Miyazaki Prefecture, 563.2m above sea level, one of the XNUMX famous mountains in Miyazaki)
Aoidake Natural Park
Miyakonojo Onsen
Kannonike Park
Mt. Gassan Hiwa Castle Ruins
Remains of the Imperial Palace
[restaurant]
Festivals and events
Famous people
Historical figure
Politics
Civil servant
Culture / Academic
Business / economy
Entertainment/Music
Media
Sports / education
Other
People from Miyazaki prefecture and neighboring prefectures refer to "Miyakonojo"MiyakonjoIs often called.
footnote
Related item
Female warlord(Women's Shogi Title Match): Miyakonojo City is co-sponsoring, and the first station of the 3rd game will be held in Miyakonojo City.
外部 リンク