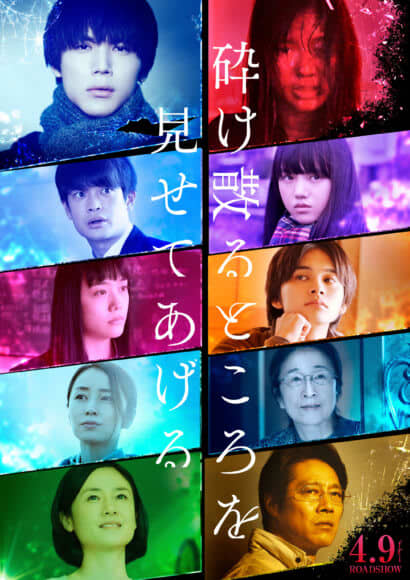 Photo (C) 2020 Movie "I'll show you where it's shattering" Production Committee
The movie "I'll show you the shattering place" will be held to commemorate the release of the stage greetings!
 
If you write the contents roughly
In addition to W starring Nakagawa and Ishii, gorgeous casts such as Kai Inowaki, Kaya Kiyohara, Airi Matsui, Takumi Kitamura, Akiko Yada, Hana Kino, Tomoyo Harada, and Shinichi Tsutsumi will appear. 
The movie "Crushing ..." starring Taishi Nakagawa and Anna Ishii, with the genius SABU, who is highly acclaimed overseas, taking the megaphone. → Continue reading
 PONYCANYON NEWS
"Pony Canyon News" is a direct and timely and speedy delivery of various entertainment information related to CDs, DVDs, Blu-rays, books, artists, live events released by Pony Canyon Co., Ltd. The official news media. I will post original articles in various genres such as music, movies, dramas, varieties, anime, sports, live performances, and events every day.
---
Wikipedia related words
If there is no explanation, there is no corresponding item on Wikipedia.
Matsui Airi
Matsui Airi(Matte Airi,1996〈Heisei8 years>May 12 -) isJapan OfFemaleFashion Model,actress,singerAndFemale idol groupSakura AcademyFormer member ofNicola], [Ray』Former exclusive model. Affiliation office TheAmuse.FukushimaIwakiBackground[3].
Biography
"If you acceptMobile phoneI'll buy you."[4],2009,TeenForfashion magazine"Nicola』(Shinchosha Co., Ltd.) 13thNikola Model AuditionApplied for and won the Grand Prix from 1 people. Debuted as an exclusive model of the magazine from the October issue of the same year[5].
2010January,Sakura AcademyBecame a member of the group and made a major debut as the group on December 12th of the same year. Also,Miyoshi AyakaAlso works as a derivative unit of "Newspaper SCOOPERS".
Nicola2011The cover will be displayed for the first time in the January issue. In addition, since April 1, he has been in charge of Nico☆Log in Nikolanet. In the March issue of the same year, the same year as the auditionFuruhata star summer,Ikeda Risa,Meiku HarukawaAnd formed a unit in Nicola, solicited unit names from Nicola readers, and the unit name was decided to be "♡ 5ever" in the May issue.[6].
May 2011,Magic i land』Appointed as the image girl in 2011[7].
2012Graduated from Sakura Gakuin on March 3. From June of the same yearRecall Van Tan High School] As an image model for 2012.
2013Mar. 2, MarriageInformation magazine"ZexyIn the 2013 CM Girl Audition, she was selected as the grand prix from 400 applicants. Appeared in the CM of the magazine for about a year as a sixth generation CM girl[8]. February Nicola presents her first solo cover in the March 2 issue. In the same age group, it will be the third cover for Seika Furuhata and Yorisa Ikeda. Graduated from "Nikola" with April 2013 (May 3 issue). 3 times on the cover (2013 of the individual covers)[9]Met. Also,The 92th National High School Soccer ChampionshipWas appointed as a support manager of[10].
A fashion magazine that has been sporadically appearing since August 2014Ray』Became an exclusive model of[11], Which was the first issue of the October issue to appear on the cover of the magazine. It was Ray's first feat in 10 years of history to appear on the cover of the month that became a dedicated model.[12]..In addition, I graduated from the exclusive model with the October 2020 issue.[13].
person
"Monthly MelodiX!When he appeared in "," he was selected as the 1st place in "Sakura Gakuin Growth Co., Ltd. (members who have many points to fix) ranking". When he plays with tag, he doesn't want to lose, so he doesn't hesitate to give up to elementary school members, and he doesn't lose easily. In response, Matsui said, "I don't hate losing. I hate losing.Suzuka Nakamoto)", but the moderatorRyota Yamazato"I hate the fact that I am told that I am told that I am different, and I hate it." Also,Ayumi Muto"I think Airi has a strong mysterious image, but in reality, she is a very hard worker, and I hate it."[14].
Nicknamed "Irene". The nickname "Matsui-chan" is used in "Nikola". This was Nikola's model at the timeAiri KidoBecause it was covered with the name, it was a nickname recruited from Nicolas readers[15].
Also a member of Sakura GakuinMiyoshi Ayaka[16]Is still on good terms with each other, and the two of them are collectively called "Miyomatsu'".[17].
For those who are from Nicola Model,Furuhata star summer[18],Spring[18],Nonaka Aoi[18],Yagi Arisa[16],Marie Iide[19]I'm on good terms with. Sometimes I go out in Matsui, Miyoshi, Yagi[20].. In the Nicolas era, old fields,Ikeda Eliza, Mei Harukawa was collectively called Love Forever.[21].Hinako SanoHave friendship with[19].. In the same Ray exclusive modelHarumi Sato,Aya Asahina,Eri MatsumotoGood friends with[22]..Among them, there are many things in common with Sato, and the combination of the two is called AI & HARU.[23]For the first time in the June 2017 issue of "Ray", only two people served on the cover[24].
Harumi Sato,Yuka KanumaTogether with Ray, it is called "the three beautiful legs"[25].
"Legal counseling service(On March 2014, 3)The 92th National High School Soccer ChampionshipWonToyama Daiichi High School OfIchiro OtsukaAppeared together as a favorite idol of parent and child and Sho Otsuka[26].
The first photo book was released in 2015, but until this photo book was takenビ キ ニHad never experienced wearing[27].
According to my blog, my older sister is 2 years oldU-17 soccer representative from JapanExperienced and from the 2022 seasonKawasaki FrontaleMF who has decided to join[28][29][30][31].
I have a younger brother who is three years younger.Younger brother
Appearance
Runway
For convenience, the runway is SPRING/SUMMER→S/S and AUTUMN/WINTER→A/W.
Kobe collection(2013 S / S, 2014 S / S, 2014 A / W, 2015 A / W)
Tokyo runway(2013 S / S, 2014 S / S, 2014 A / W, 2015 S / S[32][33][34])
Sapporo Collection (2013 S / S, 2015 S / S)
Tokyo Girls Collection(2013 S / S, 2014 A / W, 2015 S / S, 2016 S / S, 2016 A / W, 2017 S / S, 2017 A / W, 2018 S / S)
Girls Award(2013 A / W, 2015 S / S, 2017 S / S)
Kansai Collection(2015 S / S, 2014 S / S, 2015 S / S[35], 2017 A / W)
Fukuoka Asia Collection (2015 S / S)
Tohoku Dream Collection (2015 A / W)
Live event
Miyomatsu Happy Halloweeeen!! ~Two tricks ❤ Secret talk~ (October 2015, 10)[36]
Sakura Gakuin 5th Anniversary LIVE ~for you~ (Surprise guest appearance, December 2015, 12)[37]
Cover model
Catalogs
TV drama
Delivery drama
Last Kiss (2015th, 10rd, 16th, October, 23,UAF YouTube)- Starring Midsummer Role[61]
Adult High School Spin-off ~ Cherry Christmas on Fire ♡ ~(December 2017, 12,AbemaTV)-Sakura Himeya
Re: The Master Plan End Roll ~ Half a year later ~(December 2021, 1,dTV) --Michiru[62]
TOKYO CREATIVE SALON GINZA "SPECIAL MOVIE" (March 2021, 3, YouTube)- Starring Yuki Role
movies
TV program
CM
Credit Saison"Like me by saison card" <I love you now> Airi Matsui ed. (March 2021, 3-)
Kosaido"Job Information Service Workin" "Hello, New Me!" (May 2021, 5-)
Medical Corporation Glow Clinic (July 2021, 7-) WEB CM
Steel/Advertisement
MV
Online delivery
Koala Summer Festival Ondo (July 2014, 7, LotteChocomotionTV)[94]
Namie Amuro fashion general election FASHION MOVIE BEST 50 (September 2018, 9, AbemaTV)[95]
Book
Magazine serialization
nicola(October 2009 issue-May 10 issue, Shinchosha)-Exclusive model
Ray(October 2014-October 10, Shufu no Tomosha)-Exclusive model
Mook
Photo album
Photo book
Award
footnote
注 釈
Source
外部 リンク