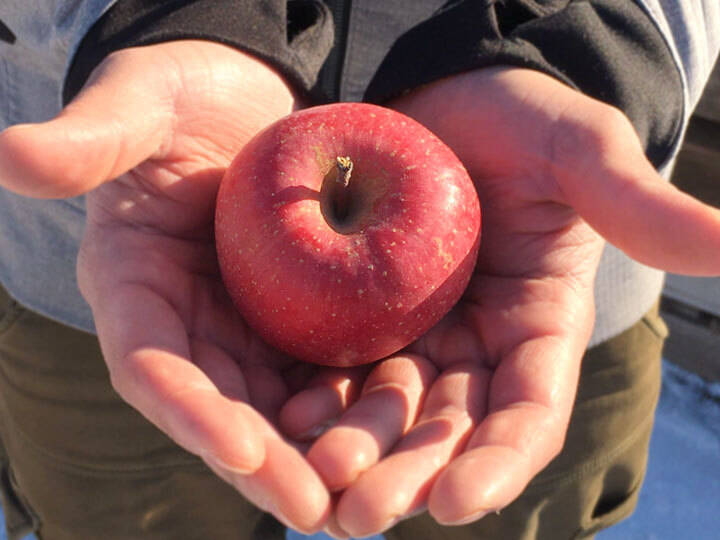 Recommended for candy apples!Kodama Mini Apple San Fuji 1.5kg: Nagano Prefecture | Eating Chok | Farmers / Fishermen's Direct Online Shopping
It is a very cute size San Fuji apple.
It's just the right size to make candy apples at home.
Of course, you can also grab it as it is.
* Not as small as Hime Ringo.
 It is a mini size for Sun Fuji.
 I think it's a normal stall size for an apple candy.
Kodama Mini Sun Fuji apples weigh about 1g to 110g each.
Let's make it ♪
How to make candy apples ♪♪
Ingredients
XNUMX apples
XNUMXg sugar
XNUMX ml of water
Food coloring (red) appropriate amount
① Wash the apples and dry them well. * If water remains, the candy will not harden.
② Stick disposable chopsticks in the center of the apple.Let's stab it firmly so that it will not come off.
④ Prepare a cooking sheet so that you can put the finished apple candy on it.
③ Put water and sugar in a pan and heat over medium heat until the sugar melts and becomes transparent.
④ When it becomes thick, remove it from the sun and mix an appropriate amount of food coloring.Completed candy material.
⑤ Hold disposable chopsticks and apply the candy material evenly while turning the apples.
⑥ Place it on a cooking sheet to remove the rough heat and harden it, and you're done! !! !!
⑦ The remaining candy material can be made into tortoiseshell candy by pouring it on a cooking sheet and hardening it.
* The candy gets hot, so be careful when making it! !!
There are various recipes, so search online and have fun!
Fuji is the number one variety in domestic production.Sun Fuji is a Fuji apple grown in the sunlight, and it is easy for honey to enter and has the original sweetness and richness of apples.You can say that the apples are just right for the name of "the best apple in Japan".
Sweetness ★★★★★
Sourness ★★★★
Fragrance ★★★★
Texture ★★★★★
[Recommended way to eat]
Candy apples, juices, baked goods, jams, as they are
📦 About Kodama Mini Apples 📦 A mini-sized sun fuji that is perfect for making candy apples.There are some branches and leaves rubbed on the surface, sunburn marks, etc., but the taste and flavor are comparable.Suitable for home use.
【Notes】
★ Please be sure to read ★
● If you do not receive the product due to your convenience or absence, you will be responsible for the shipping fee and product fee.Please be aware of this before ordering.
● We will not be able to return or exchange the product if it is damaged due to storage at the delivery center due to customer's convenience or long absence due to absence.
● Please check the product status immediately after the product arrives.We apologize for the inconvenience, but please contact us immediately by email or phone only if there is crush or damage that you cannot eat.
● Because it is fresh food, we cannot accept cancellation after ordering.Please be careful when ordering.
● The fruit may have scratches, rust, or deformation.In addition, we do not accept returns or exchanges based on personal taste.
● We will ship fresh and good products after harvesting and inspecting them, so it may take some time to ship.Thank you for your understanding.
● If it is determined that the ordered product cannot be delivered due to conditions such as typhoons and weather, we will contact you by e-mail etc. and decide the shipping time etc.
▼ See more
→Look at the products in detail with the "eat chok", where the vegetables and ingredients are delivered directly from the producer