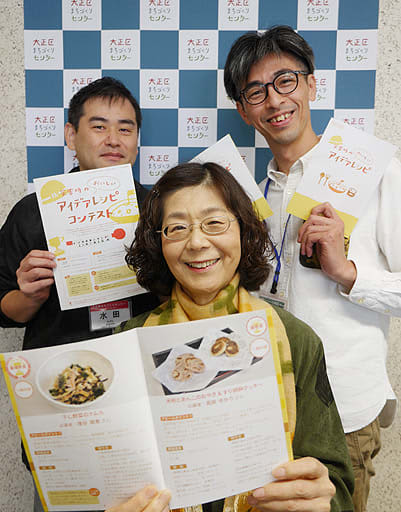 Photograph A booklet with soft illustrations and photographs, as well as disaster prevention petite information. "We devised a way to make it easy to see and pick up," said Mori (center) and the staff of the town development center = Taisho-ku, Osaka.
Recipe by disaster prevention town development center of food with usual taste
 
If you write the contents roughly
Not only so-called disaster prevention foods such as hardtack and "alpha rice", but also dried daikon, tuna cans, snacks and other foods that can be stored at room temperature can be used. 
The Taisho Ward Town Development Center in Osaka City solicits original recipes using stockpiled ingredients such as dried foods and canned foods from the residents, and ... → Continue reading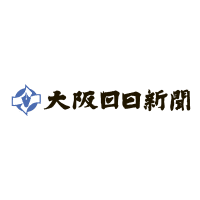 Osaka Nichi-Nichi Newspaper
---
Wikipedia related words
If there is no explanation, there is no corresponding item on Wikipedia.
Kiriboshi-Daikon (Dried Daikon Radish Strips)
Kiriboshi-Daikon (Dried Daikon Radish Strips)(Kiriboshi radish, simplyKiriboshi daikonTomo)Japanese radishSliced ​​into thin strips and driedDry matter[1]..In western JapanShredded radishAlso called (Sengiri Daikon)[2]Besides, especially in KyotoEaves ShinobuAlso called (Nokishinobu)[3].
Overview
Shred radish harvested from late autumn to winter, spread and dry in the sun.The more severe the cold, the better the product.It is easy to handle because the time to return it is short and there is little lye.When returned, the weight increases about 4 times[4].
It is divided into several types depending on the thickness of the cut and the method of dehydration.The one that is divided into four verticallyDried radishIt is called (wariboshi radish).Also,NagasakiThen, after boiling the radish, the same processing was applied.Boiled dried radish(Boiled radish), taking advantage of the cold wind and the sub-zero climateFrozen radish(Simidaikon) andCold dried radish(Kanboshi radish) etc.[5]..いずれもBothDry matterSo it can be stored at room temperature, but it turns brown in the summer, so after springRefrigerator It is desirable to store in.Some people dislike it because of its unique odor.
Wash it lightly, soak it in water and put it back in.Soy sauce,vinegarIn addition to eating as it isSimmered dishesSuch asCuisineUsed for.Also, the dried daikon was mixed and soaked in vinegar.Harihari-zuke[6]Such aspicklesAlso used for.Vegetarian foodThen, taking advantage of its crunchy texture,Chinese cuisine OfjellyfishIt may be likened to.
In the Owari region centered on Nagoya,Cardistry radishCalled (Hanakiri Daikon)[7]..This is because the shape of thinly sliced ​​dried radish, which is divided vertically, resembles the petals of cherry blossoms.[8].
The nutritional value actually contained is the growing soil, cultivation conditions, varieties, processing methods.[9]Although it depends on the type, it contains a lot of high-quality dietary fiber and calcium, and is also useful as a health food.
Typical value of nutritional value of dried daikon
Main production area
footnote
References
Supervised by Yukio Yamori and Toshiko Okuzono "I understand everything! "Dry Food" Encyclopedia, Sekai Bunka, 2013.ISBN 9784418133420.

Kazuko Kin, "On the formation of the aroma of dried daikon radish" Journal of the Japanese Home Economics Vol.46 (1995) No.5 P413-421, two:10.11428 / jhej1987.46.413
Related item
外部 リンク
Mie Kurata, "Kiriboshi Daikon" Bulletin of Fukuyama City Women's Junior College 39, 33-42, 2012,NOT 110008802895