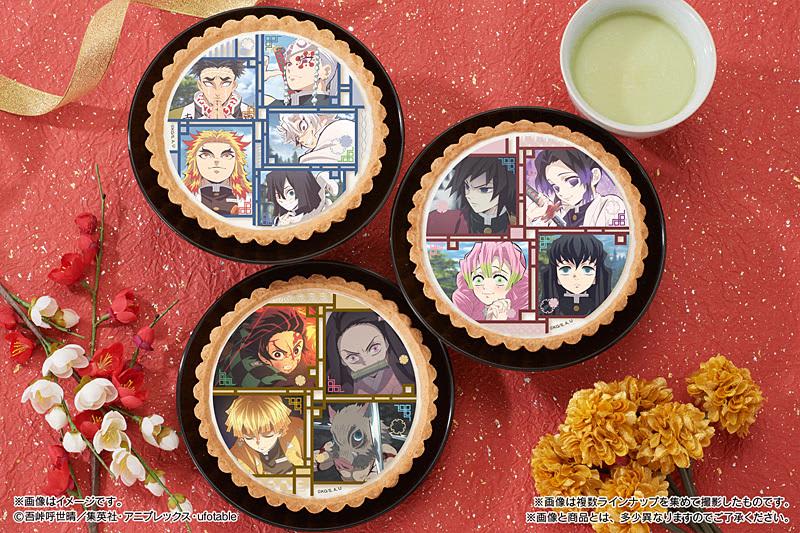 写真 
The third of the "Kimetsu no Yaiba" large tart!All nine pillars appeared.You can buy it at Aeon.
 
If you write the contents roughly
You can purchase it at AEON AEON STYLE (Honshu / Shikoku / Kyushu), Maxvalu (Kanto / Hokuriku / West Japan), and Daiei's chilled dessert corner. 
The chilled dessert of the TV anime "Kimetsu no Yaiba" "Kimetsu no Yaiba 2-layered vanilla-flavored cheese tart" will be released in 2022 ... → Continue reading
 Tokyo Bargain Mania
---
Wikipedia related words
If there is no explanation, there is no corresponding item on Wikipedia.

AEON (store brand)
| | |
| --- | --- |
| | This item includes some computers andBrowsing softwareContains characters that cannot be displayed . |
ion(British: AEON) IsAEON groupIs a store brand developed by.General supermarket (GMS) andsupermarket There is a form of (SM).
Overview
The birth of "AEON" as a store brand2007/(Heisei19 years)May 3Commercial facility opened inLoveLa BandaiLaBra Bandai store opened in[1] Is. At this time, it was an urban supermarket format specialized in food[2]. afterwards,2008/(20)May 3ToMorisia TsudanumaStore[3],same yearMay 10Opened Minamisunamachi Sunamo store[4].
For a while, as an urban supermarket brand that moves into a commercial complexAEON retailWas being deployed,2010/(22)May 3Store name license agreement with Carrefour SA on the same day the previous dayMay 3Ended with[5] Along with that, the oldAEON MarcheWas being deployedCarrefour"AEON" was born as a general supermarket by changing the store name of 6 stores[6].. Then the same yearMay 4ToAEON KyushuTobata Sati which was operated byAEON TobataRenewed as[7] The same yearMay 11Is the site of the Jusco Ikar, which was closed by Aeon Retail due to sluggish sales and deterioration.AEON Ikaruga storeOpened[8].
And 2010 (Heisei 22), shortly before the store openedMay 10AEON MarcheMycalWill be sequentially merged with AEON RETAIL and combined,2011/(23) After springJusco,SatyOfficially announced that the store names will be changed to "AEON"[9].
Since the beginning of 2011AEON Hokkaido, Aeon Kyushu, Ryukyu Jusco (currentlyAeon Ryukyu) Was also developed by each company to follow within the group.PosfulAnnounced that it will abolish the name and will unify and change to "AEON" all at once (Ryukyu Jusco only handles "Jusco", so it is treated as a store name change)[10][11][12].
2011May 3ToHiroshima satyOther than Jusco Sati Posufuru and the Maxvalu Nakajo store, which was the only Maxvalu store in Aeon Retail, were rebranded all at once and unified into "AEON"[13][14](Hiroshima Satie2011/(Heisei23 years)May 7Closed in[15]).
Within the AEON Group, in addition to "Jusco", which has been operated by AEON Co., Ltd. (formerly Jusco Co., Ltd.) for many years, "Saty (Mycal and AEON Kyushu), which was acquired through a recent acquisition of a company[Note 1] Management), "POSFUL (operated by AEON Hokkaido, once Saty operated by MYCAL Hokkaido)," "Carrefour (operated by AEON Marche (formerly Carrefour Japan))" and multiple supermarkets coexist. However, due to this brand name change, the brand names of general supermarkets within the group have been unified again.
On September 2015, 27DaieiOf the stores operated byMaxvalu HokkaidoExcept for the Sapporo Maruyama store, which has been inherited from Hokkaido, 8 stores of Daiei in Hokkaido and 1 store of Catapuri New Sapporo are going to Aeon Hokkaido, and 5 stores in Aichi are going to Aeon RetailMaxvalu KyushuThe 24 Daiei stores in the Kyushu area, excluding the Yoshitsuka storeAEON store Kyushu(Operated by AEON Kyushu by contracting the business from the company), the stores in Hokkaido and Kyushu area all changed their brand to "AEON". Stores in Aichi Prefecture were inherited by AEON Retail as "DAIEI", but they closed the store as "DAIEI" on September 9th of the same year, and after two days of suspension, the store brand was changed to October 27st Changed to "ion"[16].. The Catapuri New Sapporo store will temporarily close on April 2016, 28. The name was changed to "Catepuri" following the first opening on December 4 of the same year (from the 30nd basement floor to the 12nd floor).AEON MALLManagement transferred to[17][18].
On March 2016, 28 (Heisei 3), with 1 stores of some stores operated by Daiei in Miyagi prefecture, Yamanashi prefecture and Kanto / Kansai area,Maxvalu Tohoku(Currently Aeon Tohoku) operatedNiigata7 stores within[Note 2] A total of 36 stores have been transferred to AEON Retail. After the succession, 28 of the old Daiei stores wereSaitamaKitamoto City) And the business as "DAIEI" has been completed, and after two days of closure, the store brand has been changed to "AEON", and the Kongo store on March 2 (OsakaOsaka Sayama),Furukawabashi station square store(Osaka PrefectureKadoma),Tomio store(NaraNara), Mita store (HyogoMita) Completed after changing the shop name[19].. The remaining Himonya store (TokyoMeguro) Ended business as "DAIEI" on May 5th and started renovation, and resumed operations on the 5st to 12th floors on December 16th with the store nameAEON STYLE HimonyaChanged to[20].. In addition, the former "Maxvalu" store was temporarily closed by February 2 of the same year before the succession and renovated, and the Murakami Hamachi-cho store (Niigata PrefectureMurakami City) Was started and the business name was changed to "AEON" and business was resumed, and the Kameda store (Niigata City, Niigata Prefecture)Konan ward) Was completed by the resumption of business.
On March 2020, 2 (Reiwa 3), Maxvalu Tohoku merged with the food business of AEON Retail Tohoku Company to establish AEON Tohoku. Included) was operated by AEON Tohoku.However, it opened on March 1, 2021 (Reiwa 3).Aeon Style Shin Rifu(MiyagiMiyagi-gunRifu Town) Will be jointly managed by AEON Retail and AEON Tohoku.[21].
About store name
When the old store brand was rebranded to AEON, if the same store name existed more than once in the old store brand, the name of one of the stores was changed. For example, in the case of Jusco Fukuoka East Store and Fukuoka East Saty, Fukuoka East Saty is the same.Fukuoka East StoreThe name of the mall was changed to Jusco Fukuoka East.Fukuoka Rukuru store[Note 3] The store name was changed to. Also, during the reorganization of Daiei's store network in 2015, some stores have changed or maintained the possibility of duplicate stores.[Note 4].
In addition, Akita Central Store(Former Sati Akita) andUki Value Store(Former Jusco Ogawa store)[Note 5] There are some stores whose name has been changed by themselves as a result of the brand change, such as "new" + place name stores that were seen in some of the old Jusco stores (the existing store was closed and the Stores that have been rebuilt or moved to new stores)Ibaraki storeOnly the brand name was changed to avoid duplication of store names with (former Satoshi Ibaraki)Shin-Ibaraki store(Former Jusco Shin-Ibaraki store) andNew Natori store(Old Jusco New Natori Store)[Note 6] With a few exceptions, most of them took the "new" in line with the rebranding, and the store name was only the place name.
OkayamaKurashikiFor the Jusco AEON Kurashiki store and the Jusco AEON Kurashiki store in, the function as a general supermarket is integrated into the Jusco AEON Kurashiki storeKurashiki storeTo On the other hand, some floorsMaxvalu West JapanOf operationThe bigThe Jusco Kurashiki store, which has become the Kurashiki store, was converted to a discount store and became the Big Kurashiki Sasaoki store.[Note 7].
In addition, regarding the "AEON STYLE STORE", which has been increasing since 2014 (Heisei 26) due to new store openings and reopening, etc., the store name was "AEON + (regional name) store" at the beginning as before. However, in 2015 (Heisei 27), the store name was changed to "AEON STYLE + area name", and some of the "AEON" stores that were already operating as "AEON STYLE STORE" were also renamed. ing.
Store exterior/interior
During the unification of stores in Aeon in 2011 and the rebranding of Daiei stores in 2015, it was not uncommon for JUSCO, SATY, Posful, and daiei to switch to a signboard from ÆON in time. On the other hand, before the unification of Aeon2000 eraThere were also stores that displayed "ÆON", which indicates that they are an AEON Group centered on the shopping centers that opened after that, or "ÆON Group" on the wall of the slope connecting the multi-storey car park on the upper floors of the store and the ground.At stores where the signboards were changed before the official change date, unlike financial institutions, the old company name was not hidden on the signboard of the new company name.Some parts of the store have been updated with new information, but posters, store information boards, in-store displays, etc. have a sticker or white tape displaying "ÆON / AEON" on the old logo (JUSCO / SATY, etc.). Often dealt with.
The interior of the store is still used, except for stores that have been renewed after the brand was unified. The dairy section is mainly "READY MEAL" at the former Jusco.[Note 8], It is written as "DELICATESSEN" in the former Sati Posufool.
Image character
Now
Past

Takei Saki -From March 2011, AEON'sCMWas on.
HKT48 -From September 2015 (Heisei 27) has appeared in the commercial limited to AEON Kyushu.
Wake Up, Girls! -From September 2016 (Heisei 28), has appeared in the commercial limited to the Tohoku area of ​​Aeon.
store
Incidentally,FukuiThere are no stores in Japan due to the withdrawal during the Jusco era.The reason for not opening a new store is "Shopping Town PierIt is said that the cause was that lumps remained in the local area over the withdrawal from[22][23][24].
また、2021年10月現在で最も開業時期が古い現行店舗は、旧「ダイエー」店舗のImaike store(AichiNagoya cityChikusa Ward、1969年11月30日開業)となっている。
General supermarket (GMS)
"AEON" as the store name of general merchandise stores will be available from March 2010, 3."AEON" store converted from "Carrefour"(AEON MarcheSee) Started use at 6 stores, and on April 2010, 4AEON Tobata Shopping Center"Tobata Saty", which was the core store of Tobata, was renamed to "AEON Tobata Store".
After that, it was operated by Aeon Hokkaido, Aeon Retail, Aeon Kyushu, and Ryukyu Jasco (currently Aeon Ryukyu).Jusco, Mycal and Aeon Kyushu were developingSaty, And AEON Hokkaido was the only business categoryPosful[Note 9] 3 brands were integrated into "AEON" on March 2011, 23.Through this integration, the number of "AEON" stores as a general merchandise store has expanded to 3 stores in total for the four companies.
The same yearMay 7Closed atHiroshima satyAlthough the operating company was changed to AEON Retail due to the merger, it has already been decided to close the store, so it continued to operate under the old name. PartMaxvalu West JapanOf operationThe bigThe Jusco Kurashiki store, which has become a Kurashiki store,discount storeIn the Big Kurashiki Sasaoki store,Maxvalu NaganoThe only Jusco Shin-Hakuba store that was operated inMaxvaluConverted to Hakuba store (Max Valu Nagano originally from AEON RetailNaganoThe company acquired 4 of the Jusco stores, but the 3 stores, except for the Shin Hakuba store, which had been converted to Maxvalu, have been gradually converted to The Big stores. Regarding the Maxvalu Hakuba store, the business format was changed to The Big on October 2014, 10).
Open 2015 new stores by August 8 after completing brand integration[Note 10] We closed 14 stores and increased 18 stores.
Due to the reorganization of Daiei's store network on September 2015, 9, 1 Daiei stores in Hokkaido and "Katepuri Shin Sapporo" will go to Aeon Hokkaido, and 8 Daiei stores in the Kyushu region will come to Aeon Store Kyushu (from the company). 24 stores have been added by transferring each to (AEON Kyushu operated by a business consignment) and simultaneously rebranding to "AEON". At that time, with Iki storePlaza Oshima storeSince it was also transferred, it has not been deployed in "AEON" so far Remote islandAlso advanced to. The five Daiei stores in Aichi Prefecture were transferred to AEON Retail without changing the store brand, and ended their operations as Daiei on September 5 of the same year. By rebranding to "AEON" on the 9st, 27 stores have been added. During that time there was one store closure.
2015 stores opened from October 10 to February 2016[Note 11] We closed one store and increased two stores. On March 1, 2, 2016 stores of Daiei in Honshu were transferred to AEON Retail, of which 3 stores were rebranded to AEON and one new store was opened during the same period.[Note 12] With the opening of business, the total number of stores has increased by 29. 4 stores opened from April to December of the same year[Note 13] And 4 stores closed[Note 14] Was done.
Opening 2017 stores and closing 41 stores since 47[Note 15], And 4 stores from Aeon Super Center[Note 16], 1 store from "The Big"[Note 17]The brand has been changed, and as of June 2022, there are 5 stores in the general supermarket format.
The AEON Retail official website lists AEON nationwide, regardless of the operating company or business category[Note 18].
Characteristic store
Stores in the GMS format have a full line of clothing, food, and shelter, and are opening stores independently.Shopping centerRegardless of the number of stores opened at the core stores, it is normal to have floors on multiple floors, but there are the following characteristic stores that are different from the stores in the normal GMS format.
Supermarket (SM)
AEON, a supermarket, is a supermarket operated by AEON Retail that mainly focuses on food and daily necessities. As mentioned above, there was a store opening in a commercial complex, so at these storesAEON Food MuseumThe name of the shop is listed. The only one in AEON Retail on March 2011, 23MaxvaluNakajo store that was operating as (Niigata PrefectureWombai city) Rebranded to "AEON".
After that, new stores in the supermarket format also opened, and the Sendai Tomizawa store that opened as the core store of AEON Town Sendai Tomizawa on December 2015, 27 (Heisei 12)MiyagiSendai cityTaihaku Ward) Is the first AEON Retail operated store with a sales floor area of ​​1,000 square meters or less (about 840 square meters)[25].
Hirono store opened on March 2016, 28 (Heisei 3)FukushimaFutabaHirono Town) Is a store located in Hirono Terras, a public commercial facility in Hirono Town.[26].. On July 7th of the same year,YamanashiKofu CityCommercial buildingKoKoriKofu Cocoli store opened on the first basement floor of[27].
In addition, as mentioned above, 3 stores of "Maxvalu" in Niigata Prefecture, which were operated by Maxvalu Tohoku on March 1, 7, were transferred to AEON Retail, and the opening of the Murakami Echimachi store on March 3, 15 On March 3, the same year, Yamanitsu store (Niigata City, Niigata Prefecture)Chuo), Arakawa Akos store (Murakami City, Niigata Prefecture) on March 3, the same year, Fujimicho store (Niigata City, Niigata Prefecture) on March 19, the same year.Higashi Ward), Kamikido store (Higashi-ku, Niigata city, Niigata prefecture) on March 3, and Sasaguchi store (Chuo-ku, Niigata city, Niigata prefecture) on March 24, the same year as "AEON", and on March 3, the same year. Opened all stores inherited from Maxvalu Tohoku as "AEON" with the opened Kameda store[28].
In addition, Morisia Tsudanuma store[Note 20]And Minamisunamachi Sunamo store closed on August 2017, 8,DaieiIt was inherited after being absorbed and divided intoDaiei, And changed to the food style store (AEON FOOD STYLE by daiei) format described later and opened on September 9 of the same year.[29][30].
On October 9th of the same year,SaitamaYoshikawaIt is inAeon Town Minami YoshikawaAeon Yoshikawa Minami store in the SSM format will open as a core store in line with the expansion of the second phase[31].
On September 2018, 9,OPAOperated bySuwa Station ParkAEON Suwa Station Park store opened in SM[32].
In 2019, to improve convenience, we will open food supermarkets in the area where existing stores open,Shinyurigaoka StationBefore the general supermarket formatAEON STYLE ShinyurigaokaIs openKanagawaKawasaki CityAsoOn March 3 of the same year, Aeon Style Kamio[33]Opening of business.
Urawamisono StationbeforeUrawa Misono storeIs openSaitamaSaitamaGreen DistrictAEON STYLE Misono 4-chome on April 26th of the same year[34]Opened.
Kanagawa Prefecture, where the Yamato Tsuruma store, which is a general supermarket, is open in NishitsurumaYamatoAki Style Tsukimino on the site of the former Tsukimino store on October 10 of the same year[35] Opened one after another. Common to all 3 storesEat inIn addition to the space "Koko de Deli" that handles over-the-counter drugs, Kamiso and Misono XNUMX-chome are food supermarketsDispensingpharmacyThe "ion pharmacy" is also attached.
AEON STYLE Makuhari Bay Park, a food supermarket, opens in Mihama-ku, Chiba, Japan on April 4 of the same year.[36].
On April 4, the same year, Aeon Style Kamitokoro was opened in Chuo-ku, Niigata City, Niigata Prefecture.This store will be opened by AEON Retail's "Hokuriku Shinetsu Company" as the first store of "Small commercial area compatible supermarket (store with a directly managed area of ​​27 to 1,000 square meters)", which is the site of the former central wholesale market. We are opening a store in the commercial area "Marche Court" of "Dia Land" which was opened in[37].
On July 7, the same year, Futaba District, Fukushima PrefectureNamie TownAEON Namie store opened. The store is a small store specializing in groceries, daily consumables, and pharmaceuticals, but bedding services such as bedding, storage items, and baby products are available on tablet terminals installed in the store. It is possible to receive[38].
On December 7th of the same yearSaitamaKawaguchi cityIn AEON styleAraijuku StationThe front opened[39].
On April 2020, 4, Miyagi PrefectureIshinomakiToIshinomaki StationOpened the previous store. The store is oldSakurano Department StoreIshinomaki relocated to the site of the Ishinomaki storemunicipal officeAt the site of ESTA, which was open on the first floor ofOpen a branchIt is a store that has been opened.It has become a supermarket format centered on groceries and daily necessities, and taking advantage of the location adjacent to Ishinomaki Municipal Hospital, it also has an "AEON pharmacy" as a dispensing pharmacy.[40]..The operation is AEON Tohoku, and it will be the first new store since the establishment of AEON Tohoku.[41][42].
On May 5, the same year, TokyoKotoOpened AEON STYLE Ariake Garden, a food supermarket. This store isSumitomo Real EstateOpened on the 1st floor of Shopping City Ariake Garden, it is positioned as an urban store that offers a wide range of food-based products and services based on store size and local needs.[43][44].
On May 5, the same year, Niigata City, Niigata PrefectureAkibaOpened AEON STYLE Niitsu. The store isHome improvement MusashiA new store will be opened at the site, and daily necessities will be available in a store size of about the standard area of ​​Maxvalu, dedicated to rental.SmartphoneusingbarcodeIt is positioned as a "short-time shopping type" store, such as introducing "Regigo" that scans and pays with a dedicated terminal.[45][46].
In June of the same year, the store closed on April 6, the same year, and withdrew from Niigata Prefecture, "Supermarket"Barrow"ofJoetsu CityInheriting the store in Shimomonzen on the 11th[47], 25th, Joetsuji store[48] Opened one after another.
Therefore, as of July 2020, there are 7 supermarket stores in Niigata prefecture, 13 stores in Saitama prefecture, 3 stores each in Miyagi prefecture, Fukushima prefecture, Chiba prefecture, Kanagawa prefecture, Shimane prefecture, Tokyo, Yamanashi prefecture, and so on. Nagano and Tottori prefectures will open a total of 2 stores, one each.
In addition, "Maxvalu" other than the above will not be integrated and will be developed under the same name as before.
Aeon Express
At AEON Retail, a small supermarket "Aeon" is a derivative business format.Aeon ExpressExpress Sendai Aramachi store (Sendai City, Miyagi Prefecture)Wakabayashi Ward, Already closed) has been opened as an experimental store, and has been expanded to urban areas.
Until now, it was not posted on Aeon's store information site, but in July 2016, seven stores in Sendai City, Miyagi Prefecture were posted on Aeon's store information site. On December 7, the same year, Osaka City, Osaka PrefectureHirano WardExpress toHirano StationThe previous store was opened on November 2017, 11Shimane MatsueExpress Agenogi stores opened in sequence.
As of February 2020, a total of 2 stores, including 12 stores in Miyagi prefecture, 4 stores in Osaka prefecture, and 1 store in Shimane prefecture, are listed in the AEON Group store list on "AEON.com".
New store classification
In October 2014, the Aeon Group announced a policy of reclassifying existing stores into five business categories and reforming each of them, based on the fact that Daiei became a wholly owned subsidiary in January 10.[49], Aeon Daiei can be divided into the following three business categories.
AEON style
Business format for families. The catch phrase is "Proposing a" style "of life through products and services." Some stores do not handle clothing, and the structure is specialized for specific items.
Regarding this business formatAsahikawa station square store(HokkaidoAsahikawa), Etc., started operation from some stores that were newly opened or reopened after 2014, and on April 2015, 4Lake Town store(SaitamaKoshigaya)WhenKamatori store(ChibaChibaGreen District)'S two stores changed their names to "AEON STYLE Lake Town" and "AEON STYLE Kamatori" due to the renovation and opening.Tamadaira Forest(TokyoHino city) AndIbaraki(OsakaIbaraki City), Etc., the store name has been changed to "AEON STYLE" in sequence for some stores operated by AEON Retail. The first store of "AEON", LoveLa Bandai, also changed its name to "AEON Style LoveLa Bandai" with the renovation opening on July 1, 2016.[50].. Also operated by Aeon RyukyuRycom store(OkinawaNakagami-gunKitanakagusuku Village) Also "AEON STYLE Rycom store[Note 22]In addition to changing the name to "Aeon Kyushu"28 Kumamoto earthquakeWas closed due to the influence ofKumamoto storeThe second floor of AEON STYLE Kumamoto is the first AEON STYLE store in the Kyushu area to coincide with the reopening of business on July 2, 2016.[Note 23]On September 9th of the same year, the former Daiei store, Sasaoka store, was renovated to ""AEON STYLE Sasaoka"Renamed and reopened. On November 2018, 11, the Nakajo store, which was a conversion store from Maxvalu, was renamed and reopened as Aeon Style Nakajo.[51].. As of June 2020, 6 stores in 34 prefectures are under the name of "AEON STYLE" (some stores include those that are also referred to as "AEON Grand Generation Stores" described later). Most stores converted from "AEON"[Note 24] Or a new business,AEON STYLE Himonya(TokyoMeguro) Converted directly from "Daiei" to "AEON Style" after renovation and closure.Aeon Style Barajima(AkitaAkita City, Aeon Tohoku) is a store that has changed from "Maxvalu" to "Aeon Style".In addition, some stores operated by AEON Retail and the clothing section of stores operated by AEON Kyushu, which have existed since the Jusco era, have stores with the "ÆON STYLE STORE" sign.
*However,Makuhari New City(ChibaChibaMihama)・Wakayama(WakayamaWakayama City)・Tendo(YamagataTendo city)・Nagoya Chaya(AichiNagoya cityMinato-ku) Does not use the AEON-style logo and name except for the floor information and store name installed in the directly managed store, so there is a sign of "ÆON" at the entrance like the other stores. The name is Aeon Style Store. In addition, the place where you enter the directly managed zone from the specialty store area is "ÆON STYLE STORE".
AEON Grand Generation Store
Business format for seniors. "Grand Generation" was originally used by the company in 2012 to refer to "active customers in their 50s and above" (the inventor was).Oyama Kaorudo)[52]So, we sell fine-tuned customer service.The sales floor is also specialized for seniors, and some stores do not handle children's products.
In May 2013, Aeon Kasai store (TokyoEdogawa) Was introduced for the first time, and then in April 2014, at the Aeon Marine Pier store (Chiba Prefecture).ChibaMihama)[53]In July of the same yearAEON Yagoto(Aichi prefectureNagoya cityShowa Ward)[54]In April 2017AEON STYLE Shin Ibaraki(Former Aeon Shin Ibaraki Store, Ibaraki City, Osaka Prefecture)[55] AEON STYLE Kemigawahama (Mihama Ward, Chiba City, Chiba Prefecture), which is the first AEON Grand Generation store to open in November 2017.[56] Has opened, and as of January 2018, 1 stores are in this format.
Food style store
A "specialized food-oriented general supermarket" is a business category that specializes in food-related catchphrases. As a general rule, large-scale stores in the Kanto/Kansai area of ​​the old Daiei are reopened in this format, or remodeled/newly opened.[57].
This business format was reopened on June 2015, 6Daiei Akabane storeIs the first store. The store brand isDaieiHowever, the "ÆON FOOD STYLE" logo is displayed on the exterior of the store. Sangenjaya store, which was reopened on November 2016, 11 (TokyoSetagaya, Oldfoodium) And Higashi Mikuni store (OsakaOsakaYodogawa Ward, OldGourmet City) Is based on black "Æ ON FOOD STYLE by daieiThe new store sign of "is displayed.
As mentioned above, Morissia Tsudanuma store and Minamisunamachi Sunamo store2017/May 9ThanAEON retailFrom Daiei to Daiei and changed to this format[58].. This is the first example of the conversion of "AEON" stores to "DAIEI"[59].
In addition, the Higashi Hyuga store (which opened on the site of the former AEON Mukoumachi store (described later) on April 2018, 4 (KyotoMukai)[60] From now on, instead of "daiei"AEON food style", in addition to newly opened stores[Note 25], Renovated and opened on September 2018, 9Konandai store(Yokohama-city kanagawa prefectureKonan-ku)[61] より既存店からの転換店舗も見られるようになった。「イオンフードスタイル」名義の店舗のロゴについては当初ダイエーのロゴが完全に排除されていたが、2021年6月26日にオープンした日野駅前店(TokyoHino city)[62]以降は再びダイエーのロゴを併記するようになり、同年3月27日にオープンした茨木太田店(大阪府茨木市)[63]では店内でかつて使用されたダイエーの2代目ロゴが「イオンフードスタイル」のロゴと共に表記されている。
業態転換により出店した店舗については大半が「ダイエー」からの転換店舗だが、東浦和店・津久野店(堺市西区)は「Gourmet CityIt will be a store that has been converted from. As of June 2022, 3 stores in 8 prefectures, including "AEON Food Style" and "Daiei," are operating in this format.This format is a store operated by Daiei.Therefore, it is not included in the number of Aeon stores mentioned above and the Aeon store information on the official website of Aeon Retail.
Aeon Kyushu (former:Maxvalu Kyushu) Also similarConceptThere are stores withKumamotoKumamoto-shiChuoCommercial facilityCOCOSA"COCOSA B1" is open inside[64][Note 26].
Closed store
This section describes the stores that have closed after being rebranded as "AEON".
【reference】Jusco stores that existed in the past/Mycal store that existed in the past
Hokkaido area
Asahikawa Harumitsu store (HokkaidoAsahikawaOpened in March, 1981 (Showa 56)-Closed on May 7, 2022 (4 years in Reiwa)[65][66])

At the beginning of the store, "Nichii"Asahikawa store" (opened at the time when Aeon Hokkaido called "Hokkaido Nichii"), "Shunko" in 1996Saty, In 2002PosfulThe name was changed to "Shunko store" and "Aeon Asahikawa Shunko store" in 2011.Closed due to aging of the building.This is the first time that "AEON" has been closed in Aeon Hokkaido.Although the timing is undecided in the future, a new commercial facility will be built on the site.[67]
Tohoku area
Shichinohe store(AomoriKamikitaShichinohe,1994/(6)May 10Opening[68] -2011 (Heisei 23)May 8closed[69])

It was an experimental store with the first SSM (supermarket) business format of 2000 tsubo per floor.[70].
Tohoku ShinkansenShichinohe-Towada StationAeon Shichinohe Towada station front store is a nuclear store in frontAEON Shichinohe Shopping Center2011 (Heisei 23)May 9Opened in[71].. The employee was handed over to the Shichinohe Towada station square store[69]..It was planned that two stores would coexist in Shichinohe, but it was changed and closed.Even after the store name was changed to Aeon, the signboard remained Jusco until the end.It is also the first closed store of the "AEON" brand.

Esashi store (IwateOshu CityEsashi, Opened in April 2003- 2019/(First year of Reiwa) Closed on November 11[72])

Originally in October 1986 (Showa 61), Tohoku Nichii, a regional subsidiary of Nichii, the predecessor of MycalLiquidation) Opened as a general supermarket "Nichii Esashi store" with two stories above ground. Although it was converted to "Esashi Sati" in August 2, it was changed to Maycar in September 1996.BankruptcyUnder the influence of, the store was once closed in August 2002.
After that, in April 2003, Aeon, which became a sponsor of Mycal, reopened as "Aeon Esashi Shopping Center".The anchor store became "JUSCO Esashi store". The second floor was closed in 15 (Heisei 4) and became a food supermarket, and on March 2008, 20 (Heisei 2) it became the current "Aeon Esashi store".
Nearby Esashi Shopping Center (Esashi Twin Plaza)[Note 27]AEON TOWN Esashi opened on November 2019, 11 (the first year of Reiwa) on the site, and as its core store, ``AEON STYLE EsashiIt was closed due to a substantial relocation.
Kanto area
Koshinetsu/Hokuriku area
Tokai district
Kinki area
China area
Shikoku area
Kawanoe store (EhimeShikokuchuo City, Opened November 1999, 11 (Closed September 11, 18 (Reiwa 2019))

Opened as "JUSCO Kawanoe Shopping Center" (the anchor store is Jusco Kawanoe store). The anchor store became the Aeon Kawanoe store on March 2011, 3, and the name of the shopping center changed to Aeon Town Kawanoe on September 1, 9.
Due to the renewal of Aeon Town Kawanoe, the store will be closed in 2019 with the business closed.In addition, Aeon Town Kawanoe has an annex consisting of specialty stores along the prefectural road, Mishima Kawanoe Line, and the annex continued to be open even during the Aeon closure.[155].
Reopened on September 2, 2021 after a two-year holiday[156]..The anchor store will be a food supermarket, and Fuji Co., Ltd. (currently:) will be the first store to open in the Aeon Group shopping center.Fuji Retailing) Became the Fuji Shikoku Chuo store.In addition, the first store in Shikoku was opened in Aeon Town Kawanoe.Welcia PharmacyThere are various specialty stores such as.
Kyushu area
Store moved
In this section, we will describe the stores that are relocated after being rebranded to "AEON" and are operating under the same store name as the old store. The new stores of Kisarazu store and Okayama store, which will be described below, are one of the above-mentioned new store categories, which is a family format.AEON style storeThe store name has been changed to "AEON STYLE Kisarazu" and "AEON STYLE Okayama" from 2015.The Eucalyptus Gaoka store and Rifu store have been renamed from "AEON" to "AEON STYLE" at the same time as the move.
Tohoku area
(Old) Rifu store (MiyagiMiyagi-gunRifu TownRifu character,2000/(12) Opened on April 4- 2021/(Reiwa 3rd year) Closed on January 1st)

"Jasco Rifu Store" opens as a core store in the east wing of AEON Rifu Shopping Center (renamed to "AEON MALL Rifu" on November 2011, 23).
Due to the renewal of the entire building of "AEON MALL Rifu", it was temporarily closed on January 2021, 3 (Reiwa 1).[200].
In the existing building (currently "AEON MALL Shinrifu North Building")Prefectural Road No. 8 Sendai Matsushima Line (Rifu Kaido)Opened on March 2021, 3 (Reiwa 3) on the south side of the "AEON MALL Shin-Rifu Relocated and opened as the core store of "South Building", "Aeon Style Shin RifuWas renamed to[21]..Aeon Style Shin-Rifu is operated by both Aeon Retail and Aeon Tohoku, and is the first "Aeon" and "Aeon Style" store to be jointly operated by multiple operating companies (the store manager is also from both companies). 1 people, 2 person each)[201].
The old store was completely renovated and reopened as "AEON MALL Shinrifu North Building" on July 2021, 3 (Reiwa 7), and the anchor store is a group company.Maxvalu South TohokuDiscount store operated byThe Big Shin Rifu store"Has become a form of opening a store[202].
Kanto area
(Old) Kisarazu store (ChibaKisarazuAsahi,1982/(Showa 57)May 11(Opening-Closing August 2014, 26)

oldOugiyaOne of the stores that has been operating since the Jusco era, Kisarazu Green City Shopping Center (currentlyAEON Town Kisarazu Asahi) Was operating as a nuclear store.
It opened in the city of Tsukiji on October 2014, 10.AEON MALL KisarazuRelocated and opened as a core store of. A part of the old store remains of a group companyKasumiAnd was opened as a supermarket "Food Square Kasumi ion town Kisarazu store" on November 11 of the same year. On September 14, 2015, the civil department, welfare department, finance department, city maintenance department, education department, etc. moved to the second floor of the old store as the temporary office building accompanying the construction of the new government office of Kisarazu City Hall, and ``Asahi Government Building'' Was opened.

(Old) Eucalyptus Hill Store (Chiba Prefecture佐 倉 市Eucalyptus hill4-chome,1992/(Heisei 4) store opened on March 3-closed on June 6, 2016 (Heisei 28)

Initially, it opened as "Eucaligaoka Saty" and was renamed "AEON Yukarigaoka Store" due to the store brand integration in March 2011.
Relocated and opened as a core store of "AEON TOWN Eucalyptus Hill" which opened on June 2016, 6 at 10th street of Eucalyptus Hill in the city.AEON STYLE Eucalyptus HillWas renamed to[205].
After the move, the old store remainsEucalyptus hillIs also the administrator ofYamamanIt became the operation of, and the name was changed to "". On November 2017, 11OkayThe supermarket "OK Store" operated by the company has moved in, and the first floor has been reopened in advance (some stores opened in December 1). The 2017nd to 12th floors have been renovated since January 2, and clinics and general sports clubs have moved in.[206].
China area
(Old) Okayama store (OkayamaOkayama CityKitaAoe,1976/(Showa 51)May 12(Opening-Closing August 2014, 26)

There was no elevator in the three-story reinforced concrete store, and it was characterized by a slope connecting from the first floor to the rooftop parking lot on the R floor.
It has been 38 years since the opening of the former Aeon Okayama store.2014/Opened in front of Okayama station, 12-chome Shimoishii on December 5AEON MALL OkayamaMoved and opened as one of the core stores of.
Kyushu area
(Old) Aira store (KagoshimaAiraHigashimochida,1988/(Showa 63)May 11(Opening-Closing August 2016, 28)

Originally oldAira TownWith Ebisya (later Mycar Minamikyushu), which operates a supermarket based inMycal KyushuThe predecessor was the three-story reinforced concrete "Sun City Libre," which was jointly opened by the company, and the "Shopping Department Store Ebisya" was located in the nuclear store. In 3, the name of Aira Sati was changed due to the integration of Mycal Minami Kyushu and Mycal Kyushu, and since 2000 it is operated by Aeon Kyushu, which merged with Mycal Kyushu. In March 2007, the nuclear store was renamed to "AEON Aira Store" and the SC name became "AEON Aira Shopping Center".
Opened in Nishi Mochida on the west side of the old store on March 2016, 3Aeon Town AiraRelocated and opened as a core store of. The old store was dismantled, and on April 2017, 4, a civic service center, a daycare facility on site,Cinema complex, Grand opening of the east block, which is composed of specialty stores. As a result, it has developed into the largest shopping center in Aeon Town for leased area.[209].
Company
Japan
The following AEON Group companiesFukuiIt operates in 46 prefectures (excluding Jusco Sati Daiei, which used to open stores, but later withdrew. There is no old Jusco store.YamanashiAbout the old Sati storeIsawa storeWas incorporated,Kofu Showa storeThe Otsuki store was added due to the reorganization of the Daiei store network in March 2016, and in July of the same year, the Kofu Kokori store, a food supermarket format, opened. There were no stores in Tokushima Prefecture for a while after the brand was unified, but AEON STYLE Tokushima opened in April 3 in the form of opening the site of the former Jusco store).MaxvaluUnlike the above-mentioned AEON STYLE Shin-Rifu, the operating areas are clearly separated.
In addition to "AEON", operating companies other than AEON Retail include "Maxvalu" and "Maxvalu".The big(Hokkaido and Kyushu respectively)Maxvalu HokkaidoとMaxvalu KyushuSuccession due to absorption-type merger, TohokuMaxvalu TohokuIs because of its predecessor).
Outside Japan
Chugoku,MalaysiaIn Japan, the brand name of "JUSCO" was continued even after the store brands were integrated in Japan, but the brand name was gradually changed to "AEON", which is the same as in Japan. In 2014 (Heisei 26)Eur-lex.europa.eu eur-lex.europa.eu,CambodiaIn addition to gradually expanding toJiangsu,Hubei ProvinceOverseas, the store network is expanding, such as expanding to.
Aeon storesHong KongIs also developing a food supermarket format under the name "AEON SUPERMARKET".
Chugoku
Number of stores (as of February 2015)-2 stores (AEON stores)Hong Kong13 stores, AEONEast China1 stores, AEONHubei1 stores, AEONSouth China11 stores,Beijing5 AEON stores,Canton17 AEON stores,QingdaoAeon Totai 10 stores)
GMS format-45 stores (AEON stores Hong Kong 8 stores, AEON Huadong 1 store, AEON Hubei 1 store, AEON Hua Nan 9 stores, Beijing AEON 5 stores, Guangdong AEON 12 stores, Qingdao AEON Totai 9 stores)
SM format-13 stores (AEON stores Hong Kong 5 stores, AEON South China 2 stores, Guangdong AEON 5 stores, Qingdao AEON Totai 1 store)
AEON STYLE STORE (Hong Kong) Limited-AEON Stores Hong Kong

Business area: Hong Kong (Ancient castle,Beni)
At AEON Stores Hong Kong, the brand name is "AEON" from the new Tsuen Wan store that was relocated and opened on November 2012, 11 from the former Jusco Tsuen Wan store.

AEON EAST CHINA (SOZHOU) CO., LTD.-AEON EAST CHINA (SOZHOU) CO., LTD.
AEON (HUBEI) CO., LTD.-AEON Hubei
AEON South China Co., Ltd.-AEON South China Co., Ltd.

Business area: Guangdong (Shenzhen City, Huizhou City Huicheng District, Foshan City Shunde District)
At AEON Huanan, the shop name has changed to "AEON" from the Keiyo store that opened on March 2013, 3.

Beijing AEON Co., Ltd.-Beijing Aeon

Business area: Beijing/Tianjin

Guangdong Aeon Teem Co., Ltd.-Guangdong Aeon

Business area: Guangdong (excluding areas operated by AEON Hunan)
At Guangdong Aeon, the store name has changed to "AEON" from the supermarket Haikou Castle store opened on January 2013, 1, and all existing stores were changed to "AEON" on March 2, the same year. Changed the trade name from Guangdong JUSCO Teem Stores Co., Ltd.[213].

Qingdao AEON Dongtai Co., Ltd.-Qingdao AEON Dongtai Co., Ltd.
ASEAN countries
Number of stores (as of February 2015)-2 stores (32 stores of Aeon Malaysia, 29 store of Aeon Cambodia, 1 stores of Aeon Vietnam)
AEON Co. (M) Bhd. (AEON Malaysia)

Sales area: Malaysia
In AEON Malaysia, the brand name is "AEON" from 2012 Ipoh Station stores that opened on April 22, 4 (Heisei 14), and the existing stores have been gradually renamed to "AEON".

AEON (CAMBODIA) Co., Ltd. (AEON Cambodia)

Sales area: Cambodia
Established on August 2012, 24. AEON MALL on June 8, 3Phnom PenhAEON Phnom Penh store opened as the core store of[214].

AEON VIETNAM CO.,LTD (AEON Vietnam)
POS system
Since 2018,Japan NCR(Hereinafter, NCR) system was usedTouch panelA complete renewal of the new POS system that will be completed by the operation at[217]With thatKeyboardExistsToshiba Tech(Hereafter, TEC) POS terminalTeraoka Seiko(Hereafter, Teraoka) POS terminals are still valid, but are out of service except for some (numbers, "clear", "subtotal", "total", etc. The same applies below).Introduced after the same yearFujitsu FrontechSince the POS terminal made by (Fujitsu) is supposed to be operated by the new POS system from the beginning, there is no keyboard from the beginning except for the food manned cash register.
The TEC POS terminal (checker screen size 12.1 type) has been gradually replaced by the Fujitsu POS terminal (15 type).
Food manned cash register
TEC WILLPOS-Unity M-8000 / LS-790T (old terminal)
Fujitsu TeamPoS7000 M series (new terminal)
The only Fujitsu POS terminal has a limited keyboard.
Manned cash register other than food manned cash register
TEC WILLPOS-Unity M-6800 or M-8000 / Customer display type (old terminal)
Fujitsu Frontech TeamPoS7000 A series (new terminal)
Semi self checkout (payment self checkout)
The TEC registration machines are being replaced by the same Teraoka registration machines as the payment machines, but Fujitsu's registration machines and payment machines may be installed as a set at newly introduced stores.
TEC registration machine (old terminal) + Teraoka payment machine (new terminal)
Teraoka Speed ​​Self (new terminal)
Fujitsu TeamPoS / SP (new terminal)
Even at the food register, there is no keyboard for the registration machine.
The "Regigo" checkout machine has been introduced by Fujitsu.
Self checkout
Fujitsu terminals have been gradually replaced by NCR terminals, but some stores had introduced NCR terminals from the beginning.
Made by Fujitsu[218] TeamPoS / SR (old terminal)
Morley fantasyThe operation screen was based on, but there was no function to read out the amount.
Made by NCR[219] NCR SelfServ Checkout (new terminal)
There is a function to read out the amount of money, and the unit price is read out every time you scan. Finally, when you tap the "Payment" button corresponding to the "Subtotal" key, the total amount is read out as "○○○○ yen."
WAONIC card reader/writer including
at firstJREMManufactured R/W was introduced, but nowPanasonicMade ofCCT(JT-R700CR[Note 29]) Has been updated. After March 2020, the WAON POINT card/AEON Owner's Card reading and credit card payments are also being processed by the same machine. Functioning as a numeric keypad), and the PIN input is being entered.
footnote
注 釈
Source
外部 リンク