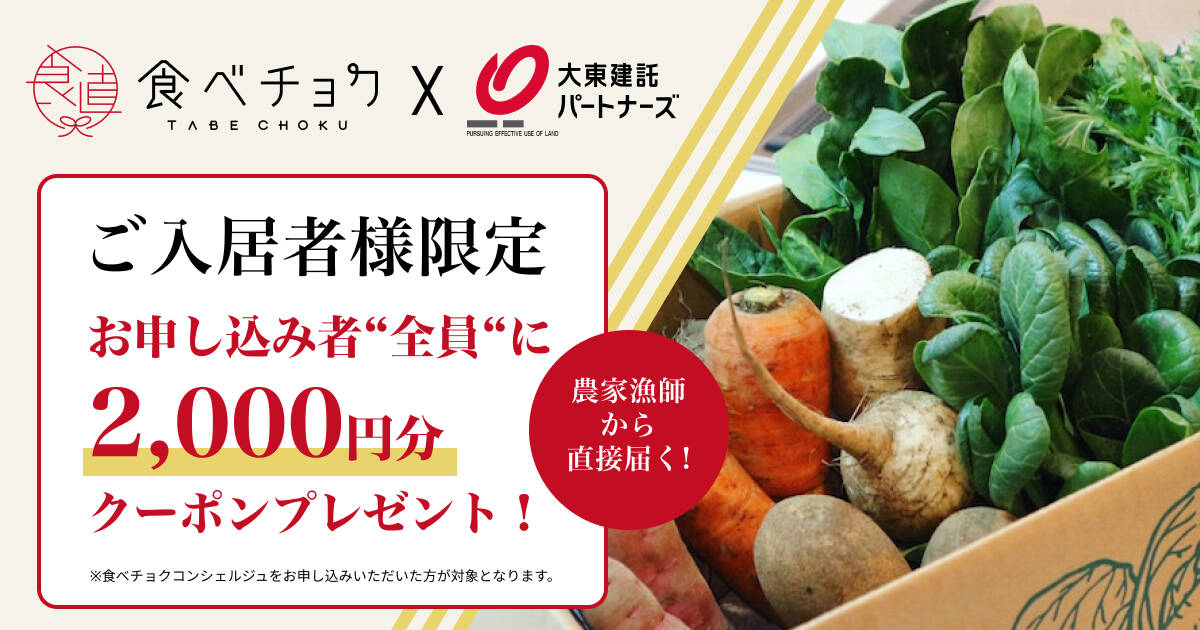 [Ended] Daito Trust Construction Residents Only! 2,000 yen coupon present | Eating chok
Hello!It is an online direct sales shop "Eat Chok" where you can order ingredients directly from farmers and fishermen nationwide.
Current,Only for residents of Daito Trust ConstructionCampaign in progress 🌼
Can be used as an eating chok for "everyone" who has applied for an eating chok concierge "Coupon for 2,000 yen"♬ Please use it!
* Please be sure to read "(5) [Important] How to get a coupon" below before applying.
===================================
🥦 What is Eating Chok Concierge?
You will receive your favorite vegetables"Regular vegetable service"That.
By recording the impressions of the vegetables you received, you will be able to select the farmer that suits you ✨
It is possible to select the amount (S / M / L) and frequency (weekly / biweekly / every 4 weeks) to be delivered according to your lifestyle ☀
VegetablesIt arrives within 24 hours at the earliest after harvestingSo very fresh ◎
You can get a coupon for 2,000 yen that you can use only for eating chok, and you can get 1,000 yen off for the first time!For 3,000 yenYou can enjoy it at a great price 😊
===================================
🎉 About the campaign
(1) Outline of the campaign
During the period, all those who applied for the Eating Chok Concierge can use it as Eating Chok2,000 yen couponWill be presented!
(2) Present contents
You can use it when ordering with eating chok2,000 yen discount couponWill be delivered to your account.
* Coupons cannot be used for regular flights (eating chok concierge, fruit select, single item regular flights) and sold-out products.
→See more in detail in the "Eat Choku" recommended article where selected vegetables arrive directly from producer