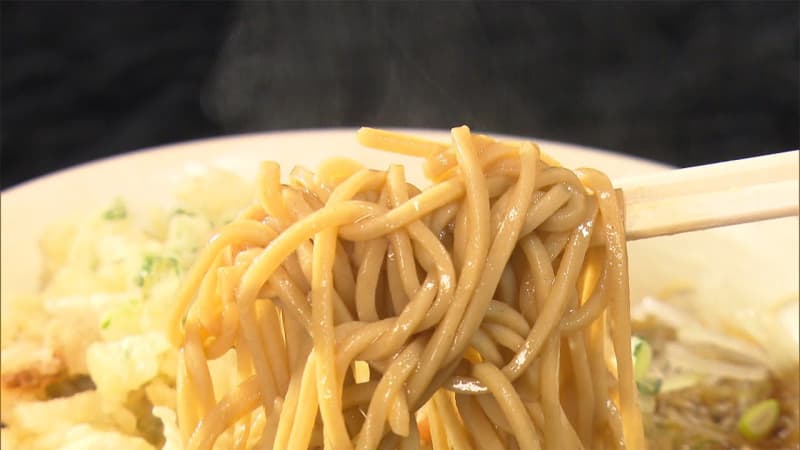 写真 
Soba and udon shops one after another "bankruptcy" Corona disaster "optimism" can not be done
 
If you write the contents roughly
It is said that he dared to find a business opportunity near the standing soba noodles of this season. 
The popular menu of the standing eating soba shop "Kameya Kanda East Exit" in Kanda, Tokyo is freshly squeezed, boiled soba, and warm ... → Continue reading
 FNN Prime Online
FNN Prime Online is a media that allows you to "new ways to interact with TV." Fuji TV's FNN28 station will do its utmost to deliver content such as articles, videos, live broadcasts, and the latest news that go beyond the boundaries of conventional TV and news.
---
Wikipedia related words
If there is no explanation, there is no corresponding item on Wikipedia.
Standing Soba/Udon Shop
Standing Soba/Udon Shop(Tachigui Soba Ten / Udon Ten)Soba,UdonEtc.Standing upProvide in format restaurant.
Overview
It is often used when you want to eat easily.fast foodIt is also a kind of store.SimpleMealThe origin of standing soba as a place isEdo Period OfEdoAtA stallIs.In the store format that can be seen all over JapanRailway stationIs inNear the stationAlso called.In addition to railway stationsMetropolitan areaAround the stationoffice StreetSuch asCity area-Commercial areaA store that operates in, oramusement park,baseball Ground,RacecourseThere are also many stores that operate at entertainment facilities such as.Depending on the store, instead of eating up, there are cases where you can sit on a simple chair at the counter, or you have a table seat.Most stores sell both soba and udon, but the ratio isCapital AreaThen, soba accounts for 7-8%,KansaiThen it is 4-5%, and even in the same Kansai, "Hankyu soba, Which accounts for 6% of the total, and some stores have taken off by converting udon specialty stores, whose sales are growing, to soba stores, and the concept of "stand-up eating at stations is soba" has been established.[1].
highway Ofservice area,Parking area,General road OfRoad StationEating or standing upcafeteriastyle'sLight mealSoba and udon noodles in the cornerMENUIn a broad sense, these may be included because there are.Also,1960 eraから1970 eraAt one time,Japan National Railway OfExpress trainWas part ofBuffetHowever, there were times when they offered standing-eating soba and udon noodles.
Considering soba and udon, and people outside Japan who do not understand the difference in menu depending on the region, the menu andSignboardThere are also stores that post pictures of food in.
Business form
Basically, customers go over the counter in the storekitchenOrder food from the employees insidecounterReceive the finished dish over there.
In the past, in exchange for the finished dish,EmployeeTo the pricecashAlthough it was a style of handing over money, thorough monetary management due to the spread of standing eating soba chains, andHealth centerWith guidance from a hygienic point of viewFood ticket vending machineThe number of stores using is increasing.Also,Suica-PASMO-ICOCA-SUGOCASuch asElectronic moneyThere are also stores that can be used[2][3]..However, in many cases, cash is only available for adding toppings, and there are many stores that still collect all products by hand.
Product form
noodles
Unlike the soba and udon restaurants in the city, the mainstream is "stand-up restaurants," because one of the selling points is to offer products in a short time.Boiled noodlesIn many cases, noodles that have been boiled in advance at a noodle factory are ordered and then boiled again for a short time and then served with hot soup.This is because boiled raw noodles cannot meet the customer's "want to finish a meal in a short time" request.In addition, since cooking is quick and easy with this method, the number of clerk is small and there is an effect of cost reduction.
Due to the demand for taste, the texture has improved.生麺"Or"Frozen noodlesThere are also stores that adopt.vice versafreezerThere is a drawback that it is necessary to install the noodles and it takes about 2 minutes to boil the noodles.For this reason, some stores that use raw noodles have a note on the wall stating that it will take some time to use raw noodles.生麺Is mainly used in stores located in urban areas, and after ordering, the noodles are boiled from raw noodles, and then the noodles are tightened with cold water, so you can enjoy the original taste.Even in stores that use raw or frozen noodles, in order to reduce the time and effort required to boil the noodles and maintain the speed of serving, the noodles may have grown in stores that boil a certain amount of noodles at once.It was in 1987 that the first stand-up restaurant introduced raw noodles.Fuji sobaIt is assumed[4]. "Komoro SobaIs a pioneer in the introduction of raw noodles[5]There are some, but details are unknown.
In the 2010s, an increasing number of stores are introducing in-store noodles using an extrusion-type noodle making machine, mainly for the purpose of providing freshly made soba noodles.[6]..At a major company, Fuji Soba started making in-store noodles at some stores in 2016.[7].
Soup
Noodle soupIs the same as ordinary soba and udon noodles.
In the Kanto region, eat with tuyu of soba noodlesMackerelAs if it was doneDark soy sauceとsugar-sweet sakeWith "kaeshi" made fromShavingsA dark soup with a strong umami and aroma[8]This is the same for soba noodles, kake soba noodles, and udon noodles.
On the other hand, in Kinki, light soy sauce is used.KelpLight-colored soup that makes the best use of the flavor of is the mainstream.In the west of Kinki (Western Japan), the area where "Kanto-style" soy sauce using dark soy sauce is served is quite limited, Tottori prefecture.YonagoSurroundings, Shimane PrefectureIzumo regionIt is only.However, the green onions used in those areas are all green onions, as in other western Japan.
InlandMaibara StationThe stand-up restaurant is clearly a Kinki-style soup stand-up restaurant that makes the best use of the flavors of light soy sauce and kelp.Tokaido Main LineThe station with a standing restaurant located on the east side of Maibara along the line used to beOgaki Station, As of 2006Gifu StationAll of them are Nagoya-style soy sauce shops based on dark soy sauce.
There are some excursions, so I can't say it unconditionally, but there is an opinion that the boundary can be drawn from the north based on the border between Toyama, Sekigahara, Aichi and Mie prefectures.[9].
200012/22Was broadcast onTamori Club Goodbye 20th Century SPECIAL "(TV Asahi, 90 minutes expansion SP),Tokaido ShinkansenWe investigated the color depth of the udon soup at each station.Kanto style from Kanto to Tokai, especiallyOdawara StationからToyohashi StationWas the darkest, and it became darker as we went west.Next to Toyohashi StationMikawaanjo StationA slightly thinner change begins to appearNagoya StationIs almost the same as Mikawa-Anjo Station, next to itGifu Hashima StationThen it becomes even thinner than that, and the nextMaibara StationThe result was that it became a complete Kinki light-colored soup stock.[10]..Also, broadcast on October 2001, 10, "Tokoro's eyes are ten!], A similar survey was conducted, and it was concluded that the train would switch to Kinki at Maibara Station.[11].
Seeds and condiments
"" at a stand-up restauranttempuraIs generally "fried oystersMeans.Some stores use delivered products and ready-made products, but the number of stores that fry in-store is increasing.There are regional differences in the content of kakiage,Capital AreaThen.OnionsThe mainstream is the one that has a good taste, butSakura shrimpIn some areas, only powdered tempura with almost no ingredients is used.The one with tempura and raw egg on top is called "Udon".
"Meat udon" is available in western Japanbeef, In eastern Japan豚 肉Is often used.Instead of meat udon in some areaschickenThere is also an example in which "Kashiwa Udon" using is provided.
In some cases, original seeds are used.HeapingFrench friesPostedHankyu soba"Pote soba / udon" and silktofuI put it as it isHakosoba"Chilled Tofu Iccho" (summer limited menu until 2006) is a menu that has never been seen in ordinary stores until then.On the other hand, in stores where there are not many users, the types of toppings are often narrowed down.In the extreme caseeggSome restaurants only offer kakiage, and only have four menus: kake, tempura, moon viewing, and tempura.
Croquette soba and udon can be found mainly in the Tokyo metropolitan area.The "Hakosoba" croquette offered at the Odakyu Electric Railway station is a curry-flavored "curry croquette."
In eastern JapanDeep-rooted green onion(White onion), in western JapanLeaf green onion(Green onion) tends to be a condiment.At Udon near the station on the Tokaido Main Line,OdawaraAnd white onions,MishimaThe use of leaf onions can be seen in.Also, on the Hokuriku Main Line,KanazawaWhite onion is used in,FukuiGreen onions are used in.
Some stores offer morisoba, zaru soba, chilled soba, and bukkake only in the summer.The price is often set higher because it takes time to cool the boiled noodles with running water and it takes time to serve them.
飯物
Some stores also offer rice.Gofood・ Cooked foods ・TororoThings that can only be served in bowls such as rice,Curry and rice・ KakiageBowl of rice and fried fishThe same ingredients as noodles such as, orInari Sushi-Rice ballThere are many simple menus that do not require cooking in stores such as.On the other hand, like a regular soba restaurant menuOyakodon-Pork cutlet on rice-beef bowl・ In summerEel bowlThere are also stores that put rice bowls such as.EkibenSome stores in the station operated by dealers handle ekiben, but they are for take-out only.
Near the station
Near the station(Ekisoba) is JapaneseRailway stationOn the premisesJapanese buckwheat noodlesProvide (soba) restaurantAnd its soba.ManyStanding soba shopIt is operated in the format of.It is also commonly used in station soba shops.
Standing eating soba shops in the station yard are mainlyEkibenStores that have been operated by vendors that sellRailway operator(mainlyOld railway) Is roughly divided into stores that have been directly managed or developed by affiliated companies as measures against surplus personnel.[12]..In the latter half of the Meiji era, there were shops offering sobaKaruizawa Station-Chomanbe Station-Mori StationI was able to[13]..It will also spread as a service that you can easily eat in your spare time such as when the train stops or when you change trains.[14]..Also, at the station soba shop on the platform, you can take it home so that you can bring it on the train in response to the shortened stop time.containerThe form of being sold inclusively has also become widespread.
However, the original operation form of "operation of ekiben dealers" was withdrawn due to the slump in the ekiben business and the aging of the owners, and "measures for surplus personnel of railway operators" was also the arrangement of surplus personnel and railway operators. The stores are closing one after another due to the reorganization of the group.As a successor, the number of restaurants affiliated with railway companies is increasing, and it is reported that the seasoning near stations tends to be standardized.OnceJR EastMost of the station side of the station is a subsidiary of the company.Japanese Restaurant EnterpriseWhen they unified it as "hydrangea teahouse", they said that they received a series of complaints because the taste of each restaurant was the same and the taste was mediocre.[12]..In addition, it has been pointed out that the convenience of the railway itself has improved and the time required to stay at the station has decreased, which is also a headwind for the station soba shop.[14].
Outside Japan South KoreaThere are only "station udon" instead of "station soba" at major city stations in Japan, and it seems that the concept of "station soba" or "station noodles" is thin in other countries.
It should be noted that there are standing restaurants specializing in ramen in various places, although it is out of the category to be mentioned in this section because it does not have soba or udon at all.There used to be a stand-up ramen chain store called "Home Ramen"Akihabara Station-Hamamatsucho StationIt was on the premises, but it does not exist now.
Name
Railway operatorBy affiliated companychainOr unfold or commonNameThere is an example of providing.In addition, there are cases where ekiben shops are open at multiple stations.On the other hand, some stations often have their own name.
West Japan, especiallyKinkiUdon is the center of the menu, but "soba" is often used for the shop name.There is a survey result that the sales ratio of soba is about 4 to 5%.[15]..One of the factors is that there is an image that soba can be eaten faster.[15].
Features of each area
Hokkaido
HokkaidoMost of the tempura at the stand-up restaurant is made by hardening fried balls into a disk shape and having dried shrimp on the surface.NarutoIn many cases, the outer wavy part is red and the inner swirl pattern is green.
Otokofufu StationThe dark black soba noodlestv set,magazineIt is also taken up in.
Engaru StationThen, there is no kitsune soba or udon,合鴨Soba is the center.
Sapporo StationThen, containers for carry-on in the car are sold at all home stores, including the departure and arrival platforms for commuter trains.Also, the store is built indoors only in the kitchen, and the counter is outdoors.When there were few other restaurants on the premises, there were many customers who used to eat in the car while avoiding the platform exposed to the cold wind, even if there was time to depart in winter.
Rumoi StationSo, I used herring, which is a local specialty.Herring sobaIs a specialty.
The dashi stock at the standing eating soba restaurant in Hokkaido is very dark and often black.However, contrary to the appearance, many of them are sweet with kelp soup stock, and the saltiness is not so strong.
Tohoku
North Kanto
South Kanto
Koshinetsu
Tokai
Hokuriku
Fukui StationUdon and soba noodlesBonitoIt is characterized by scattering.
Unique to the Hokuriku region called "Akamaki" at udon and soba restaurants in Toyama and Ishikawa prefecturesKamabokoSince it is common to add kamaboko, kamaboko is served with green onions even in standing-eating kake soba and kake udon.
At "Tateyama Soba" at Toyama Station, Kamaboko with characters such as "Tateyama" is served.In-home stores did not introduce plastic containers for carry-on in the car until the latter half of the 1990s, and when they were brought in the car, which was once the mainstream, they paid a carry-on fee and purchased the whole bowl.Currently, take-out containers are sold only at home stores.
Takaoka StationAt the shop on the premises, a menu with soba and udon served together is called "Champon".
Kinki
Chugoku
Shikoku
Kinki-style soy sauce made with light soy sauce, but for soup stockIrikoThe flavor may be slightly different from that of the Kinki region due to the large amount of.
There are few standing-eating soba and udon restaurants, and most are udon-only restaurants.If you have buckwheat noodles, you may be required to pay an additional fee for the udon noodles.
Kinashi StationIs, so to speak, a station where the main customers are reversed, where a Chinese restaurant on the premises simply consigns and sells tickets.Long time agoAwa Fukui StationThe udon shop on the premises had a simple consignment, but it closed.Motoyama StationThere was already a store in the station building, but it is closed.
Takamatsu StationOnce on the premises ofUtaka ferryWe offer udon that reproduces the udon that was open on the deck of.
Matsuyama StationOn the premises ofEhimeSpecialtyJakotenThere is udon (soba).
Kyushu, Okinawa
It is an area centered on udon noodles, and udon noodles are always prepared so that they can be served immediately, but there are many shops that cannot serve soba noodles immediately.In the case of soba, there are stores where an additional charge is added as in Shikoku.
As a characteristic species, "Burdock heaven"(Also called" Goboten ") and"丸天"Is mentioned. "Burdock heaven" is mainlyBurdock OfFriedHowever, in some areas, it is cut diagonally or chopped into chopped wood and fried individually, and a crispy texture is preferred. What is "Maruten"?Fried SatsumaLarge format similar toKamabokoIt's about tempura.The sweetness is not as sweet as Satsuma-age, and unlike the "oden" found at Tachikawa station mentioned above, it is not particularly seasoned.
If you order "Tempura Udon" or "Tempura Soba", the above "Maruten" may come out on board.
Most of the stand-up restaurants in the Kyushu regionplasticIt is served in a bowl made of rice and can be brought into the car with a small additional container fee.
FukuokaIn the northern Kyushu area centered on Kyushu, it is characterized by a soft texture and a slightly flat cross section.Hakata UdonIs provided.Also, even if you order "Kake"chickenIn many cases, it contains what is called "Kashiwa", which is a sweet and spicy boiled shredded oak.Kashiwa udon TheHakata Station TheJR Kyushu Food Service(寿軒After bankruptcy, the trader will change), northHigashichiken,Kokura Station-Moji Station Kitakyushu station lunchIt is divided into.The taste and flavor of noodles, soup, and wrinkles are completely different between the two.At Hakata StationReplacement ballThere is also."Plattopit" at Kokura Station is a manga "Plattopit"Cooking daddyIt is introduced as a specialty in Volume 59.
Tosu StationEven at a stand-up restaurantKake udon(Mackerel), The chicken is on it.DistributorCentral eaves TheOrio Station OfHigashichikenLine up withSwallowIt is a popular company in Tosu Station, and it is said that the 5th and 6th stops are good, but the vendors are the same.Central eavesShin-Tosu StationBut I run it.
Kumamoto StationThen, although the trader is replaced, the local specialtyTakaThere are udon noodles and soba noodles with the ingredients.
KagoshimaThen, Kyushu Shinkansen station,Sakurajima Ferry,Kamoike/Tarumizu FerryThere is a standing udon noodle in the terminal and on the ship, but it is rarely seen elsewhere.
OkinawaThere are very few stores that offer Japanese soba and udon in all prefectures, about 50, and even though small-scale privately-owned stores have opened, there are no long-lasting examples.AlsoOkinawa sobaThere are no standing restaurants that do not have seats.In Okinawa, a car society, there is a business format that offers a small amount of Okinawa soba, which is almost empty, at a low price, and it is widely sold at lunch boxes and parlors (simple stores near stalls) along the highway.
footnote
---
[You can easily write your impressions using Twitter! ]
Just press the button below and write after "Impression of the article:" and tweet! In that case, please do not delete the input from the beginning, please put a space after the impression so that sentences will not be connected to the URL.
The official account of PORTALFIELD News will spread (follow, like, retweet) your impressions. After tweeting, you are free to spread or delete it yourself, so feel free to send us your thoughts! Thank you for your cooperation.

You can see the impression tweet to this article sent to Twitter.