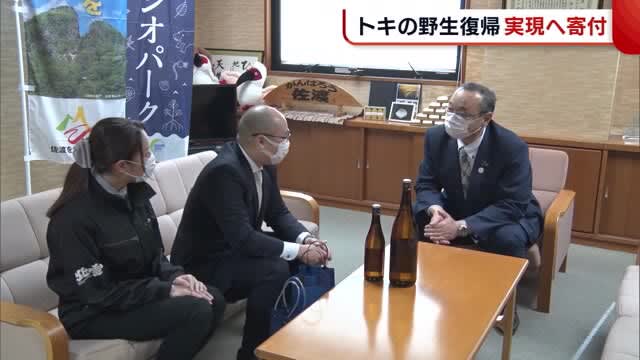 写真 
Toki's return to the wild Sake brewing company donates part of sales [Niigata / Sado City]
 
If you write the contents roughly
Mayor Ryugo Watanabe of Sado City said, "I want to use it for the conservation of biodiversity centered on crested ibis." 
Hokusetsu Sake Brewery in Sado City donated about XNUMX yen to Sado City on the XNUMXth to help Toki return to the wild. → Continue reading
 Niigata General Television
"NST Niigata General Television" (Fuji TV affiliate) news account. We will send you the latest news about Niigata Prefecture.
---
Wikipedia related words
If there is no explanation, there is no corresponding item on Wikipedia.
Sado City
Sado City(Sadoshi) isNiigata OfSado IslandThe whole area is the city areaCity.2004(HeiseiIn 16), the former 10 municipalities on the island were merged and born.
Overview
Sado City is composed of 10 districts based on the municipal areas of the former municipality.City hall is geographically centralKanai areaAlthough it is located inAikawa districtLocated in theSawada area[1],HonshuThe gateway connected toRyotsu district(Ryotsu Port)as well asOgi district(Ogi Port), the functions are distributed in various places.
According to the classification by "Sado City History and Culture Basic Concept", Ryotsu,Kawarada, Ogi, and Aikawa are positioned as "base cities" that have developed in both modern and modern times.[2].
Geography
Adjacent municipalities
The only municipality on Sado Island is Sado City, and there are no other municipalities on the island. However, it is connected to the following municipalities by route.
climate
History
Ancient times
SadoWhen was builtRenewal of DahuaAlthough it will be after that, the exact time is unknown. First lookEmperor Bunmu4 years(700).
Guardian Homma
Kamakura Shogunate Guardian feeAs a result, Mr. Homma was dispatched to Sado. I entered Sado at the same timeLordWith Shibuya and AiharaSengoku periodUntil these people rule Sado.
Muromachi/Sengoku
Mr. Homma's branch house progressed, Mr. Kawarada Honma (Headquarters: Kawarada Castle), Mr. Hamo Honma (Headquarters:Hamo Castle) Forces will surpass the Soryo family (headquarters: Zotaki).
Uesugi Kagekatsu
EchigoLarge ofDaming,Kenshin UesugiSado, who was confused by the death of, inherited the mark of KenshinUesugi KagekatsuHonma is destroyed. After that, Honma's family moved to Sakata,Homma SakataBecomes After Kagekatsu moved to Aizu, Sado will continue to be Uesugi Ryo.
Tensho17 years(1589): Kagekatsu Uesugi controls the conflict between Kawarada and Homma Honma and controls Sado.
Keicho5 years(1600): Kagekatsu UesugiBattle of SekigaharaLost to Yonezawa the following year.
Shogunate
Edo Shogunate Sado Magistrate's OfficeAnd control Sado one country.Sado KanayamaProduced byFriEnriched the Shogunate's finances.MeijiOne nation in an eraHeavenWas called.
After the Meiji era
navigationWith the development of technology,Kitamaebune) Will no longer serve as a relay station, and will be economically abolished.
Changes in administrative area (after the enforcement of the municipal system)
Meiji
Showa
Heisei
population

Second World WarSince then, the population has declined significantly,1970(Showa 45)CensusThen the population of the whole island fell below 10.
Decrease rate by district[3]Is located in the Kunichu Plain, while being large in Aikawa, Ryotsu, Akadomari, etc.Roadside storeSawada, where many places are located, is relatively small.
Administration
Successive mayors
| 代 | Name | Inauguration date | Retirement date | Remarks |
| --- | --- | --- | --- | --- |
| 1-2 generations | Koichiro Takano | 2004th of February 4 | 2012th of February 4 | Former Mayor of Mano |
| 3 fee | Motoya Kai | 2012th of February 4 | 2016th of February 4 | |
| 4 fee | Motohiro Miura | 2016th of February 4 | 2020th of February 4 | |
| 5 fee | Ryugo Watanabe | 2020th of February 4 | Incumbent | |
City hall/branch
| Government building | Location |
| --- | --- |
| City hall (Kanai district) | 〒952-1292 232 Chikusa, Sado City |
| Ryotsu branch | 952 Ryotsu Minato, Sado City, 8501-198 |
| Aikawa branch | 952 Aikawa Sakaemachi, Sado City, 1592-27, Japan |
| Hamo Branch | 952 Hamo Hongo, Sado City, 0504-550 |
| Sawada Administrative Service Center | 952 Kawaradahoncho, Sado City, 1393-394, Japan |
| Shinho Administrative Service Center | 952, Shinho Uryuya, Sado City, 0106-501 Japan |
| Hatano Administration Service Center | 952 Hatano Kou, Sado City, 0206-533 Japan |
| Mano Administrative Service Center | 〒952-0318 489 Mano Shinmachi, Sado City |
| Ogi Administrative Service Center | 〒952-0604 1940-1 Ogimachi, Sado City |
| Akadomari Administrative Service Center | 952 Akadomari, Sado City, 0706-2458 Japan |
legislation
City council
Constant: 21
Term: April 2020, 4-April 13, 2024
Chair: Takashi Sato (non-parliamentary group)
Vice-chairman: Yoshihide Sakashita (non-parliamentary group)
| Parliamentary name | Number of seats | Member name (◎ is representative) |
| --- | --- | --- |
| Shinsei Club | 5 | ◎ Junichi Kaneda, Nobuo Komagata, Ikuko Uesugi, Omi Hirose, Yusuke Goto |
| Political party | 3 | ◎ Hiroshi Murooka, Taku Yamamoto, Junichi Hayashi |
| Japanese Communist Party City Council | 2 | ◎Naomi Nakagawa, Yoshio Nakamura |
| West wind of Sado | 2 | ◎ Kei Kita, Kenji Nakagawa |
| Citizen's voice | 2 | ◎ Mari Arai, Kazuyoshi Kondo |
| Seiyukai | 2 | ◎ Shigeki Inanabe, Kenji Yamamoto |
| Komeito | 1 | ◎Nobuyuki Yamada |
| Abandoned | 4 | Kazutaro Hirata, Sada Sato, Yoshihide Sakashita, Takashi Sato |
| meter | 21 | |
*Changed from the 2020 election to a constant number of 21.
Prefectural assembly
Constant: 2
Term: April 2019, 4-April 30, 2023
| Representative name | Parliamentary name | Number of wins |
| --- | --- | --- |
| Nakano | LDP | 6 |
| Hisao Sato | Independent | 2 |
House of Representatives
judicial
裁判 所
National facility
Prefecture facilities
Sado Area Promotion Bureau

Main government building (Aikawa district)
Agricultural administration building (Kanai district)
Agricultural land government building (Shinho district)
Fisheries Government Building, Harbor Government Building (Ryotsu District)
Policemen
Fire
Economy
industry
Major industries
Agriculture/Fishery

Tourism

Mining

IT
Population by industry
Total: 36,314 (100.0%)
Primary industry: 1 (8,789%)
Primary industry: 2 (7,777%)
Primary industry: 3 (19,711%)
Unclassifiable: 37 (0.1%)
(2005 Census)
Traditional crafts
Tear cloth
Sado chest of drawers
Sister cities/partner cities
The exchange business before the Sado City merger is as follows. In the future, we will separate or adjust what can be exchanged on an island-wide basis and those that can be exchanged on an old municipality basis.
Domestic
Outside Japan
Region
hospital
Sado City Ryotsu Hospital
Sado City Aikawa Hospital
JA Niigata KoseirenSado General Hospital
JA Niigata Koseiren Mano Mizuho Hospital
JA Niigata Welfare Ren Hamo Hospital
Medical corporation Okasakai Sawada Hospital
Education
Secondary school
high school
Elementary and junior high school
Special school
Vocational school
Niigata Health and Welfare Sado Nursing College
Sado Nursery School
Facilities other than school education
Vocational training facility
Social education
library
Sado City Central Library
Sado City Kanai Library
Sado Mano Library
Sado City Ogi Library
Sado City Sawata Library
博物馆
Ryotsu Folk Museum
Sado City Shinho History and Folklore Museum
Sado Country Ogi Folk Museum/Sengoku Ship Exhibition Hall
Museum
Tsuchida Museum of Art
Japan Amateur Museum of Fine Arts
Shirai Izumi Museum
Hall/Venue
Amusement Sado (Sado Central Cultural Center)
Ryotsu Cultural Center (former Ryotsu Civic Center)
Sado Hall
Osaki Activation Center
Kanai Community Center
Sports
Sports Facilities
Niigata Prefectural Sado Sports House
life line
electricity
There are two in Sado CityThermal power plant(Ryotsu-Aikawa) And fourHydroelectric power plant(Shinbogawa, Mizusawa, Umezu, Shirase) There are a total of 6 power stations, which supply electricity to the island independently. Not a form of electricity supplied by cables from the mainland[5].
Niigata ThePower frequency50Hz OfTohoku Electric Power NetworkIs a business area ofPower frequency60HzIt is supplied by (the prefecture,Myoko CityとItoigawaPart of 60Hz[6]). This is Mitsubishi Mining Co., Ltd. (currentlyMitsubishi Materials) Under the jurisdictionSado MineBy adjusting to 60Hz power generation equipment .
gas
City gas is supplied by Sado Gas in part of the Ryotsu area. Due to topographical constraints, in most areasLP gasTo use.
Tel
Area codeIs the whole area0259(Sado MA).
Originally, there were two MAs in Ryotsu (former Ryotsu City and Shinhomura) in the northeastern part of Sado and Sawada in the southwestern part (a zone where you can talk for 2 yen for 3 minutes), but all the municipalities in the island were newly merged. Considering that they became the same municipality,2005(17)May 6Was integrated into.
Water
On the islandWater supply4 districts,Simple waterworksThere are 40 districts and 2 districts with small-scale water supply.
2018On January 1th, a large-scale water outage occurred on the island, and temporarily, more than 28% of the island's 24,112 households had more than 4% of its 10,656 households.[7].
Transportation
Public transportation
Once1922(Taisho11 years)Railway laying methodIn Appendix No. 56, "Sado Kuniyori Yorii Kawarada wo Keitei Aikawa Nijiru Railway" is used as the business segment on the "Izumi (Ryotsu)-Kawarada-Aikawa" route.Sado Railway(Tentative name) was planned, but it is still unopened.
On the other hand, the bus1913(Taisho 2) Shumeikan opened Ryotsu-Aikawa,1916(Taisho 5) Shonosuke Takatsu (later Ogi Motor) opened Ogi-Kawarada,1918In (Taisho 7), Nanjuro Watanabe (later Sado Motor Company → Fuso Motor Company) opened Ryotsu-Aikawa, Ryotsu-Shinmachi-Kawarada,1923(Taisho 12) Hamo Motor opens Kawarada-Ogi,1924In (Taisho 13), Hosono Uhachi moved to Matsugasaki-Shinmachi,1925(Taisho 14) Kikuzo Kawaguchi opened Tada-Hatano, Yamamatsu Shokai Mashu-Ryotsu-Kawasaki, and Toyokichi Ueda (Maruichi Automobile later) opened Ryotsu-Aikawa.
After that, Ogi and Hamo merged to form Maesado Motor. Akahodo Motors was established by Uchihachi Hosono and Kikuzo Kawaguchi. Fuso Motor Company, Maruichi Motor Co., Ltd. and Maeda Sado Motor Co., Ltd. have merged to form Sashu Godo Motor Co. (later renamed Sado Ryodo Motor Co., Ltd.).1937(Showa 12) Sado Ryosha merged with Niigata Godo,1943With the integration based on the Land Transport Control Ordinance of (Showa 18),Niigata TransportationIt became.
After the warNational railway(JNR bus) Is on Sado IslandTransit BusThere was a plan to enter the business, but it did not happen.
bus
Public transportation on the islandTransit Busonly. All routes on the islandNiigata TransportationGroup ofNiigata Kotsu SadoIt is operated by. In addition, the Ryotsu Port bus stop is listed as the central station in the JTB timetable.
The busOne manBefore it was converted, the main of each municipalityBus stopStaff members are assigned toTrainSame asstationWas called. At the counterticket-Commuter PassBesides, Sado Kisen andNiigata Port -Niigata StationOne bus to the bus and to the national railwayTransit and boarding ticketsWas also on sale. Even now, the name of "station square" remains at the name of the intersection near the main bus stop.
Main line (system number 1): Ryotsu-Kanai-Sawada-Aikawa-Sado Kanayamamae
South line (system number 2): Ryotsu-Shinho-Hatano-Shinomachi Mano-Sawada
East Coast Line (system number 3): Ryotsu-Kawasaki-Okawa-Katanoo-Tada

Some flights extend to Akadomari Wharf (from April 2019)

Utsumifu Line (system number 4): Sawada-Ryotsu-Waki-Washizaki-Onogame-Masaragawa

On Saturdays and holidays, Iwataniguchi starts and ends instead of the Masara River

Nanaura Kaigan Line (system number 6): Sado Hospital-Sawada-Futami-Aikawa-Sado Print Village

On Saturdays and holidays in the first half of the year, we will go to Senkaku Bay without going through the Aikawa circulation line
On Saturdays and holidays, Kawarada Honmachi first and last station, not Sado Hospital

Maehama line (system number 7): Ogi-Hamo-Akadomari-Urazu-Tada

Jumbo taxi service will start on some flights from April 2019

Tsudzu Line (system number 8): Hamo-Ichinomiya Entrance-Takihira-Shigeru Kamikawa

Jumbo taxi service will start on all flights from April 2019

Kaifu Line (system number 9): Sado Hospital-Aikawa-Senkaku Bay-Irikawa-Iwataniguchi

On Saturdays and holidays, not at Sado Hospital

Ogi Line (system number 10): Aikawa-Sawada-Mano Shinmachi-Nishimikawa-Ogi
Sukunegi Line (system number 11): Hamo-Ogi-Sukuneki-Sawasaki-Ezumi

Jumbo taxi service will start on some flights from April 2019

Kuninaka/Kanamaru Line (system number 13): Sawada-Sado Hospital-in front of Shinmachi School-in front of Shinho Elementary School-Sawada

On Saturdays and holidays, only the Kanamaru Line is available

Iwakumi Line (system number 14): Sawada-Kanai-Hatano-Tada-Kakinoura
Yokojuku Line (system number 15): In front of the supervisor station-Yokoyama-In front of Shinho Elementary School-Sado General High School

Operates only as a student car on weekdays

Akadomari Line (system number 16): Sado Hospital (weekdays only)-Sawada-Mano Shinmachi-Kawashige-Akadomari-Ogi
Konan Line (system number 22): Ogi-Nishimikawa-In front of Shinmachi School-In front of Shinho Elementary School-Ryotsu

Changed to operation as a student car from April 2019, 4
As a student car, it runs only on weekdays from April 2019, 4 to November 1, 11
道路
On the islandhighwayThere is no.General national roadIt is,National Route 350One route runs through Ryotsu, Kanai, Sawada, Mano, Hamo and Ogi districts and runs through the island. still,Sado SteamshipThe Ryotsu route and the Ogi route are the connecting routes of this 350.
A general national road running on Sado Island
Prefectural road running on Sado Island(Main local roads, general prefectural roads)
Road Station
空港
Ryotsu district Akitsu is the only island空港IsSado AirportHowever, as of February 2021, there are no regular flights.
1958(Showa 33)Niigata AirportStarted operation as an outdoor airfield at1959A regular air route to and from the airport started in (34).1971Transferred to the prefecture from (46) and became an independent airport. The runway is 890m long and 25m wideRestricted surfaceSince it is also narrow, only small aircraft can take off and land, and aircraft larger than jet aircraft and medium-sized aircraft cannot enter.
The regular commuter air route between Sado and Niigata is1996Since (8), based in Niigata PrefectureAsahi Shin AirlinesWas operating, but due to the effects of chronic deficits and the aging of the company's operating personnel,2008(20)May 9With the flight suspended, the company was virtually disbanded. For about three years thereafter, the airport was only used for takeoff and landing of small commercial aircraft and emergency transportation.
after thatKagoshimaHeadquartered inJapan AirlinesMade a name for the flight,2011May 7Since then, the air route between Sado and Niigata has started to operate again,2014May 3The company announced that it will suspend the flight indefinitely in order to establish a system for stable operation.
For many years at Sado Airport, runway extension and expansionTokyo International Airport(Haneda Airport), etc., the idea of ​​opening an air route with a metropolitan area has emerged several times,200810ToATR 72Demonstration flights of Sado Airport-Niigata Airport-Haneda Airport are being carried out[8] However, none of them has been materialized.
Ships / ports
Due to the geographical conditions of remote islands, the backbone of transportation to and from the islands depends on routes. On the islandRyotsu Port,Ogi PortTwo ofImportant portThere is. What is the mainland side of Niigata Prefecture?Sado SteamshipIt is connected by the following two routes operated by.Ryotsu routeCar ferry"Okessa Maru" "Tokiwa Maru" and jet propulsion typeHydrofoil(Jet foil) "Tsubasa" "Suisei", Ogi route is operated by jetfoil "Ginga".In addition to this, there is Akadomari Port.
Regular passenger routes from each port on Sado Island
The Ogi route is suffering from a chronic deficit, and although it used to be a two-car ferry system,2008From (20), the number of flights will be reduced by one ship, and all flights will be suspended during the winter season except the year-end and New Year holidays (see the details of the route).Sado SteamshipSee). High-speed car ferry from 2015 to 2020AkaneIt was operated by one ship, but from 1 it was changed to one jetfoil (detailsSado Kisen #Naoetsu RouteSee).
Until 2018, in addition to the above two routes, the red line called ``Ryodome route''NightPort (Sado City Akadomari district) and templeNightThere was a route connecting the port (Teradomari area, Nagaoka city).2005(17)6Until then, it was operated by car ferry, and then by the high-speed ship "Aibis". When using a carKanto regionAlthough it is the closest and most convenient route, both ports have a large number of small port facilities and are limited to small vessels, so there are many cases of cancellations in winter,2009Since 21, all flights have been suspended during the winter (see details)Sado Kisen #Teradomari RouteSee).
Once after the war1970 eraTo Ogi PortKashiwazaki PortThe route connecting the route was operated intermittently, but it has already been abolished due to unprofitable factors. Also1975(Showa 50), with SadoNoto Peninsula,Tateyama Mountain RangeWith Ogi Port as part of the plan to makeIshikawaSuzu CityThe route connecting Iida Port was opened. At the timeOgimachiAlthough Suzu City was expected to become a sister city with the opening of a shipping route,Oil shockDue to the subsequent recession and sluggishness of users,1978It was abolished in (53).
In addition, Rikiya Kanko Kisen, which operates sightseeing boats based in Ogi Port, operates charter routes to and from the island.
Lighthouse
Sawasakihanahana Lighthouse
Taigahana Lighthouse
Sado Osaki Lighthouse
Irisaki lighthouse
Seki Cape Lighthouse
Kanzaki Lighthouse
Miyanosaki Lighthouse
Ryotsu Port North Breakwater Lighthouse
Jogahana Lighthouse
Konosenohana Lighthouse
Festivals/Events/Sightseeing/Sightseeing/ Historic Sites
Festivals and events
Famous places / sightseeing
Agricultural and mountain village landscape derived from sand gold mine in Sado Nishimikawa (important cultural landscape)

Osado Skyline・ Hakuundai
Himezaki Lighthouse: One of the 100 World Lighthouses and 50 Japan Lighthouses
Ogi no Gosho Zakura: NationalNatural treasure
Hayoshi's Great Mulberry: National Natural Monument
Shrines and temples
Historic site
Famous people
Shiba Ryokai(Medical doctor・Languager, 1839-1879): It is said that he is a genius of language and has been familiar with six languages: German, English, Dutch, French, Russian and Chinese. Principal of Aichi Medical School.
Takashi Masuda(Businessman,Tea ceremony,1848 - 1938):MitsuiFounding
(Island's firstMember of Parliament,1855 -1901)
Sasaki Shodo (Metallurgist, 1882-1961): Living National Treasure (wax metal casting).Imperial Palace"The design of the main hall decoration of the new palaceRui birdIs famous.
Ikki Kita(thinker,Social movementHouse,National socialismPerson,1883 - 1937):National polity and pure socialism], [Japan remodeling bill outline"Such
Arita Hachiro(Diplomat-政治家,1884 - 1965): OriginalMinister of Foreign Affairs
Kita Sokichi(Thinker/politician,1885 - 1961): Kita Kazuki's younger brother
Kanzo Tanaka(Businessman,1886 - 1986): OriginalMitsubishi HeadquartersPresident, formerMitsubishi CorporationPresident/Chairman
Tsuchida(Japanese painter,1887 - 1936):Kokuga Creative AssociationEstablished
Masaharu Honma(soldier, 1887- 1946):Japanese ArmyLieutenant general,Great East Asian War(Pacific War)駐フィリピンCommander
Yoshiyuki Funazaki(Businessman-政治家,1894 - 1966):Nippon Metal Co., Ltd.Founder, member of the House of Representatives.
Kaitaro Hasegawa(Novelist,1900 - 1935):Tange SazenSeries, etc.Forest forgetfulness-Maki Itoma-Joji TaniWith the pen name
Kubota kunuko(First femaleUN Deputy Minister,1913 - 1985)
Takeo Kajiwara(Go player,1923 - 2009): One of the three crows after the war, inventing many new joseki
Kinzo Isobe(Local historyHouse,1926 - 2006))
Genji Kondo(politician,1930 - 1994): Former Minister of Agriculture, Forestry and Fisheries
Keiichi Tanaka(Japanese modern historian,1931 - 2018): OriginalUniversity of Tsukuba教授
Miura Kodaira(Celadon potteryLeader of theHuman national treasure,1933 - 2006)
Tatsuaki Yasuda(baseball,1938 - 2008): High school baseball coach
(Artist,1941 -): Mumei Iki, Godai Ito Akamizu,Human national treasure
Koichi Masuda(Certified public accountant,1944 -):Japan Certified Public Accountants AssociationPresident
Ryohei Miyata(Artist,1945 -): Forging,Tokyo University of the ArtsPresident
Kenichi Sudo(Cultural anthropologist,1946 -):Kobe University教授・Director of International Culture Department
Yuko Ikegami(Historian,1947 -): Japanese medieval history,Kadokawa Genyoshi Award,Seikei UniversityHonorary professor
Otoki Ittoru(Wrestler,1953 -): Original summary, Current master of Yamashina
Michio Watanabe(manga artist,1954 -)
Motoyuki Sato (Businessman, 1954-): President of Mitsubishi Steel Co., Ltd. (2015-) 
Hanazono Hideyo(politician,1958 -): 21st generationNiigata Governor(2018 -)
Shinya Tateiwa(Sociologist,1960 -): Main works such as "Private ownership theory",Ritsumeikan University教授
Ryota Tsuchiya(An actor,1967 -): Wife is an actressEri Watanabe
Uruma Kazuki(journalist):Asahi Shimbun PublishingFormer President and CEOAERAEditor-in-chief
(FumiyasetsuFolklore)
(manga artist):2000,Young ChampionDebuted with "Tetsusou Anbo".2001From the same magazineIkki Kaneshiro Serialization of the original "GO"
Kenichi Saito(Aunt Warp OlympicsFirst in JapanSwimmersParticipate as)
Shigeo Homma(1932 Los Angeles OlympicsAt the time of Japan's first appearanceGymnasts): OldHatano TownBackground
Toshio Sato (Local historyHouse)
(Leader of Toki research)
(Swordsmith)
(Local historyHouse)
(Bunya puppet showLeader of)
Takashi Yamaguchi(FXtrader,1971 -)
Related person
footnote
Related item
外部 リンク
Administration
Tourism
Transportation