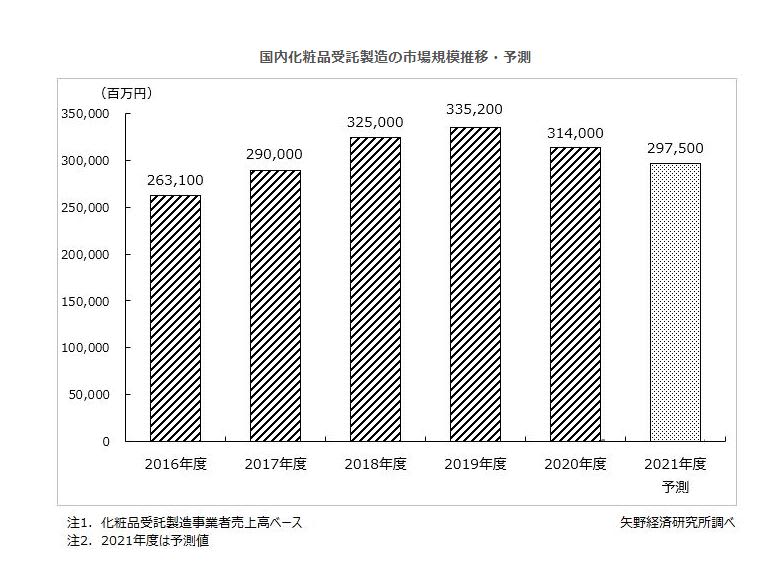 写真 
Conducted a survey on the contract manufacturing market for cosmetics (2021) The contract manufacturing market for cosmetics in 2020 is compared to the previous year ...
 
If you write the contents roughly
However, in the latter half of 2019, the slowdown in inbound demand became apparent mainly due to the enforcement of the China Electronic Commerce Law (EC Law), and the domestic economy and consumption fell sharply and inbound due to the new coronavirus infection that continued from 2020. Due to the disappearance of demand, domestic and overseas demand for cosmetics has fallen sharply, and the contract manufacturing market for cosmetics has also turned to a declining trend. 
Yano Research Institute Co., Ltd. (President: Takashi Mizukoshi) surveyed the domestic cosmetics contract manufacturing market, and is currently in the market. → Continue reading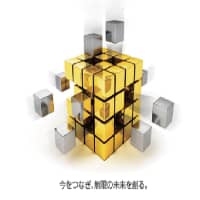 Yano Research Institute
In 1958, Yano Research Institute was founded by Masao Yano as a pioneer of Japanese market research company. Since then, we have always walked with the development of the Japanese economy. Live market information, marketing know-how that has been refined on-site, and the basis of our competitive advantage are here. As a unique business solution provider based on research capabilities, we want to participate in creating a prosperous future for our customers.
---
Wikipedia related words
If there is no explanation, there is no corresponding item on Wikipedia.

Inbound consumption
Inbound consumptionWhat is (inbound shohi)?Foreign tourists visiting JapanbyJapanTourism terms that refer to domestic consumption activities[1].. Tourism term that refers to foreign visitors to JapanInbound"(inbound)When"消费"CombinedCoined wordIs[2].. With the increase in the number of tourists visiting Japan in the 2010s, it expanded to a presence that supports domestic consumption.Nihon Keizai ShimbunSelected as "Higashi Yokozuna" in "Nikkei MJ hit product numbering"[3],2015 OfNikkei TrendyIt has been selected as the 2015rd place in "Best 30 Best Products of 3" by[4].Inbound demandAlso called (inbound Juyo)[5].
Overview
2003 (Heisei15 years),Japanese GovernmentAims to "1000 million foreign tourists visiting Japan" with "a tourism-oriented country"Visit Japan Campaign], sightseeingvisaHas been working to ease the issuance requirements of the.2013 (25),Shinzo AbeEconomic policy ofAbenomics』By eliminating the historically strong yen depreciation,Cheap airline(LCC) has exceeded the 1000 million passengers annually thanks to the expansion of service[6]Reached a record high of 2019 million in 3188[7].
Along with this, "inbound consumption" has increased,Great East Japan EarthquakeThere has occurred2011 (23) was below 1 trillion yen,2012 (24) recovered to the 1 trillion yen level,2014 In 26, it reached 2 billion yen, recording a 227-fold increase in consumption over three years.[8].2015 (27) In July, the international travel balance reached a record high of 7 billion yen,Tourism AuthoritySecretaryAkihiko TamuraSaid, "It supports the Japanese economy and becomes even more important from the perspective of regional revitalization."[6].. Inbound consumption expanded to 2019 billion yen in 4[9].
Inbound consumption by country/region in 2014 (Heisei 26) isPeople's Republic of ChinaIs 5583 billion yen, the mostRepublic of China(3544 billion yen),South Korea(2090 billion yen). In the amount of consumption per person,Eur-lex.europa.eu eur-lex.europa.euTops the list with 23.8 yen, with the People's Republic of China at 23.2 yen,AustraliaThe order is 22.8 yen[8].. In particular, the amount of money consumed by the People's Republic of China is large, and the consumption items are diverse.Bomb buying],2015 OfYu Can New and Buzzword AwardHas been selected for the annual grand prize of[10].
"Inbound 1.0" has been at the stage of attracting group tourists to tourist spots since 2003, "Inbound 2.0" has been in a state of explosive buying since 2014, and "Inbound 3.0" has been "things / experiences" since 2016. Is said to be "consumption"[11].
Impact on Japanese economy
2015年7-9月期のインバウンド消費額は、前年同期比約82%増の約1兆9億円となり、四半期ベースで初めて1兆円台に到達、2015年1-9月の累計では前年同期比77%増の約2兆6千億円と過去最高を記録した2014年1年の消費額(約2兆300億円)を超えており、年間では3兆円を超える勢いとなっており、個人消費の下支え役となっている[12].
According to the Japan Tourism Agency, the total consumption in 2014 was 7146 billion yen for shopping, 35.2%, accommodation expenses were 6099 billion yen, 30.1%, and food and drink expenses were 4311 billion yen, 21.3%. The share of shopping costs has been on the rise from 2011% in 29.8. The purchase rate of tourists was 63.6% for "sweets" and 51.7% for "other foods, beverages, liquor, and tobacco", with the highest percentage of food purchases being "clothes (other than Japanese clothes), bags, shoes". 37.2% for "Cosmetics/Perfumes" and 31.9% for "Pharmaceuticals/Health Goods/Toiletries". As for the purchaser's unit price, the highest price is 31.8 yen for "cameras/video cameras/clocks", 6.6 yen for "electrical products", and 4.1 yen for "clothes (other than Japanese clothes)/bags/shoes". Was in order[13].
The proportion of foreign tourists visiting Japan to the total sales of department stores increased from 2011% in 0.2 to 2014% in 2.5, and the influence of inbound consumption in the retail industry is increasing. By region,Hokkaido-Kanto region-KinkiConsumption is large,Tohoku region-Shikoku region-Kyushu regionAlthough the consumption tends to be small, since the tax exemption system was expanded to all items, the number of duty-free shops has rapidly increased even in the regions where the benefit of the increase in the number of tourists visiting Japan has been small so far, and the inbound effect has also spread to the regions. Can be said to be expanding[14].
In 2015,People's Republic of ChinaThe economy slowed down, and the value of exports to China decreased accordingly.However, the inbound consumption of Chinese people increased at a rate that exceeded the rate of decrease in exports, reducing the impact on the economy due to the decrease in exports to China.[15],Current account balanceHas contributed to the surplus of[16]. Every yearChinese New YearDuring this period, the number of tourists visiting Japan tended to be particularly high.In February 2015, the number of tourists from the People's Republic of China reached a record high of 2. The number of tourists from China exceeded 1,387,000 for the first time[17].. In February 2019, the number of tourists from China reached 2.[18].
In terms of total travel consumption, Chinese tourists still stand out, but inbound consumption per person in 2019 is 1 yen[18]And Australian tourists top the list at 247,868 yen[19].
The tourism industry has a wide base such as retail, food and drink, transportation, and accommodation.Low birthrate and aging populationIt is expected to play a leading role in the Japanese economy as well as a strong growth industry in the Japanese market[20].
Task
The challenge is that with the rapid increase in the number of tourists,Big cityThere is a shortage of accommodation facilities and sightseeing buses in the area. As a countermeasureJapanese GovernmentWill allow special measures to expand the business area of ​​tourist buses from prefectures to block units such as Kanto and Kyushu and to neighboring prefectures.DeregulationIt is carried out. Also, for foreign touristsEtiquette There is also a problem that Japanese tourists are repulsed due to differences in customs and customs, and soft measures are also required.[21].
The shortage of accommodation facilities in big cities is also a problem, and the occupancy rate of accommodation facilities in the first quarter of 2015 reached 85.0% in Tokyo and 84.3% in Osaka Prefecture.A vacant houseAnd low availabilityJapanese innWe are promoting the utilization of[22], Under certain conditions in 2014National Strategic Special Zone(Tokyo,Kanagawa,Narita City, Osaka prefecture, Hyogo prefecture, Kyoto prefecture)Inn Business Law OfPrivate residenceDeregulation of the requirements ofTokyo International AirportThe hotel occupancy rate exceeds 9%Ota-kuIn Osaka PrefectureOrdinanceThe movement to promote the use of private lodging is also spreading.[23][24][25].
In 2020,New CoronavirusDue to the global epidemic of Japan, the entry of tourists to Japan has been virtually stopped, and the industries that depended on them have been hit hard.
Footnote
Related item