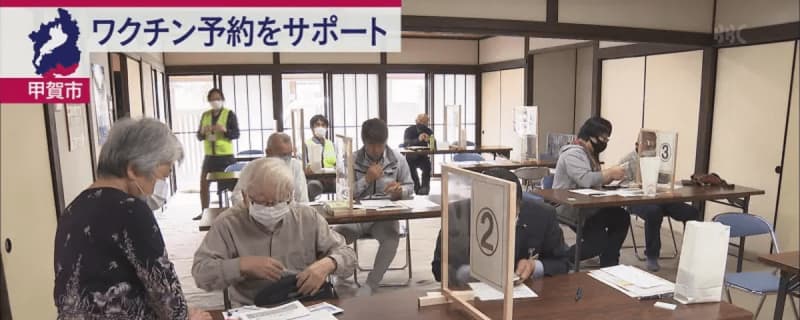 写真 
Supporting vaccination reservations for the elderly / Shiga
 
If you write the contents roughly
According to Koka City, there was no major confusion as the reception of reservations at the city hall etc. was improved. 
Local people supported vaccine reservations for elderly people who are unfamiliar with smartphones.This initiative is in Shiga Prefecture ... → Continue reading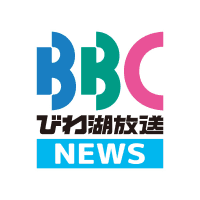 BBC Lake Biwa Broadcasting
BBC is not in the UK. It's Shiga Prefecture's TV station "Biwako Broadcasting"! News of Shiga to be worried about is being sent every day! Please check it out ♪
---
Wikipedia related words
If there is no explanation, there is no corresponding item on Wikipedia.
Koka City
Koka CityIs theShigaLocated in the southeast ofCityIs. The southeast end isMieAnd the southwest endKyotoBorder with.
Overview
Koka City was old in 2004Koga DistrictIt is a city formed by the merger of the five towns, and occupies most of the former county area. Koga area745ToEmperor ShomuByShikakura PalaceHas a history dating back to ancient times, such as being built.EasternSuzuka MountainsAlthough it is a mountainous terrain that continues fromGokaidoIs one ofTokaidoCrosses east and west,Post townAsMizuguchi lodgingとTsuchiyama lodgingWas placed.Later in the early modern periodKoga NinjaKnown as the village of Koga Samurai, known as Koga SamuraiAburitsu Shrine,Iido Shrine,Yagawa Shrine,Tamura ShrineOld shrines such as are still in existence.Also,Fukinoji TempleLargest in JapanEleven-sided Kannon bodhisattva statueCultural assets such as are also existing.Jurakuji TempleとFukinoji TempleとOikeji TempleThe Great Buddha in the collection is called the Three Great Buddhas of Koka.
On the other hand, in the Edo periodMizuguchi ClanThe Kato family placedMizuguchi CastleIt also has one side that prospered as a castle town.After the Meiji era, the administrative agency of Shiga Prefecture was set up in the Mizuguchi area and became the center of Koka District.
On the industrial side, 2008Shinmeishin ExpresswayThe location of the industrial park has advanced around the time of opening, and it has reached the top position in the amount of industrial manufactured goods shipped by municipality in the prefecture.[1]. Also,Six old kilns in JapanIs one ofShigaraki wareThe kiln industry and the pharmaceutical industry, which is said to have roots in the Koga Ninja, have been popular since ancient times, and in agricultureTsuchiyama tea-Asamiya teaIt is also known as the origin of Omi tea.
In the second half of 2019, NHK "Continuous TV Novel"scarletWas broadcast in the Kogara Shigaraki area.[2].
About the city emblem
The city emblem was recruited and selected by the merger council, and as a result, a male figure in Fukuoka was established as the city emblem.[3].. The purpose of the design is to distort the shape of "Kou", and the outer circle is an image of a city where you can live in good health and peace of mind, and in it the brilliance of a lively city and hope for the future are expressed.[3].
About place names
There are two ways to read "Koga": "Kouka" and "Koga". As a result of the voting for the decision of the city name after the merger of municipalities, the traditional way of reading Koga-gun was taken over, and Kiyone's "Koka" was taken as the name of the local government.[4].. The reading of "Kouka" is said to have come from Mr. Kafuka, who was a Baekje family who ruled around Koga City in ancient times. In addition,Koga Station,Koga Dozan IC"Koga" in public facilities in the city is basically read as "kouka". In contrast,NameThere are not a few examples of pronunciations such as "koga" in the names of companies and private companies.Koga Health and Medical CollegeYou can also see examples such as.
Geography
位置
Koka City is located at the southern end of Shiga Prefecture, with the southeastern edge of Mie Prefecture and the southwestern edge of Kyoto Prefecture. The city area is long from east to west, and the city area is 481.62 km.2It is adjacent to many local governments that belong to Shiga prefecture, Kyoto prefecture, and Mie prefecture. Koka CityOsaka-NagoyaIt is within 100 km from the railway, and although the railway does not pass through the main line connecting the wide area, several lines are laid,National Route 1IncludingKinki areaとCentral regionIt is an area where a wide-area transportation route connecting
At the eastern end of Koka city,Suzuka MountainsMinamimine runs from northeast to southwest and forms an administrative boundary with the local governments in the northern part of Mie Prefecture. The highest elevation in Koka city belongs to the Suzuka MountainsAmametakeIs.From the mountains in the eastern part of the high-altitude city area to the northern part of the centerMizuguchi HillsIn the valley along the southYasu RiverHowever, it is a tributary of the Yasu River along the Sotani along the southern part of the city, which has a lower altitude than the eastern part.SogawaThe flats open along the rivers. In the Shigaraki district in the southwestern part of the city,OtogawaIs flowing. Note that the Yasu River system flows into Lake Biwa like other rivers in Shiga Prefecture, whereas the Oto River directly flows through Lake Biwa.SetagawaFlow into. Therefore, only Shigaraki area belongs to different watersheds in the city. As the main water area in the city,Yasugawa Dam,Aoto Dam,Ohara Dam,Koshinogawa Sabo DamThere is a group of artificial lakes created by the above.
Wide skirt
Geospatial Information Authority of JapanAccording to it, the north, south, east, and west edges of Koga City are as follows.
terrain
Mountain
Main mountain
River
Main river
climate
Koka City is basicallySetouchi climate zoneIs said to belong toInland climateBut also. However, since Shiga Prefecture itself is in a delicate position to which climate zone it belongs, and there are some fluctuations depending on the season, a clear line cannot be drawn. It should be noted that rainfall tends to be higher in summer than in winter.
Shigaraki (Shigaraki-cho, Koga-shi, altitude 265 m) climate
Month
1
2
3
4
5
6
7
8
9
10
11
12
Years
Average maximum temperature

° C

(

° F

)
6.5
(43.7)
7.1
(44.8)
11.0
(51.8)
17.3
(63.1)
21.8
(71.2)
25.0
(77)
28.8
(83.8)
30.0
(86)
26.0
(78.8)
20.3
(68.5)
14.9
(58.8)
9.5
(49.1)
18.18
(64.72)
Average minimum temperature

° C

(

° F

)
−3.5
(25.7)
−3.4
(25.9)
−1.1
(30)
3.4
(38.1)
9.1
(48.4)
14.6
(58.3)
19.1
(66.4)
19.6
(67.3)
15.9
(60.6)
8.5
(47.3)
2.4
(36.3)
−1.9
(28.6)
6.89
(44.41)
Precipitation amount mm (inch)
55.2
(2.173)
70.7
(2.783)
121.3
(4.776)
111.5
(4.39)
152.4
(6)
207.6
(8.173)
204.4
(8.047)
143.7
(5.657)
168.4
(6.63)
120.1
(4.728)
75.2
(2.961)
53.6
(2.11)
1,484.1
(58.428)
Average days of precipitation

(≥1.0 mm)

9.1
10.1
13.1
10.9
11.2
13.0
12.8
9.3
11.4
9.8
8.3
8.2
127.2
Average monthlyDaylight hours
101.2
100.9
133.6
166.3
164.5
127.6
136.5
173.8
135.4
136.6
122.1
115.9
1,614.4
Source:Japanese Meteorological Agency
The climate of Tsuchiyama (Kitachiyama, Tsuchiyama-cho, Koga City, altitude 248 m)
Month
1
2
3
4
5
6
7
8
9
10
11
12
Years
Average maximum temperature

° C

(

° F

)
6.3
(43.3)
6.8
(44.2)
10.7
(51.3)
16.9
(62.4)
21.2
(70.2)
24.6
(76.3)
28.5
(83.3)
29.8
(85.6)
25.9
(78.6)
20.3
(68.5)
14.8
(58.6)
9.3
(48.7)
17.93
(64.25)
Average minimum temperature

° C

(

° F

)
−1.9
(28.6)
−1.8
(28.8)
0.6
(33.1)
5.6
(42.1)
10.9
(51.6)
15.9
(60.6)
20.3
(68.5)
21.3
(70.3)
17.5
(63.5)
10.6
(51.1)
4.5
(40.1)
−0.1
(31.8)
8.62
(47.51)
Precipitation amount mm (inch)
60.0
(2.362)
74.4
(2.929)
113.8
(4.48)
114.9
(4.524)
159.0
(6.26)
205.4
(8.087)
212.1
(8.35)
193.5
(7.618)
208.8
(8.22)
124.4
(4.898)
80.6
(3.173)
56.7
(2.232)
1,603.6
(63.133)
Average days of precipitation

(≥1.0 mm)

10.6
10.9
12.6
11.0
11.6
13.6
13.7
10.4
11.8
10.0
8.4
9.4
134
Average monthlyDaylight hours
90.9
98.2
137.0
167.1
165.8
128.3
139.4
177.2
132.7
140.2
125.0
108.9
1,610.7
Source:Japanese Meteorological Agency
Region
Administrative division
The old town name before the merger remains as the town name in the city and is referred to as "Koga-shi Koga-cho XX" or "Koka-shi Shigaraki-cho XX". However, "Oji" that was used in the address notation of the town period was abolished. For example, in the case of "Kojiamiya, Shigaraki-cho, Koga-gun," it was "Kaminoamiya, Shigaraki-cho, Koga-shi".[3].
population
The area corresponding to the current city of Koka reached the peak of population since the beginning of the 21st century. Comparing the 2005 census with the 2010 census, Koga City decreased by 1.24% to 92,693, and the rate of change was 19th out of 14 cities and towns in Shiga Prefecture.
Adjacent municipality
Shiga
Mie
Kyoto
History
Until the merger
After the merger
Politics
Administration
Mayor
Government office
In addition to the new government building built at the location of the old Mizuguchi Town Hall, four civic centers (former branch offices) that took over the old four town offices are conducting core operations.Furthermore, in 4, 4 civic centers were established to handle window operations and support for self-government activities.
Mizuguchi area
Koka City Hall (Former Minakuchi Government Building/Former Minakuchi Branch)
Postal Code

528-8502 6053 Mizuguchi, Mizuguchi-cho, Koga City
Banya Local Citizen Center
Postal Code

528-0064 3737, No. 1 Nakayama, Mizuguchi Town, Koga City
Kashiwagi Community Center
Postal Code

528-0057 1615 Kitawaki, Mizuguchi-cho, Koga-shi
Minakuchi Community Center
Postal Code

528-0032 7-4 Yasaka, Mizuguchi-cho, Koka-shi
Postal Code

528-0023 1-20 Motomaru, Mizuguchi-cho, Koga-shi
Kiseigawa Local Citizen Center
Postal Code

528-0049 308 1 Kiyogawa, Mizuguchi-cho, Koga-shi
Postal Code

528-0007 557 Shinshiro, Mizuguchi-cho, Koka-shi

Konan area
Konan Daiichi Community Center (Former Konan Government Office/Konan Branch)
Postal Code

520-3393 810 Noda, Konan Town, Koga City
Konan Daini Community Center
Postal Code

520-3314 71 Sugitani, Konan Town, Koga City
Konan Third Community Center
Postal Code

520-3305 818 Nogawa, Konan Town, Koga City
Konan Chubu Local Citizen Center
Postal Code

520-3311 810 Noda, Konan-cho, Koga-shi (Konan Daiichi Community Center)
Kibogaoka Community Center
Postal Code

520-3333 1-3 Kibogaoka, Konan-cho, Koga-shi 4-XNUMX

Tsuchiyama area
Tsuchiyama Community Center (Former Tsuchiyama Branch)
Postal Code

528-0211 1715 Kitachiyama, Tsuchiyama-cho, Koga City
Postal Code

528-0235 2154 Ohno, Tsuchiyama-cho, Koga City
Yamauchi Community Center
Postal Code

528-0208 1970 Kurokawa, Tsuchiyama-cho, Koka City
Postal Code

528-0202 1950 Ayukawa, Tsuchiyama-cho, Koga City

Koga area
Koka Ohara Local Citizen Center (former Koka Branch)
Postal Code

520-3435 173-1 Sagami, Koga-cho, Koga-shi
Aburitsu Community Center
Postal Code

520-3421 2416 Ueno, Koka-cho, Koka-shi
Postal Code

520-3402 2967 Osaji, Koga-cho, Koga-shi

Shigaraki area
Shigaraki area citizen center (former Shigaraki branch)
Postal Code

529-1851 1203 Nagano, Shigaraki Town, Koga City
Kumoi Local Citizen Center
Postal Code

529-1803 72-3 Maki, Shigaraki-cho, Koka-shi
Postal Code

529-1836 793 Yubara, Shigaraki Town, Koga City
Postal Code

529-1841 467 Kamiasamiya, Shigaraki Town, Koga City
Postal Code

529-1821 2067 Tarao, Shigaraki Town, Koga City
Prefectural government agency
Shiga Prefecture Koga Joint Government Building
Wide area administration
Parliament
City council
National agency
Ministry of Justice
Otsu District Legal Affairs Bureau Koga Branch
Koka Ward Public Prosecutor's Office
裁判 所
Facility
Policemen
Headquarters
Fire
Headquarters
Fire department
Minakuchi Fire Department
Konan Fire Department
Shigaraki Fire Department
Medical
Main hospital
Minakuchi Medical Care Center (formerly Minakuchi Municipal Hospital)
Konan Hospital
Shigaraki Central Hospital
Exchange facility
Aikoka Civic Hall
Green water hall
Aino Tsuchiyama Culture Hall
Konan Information Exchange Center (Shinobi no Sato Plala)
Kogasaien
Koka City Town Development Activity Center (marumu)
Cultural facility
library
Koka City Library

Minakuchi Library
Tsuchiyama Library
Koga Library Information Center
Konan Library Exchange Center-StoredMizuguchi ClanThe Kato family document was designated as a cultural property of Shiga prefecture in 2012.
Shigaraki Library
博物馆
Mizuguchi CastleMuseum (Mizuchi Castle)
Minakuchi History and Folklore Museum
Miku Children's Forest
Tokaido Denmakan
Tsuchiyama History and Folklore Museum
Shikabuka dream forest
Medicine Museum
Koga History and Folklore Museum
Konan contact house
Kimoto Walking Path
Shigaraki Traditional Industry Hall
Foreign relations
Sister cities/partner cities
Domestic
Partner city
Kameyama City(Kinki Mie)

We are conducting a business aimed at promoting tourists and exchanging tourists as an "Ikoka" cooperation, which is an acronym for the three neighboring cities across the prefectural border.
Overseas
sister city
Economy
Koka CityCeramic industry OfShigaraki wareShigaraki ware, known as the production center ofSeto,Tokoname,Echizen,Tamba ware,BizenAlong withSix old kilns in JapanIt is counted as one of.Also,Pharmaceutical manufacturing industryThe location of companies involved in the project is conspicuous, and more than half of the 17 member companies of the Shiga Pharmaceutical Industry Cooperative Association, which is a local pharmaceutical company union, are not only located in Koga City, but also manufacturing plants and research institutes of major pharmaceutical companies. There are multiple[5].. It is said that this is a remnant of Koga Ninja's good knowledge and formulation of medicines. There is also the Oil Sun Botanical Garden where Shionogi Pharmaceutical grows herbs in Koga Town, Koga City.[6].. Moreover, especiallyJapanese teaaboutTsuchiyama teaとAsamiya teaAnd has two leading brands in the same city.
Primary industry
Agriculture:
Agricultural cooperative
Secondary industry
Industrial
Main industrial park
Koka Industrial Park
Koganishi Industrial Park
Omi Mizuguchi Techno Park
Omi Mizuguchi No. 2 Techno Park
Satsukigaoka Industrial Park
Matsuo Industrial Park
Ukawa Small Business Complex
Hatta Satellite Park
Konan Frontier Park
Kogakita Industrial Park (under construction)
Tertiary industry
Commercial
Main commercial facilities
Heiwado

Friendmart Konan store (Friend Town KoukaInside)
Friendmart Shigaraki
Friendmart Tsuchiyama store

Rack veil spout (SeiyuMizuguchi store)
CainzMall koga
Joy Shopping Center
Financial institution
bank
Cooperative financial institution
Japan Post
Agricultural cooperative/Co-op
Companies based
Education/research institutions
University
National
Vocational school
Secondary school
high school
Prefectural
Junior high school
Prefectural
City
primary school
City
Transportation
Train
Central station:Mizuguchi Jonan Station
West Japan Railway Company(JR West Japan)
In addition, the Shigaraki Kogen Railway isType XNUMX railway operatorOwns and manages railway facilities and uses the private and private method (vertical separation method) operated by Shigaraki Kogen Railway Co., Ltd. (Type XNUMX railway operator)[7][8].
bus
Transit Bus
Intercity bus
Express Bus
Tsuchiyama SATsuchiyama Bus Stop at Tsu, Yokkaichi, Ise, Kyoto (Kyoto-Yokkaichi/Tsu/Ise Line(See above) (March 2008, 3), Nagoya/Kobe/Sannomiya (above April 20, 2008-).
道路
highway
Highway national road
Formerly pierced the city area of ​​Koka City from east to westNational Route 1Was a highway, but on February 2008, 2Shinmeishin ExpresswayHas opened, and the convenience of automobile transportation to Nagoya and Tokyo has improved dramatically. Accessibility from the Keihanshin area to the city area has also improved. To commemorate the first construction of the Shinmeishin Expressway in Shiga Prefecture on December 1995, 12,Former Tsuchiyama TownBy the "Second Meishin Shiga Prefecture groundbreaking ground" monumentTsuchiyama BridgeIt was built in the vicinity.
Regional high standard road
National road
Prefectural road
Main local road
General prefectural road
Road Station
Tourism
Tourism Association
Former one year, the tourist associations of the five former towns started discussions about the merger in April 5. Later, in April 2005, the tourism associations of Minakuchi, Konan, Koga, and Tsuchiyama merged to form the Koga City Tourism Association. Due to this relationship, there are two tourism associations in Koka City. In addition, before the mergerMascot characterWas born asNinjaemon"(Ninja'scostume) Participates in various events as a character of Koka City Tourism Association[9].
Koka City Tourism Association (in Konan Daiichi Community Center)
Shigaraki Town Tourism Association (Shigaraki Traditional Industry Hall)
Sights and historic sites
Main castles and mansions
Main temple
Main shrine
Main historical sites
Main ruins
Post
Nearby Tourist Spots
nature Park
Iidoyama
Old castle mountain
Shigaraki Sports Park
leisure
Theme park
Culture/Specialty
Festivals and events
Tamura Shrine Eradication Festival
Shigaraki Bonmei Train and Bonmei Exhibition
Aino Tsuchiyama Saio Group
Kunoichi Audition
Shigaraki Station Ceramics Market
Oil Day Festival
Kenketo Dance
Suzuka horse song national convention
Kurokawa Taiko Dance
Shigaraki Fire Festival
Minakuchi Summer Festival
GO-SHU!
Sorikawa Summer Festival
Japanese drum sound Yume no Mori
Aino Tsuchiyama Post Festival
Shigaraki Pottery Festival
10 hours endurance relay marathon
All Japan Ninja Championship
Aino Tsuchiyama Marathon
Ninja Satoyama Walk
Ninja Village Super Cross in Konan
Shigaraki Machinaka Arts Festival: Held once every three years from 2010
Shigaraki pottery walking path Burari pottery tour
Specialty/Special product
Origin-related celebrities
Native celebrity
People before the Edo period
Politicians, businesspeople, academics, bureaucrats, etc.
art
Entertainment
Sports
Related person
Politicians, scholars, writers, artists, etc.
Sports
Atsushi Fujimoto: A former professional baseball player (from Koka Comprehensive Science →Duplo→Hanshin Tigers→Tokyo Yakult Swallows)
Yoshinori Tateyama: A former professional baseball player from Koga College of Science and Technology (Koga College of Science →Matsushita Electric→Hokkaido Nippon-Ham Fighters→Texas Rangers→Hanshin Tigers)
Kazuki Miyata: A former professional baseball player from Koga Health and Medical College (Koga Health and Medical →Saitama Seibu Lions)
Naoto Nishiguchi: Professional baseball player from Koga Health and Medical College (Koka Health and Medical →Tohoku Rakuten Golden Eagles)
Kazuya Matsuda: From Koga Health and Medical College, former professional soccer player, former Japan Futsal National Team (Koka Health and Medical →Gamba Osaka→Albirex Niigata)
Kenta Fujii: From Koga Health and Medical College, former captain of Futsal Japan National Team (Koka Health and Medical → Shuriker Osaka → Baldralar Urayasu → Pescadora Machida)
: From Koga Health and Medical College, former Futsal representative from Japan (Koka Health and Medical → Pescadora Machida)
: From Koga Health and Medical College, Former Japanese Futsal National Team, Former Director of Shuriker Osaka
: From Koga Health and Medical College, former representative of Futsal Japan (Koka Health and Medical → Shuriker Osaka)
Ryuji Nishimura: A professional futsal player from Koga Health and Medical College (Koga Health and Medical → Shuriker Osaka → Basazy Oita)
Takeshi Satouchi: Mizuguchi High School, former soccer national team physical coach, Kawasaki Frontale physical coach
Nakata Ichizo: A former professional soccer player from Koga Junior High School (Koka Naka → Sakura Naka → Sichu High School → Yokohama Flugels → Avispa Fukuoka → Jeff Ichihara → Oita Trinita → Vegalta Sendai → Vanforet Kofu)
Suzuki Bruno: From Tsuchiyama Junior High School, professional soccer player (Tsuchiya Naka → Gamba Osaka Youth → Albirex Niigata → Machida Zelvia → Albirex Niigata → Home United →FC Gifu)
footnote
Related item
外部 リンク