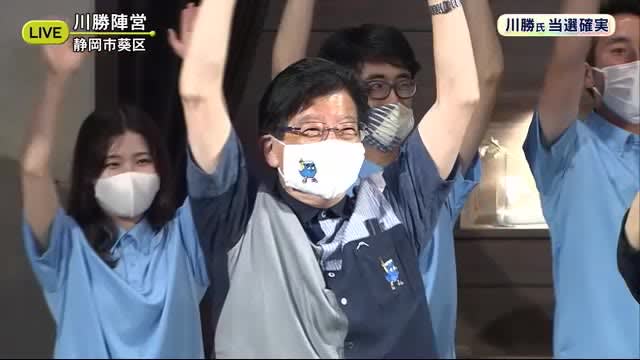 写真 
Greetings from candidate Kawakatsu, mentioning the linear problem "I was entrusted with the water protection in the Southern Alps."
 
If you write the contents roughly
"Thanks to everyone, I am now able to serve the important positions of the Governor of Shizuoka Prefecture for the fourth term. 
At XNUMX:XNUMX pm, candidate Heita Kawakatsu (XNUMX), who confirmed the election, appeared at the venue in Aoi-ku, Shizuoka City, where the supporters were waiting. ... → Continue reading
 TV Shizuoka
"TV Shizuoka" (Fuji TV affiliate) news account. We will send you the latest news from Shizuoka prefecture.
---
Wikipedia related words
If there is no explanation, there is no corresponding item on Wikipedia.
List of Governor of Shizuoka
List of Governor of Shizuoka(Shizuoka Kenchiji Ichiran)ShizuokaSuccessive generationsGovernor(Election : 36 people in their 36s/Public election : 20 people in their 7s) List and governor election results.Including the chief before the prefectural governor.
Governor
Elected governor
Election results
1st (1947) -5th (1963)
1 times
* Number of voters on the day: 1,188,999 Final turnout: 75.89% (compared to the previous time: --- pts)
| Candidate name | age | Affiliated party | Old and new | Number of votes obtained | Voting rate | Recommendation/support |
| --- | --- | --- | --- | --- | --- | --- |
| Takeshi Kobayashi | 47 | Independent | Now | 638,639 vote | 76.91% | |
| Yoshikazu Fukushima | 54 | 社会 | 新 | 172,447 vote | 20.77% | |
| Kanefumi Nakamura | 37 | Dogi Kenseikai | 新 | 19,303 vote | 2.32% | |
2 times
*Number of voters on the day: 1,295,982 Final voting rate: 88.17% (vs. +12.28pts)
| Candidate name | age | Affiliated party | Old and new | Number of votes obtained | Voting rate | Recommendation/support |
| --- | --- | --- | --- | --- | --- | --- |
| Toshio Saito | 43 | Independent | 新 | 679,257 vote | 61.45% | |
| Tamotsu Hasegawa | 47 | 社会 | 新 | 426,048 vote | 38.55% | |
3 times
*Number of voters on the day: 1,402,709 Final voting rate: 73.24% (vs. -14.93pts)
| Candidate name | age | Affiliated party | Old and new | Number of votes obtained | Voting rate | Recommendation/support |
| --- | --- | --- | --- | --- | --- | --- |
| Toshio Saito | 47 | Independent | Now | 731,003 vote | 71.74% | |
| Kenzo Yano | 58 | Independent | 新 | 226,930 vote | 22.27% | |
| Toshiyo Oda | 48 | Independent | 新 | 60,992 vote | 5.99% | |
4 times
*Number of voters on the day: 1,529,387 Final voting rate: 73.47% (vs. +0.23pts)
| Candidate name | age | Affiliated party | Old and new | Number of votes obtained | Voting rate | Recommendation/support |
| --- | --- | --- | --- | --- | --- | --- |
| Toshio Saito | 51 | Independent | Now | 714,981 vote | 64.11% | |
| Magoichi Takemoto | 52 | 社会 | 新 | 368,779 vote | 33.07% | |
| Toshiyo Oda | 52 | Independent | 新 | 31,482 vote | 2.82% | |
5 times
*Number of voters on the day: 1,668,220 Final voting rate: 74.63% (vs. +1.16pts)
| Candidate name | age | Affiliated party | Old and new | Number of votes obtained | Voting rate | Recommendation/support |
| --- | --- | --- | --- | --- | --- | --- |
| Toshio Saito | 55 | LDP | Now | 510,741 vote | 41.35% | |
| Torajiro Sato | 61 | Independent | 新 | 470,065 vote | 38.06% | |
| Kazuo Shionoya | 46 | Independent | 新 | 247,346 vote | 20.03% | |
| Kagawa Kozaburo | 51 | Independent | 新 | 6,889 vote | 0.56% | |
6st (1967) -10th (1982)
6 times
*Number of voters on the day: 1,823,659 Final voting rate: 82.32% (vs. +7.69pts)
| Candidate name | age | Affiliated party | Old and new | Number of votes obtained | Voting rate | Recommendation/support |
| --- | --- | --- | --- | --- | --- | --- |
| Yutaro Takeyama | 65 | LDP | 新 | 935,680 vote | 64.19% | |
| Endo Toramatsu | 56 | Independent | 新 | 431,470 vote | 29.60% | |
| Yoshio Nakamura | 59 | Communist | 新 | 73,433 vote | 5.04% | |
| Ichi Konagai | 69 | Independent | 新 | 17,179 vote | 1.18% | |
7 times
*Number of voters on the day: 2,056,121 Final voting rate: 66.10% (vs. -16.22pts)
| Candidate name | age | Affiliated party | Old and new | Number of votes obtained | Voting rate | Recommendation/support |
| --- | --- | --- | --- | --- | --- | --- |
| Yutaro Takeyama | 69 | LDP | Now | 919,463 vote | 68.13% | |
| Hiroshi Matsumoto | 52 | Independent | 新 | 405,521 vote | 30.05% | 社会-CommunistRecommend |
| Toshiyo Oda | 64 | Independent | 新 | 24,535 vote | 1.82% | |
8 times
*Number of voters on the day: 2,186,840 Final voting rate: 81.04% (vs. +14.94pts)
| Candidate name | age | Affiliated party | Old and new | Number of votes obtained | Voting rate | Recommendation/support |
| --- | --- | --- | --- | --- | --- | --- |
| Keisaburo Yamamoto | 60 | LDP | 新 | 806,371 vote | 46.34% | |
| Minoru Nagahara | 53 | Independent | 新 | 802,090 vote | 46.10% | |
| Motoba Tetsutaro | 53 | Communist | 新 | 131,501 vote | 7.56% | |
9 times
*Number of voters on the day: 2,292,997 Final voting rate: 54.32% (vs. -26.72pts)
10 times
*Number of voters on the day: 2,397,120 Final voting rate: 53.50% (vs. -0.82pts)
| Candidate name | age | Affiliated party | Old and new | Number of votes obtained | Voting rate | Recommendation/support |
| --- | --- | --- | --- | --- | --- | --- |
| Keisaburo Yamamoto | 68 | LDP | Now | 1,004,719 vote | 79.19% | |
| Hiroyuki Tashiro | 52 | Independent | 新 | 264,068 vote | 20.81% | |
11 times
*Number of voters on the day: 2,511,566 Final voting rate: 53.11% (vs. -0.39pts)
| Candidate name | age | Affiliated party | Old and new | Number of votes obtained | Voting rate | Recommendation/support |
| --- | --- | --- | --- | --- | --- | --- |
| Shigeyoshi Saito | 67 | LDP | 新 | 1,004,985 vote | 77.10% | FairnessSUPPORT |
| Armpit | 62 | Communist | 新 | 215,193 vote | 16.51% | |
| Yumi Takao | 39 | Independent | 新 | 83,230 vote | 6.39% | |
12 times
*Number of voters on the day: 2,634,657 Final voting rate: 42.81% (vs. -10.30pts)
| Candidate name | age | Affiliated party | Old and new | Number of votes obtained | Voting rate | Recommendation/support |
| --- | --- | --- | --- | --- | --- | --- |
| Shigeyoshi Saito | 71 | Independent | Now | 942,938 vote | 85.13% | LDP-Fairness-Private companyRecommendation,社会SUPPORT |
| Hirotsugu Sakata | 51 | Communist | 新 | 128,856 vote | 11.63% | |
| Yumi Takao | 43 | Independent | 新 | 35,804 vote | 3.23% | |
13 times
*Number of voters on the day: 2,768,808 Final voting rate: 35.14% (vs. -7.67pts)
14 times
*Number of voters on the day: 2,871,780 Final voting rate: 41.64% (vs. +6.50pts)
15th (2001) ~
15 times
*Number of voters on the day: 2,965,601 Final voting rate: 62.15% (vs. +20.51pts)
| Candidate name | age | Affiliated party | Old and new | Number of votes obtained | Voting rate | Recommendation/support |
| --- | --- | --- | --- | --- | --- | --- |
| Yoshinobu Ishikawa | 60 | Independent | Now | 1,024,604 vote | 56.88% | LDP-Fairness-MaintenanceRecommend |
| Seiichi Mizuno | 55 | Independent | 新 | 568,008 vote | 31.53% | |
| Ryoji Suzuki | 70 | Independent | 新 | 95,461 vote | 5.30% | |
| Keiko Okazaki | 55 | Independent | 新 | 63,482 vote | 3.52% | CommunistRecommend |
| Yasuo Yamamoto | 37 | Independent | 新 | 49,754 vote | 2.76% | |
16 times
*Number of voters on the day: 3,020,378 Final voting rate: 44.49% (vs. -17.66pts)
| Candidate name | age | Affiliated party | Old and new | Number of votes obtained | Voting rate | Recommendation/support |
| --- | --- | --- | --- | --- | --- | --- |
| Yoshinobu Ishikawa | 64 | Independent | Now | 821,492 vote | 62.03% | LDP-FairnessRecommend |
| Toshiaki Yoshida | 51 | Independent | 新 | 502,919 vote | 37.97% | CommunistRecommend |
17 times
*Number of voters on the day: 3,037,911 Final voting rate: 61.06% (vs. +16.57pts)
18 times
*Number of voters on the day: 3,026,955 Final voting rate: 49.49% (vs. -11.57pts)
19 times
*Number of voters on the day: 3,060,965 Final voting rate: 46.44% (vs. -3.05pts)
| Candidate name | age | Affiliated party | Old and new | Number of votes obtained | Voting rate | Recommendation/support |
| --- | --- | --- | --- | --- | --- | --- |
| Heita Kawakatsu | 68 | Independent | Now | 833,389 vote | 59.67% | |
| Noriko Mizoguchi | 45 | Independent | 新 | 563,316 vote | 40.33% | |
20 times
*Number of voters on the day: 3,014,952 Final voting rate: 52.93% (vs. +6.49pts)
| Candidate name | age | Affiliated party | Old and new | Number of votes obtained | Voting rate | Recommendation/support |
| --- | --- | --- | --- | --- | --- | --- |
| Heita Kawakatsu | 72 | Independent | Now | 957,239 vote | 60.50% | |
| Shigeki Iwai | 53 | Independent | 新 | 624,967 vote | 39.50% | LDPRecommend |
Governor before transfer to Shizuoka Prefecture
Hamamatsu Prefectural Ordinance
Reference document
footnote
Related item