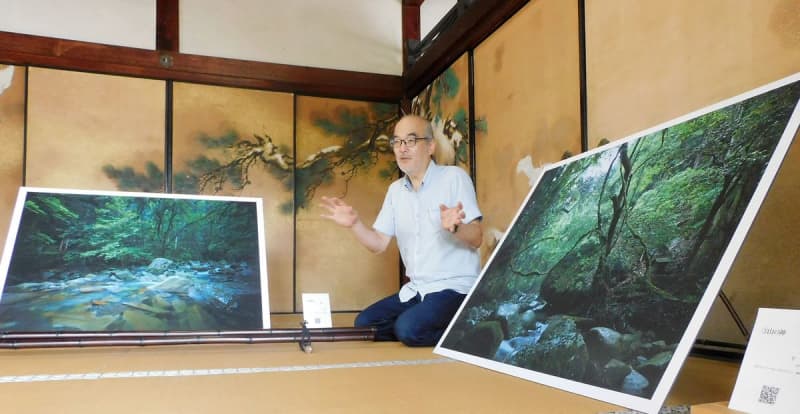 Photo: Mr. Taira (Ninna-ji Temple, Ukyo-ku, Kyoto City) talks about works with the theme of "Sacred Place of Prayer" and nature worship in Kumano.
Photo exhibition under the theme of "Sacred Place of Prayer" Ninnaji Temple, Kyoto, until 26th
 
If you write the contents roughly
Regarding the "Nachi no Umi," which captures the sight of divine light pouring into the ocean of Kumano-nada, Mr. Taira said, "The idea of ​​finding an utopia over the sea was believed to be that ancestors live in Okinawa, which is far away." It is common with the "Niraikanai" faith. " 
A photo exhibition with the theme of "Sacred Place of Prayer" will be held until the 26th at Ninna-ji Temple (Ukyo-ku, Kyoto City), the head temple of the Shingon sect Omuro school. → Continue reading
 Kyoto Shimbun
---
Wikipedia related words
If there is no explanation, there is no corresponding item on Wikipedia.

Kumano Sea
Kumano Sea(Kuma no Nada)Philippine Sea(NorthwestThe Pacific Ocean) Out ofJapan OfKii PeninsulaAt the southern endWakayama OfCape ShioからMieDaiozakiThe name of the sea area.
Overview
CoastRias coastThere are many reefs and reefs, but there are also many good natural ports.sailboatThere is no Kazemachi port in this eraEnshu NadaThe voyage was easier than that.Together with Enshu Nada and Sagami NadaEdoとAboveIt becomes the Tokaido of the sea that connectsMizumura KawamurabyWest shippingMore with the renewal ofCruise shipIt was crowded with.
Coastallocal cuisineIsMeharizushi,Autumn sword fish sushi,NaresashiThere are several in Kumano City, Shima City, etc.ダ イ ダ ラ ボ ッ チTradition is transmitted.Old stylewhalingThere is a whaling base in Taiji Town, which is one of the areas where the event was held.again,Cape ShioIt often occurs off the coast of Kumano Nada in the east.
Japan Coast GuardIssued by JapanHydrographic magazine(Chart)[1]..The coastline is curved inwardShima Peninsula OfDaiozakiとTaiji TownKajitorizakiの 間 にBaselineIs set[2], The northwest side of this is Japan under the Law of the SeaInland water(Inland sea), So JapanWatersThe range of is wider than usual.
Coastal municipalities
terrain
North of OwaseRias coast, A straight coast consisting of gravel from Kumano City to Shingu (Shichiri MihamaIt has a coast (Miwasaki coast).Furthermore, strange rocks can be seen south of Nachikatsuura.KushimotoHashiguiiwaAnd NachikatsuuraKi-no-MatsushimaAnd so on.Some strange rocks can be seen in Kumano City (example:Onigajo,Lion rockSuch).
Offshore is about 2000m deep and flat.
Fishery:
Kumano NadaKuroshioFlows,Fishing groundIt is one of.Migratory Kuroshio Current until the Meiji eraSkipjackA large group of skipjack tuna came near the coast, and rowing boats such as Hattyoro were popular for skipjack tuna fishing.
Taiji is known as a whaling town.Whaling problemEven now, large-scale whaling is prohibited by the research whaling vessels.Also in the townWhale MuseumIn addition, there are many restaurants that serve whale dishes.
NachikatsuuraWest JapanOn behalf ofTunaIt is a landing base andBluefin tunaVarious tuna are landed and traded, and the "Tuna Festival" is also held.Tuna farming is carried out in Minamiise Town, and Blue Fin Mie's "Ise tuna, "Nada Tuna" from Seiyo Fisheries, "Mie Tuna" from Marukyu Fisheries, and three farmed tuna brands.[3].
SauryFishing is also carried out.HoweverSanrikuSaury that has swam from offshore has almost no fat on it, so it is mainly used for sushi and sashimi.
Natural disasters
Marine accident
As the name "Nada" implies, it is a difficult place for ships to navigate and is oftenMarine accidentOccurs.
1971 May 7 ――The Kumano Nada area is surrounded by thick fog, and ship collisions occur one after another.Seven collisions and two sunken ships in just one day.It was a disaster that left 1 dead and missing.[4].
Earthquake
Kumano Nada1944 OfShowa Tonankai EarthquakePlate boundaries that occur repeatedly in a cycle of about 150 years, etc.EarthquakeIt corresponds to the epicenter area of.Especially in past disasters(I.e.The damage is enormous.again,typhoonIt 's also Ginza,Isewan TyphoonHas been hit by typhoons many times, including.
KihokuMany local governments are constructing towers to evacuate from the tsunami.In addition, the utility poles, etc., show the past tsunami height and call attention.Evacuation drills from the tsunami are also frequently conducted.
Earthquakes in Kumano NadaCrustal movementMonitoring is also active.Japan Coast Guard,Nagoya University,Tohoku UniversityIs regularly observing crustal movements in the same area.again,Ministry of educationDecided to install a submarine seismograph cableJapan Agency for Marine-Earth Science and TechnologyThere are also plans to lay a seismograph network.Further drillshipChikyuAlso2007 We are conducting an excavation survey in the same sea area.
footnote
Related item