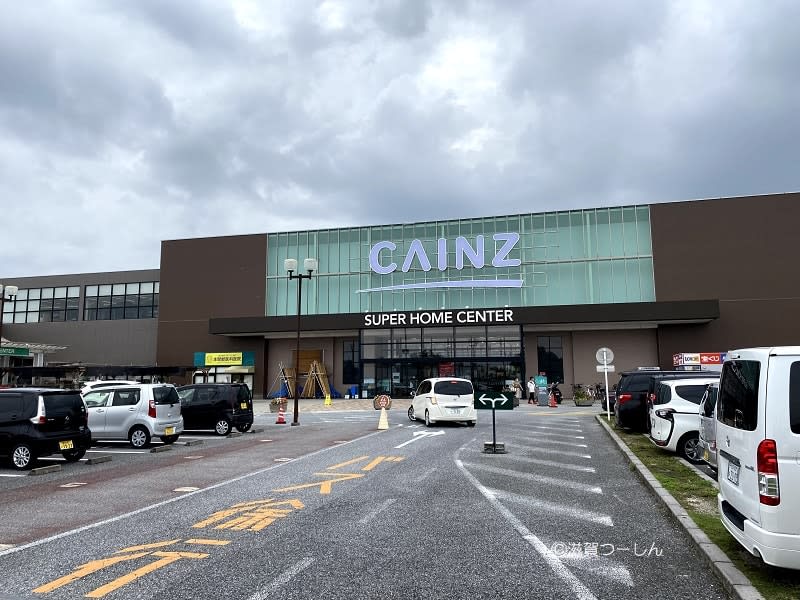 写真 
Workman Plus opens at Cainz Mall Hikone in Hikone
 
If you write the contents roughly
Workman is the core company of the Bascia Group, which celebrated its 2019th anniversary in 60. 
WORKMAN Plus Cainz Mall Hikone store opens WOR on the premises of Cainz Mall Hikone store in Hikone city ... → Continue reading
 Shiga Tsushin
Local media that provides information on Shiga and Kyoto.
The scenery and delicious food are also posted,
Mainly operates website and Instagram.
---
Wikipedia related words
If there is no explanation, there is no corresponding item on Wikipedia.

Beisia Group

Beisia GroupIt is,Beisia,Cainz,WorkmanJapan, which consists of 28 companies, centered on product sales chain stores (retailers)Corporate group.
Overview
Operate supermarkets, etc.BeisiaIt is a corporate group represented by.supermarketIn addition to Beisia, which operatesHome center OfCainz,convenience store OfSave on,Consumer electronics store OfBasia Electric, Work clothes, etc.Workman, Car supplies storeAuto R'sConsists of 28 related companies[1]..The predecessor of Beisia, the founding place of IseyaGunmaGroup companies are expanding in 47 prefectures, centering on.2020 For the first time, the total annual sales exceeded 1 trillion yen[2].
Originally, it sold food and daily necessities as Iseya Co., Ltd. (predecessor of Beisia Co., Ltd., and the legal personality remains as Iseya Corporation), but as the business expanded, each division was subdivided. ,1982 Ltd.Workman,1984 Ltd.Save on,1989 Ltd.CainzSeparated from each other,1997 Co., Ltd.BeisiaEstablished (in charge of all retail businesses owned by Iseya).
The Bascia Group was formed in the form of progressively eliminating the original "Iseya".Therefore, its strength is that it has grown without absorption or merger with other companies.[1].
Save On will stop developing its own brand by 2018 and is another chainLawsonMega that will change to the signboard ofFranchiseIt became a business.Although it is misunderstood by some, Save On Co., Ltd. was not merged into Lawson Co., Ltd., and there was no capital tie-up, etc., and the form of "Save On Co., Ltd., a convenience store operating company of the Bascia Group" has changed. Not.
Group history
Described mainly on the flow of entrepreneurship and establishment of corporations of 6 major companies
1958-Established Iseya Co., Ltd. in Isesaki City, Gunma Prefecture.
1959-Opened the first supermarket "Iseya" in the city.
1978-Opened the first "Iseya Home Center" (predecessor of Cainz).
1980-Opened Isesaki Distribution Center. Opened the first "Craftsman's Shop Workman".
1982-Co., Ltd.WorkmanIs spun off.
1983-Opened the first convenience store "Save On".
1984 --Opened Tokyo Information Center.LtdSave onIs spun off.The first Iseya Auto Center "Safety Road" opened (predecessor of Auto R's).
1985-Opened the first "Iseya Denki Center" (predecessor of Beisia Denki).
1986-Safety Road Co., Ltd. (currently Safety Road Co., Ltd.)Auto R's) And Iseya Denki Co., Ltd. (currently Co., Ltd.)Basia Electric) Is spun off.
1987-Opened Yaita Distribution Center.
1988-Opened New Isesaki Distribution Center.
1989-Co., Ltd.CainzIs spun off.
1997-Co., Ltd.BeisiaEstablished.
2006 --Beisia Business Center (new headquarters) opened.
2009-50th anniversary of the founding of the Bascia Group.
2020-Achieved total sales of 1 trillion yen for the Bascia Group.
group Enterprise
Shopping center
We develop supermarkets and shopping centers in various styles, from "Beisia Mall" to "Beisia Mart".In addition, "Beisia World Sports," "Beisia Fashion Center," and "Akachan Kingdom" are also available.
Home center
A major player in the home improvement industry. Became the industry leader in sales in 2019[3]..In addition to the main "Cainz", "Cainz Mall", "Cainz Mall", "Cainz Super Home Center", "Cainz Mart", "Cainz Cycle Park" are available in various sizes.
convenience store
"" of a major convenience store chainLawsonWe have signed a mega franchise agreement with us and are developing stores.In the past, it had franchised its own brand, "Save On," which has the same name as the company name, but after considering the future, it decided to change the signboard to Lawson.
All stores
Workman(Work clothes / work-related supplies store)

In addition to the main product "Workman", in recent years we have developed "Workman Plus" with enhanced casual colors.
It is the only stock listed in the Beisia Group.
Auto R's(Car supplies store)

In addition to the mainstay "Auto R's," we are developing "Cainz Auto," which focuses on maintenance and installation of Cainz-purchased products in collaboration with Cainz.
In addition to consumer electronics mass retailers, we also have mobile phone carrier shops.
More
Seikando (Buddha equipment related store)
Kureyon Club (ECDchain)
Restaurant industry
Leisure service business
Mu entertainment
Cainz Travel
Beisia Sports Club
Distribution service business
Beisia Comprehensive Insurance Service
Beisia Business Support
Beisia Pop Depot
Best care
Beisia Reese Capital
Cainz Corporation (Chinese corporation)
Cainz Comprehensive Insurance Service
Cainz Business Services
Cainz Pop Depot
Cainz Best Care
Cainz 365
Cainz Liquor
Developer business
Beisia Kosan
Beisia Land Building
Beisia Real Estate
Cainz Real Estate
Iseya Corporation
Logistics business
Related organizations / organizations
footnote
Related item
Susumu Harada --Since the Iseya era, we have produced brand logos for some related companies.
--Provided by one company during the Iseya Group eraGunma TVProgram.
Hiromasa Tsuchiya --Chairman Cainz
外部 リンク