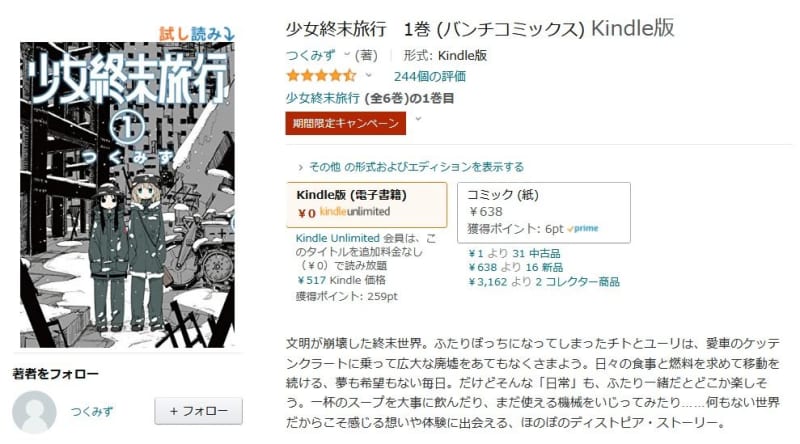 写真 
[Amazon News] 50% points reduction for the entire Kindle version of "Girls' Last Tour"!
 
If you write the contents roughly
This is part of Shinchosha's comic sale, and all of the previously introduced works such as "The Way of the Househusband", "Ouroboros-Police Wo Ji Kuha I Nearly", and "Shiyakusho" have all been sold with points. .. 
Here are some of the items on sale at Amazon.co.jp that we would like to recommend right now.The price is at the time of publication ... → Continue reading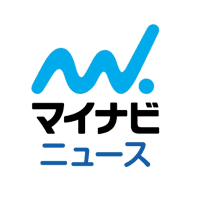 My Navi News
Mynavi News is a comprehensive information news site with more than 100 categories updated daily. It consists of the latest news and analysis reports and columns from a wide range of genres such as business, digital, lifestyle, and entertainment to niche categories such as management, technology, railways, and cars.
---
Wikipedia related words
If there is no explanation, there is no corresponding item on Wikipedia.
Death office
"Death office』(Shiyakusho) isAzumi KishibyJapan OfComicthe work. 『Monthly Comic @ Bunch』(Shinchosha Co., Ltd.), Serialized from the November 2013 issue. As of January 11, the cumulative circulation including the electronic version has exceeded 2021 million.[1].
From January to March 2019Television Tokyo Channel 12, Ltd.AtTOKYO OfMasahiro MatsuokaStarringTV dramaChemical[2][3].
Synopsis
This bankとCluster amaryllis"Shiyakusho", which is not a city hall, exists on the border of.This is a place where all kinds of people, including suicide, homicide, illness, accidental death, lifespan, and stillbirth, visit and go through their own death procedures after death.All the staff of the death office died for the same reason, why did they work as employees after death, why did the death office exist in the first place ... Even after the people and staff who visited the death office died, "What is my life?" Was it a story? "
Character
Shi government office staff
All are former convict on death row.There is always a "shi" in the surname or first name, and that part is written in katakana.If you are sentenced to death, you will be accepted at the "Death Penalty Division", which has no staff members (it is unknown what happens to death row prisoners who do not have "shi" in their surnames and names). You must receive it (if you are executed for false charges, you can make a Buddhahood if you offer).If you decline the employment examination, you will end up in the "Midori no Michi" and will wander in total darkness forever.After hiring, you can become a Buddhahood if your term expires.It is said that even if the resignation is given, the Buddhahood will not be completed within 49 days, or if the resignation is refused, it will go to the "road of the dead".Also, as of June 2020, only Japanese have appeared.
main character
Shimura / Masamichi Ichimura

Department-General Information
The protagonist of this work.
A mysterious man who always smiles (a V-shaped expression with a thread) in his glasses.The cover of this manga is a two-shot of the customer and Shimura who appear in the volume except for volumes 5, 6, 8, 10, and 16, but volumes 4, 13, and 15 show him in his lifetime.
The motto is "Customers are Buddhas", but there are many words that are rude, sarcastic, and ironic.
During his lifetime, he was working at a government office and was actually executed for false charges, and although he was in a position to become a Buddhahood by submitting a "Buddhahood application", he dared to refuse it.
Following the whereabouts of his wife and the truth of his daughter's death, he is following the trends of the cult group "Blessing Society".[Annotation 1].
In the drama version, the whole thing is slow and separated ("Because the customer is a Buddha", "How did you die today?", Etc.).Also, in the drama, "I understand your feelings very well" is extended to "Yoku".
Taichi Kano's stepfather, Shohei, killed Takashi Ushio, and Taichi was able to solve the terrible reality that his stepfather was going to hell and couldn't reincarnate and meet him. Natsuka got bloody in an accident that was bought by her thoughts, Tomoya.Ballpoint penThere is kindness that the original does not have, such as wiping and returning[Annotation 2].

Nishikawa / Miwako Nishikawa

Department-Suicide Division
The heroine of this work.
Shortcut lips are plump and there is a mole on the mouth.A beautiful woman with long eyelashes, but no smile and a bad mouth.It is said that work can be done. It is depicted on the cover of Volume 6 (her expression at this time is smiling at the reader with a sideways glance).
I had long hair before I was alive.Since he was a hairdresser, he sometimes trimmed the hair of humans in the government office after his death, but he hates being told when he was alive.
During his lifetime, he was a serial killer who killed three affair partners and tore his mouth with scissors.
In the drama version, the only major character whose life is not revealed.
I felt lonely from beginning to end with Rin Onoda, who had time to spare until the Buddhahood between Ishi was ready, but at the very endorigamiMade withmorning glory OfbroochI gave it as a gift and made it with the flowers described below between Ishi花束(She at this time has a gentle expression that she has never seen before).

Ishima / Tokuji Ishima

Department-Other murder section
The skinhead is strong, but it is kind and fragile. It is depicted on the cover of Volume 8.
Before he was a wife, he had no children, so he loved his niece (daughter of his younger brother and his wife) Michi like a daughter, but he loved Michi.rapeI will kill two boys who did.At the trial, he concealed the fact that Michi was raped and claimed that he had "killed him because the fields were destroyed" and was sentenced to death.I continue to worry about the dilemma of whether it was really right, and I often recall it.
Michi, suffering from the trauma of rape, married happily and completed her life, and reunited with Ishima at the Shiyakusho.As with the time when the Hashi book was assigned, the Buddhahood was resigned and he became a Buddhahood with a child who died of illness.
In the drama version, the resignation of the Buddhahood was given immediately after reuniting with Michi and seeing off, and on the contrary to her, when she met Rin who died at a young age without being loved by her only relative, she invited her to become a Buddhahood together. ..
The first episode appears because Michiru Miki and Ushio are in charge.I am not good at hanging name tags around my neck, and from the second episode, it is unknown where I found it, but a setting has been added to grow dead flowers by believing that it may bloom again (the former is the setting of Hayashi in the original, the latter). After all, this flower did not sprout new buds, but just before the Buddhahood, the Nishi River was handed over as a bouquet).

Hayashi / Haruya Hayashi

Department-Life Accident Death Division
A modern young man with long brown hair (black hair in the drama version) and the wording with "su" at the end.There is a tear bag. It is depicted on the cover of Volume 5 as if it were a student.
Most of the staff wear suits, but only he stands out with a rough appearance of T-shirts, jackets and sneakers.Contrary to its appearance, the wording such as "Makoto", "Wappa", and "Why" is old-fashioned due to the influence of my grandfather who was a historical drama actor.My hobbies are collecting manga and collecting signatures of celebrities.Also, she is good at treating women, and even if she crosses her arms at Shingu, who is aiming too much at herself, she does not show any disliked behavior.[Annotation 3].
In fact, I suffered from the secret of my birth that I was a child between my grandfather and mother, but even so, Rika, who was only my sister (half-sister) in relation to her, accepted everything from the time she was born.However, when he learned that his wife had an affair and had a child because of his birth, he murdered his wife, affair partner, and child.I didn't regret or regret it, but I'm trying to reflect on Michiru's words.[Annotation 4].
In the drama version, it appears from the first episode in order to foreshadow the identity of the Shi government office staff[Annotation 5]..In addition, because Michiru was watching the news of his execution, he was assigned to the Shi government office relatively recently (between Shimura and Ishi, who have been working for nearly 50 years or more. It is clear from this news that the sentence was confirmed in 2007).In addition, the original was a type that immediately brought out what I thought, but in the drama version, he is a good young man, has a good relationship with Michiru from beginning to end, and he also does "chanting" himself.
Rin, who had time to spare until the Buddhahood between Ishi was ready, went out to the end and was told, "Oh, let's play again!"

Hashi book / end book (Hashimoto)

Department-Other murder section
A newcomer assigned to the homicide section.left handed.
The hair is long enough to cover the eyes and is silent.Although he lacks facial expressions and self-expression, he does not have no communication skills, and he sometimes talks with Shimura and others about his personal views about "customers."
When dissatisfaction explodes, it becomes violent by swinging the cutter.When it became ferocious, he attacked Fushimi with a cutter, but on the contrary, his throat was cut, and since then he has been spending his throat wounds sewn loosely.
It seems that he was assigned to fill the vacancy between the Buddhahood Ishi.
Other staff members who have appeared before the Hashi book appeared have more appearances and there are main stories (Iwashimizu etc.), but they are introduced as one of the main characters in the character column of the magazine.
In the drama version, there was a timing to appear in the second episode, but it has not appeared.
Other staff
Iwashimizu / Naoki Iwashimizu (Naoki Iwashimizu)

Department-Man-Made Disaster Death Division
A young man standing with a relatively modest appearance. It is depicted on the cover of Volume 10.
Due to the influence of his over-interfering father, he is not good at thinking about things himself and has no independence and wants to be instructed.He is not good at considering the situation and feelings of others, and often speaks and acts insensitively.
Life was a roninInternet cafe refugeesHowever, due to stress, he set fire to an internet cafe and burned 10 people to death.Although he is guilty of killing as many as 10 people as a result, he clearly denied his murderous intention, saying that his motive was "I wanted to eliminate the Internet cafe."It is called "waste" by Shi villages.
Although it does not appear in the drama version, his list in the "Death Penalty Division" is to the right of Shi Village.

Matsu Shige / Kenzo Matsushige (Kenzo Matsushige)

Department-Traffic Accident Death Division
He speaks in a dialect and his teeth are missing in some places, so his tongue is quite bad and it is difficult to hear the words.For some reason, only Shimura can understand.Middle-aged man.
It is not as merciful as Ishi, but he pays attention to the ironic words of Shi village and crouches down to customers who are crying in shock.
According to Shimura, he seems to be a believer in the "Blessing Society", but he denies it.
In the drama version, Natsuka was in charge of Shimura, so it has not appeared.

Shiragami / Shiragami Shizuka

Department-Sickness and Death Division
Quiet and low-profile, I apologize immediately.According to Ishima, "it's fair, ephemeral, and resembles a wife." It is depicted on the cover of Volume 16.
During his lifetime, he lived in a mountain village and was called a "child of God" in a village that had a custom called "marriage ceremony" held at a village festival only for villagers.
He lives with his maternal grandmother, grandfather (mukoyoshi), and mother, and his father died when he was little.After marrying her childhood friend, she has her hair down.
My grandmother was raising her hard as a trailer, but that's not the only reason, and when her father was alive, she was often surprised by her mischief, but after that mischief, she dropped her into a freezing pond and died. The feeling of atonement for God was also included because it had been done.
My grandmother and mother imprinted that "it was an accident that my father died", so I lost my memory, but suddenly that memory revived and I was so distressed that I couldn't sleep at night from the hallucinations of "murder."
My grandmother felt that she had driven her father to death, and she was confused by the illusion that she was separated from her husband by the voice of her grandmother, and she was stabbed in 11 places with a kitchen knife and died.
Although it does not appear in the drama version, her list in the "Death Penalty Division" is on the left side of Shi Village.[Annotation 6].

Fushimi (Fushimi)

Department-Other murder section
The staff next to the Hashi book when he was just assigned to the homicide section.I'm not good at shocking.A middle-aged man with a stubble and thin face.
When I was in trouble with the Hashi book, I took the cutter that the Hashi book had and cut the neck of the Hashi book without hesitation.

Bamboo Sita

Department-Cancer Death Division
A middle-aged man who seems to have a bad beard.
He has been in office for a longer period than Ishima.

Shingu[Annotation 7]

Department-Stillbirth Division
A middle-aged woman who is easygoing and likes to get involved with male staff (a man with good Shingu standards).
On the contrary, it is cold for female staff, and they hit their backs and ignore them openly.
In the original, he says, "Because premature babies have an underdeveloped brain, they have no intention." It's a fairly rational personality, but in the drama version, the reason why Chibi often cries is "Do you want to see mom?" Motherhood and humanity, such as praising the actions taken by Ishima, who is more than a customer, as "gentle", being touched by Michiru who is working hard for her cry, and praying together. It is depicted as a person with.
In the final episode, I came to see him off.
Kimiko YoIt is a character made with the image of, and I actually played it in the drama version[4].

Kaga Shiro (Kaga Shiro)

Department-Makizoe Contract Death Division
A young man who does his job casually, saying, "I don't need sympathy for this job."
He hates Shimura's smile as "creepy" and "sticking to his nose."

Shinozuka

Department-Suicide Division
An old man who is a colleague of the same department as Nishigawa.He has an attitude of looking down on the Nishi River as "a woman's habit" with a male-dominated thinking.

Hoshino (Hoshi's)

Department-Aging Division
A young man with long bangs who is dissatisfied with being assigned to a department where only old people come.
It seems that he is interested in girls before the first tide from a conversation with Shimura and is connected to the crime during his lifetime.

Igarashi (Igarashi)

Department-Natural Disaster Death Division
A large, strong middle-aged man with a large scar on his face.
He has a bright and positive personality and is passionate about his work.

True Shiva (Mashiba)

Department-Heart Disease Death Division
A slender and nervous young man.It looks like he was using drugs before he was alive.
I am obsessed with finding a place that has become dirty due to mysophobia and making it shiny.
In Hoshino, it is called "shiny old man" behind the scenes.

Siri Numa / Tsutomu Numajiri

Department-Cancer Death Division
A middle-aged man who works mild-mannered and seriously.During his lifetime, he was a murder-robbery murderer who killed a wealthy couple, his daughter, and a housekeeper and stole money. He had a sloppy personality as if he had heard about his young son who survived and slammed him. I have come to reflect on it little by little through exchanges.The execution order was issued, and two other people, Sugi, pressed the button on the gallows.
Customer
Dead people coming to Shi government office.Appears as it was when it died.Each cause of death (suicide, homicide, illness, etc.) will be guided to each section and the procedure for becoming a Buddhahood will be carried out.As of June 2020, only Japanese people have appeared here, as well as the staff of the Shi government office.
Taichi Kano

suicide.Year of enjoyment 12.Junior high school freshman[Annotation 8].
He jumped off his balcony because he couldn't stand the bullying of being fed by insects, being boiled, being violent, being thrown away, and having his genital foreskin cut.
During the procedure, he learned the reason why the boy who was the perpetrator of bullying came to the Shi government office, and entrusted the message to his father-in-law to Shi village to become a Buddhahood.
In the drama version, the conflicts and conflicts of each father-in-law are depicted.[Annotation 9]..Also, in his recollection, the foreskin of the genitals is cut, but it is not shown, but it is only taken naked and the picture is taken, and the content of the bullying is described in the details, Shohei works for a first-class company. Utilized beingBlackmailIt has become.

Takashi Ushio

Murder (runover death).The main criminal who forced Kano to commit suicide as a perpetrator of bullying.
鹿野が自殺したのを受け、その報復に太一の義父に轢き殺される。しかし、太一を死に追いやった反省や罪悪感は皆無であり、死役所で再会した太一に逆恨みで暴力を振るいまくっていた。
殺されたことにより成仏したら天国へ行けると思い込み成仏の扉を開けたが、生前の悪行から地獄行きの要素が揃っていたため、地獄へ落とされた。
The only one in the film that clearly depicts going to hell.

Ryoko Uesugi

Man-made disaster death.A criminal record with a suspended sentence of 1 year and 1 month and a suspended sentence of 3 years. It is drawn on the cover of Volume 1.
From that background, the president of the welding factory picked up the place where he was depressed because he did not get a job, and he feels gratitude.
He died when the iron plate fell over the president's head at the scene.I was reluctant to write the "Women's Volunteer Application Form" because I regretted having died because I was afraid of others, but I finally got the procedure after being persuaded by Shimura.In this world, the truth of "Unknown but Buddha" is being told for Ryoko.
This episode hasn't been made into a drama, but when Michiru, who got lost in the death office, turned around and asked, "Where is this?", Her face was split in half in the same shape as her.

Rin Onoda

Homicide (abuse death).Year of enjoyment 5.Kindergarten children (drama version is nursery school).
He was treated sparsely by his mother and was neglected.Because it was thrown out on the balcony in the cold sky and left overnight[Annotation 11]Freezing death.
He never blamed his mother for his memory when he was cherished by his mother, and he was looking forward to seeing his mother.However, Shimura threw it out as "brainwashing".At the funeral, the mother was arrested on suspicion of abuse by the rushed police after a quarrel with a childcare worker who was there.
In the drama version, he said that he would become a nursery teacher like his teacher, Akane Aikawa, and helped her by reading aloud her being asked to play by her classmates.At the Shi government office, a depiction of reading aloud at the request of Shi village has been added, and instead of Hideya Ogasaki below, it was developed to become a Buddhahood with Ishima.
I also like drawing with picture books, and after the Buddhahood with Ishima, the wall around the vase that he cherished was filled with flower paintings she drew and caricatures of Shi villages.[Annotation 12].

Nobuyuki Egoshi

The death penalty.Year 26.Unemployed.
極めて自己中心的で非常識であり、強い残虐性も併せ持っている。自分の保身目当てに子供5人を殺害し、12人を負傷させた快楽殺人者。
For the first time in the work, it will be the way to the dark soil.At that time, even Shimura, who always smiles and has a honorific tone, treats it as "waste" without laughing.

Hanawa Hokiichi

Life accident death.
I have been aiming for a manga debut for nearly 20 years, but it has not been fruitful, and although I am expected to make a debut in drawing, I am worried whether I wanted to draw.
He almost lost his eyesight due to a self-damage accident and had to give up his career as a manga artist, but he was trying hard to practice his computer because he wanted to make a story, but he died in the middle of his career because he fell at dusk.
Although this episode has not been made into a drama, the manga that Hayashi showed to Michiru that the customer had received it just before the Buddhahood was "Duck Road" drawn by Hanawa (the original setting is the Nishi River).Also, in episode 3, you got Volume 4, and in episode 6, you want a celebrity's autograph, "Hanawa Hokiichi's autograph, but do you see it?"[Annotation 13]I'm listening to

Erikawa

Death from heart disease.
I didn't have much contact with him because he was rugged and often said unnecessary things.Prior to his wife, who was mild-mannered, personal and sociable, he began to interact with many people through his wife's personal connections, but was disliked behind the scenes because of his personality.
Both the couple were aware that "a man's widows have maggots and a woman's widows have flowers" (the wife's body is surrounded by flowers in the casket, and Erikawa's body has a large number of maggots. Ironically, exactly the same thing happened as the saying goes).

Ishima / Otori Michi (Ishima / Decoy Michi)

Senility and death.Year of enjoyment 83.A niece between Ishi and a party to the case where he committed murder.
He had tried to commit suicide because he was raped, but he recovered, got married and lived his life while being taken care of by his children and grandchildren.When you visit the Shi government officedementiaI was suffering from this, but I remembered Ishima, and when I appeared at the Shi government office, Shimura found him looking for him.
In the drama version, when Shimura confirmed Michi's life history, he had the name "Tokuji Ishima", so it was a development that he thought.In addition, the name written in the submitted documents is not the husband's surname but the maiden name Ishima due to dementia, further emphasizing his feelings for his uncle.[Annotation 14]..Then, he was sent off to the front of the door of the Buddhahood, and disappeared with a big smile, saying, "When I come back, I will make miso soup of radish."

Natsuka Date

Death in a car accident.Year of enjoyment 15.Third grade in junior high school.
Having decided to transfer to another school, she is having her first and last date with her unrequited love classmate[Annotation 15], I'm run over by a dozing truck.
By interacting with her, Shimura remembered the past as if she had killed her child in her lifetime.
In the drama version, it has been changed to "I was run over when I jumped into the road trying to pick up the pen that was dropped by the cause of death, and the driver who hit her is also drawn.In addition, the damage to Natsuka's body is not the exposure of organs, but the whole body is covered with blood, but it seems that the legs are particularly damaged, and it is staggered.

Takayasu Sao

Death from illness.An entertainer who has a comedy combination called "Kani Subekaraku" with his partner Takaseki. It is drawn on the cover of Volume 3.
Sao himself does a pretty surrealistic story.
Although she developed an intractable hereditary disease (existing in the original, but a fictitious name in the drama version), she lived as an entertainer until the end, such as participating in the final of a comedy contest in her wheelchair and pajamas.
The original emphasizes the two opposites of "unfriendly Sao" and "innocent Takaseki", but in the drama version, it is somewhat natural and Sao laughs a lot.When asked to sign by Kodai, it is child-friendly like the original, such as writing so that it can be read properly.
The names of Sao and Takaseki areComedian who likes the authorAnagram[5].

Maho Sudo

Life accident death.Year of enjoyment 17.high school girl.
I had them buy a smartphone and enjoyed internet communication, but I fell into smartphone addiction.
While I was using my smartphone, my best friend, who didn't really think about smartphone addiction, asked me to go in a dangerous direction, and I fell down the stairs.

Miki Michiru (Miki Michiru)

Life accident death.20 years old.College student.Innocent and selfish.
He lifted the ban on alcohol to commemorate his XNUMXth birthday at a club drinking party, but he died of acute alcohol intoxication.
The content is handled by the Life Accident Death Division, but he tries to make the procedure as a murder because he was forced to drink alcohol.He insisted that he would not proceed until he was found murdered, and stayed at the government office for 49 days to learn about the past of the staff, and in particular, influenced Hayashi to face his life's mistakes.After that, he kissed Shi village and promised to meet again in the next world, and finally became a Buddhahood.
In the TV drama version, it appeared from the first episode, interacted with Ochibi, Masumi Sakaura, and Natsuka, and became a Buddhahood.[Annotation 16].

Sugi

Death from illness (stomach cancer).Former prison officer.While working in a detention center, he met Shimura during his lifetime.
He cares about the death row prisoner, Numashiri, who is desperate and just waits for his death, and hopes that he will at least live in peace until execution.After the execution of Numajiri, Shimura told me that he was not suitable for prison, and he quit prison a year later.

Chihiro Hondo

Death in a car accident.Year 35.
Although I was spending ordinary days, my husband was dissatisfied with being a full-time housewife and not being seen as a woman, so I happened to meet a friend from college and was invited to a party Sometimes I got hooked on drugs and sex.Over and over again, he became addicted, and when he heard the news that his friend was arrested while driving, the children in the back seat were upset by the hallucination of becoming a police officer and died after a runaway driving (two of them). Children have no difference in life).

Masumi Sakaura

Murder (putout).Runs a set meal restaurant inherited from his father.
His father was stabbed to death when he found a man who was an employee stealing store sales.The man was sentenced to imprisonment for witness Sakaura's testimony, but he was also stabbed to death by the resentment.
The name of the man who killed Sakaura's father and son is Kenji Harashima, and if he is arrested and sentenced to death because his surname contains "shi", the "death penalty section" will accept it.

Yoshiaki Ikuno

Death from illness.
He was good at personal computers and distributed live videos under the handle name of the video site "Hephep".As he had some fans, he was so enthusiastic that even his own fight against illness was delivered as a video.
He used a lot of internet terms such as "grass growing" in his spoken language, and even misunderstood that Shimura and Shiragami were "a hobby of gardening."

Yuki Tsugawa

Life accident death.Year of enjoyment 7.
He has a strong admiration for a hero named Kamen Yander, and the actor who plays the role of a hero says, "Become a person who does not overlook those who are in trouble to become a hero," and then he comes to help everywhere.When I helped a cat drowning in the river, I slipped and was washed away.I filled out the "Women's Volunteer Application Form" because I saved the cat and died.

Sculpture (Chokoku)

Death from a natural disaster.Real name unknown.A homeless person who lives under a bridge that earns a living from day labor cleaning.
Previously, he was a company employee and was sculpting Jizo for the guilt of restructuring in personnel affairs.
I evacuated when the typhoon came, but when I was worried about the work, it was washed away by the flooded river.

Sayo Yamanaka

Murder (putout).Year of enjoyment 24.
She is beautiful and friendly, so she likes her, but she is sexually harassed and is sick of the people who allow it.He is the only one who forgives his best friend, who has an uncluttered speech and attitude, but his curiosity kills him.

Taeko Hanahira

Death from heart disease.
When she was young, her beloved husband, Shigeyuki, was murdered by an affair partner (Nishigawa), and while suffering deep emotional wounds, she raised her son by herself.

Terai Shooto

Death in a car accident.College senior[Annotation 17].. It is depicted on the cover of Volume 7.
He was mediocre and had a complex with his younger brother, who was a medical college student (he also looked down on his brother, had no compassionate words and deeds, and called him "shu" by abandonment).
When my grandmother invited me to a lecture, I joined the religious group "Kago no Kai" and worshiped so much that I couldn't see the people around me.When Shimura asked him about the "Blessing Society," he made a rare voice.
In the original, the left arm has been amputated, but in the drama version, five bodies are satisfied and died.

Konshi Hihara

Man-made disaster lethal.employee.
He is working alone and is a smoker but keeps it secret from his family.
I regret that I died because of my sleeping cigarette, but the correct answer is in the next room.Fire spreadAnd I was a victim.

Chibi

stillbirth.38 weeks of enjoyment (in utero).Gender unknown.
The child was given to a couple who had been undergoing fertility treatment for many years, but the placental abruption of the placenta occurred and it was not saved.
Even if I wasn't born because I felt the love of my mother, I thought "I'm glad I came to my mom" and smiled at the Buddhahood.
In the drama version, because it is a foetation, she expresses her emotions depending on whether she cries or not. She cried when her mother was in poor physical condition during surgery, and stopped crying when she saved her life.Therefore, there is no scene to talk about feelings for her mother.
After that, he was held between Ishi and became a Buddhahood.

Naotaro Tsukimoto (Naotarou Tsukimoto)

Homicide (murder).Year of enjoyment 27.
There was a familiar customs lady who went to health-related customs, but was dissatisfied because she was not allowed to perform.

Hideya Ogasaki (Hideya Ogasaki)

Death from illness.Elementary school student.
My parents were out of order and I was too busy to work.
Buddhahood with Ishima who sympathized with the situation.

Aiko Kai

suicide.Caregiver.
I was taking care of my mother with dementia by myself, but I was struck by the limit.

Kai Fukuko

Part-time death.Aiko Kai's mother.
Come to Shi government office with my daughter.

Mami Akechi

Death from illness (breast cancer).
A former stage actress, she raised her daughter by herself without any relatives. He died of cancer, leaving his 11-year-old daughter.

Tsuzuki Ueda

suicide. 25 years old.
Although he was a salaryman, he jumped into the train to endure loneliness.

Atsue Omi

Stroke death.
A widowed insurance agent with only one son.

Aida Apricot

Death from illness (sudden cardiac death).Year of enjoyment 21.
From the attention of Instagram with friends and the photo, he has a complex in his body shape and diets, but escalate and become anorexia nervosa that spits out what he ate.
Even after coming to the Shi government office, he was particular about his weight and body shape, and was doing things such as scraping off his thick upper arm.

Isako Koroki

Death from heart disease.A good-natured and gentle personality.
I was born with a big bruise on my face and thought it was a complex, but my husband who I met at the second matchmaking accepted me as it was without worrying about it, so even if I became a widow later, I would remarriage I didn't.
It seems that he had an acquaintance with Shimura, who works at the government office during his lifetime, and remembered it vaguely.

Shigure Hirano / Kureha Shimizu / Kenta Yano

Appeared in the extra edition "Aiming for a Better Society".Victim of serial murder who kills one after another who thinks he is "evil" from a distorted sense of justice.
What I thought was the "evil" of the perpetrator, Sakuma Yoshizawa, was "scribble on the wall with a spray," "sarcasm for pregnant women," "littering cigarettes," etc. , Slaughter and other acts.
Shimura predicts that Yoshizawa may come to the "death penalty section" because his surname contains "shi" like Harashima mentioned above.

Bando Issa

Death in a car accident.
When I was young, I used to snatch on a motorcycle with a light feeling, but after I started listening to the trial at the recommendation of my grandfather, I changed my behavior and washed my feet.When I was listening to the rape crime trial, I got angry at the judge's unreserved remarks and struck the judge's bag on the way home saying "I want to feel the victim's feelings" ..
From the sins he had committed in the past, he was pondering in front of the Buddhahood.

Inomata

Death from illness (death from cancer).
When he was in elementary school, he was playing around on the rooftop, and when he fell, he injured one leg and became inconvenienced for the rest of his life, but he was active with crutches and an electric senior car.At the time of the accident, he was reprimanded by a teacher who tried to help him while he was slamming without taking the danger seriously, but after the accident, the teacher hanged himself and committed suicide I was suspicious that I had committed suicide, so I asked Shimura about the death of the teacher at the Shi government office, but it was refused as a privacy issue (the cause of the suicide was different from this case).

Nakajima Poetry

suicide.I feel lonely in the behavior of my mother, who is a sister and loves her sister.
During the pool tour, he met Chiyumi, who was suffering from abuse from his mother and his boyfriend, and continued the ritual to communicate with the aliens and take them away from the earth.
Eventually, he takes sleeping pills and dies of carbon monoxide poisoning with briquettes.

Akiho Higo

Life accident death.
Even if he has asthma and is looking for a job, he cannot get a job offer, and he receives welfare protection at the recommendation of his father who lives with him, but he feels guilty about the condition.I am stressed by the attitude of my father who is calm and luxurious and goes to pachinko even while receiving welfare benefits, and he falls asleep while taking a bath and drowns probably because he is tired both physically and mentally.

Junya Fukuhara

Homicide (abuse death).
I couldn't speak enough words yet, and I couldn't tell my name at the office, so I was called by various names written on my clothes at first, but only the name written on my pants was my real name, and when I read it out, I replied. It turned out because I did.
He continued to be abused by his stepfather, who was frustrated by his childish behavior, and was suffocated by a cushion to silence him.

Yukio Kaneko (Ikuaki Kaneko)

Death from illness (death from pneumonia).
Victim of false accusation of the bombing in the town.
He is often isolated from his unfriendly and impatient personality, and after retiring from the factory where he was working, he helped at a milk shop run by his father, but he was also having trouble at that time, and he saw it. He was sentenced to life imprisonment in a sentence that was admitted to the police who had forced him to confess that he was the culprit of the unsolved bombing case.
Even though I was in jail for 9 years and in prison for 19 years, my brother believed innocence and continued to appeal to the world, so my brothers were good friends and I had exchanges even after I was released.
After hearing his false accusation story, he realized that he said "I understand how you feel very well", so he asked to hear the story of Shi village and learned about Shi village's past. ..
A customer who has appeared multiple times in stories that are not directly related to him since Michiru.
Other
[Manga Ranking] 8th place Weekly Manga Ranking on March 2017, 3 at music.jp[6]
First half of 2017 Manga ranking No. 1 Daily Bibibi August 2017, 8[7]
It has received a great deal of attention from the first episode and has been highly evaluated in various fields.Kyary Pamyu Pamyu[8],Hirose Tin[9],Alice Hirose[10]There are also many celebrity fans.
TV program
2019May 8ToNHK General TelevisionIn the program "Voice Actor x Kaidan" broadcast on TV, the episode "Suicide?" Was broadcast.[11],Emi OgataWas in charge of reading.
Bibliographic information
Azumi Kishi "Shiyakusho" Shinchosha Co., Ltd.<BUNCH COMICS>, 18 volumes already published (as of November 2021, 4)
TV drama
2019May 10(From 16 midnight)May 12Until (midnight on the 18th)Television Tokyo Channel 12, Ltd.New drama frame of the system "Drama Holic!Was broadcast from 0:12 on Thursday (midnight on Wednesday)[2][3].. StarringMasahiro Matsuoka[2][3].
In the same drama frame2020"July broadcast"Those who do not rent"ButNew coronavirusDue to refraining from shooting to prevent the spread of infection, broadcasting after episode 9 was postponed.Alternative programAsMay 6(From 3 midnight)May 8It was rebroadcast until (midnight on the 5th).Also,BS TV TokyoでMay 7(From 5 midnight)May 9It was rebroadcast until (midnight on the 13th).
cast
Guest
Episode 1
Episode 2
Episode 3
Episode 4
Episode 5
Episode 6
Episode 7
Episode 8
Episode 9
Differences from the original
Since the differences between Shi government officials and customers have already been clarified, here we will show as much as possible the important differences between the entire story and each story.In addition, the explanations of Hayashi and Shimura in the 5th, 9th, and final episodes are written in kanji for those who are alive to distinguish them.
In the original story, the customer can write various documents at the counter and then submit the "Buddhahood Permit" issued to the "Buddhahood Division" (or "Women's Volunteer Application" if he died with help). However, in the drama version, there is no "Buddhahood Division", and the staff who was in charge of the window first will accompany you to the end.[Annotation 20]..Then, after accepting everything that came from my birth to my death, I wrote my name on the "Buddhahood Permit".[Annotation 21]For the first time, the good are supposed to go to heaven and be reborn.[Annotation 22]..In addition, the series of steps is basically performed in front of the "Door of the Buddhahood", but before that, Shooto, who accepts the fact that he died, walked alone.
Ushio opened the "Door of the Buddhahood", and in the original it literally "fallen into hell", but in the drama version it does not fall, but is caught in something like black smoke and disappears.Also, in the original, he is the only one who shows the other side of "Door of the Buddhahood", but in the drama version, there are five others, Taichi, Ochibi, Michiru, Sao, and Michi.This person is surrounded by pure white light.
In many cases, the original story depicts the customer's upbringing to death, and then comes to the death office, but in the drama version, the entire story, staff and Michiru meet the customer and write the "Buddhahood Application Form". Their lives are told as a recollection of their time.
Episode 1
Taichi's window was handled by Shimura himself first, and then Nishikawa took over, but in the drama version, I was thinking of asking her to be in charge, but "I responded because there are many suicides. I can't cut it, "and Shimura is in charge until the end.
It is clear that Taichi's mother, Keiko, has been remarried when Taichi was in the second year of junior high school, so it is clear that he and Shohei have become parents-in-law.
The reason why Taichi disappeared from the window is the same as the original, but he seems to say "go to the bathroom" before standing, and the Nishi River pointed out "Is it dead?", And Shimura himself goes searching.As a result, Taichi was found earlier, so the explanation of "The Road of Meiji" was edited to prevent the contradiction of telling him, "Today is the deadline for submissions," which he responded to after Michiru.
The timing when Taichi said, "I want to search for my father-in-law on" Meiji no Michi "and apologize" is from the time of reunion with Ushio and after returning to the window.
Episode 2
Michiru remembers the feeling of déjà vu when he saw Hayashi in the first episode, and he himself is aware of the identity of the Shi government office staff.And immediately after that, I found Chibi.
Chibi's mother, Izumi OginoinfertilityAfter finding out, the feud with her mother-in-law has been cut.
Izumi, who has entered a stable period, and his father, Takahiro Ogino, are excited about the topic of "what do you want your child to call you?"Also, Takahiro is unaware of her abdominal discomfort.
SupermarketThe girl who speaks to Izumi is set to be a pregnant woman's child, "Hinako," at the hospital where she goes to the hospital, and the first meeting is in the hospital waiting room.Also, the place where I met again after Chibi's death is also a hospital while Takahiro is undergoing discharge procedures.
The scene where the surgeon rushes to the hospital and asks Takahiro to make the ultimate choice of "taking the mother or taking the foetation" has been cut.
Izumi's placental abruption of the placenta was quite serious, and both the mother and the foetation were at risk of death.[Annotation 23].
At the end of the game, Michiru sweared at Shimura, saying, "Murder ...", but he turned around and glared from the front.
Episode 3
Sakaura is guided by Michiru and goes to the murder section, but in the drama version, he goes wild and says "Return to the store!", And Shimura responds calmly.Also, I heard from myself who killed him.
Sakaura is a couple who wrote "Set meal Sakaura" from regulars on the day the store reopened.apronHas been passed.
Michiru talks about his life on the day when he first appeared at the Shi government office like other customers, but he is silent until 49 days have passed, and he talks in the form of being prompted by the Nishi River.Only her recollection is not visualized.
Episode 4
What Natsuka wanted to eat and drink on a date was "CrepeFrom "tapiocaI bought it right after the movie was over, so I drank it before I was alive.[Annotation 24].
The pen I had was bought as a matching pen because my birthday was near to my date with Tomoya, and I only use it when writing my name on the "Buddhahood Permit".
When Shimura was slapped by Natsuka, he became expressionless, but it was ambiguous in the drama.Immediately after that, the scene where Natsuka collapses and cries is being embraced by Michiru just before the Buddhahood.
Just before the Buddhahood, Michiru asks why Shimura dares not to be a Buddhahood, but he remains silent.
Episode 5
Hayashi's recollection begins at the dojo in his second year of high school.
The scene where Hayashi murders three people only shows him wielding a wooden sword, and immediately after the crime, Maria's mistress, Asai, is covered in blood and collapses, so I understand that she was killed, but my wife, Maria. And the method of killing the child Ayami is unknown.
Episode 6
There are the most differences in the filmed works, except for the 9th and final episodes, which are mixed stories.
Takaseki is not marriedStandard languageI am using.
On the day of "Dead of Conte" (hereinafter referred to as "Dedcon"). The two are a local gathering, and it is a junior entertainer who went to Sao's house.
In the early stages, Hayashi actively searches for entertainers for signs, but on the contrary, Ishima is forced to "tell me (to Kodai) if you find one."
Sao went missing, but Takaseki did not give up until the very end, did not send an e-mail that could be taken as a break, and did not look for a partner to replace him.
In the original, the exchange in the hospital room is a night road for only two people to send Sao to the hospital.As a result, Takaseki talked without hesitation and there was no scene where they were evaluated dry.Pin entertainerImmediately before resuming performing arts activities, he was worried by other entertainers and showed "man's emotions" without being seen by the audience with white eyes.
At the end of the game, Hayashi was disappointed by Sao's early Buddhahood, but Kodai received a signature from him and praised the story of "Dedcon" as "the feelings of a man".
Episode 7
At the beginning of the recollection, the setting that Michi likes flowers has been added, and it is possible to understand why Ishima has a special feeling for flowers.
"Remember my niece," Ishima tells Shimura, and the recollection begins as in the original story, but as with Hayashi, Shimura listens to him.
When his younger brother is killed, the place where he cries at first is instantly dead.
Hayashi is calling out to "help" the Nishi River, which is climbing the stairs with a lot of luggage.
Episode 8
Akane is willing to entrust Rin's "helping the teacher's work".
The reason why the nursery school is suspicious of Rin's family for the first time is that her mother, Hitomi, never comes to pick up Rin, and when she calls, she says "Can you send me home because I'm sick?" (Furthermore, the noise from the phone makes me feel like I'm outsideMalingeringIs also considered).
The detective did not explain why the arrest warrant was issued to Hitomi.
Hayashi also participates in Rin's reading session, so I'm listening to Ishima's offer to her with Shimura.
Episode 9
At the beginning of getting used to Ichimura and Sachiko, she said,BatsuichiBecause there is no setting of ", I have not been cursed by my big aunt, Hatsu.
After becoming a family member of "Kago no Kai", where Shooto becomes naked to cleanse before one week of training, the scene of acting with a relationship has been cut.
The way Kyohei takes Shooto home is on foot, and Shooto isn't crazy about getting out of the "Kago no Kai" house.
Shooto rushed out of his birthplace with the same momentum that he had exhaled his anger to Kyohei.
When Shimura is upset with "quickly answer", the place where he glares in the original is yelling even more.
The last episode of
Miyuki's unbalanced diet scenepaintsIt is only.
The guru of the "Kago no Kai" that the Ichimura family met is Hasuda Sakaeyama, the same as in the 9th episode of Shooto.
The place of reunion with Miyuki is in the building of "Kago no Kai", and Ichimura is taking her home in front of Hasuda and others.
Interrogation of Ichimura after Miyuki was killed by someone is more vicioustortureIt has become violence like.
It is Hayashi and the Nishi River that are separated from Ishima.
Remarks
After the next notice, "This drama isfictionis.The incidents, accidents, and groups that appear are fictitious and have nothing to do with real things. The back video when the cautionary note comes out is a lot of pictures taken by the customer before he was alive, like the last page of each story of the original (the final story is only the title back).
ス タ ッ フ
Original-Azumi Kishi "Shiyakusho" (Monthly Comic @ Bunch(Serialized)
Screenplay-Yosuke Masachi, Kisa Miura, Natsume Karasuma
directed by - Hiroaki Yuasa, Takayoshi Tanasawa,Mai Sakai,Kana Matsumoto, Masatoshi Kurakata
Chief Producer-Tatsuya Yamaga (TV Tokyo)
Producers-Yudai Kurachi (TV Tokyo), Noriko Obana (J Storm), Yuji Hira (Studio Blue), Sho Sejima (Studio Blue)
Production- Television Tokyo Channel 12, Ltd.,Jay Storm, Studio blue
Production work- "Shiyakusho" production committee
Broadcast schedule
Number of stories
Airdate
subtitle[35]
Latte column[36]
script
directed by
Episode 1
May 10
Is it suicide?
300 million copies of popular original!
Yosuke Masachi
Hiroaki Yuasa
Episode 2
May 10
mother
Mother and child ... 8 years of life
Episode 3
May 10
Reasons to kill people
Reasons and reasons for killing people!
Mai Sakai
Episode 4
May 11
First date
First date and ballpoint pen
Episode 5
May 11
Haruya Hayashi
The secret of the death penalty and birth!
Masatoshi Kurakata
Episode 6
May 11
How to live a crab
Manzai of tears dedicated to his companion
Kisa Miura
Kana Matsumoto
Episode 7
May 11
Tokuji Ishima
Revenge to protect the happiness of my beloved daughter!
Yosuke Masachi
Takayoshi Tanasawa
Episode 8
May 12
Tomorrow's me
Daughter's love that does not reach my mother
Episode 9
May 12
Blessing Society
Conditions to become a real family
Kisa Miura
Kana Matsumoto
The last episode of
May 12
Be careful
The shock of Shimura Tears in the past!
Yosuke Masachi
Hiroaki Yuasa
Average audience rating 1.4%[37](The audience rating isVideo researchLook up,Kanto area・Household/real time)
Broadcaster
Broadcaster
Broadcast date
Broadcast period
series
Net situation
Remarks
Television Tokyo Channel 12, Ltd.
Thursday 0:12-0:52 (Wednesday midnight)
October 2019, 10 (midnight 17th) --December 16 (midnight 12th)
TV Tokyo
Production Bureau
TV Osaka
Simultaneous net
TV Aichi
TV Hokkaido
TV set
TVQ Kyushu Broadcasting[Annotation 25]
TV Wakayama
Independent station
Biwako Broadcasting
Wednesday 23:58 --0:40
March 2019, 10-March 30, 2020
Delay net
IBC Iwate Broadcasting
Saturday 1:55-2:35 (Friday midnight)
December 2019, 11 (midnight on 16nd) --January 15, 2020 (midnight on 2th)
TBS system
Oita Asahi Broadcasting
Saturday 0:50-1:30 (Friday midnight)
December 2019, 11 (midnight on 23nd) --January 22, 2020 (midnight on 2th)
TV Asahi
Minaminihonhoso
Wednesday 1:05-1:45 (Tuesday midnight)
October 2020, 1 (midnight 8th) --December 7 (midnight 3th)
TBS system
BS Tele(2K)
Monday 0:35-1:15 (Sunday midnight)
October 2020, 1 (midnight 13th) --December 12 (midnight 3th)
TV Tokyo series
BS digital broadcasting
BS TV East 4K
Broadcast with 4K up-conversion
East Japan Broadcasting
Saturday 1:34-2:54 (Friday midnight)[Annotation 26]
October 2020, 4 (midnight 4th) --December 3 (midnight 5th)
TV Asahi
Nara TV
(Until episode 2) Saturday 0:30 --1:10 (Friday midnight)
(From episode 3) Monday 1:00 --1:40 (Sunday midnight)
October 2020, 4 (midnight 18th) --December 17 (midnight 4th)
October 2020, 5 (midnight 4th) --December 3 (midnight 6th)
Independent station
Aomori TV
Tuesday 0:59-1:39 (Monday midnight)
October 2020, 10 (midnight 20th) --December 19 (midnight 12th)
TBS system
Hikari TV,ParaviThen, it will be delivered every week after the broadcast on TV TOKYO (Flat rate unlimited viewing).
Net is also TV Tokyo (TVer,GYAO!), The latest story was available for free after the broadcast on TV TOKYO.
Blu-ray & DVD
"Shiyakusho" Blu-ray-BOX, DVD-BOX

TC EntertainmentReleased on December 2020, 4 discs each (main part: 3 discs, bonus footage: 4 disc).
footnote
注 釈
Source
外部 リンク