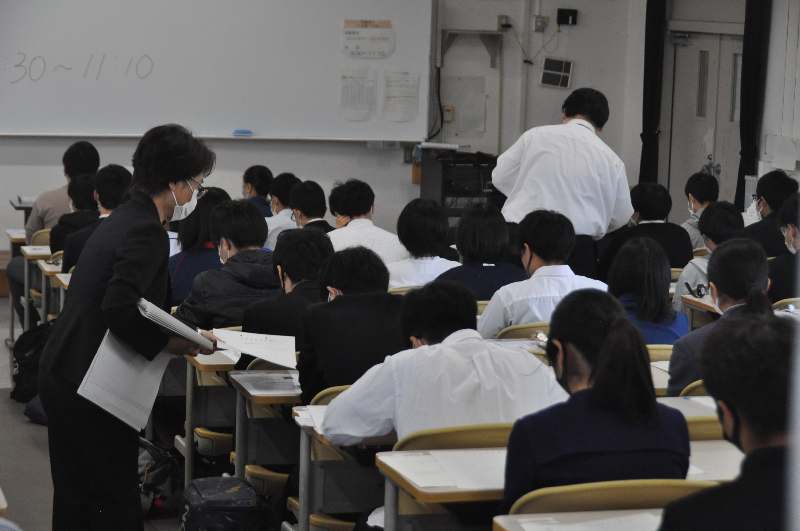 Students who are given photo questions and answer sheets and are waiting for the start of the exam = 25th, Nishihara Town, Ryukyu University
Students taking entrance exams such as Ryukyu University, wearing masks and looking nervous
 
If you write the contents roughly
At Ryukyu University in Nishihara Town, a total of 994 people volunteered for the capacity of 2981 in the previous term, and the ratio was 3.0 times. 
The first half of the 2021 national and public university general entrance examination has started on the 25th.In the prefecture, Ryukyu University, Meio University, Prefectural Nursing University, ... → Continue reading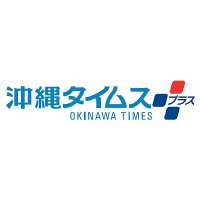 Okinawa Times + Plus
---
Wikipedia related words
If there is no explanation, there is no corresponding item on Wikipedia.
Nishihara Town
Nishihara Town(Nishiharacho) isOkinawa main islandOccupy the middle partNakagami-gun Oftown.Naha OfNortheastIt is located about 10km.
Overview
Okinawan dialectNishi is a word that means "north", and Nishihara isRyukyu KingdomWas the center ofShuriIt is derived from being located in the north of. When it was called Nishihara Magiri, the current Tomari, Ameku, Sueyoshi, and Ishimine were also included in the Magiri, which occupied a fairly wide area, but was later incorporated into Naha City, and almost in 1920. It became the area as it is now.
19445Than,Japanese armyThe construction of "Okinawa East Airfield (Onaha Airfield)" was started at the reclaimed land in the Gulf, but it was abandoned during the construction. afterwardsU.S. ArmyRequisitioned by, used as Nishihara Airfield, but later returned, nowoilIt is a refinery, a residential area, a sugar cane field, etc. Therefore, there are no US military facilities in the town. In addition, it should be notedBattle of OkinawaIt is said that half of the inhabitants have died.
Before the war, rice cultivation was the main focus, but after the war, the sugar cane industry developed, andsugar caneBecame a famous production area ofShin Chutoh SangyoThe largest in the South Central Coast owned bySugar makingThere was a factory (now dismantled and on the siteSan-A Nishihara CityIs open).
The only one in the prefecture in the townNational universityIsUniversity of the RyukyusBegan to be privateOkinawa Christian University,Okinawa Christian Junior CollegeThe three universities are located in the town, and the town is known as a "town of education."
In addition, the Nakagusuku Bay Port Marine Town Project is being implemented in the area that straddles Yonabaru Town, and new land development is underway.
There used to be a merger plan with Nishihara Town, Ginowan City, and Nakagusuku Village, and a council was established, but it became blank in 2003.
Geography
Located on the east coast of central Okinawa Island.
List of characters
Higashizaki (Agarisaki)
Amuro
Administrative districts include Nishihara Heights.
Administrative districts include prefectural Uchima housing complexes.
Onaga-It used to be peeled off.
Administrative districts include Sakata, Sakata Heights, and Sakata high-rise housing.
Onaha-A industrial park is set up facing Nakagusuku Bay.
Kakeboku
Gaja-The resident population is 3,312 (as of 2012)
.
Administrative districts include Misaki.
Administrative districts include Kochi Heights and Kochi High-rise Housing.
The administrative district includes Nishiharadai housing complex.
Administrative districts include the prefectural Nishihara housing complex and Kobazu housing complex.
Goya
Chihara (Senbaru)- 1933Separated from Tanabaru.
Tanabaru- 1737ToUrasoe MagiriTransferred from (currently Urasoe City).
Tsuhanaha
Momohara
Tokusada-Originally part of Tanabaru1932Separated into.
Morikawa
Yonashiro
Administrative districts include Hirasono.
Before the war, there were villages of Nakaiho, Iho Nohama, and Sakihara, but the land was requisitioned as the US military Nishihara airfield and the villages disappeared. Residents of these three villages moved to the site of the Prefectural Agricultural Experiment Station in Gaja around 1947.
Adjacent municipalities
population
History
According to the "Ryukyu Kingdom Research Book" at the beginning of the 17th century, Nishihara MagiriTsukenAnd so on, it was wider than it is now.
Administration
Unusual even on a nationwide scaleSection to do immediatelyWas installed. (Until March 22, 3)
Nishihara Town Council
Economy
A company headquartered in Nishihara Town
Education
University/Junior college
high school
Junior high school
primary school
Special school
Other educational institutions
Okinawa Belief Bible School
Okinawa congregationPreacherDedicated to pre-school and extra curricular
Transportation
Iron orbit
There is no railway line in Nishihara Town, and the nearest station to Honmachi is in the neighboring Urasoe City.Okinawa city monorail line OfTedako Urani Station(-Uranishi-eki).Tedako-Uranishi Station and the same line in Naha CityShuri StationYou can transfer to the local bus bound for Honmachi from (Shuri-eki). Previously,Prefectural Road 29There was a plan to extend it to Honmachi along the line, but it is gone now. There is also a plan to extend from Tedako-Uranishi Station to Honmachi.
Before the war, the carriage railroad connecting Yonabaru and Awase (Okinawa orbit) Was passing through the town. But,Battle of OkinawaIt was destroyed by, and now it is not possible to see its appearance.
Currently, we are considering the construction of the Chubu Ring Road (iron track) with the surrounding local governments.
bus
Bus companies that mainly operate in Nishihara TownNaha busとToyo BusIs. As a starting and ending point in the townNaha Bus Nishihara Sales OfficeRyudai Parking Lot (Ryukyu University North Exit), and several routes that start and end there. Also,Naha OfNaha Bus TerminalからAwaseIt is also a stopover for routes going in the direction,National Route 329Is operating.Okinawa ExpresswayThere is also a highway bus that runs through, and there is a "Kochi" bus stop in the town.
The above Tedako-Uranishi station is within a distance that allows you to transfer from the Kochi bus stop.
For a while, there was a line called No. 102 Nishihara Futenma Line, but it was abolished when the business was transferred to Naha Bus in 2004 (this line was once the Airport Children's Country Line → Airport Futenma Line, but the last Was shortened to Nishihara and abolished).
Incidentally,2008May 9からMay 11During that time, a Nishihara-cho shared taxi / bus demonstration experiment was conducted. Unlike the demonstration experiments conducted in other cities in the prefecture (Naha City, Okinawa City, etc.), jumbo taxis were used instead of general route bus vehicles. There was also a small bus running during the morning rush hour. The route started from Nishihara Marine Park, passed through Nishihara Town Office, Kohatsu housing complex, and Ikeda district, and reached Shuri Station. Currently not in service.
In addition, Nakagusuku village community bus "Gosamaru BusIs entering the Heart Life Clinic at the Ryudai North Exit in Nishihara Town.
The operating company "Ryukyu" in the table below is Ryukyu Bus Kotsu, and "Okinawa" isOkinawa bus, "Naha" indicates Naha Bus, and "Toyo" indicates Toyo Bus. * BT = Bus Terminal
number
Route name
Operating company
Service section
市町村
Main stopovers in Nishihara Town
Naha City ――Nishihara Town Center ――Various places
30
Awase East Line
Toyo
Naha BT - Awase Sales Office
Naha City-Haebaru Town-Yonabaru Town- Nishihara Town --Nakagusuku Village --Kitanakagusuku Village --Okinawa City
Nishihara, Uchima (Route 329)
125
Futenma Airport Line (via Nakagusuku)
Naha
Naha Airport - Rycom
Naha City-Urasoe City-Ginowan City- Nishihara Town --Nakagusuku Village --Ginowan City --Kitanakagusuku Village
Uehara
333
Naha Nishihara (via Sueyoshi) Line
Naha
Naha BT- Nishihara Sales Office
Naha City --Urasoe City - Nishihara Town
Nishihara Town Office, Nishihara, Nishihara Junior High School, Kochi Entrance
346
Naha Nishihara (via Toribori) Line
Naha City- Nishihara Town
Nishihara Town Office, Nishihara, Nishihara Junior High School, Kochi
Departure and arrival at Ryukyu University
94
Shuri Station Ryukyu Rapid Line
Naha
Shuri StationIn front-Ryukyu parking lot
Naha City- Nishihara Town--Nakagusuku Village - Nishihara Town
Tanabaru, Ryukyu University Hospital, Ryukyu Parking Lot
97
Ryudai (Shuri) Line
Naha BT-Ryudai North Exit
Naha City --Urasoe City - Nishihara Town--Nakagusuku Village --Ginowan City - Nishihara Town
Tanabaru, Ryukyu University Hospital, Uehara, Ryukyu Parking Lot
98
Ryudai (bypass) line
Ryukyu
Road Station Toyosaki-Ryukyu Parking Lot
Tomigusuku City --Naha City --Urasoe City --Ginowan City - Nishihara Town
Ryudai parking lot
Via Okinawa Expressway
111
Express Bus
Ryukyu
Okinawa
Naha
Toyo
Naha Airport- Nago BT
Naha City-Haebaru Town- Nishihara Town--Ginowan City --Nakagusuku Village --Kitanakagusuku Village --Okinawa City --Uruma City --Kin Town --Ginoza Village --Nago City
Kochi
117
Highway bus (direct to Churaumi)
Ryukyu
Okinawa
Naha
Naha Airport-Hotel Orion Motobu
Naha City-Haebaru Town- Nishihara Town--Ginowan City --Nakagusuku Village --Kitanakagusuku Village --Okinawa City --Uruma City --Nago City --Motobu Town
113
Gushigawa Airport Line
Ryukyu
Naha Airport- Gushigawa BT
Naha City-Haebaru Town- Nishihara Town--Ginowan City --Nakagusuku Village --Kitanakagusuku Village --Okinawa City --Uruma City
123
Ishikawa Airport Line
Naha Airport-Higashiyama Parking Lot
127
Yakena (Highway) Line
Okinawa
Asahimachi- Yakena BT
152
AEON MALL Okinawa Rycom (high speed) line
Ryukyu
Naha Airport-Rycom
Naha City-Haebaru Town- Nishihara Town--Ginowan City --Nakagusuku Village --Kitanakagusuku Village
Other
233
Nishihara Tedako Line
Naha
Tedako Uranishi Station-Nishihara Sales Office
Urasoe City- Nishihara Town
Nishihara Town Office, Nishihara, Nishihara Junior High School
256
Urasoe Tedako Line
Ryukyu
In front of Toyosaki Chura SUN Beach-Tedako-Uranishi Station
Tomigusuku City --Naha City --Urasoe City - Nishihara Town --Urasoe City
Tokusada entrance
護
Sasaki
Circle
Ba
A
Kuba Ryudai Line
Higa Dermatology-In front of Chubu Commercial High School
It is a Nakagusuku village community bus and basically operates only in Nakagusuku village. There are also stops in Nishihara Town and Ginowan City.
Ryudai north exit
Ishu circuit line
Kuba roundabout
Yoshinoura Hall (starting and ending points)
Ryudai North Exit, Heart Life Clinic
道路
(Nishihara InterchangeUrasoe City, which is adjacent to the town, not in the townNishiharaIt is in. ConnectingNational Route 330Nishihara BypassDoes not pass through the town, but passes through Nishihara, Urasoe City)
Post
Zip Code
The Nishihara Post Office used to handle the mail in the town, but20069Has more jurisdiction over Urasoe CityUrasoe Post OfficeBecame in charge.Zip CodeIs as follows.
Urasoe Post Office: 903-01xx (general), 903-02xx (for large businesses)
post office
Nishihara Gaja Post Office
Nishihara Sakata Post Office
Nishihara Post Office
Simple post office in the University of the Ryukyus Hospital
Fire
The Eastern Fire Department in Haebaru Town has jurisdiction over the three towns of Nishihara Town, Haebaru Town, and Yonabaru Town. The Nishihara branch office of the Eastern Fire Department (Onaga 3) is set up in Nishihara Town.
Policemen
Located in UrasoeUrasoe Police StationHas jurisdiction. In addition, there are two police boxes in the town.
Onaha police box (Kadekaru, Nishihara Town)
Sakata police box (Nishihara Town Tanabaru)
Main river
Sights and historic sites
Native celebrity
外部 リンク