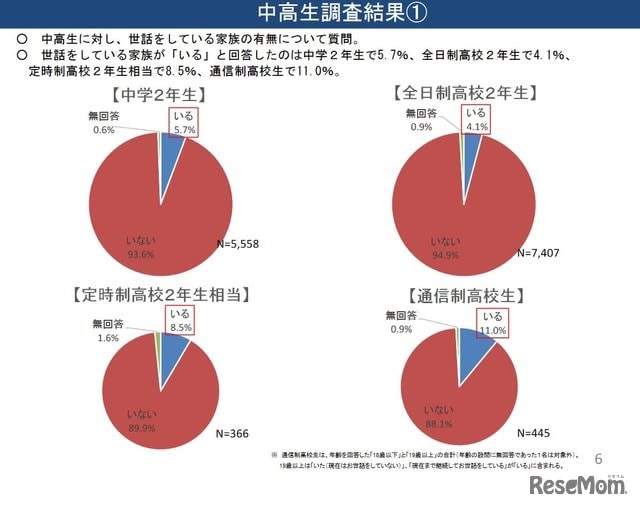 Whether or not there is a family taking care of the photo (junior high and high school student survey)
Young carer, 17 in 1 junior high school students ... Low awareness and awareness
 
If you write the contents roughly
When asked about the situation of children at schools that answered that they had children who seemed to be young carers, the most common answer was "I take care of my childhood instead of my family" and "Family with a disability or illness". I'm doing household chores (shopping, cooking, laundry, cleaning, etc.) " 
The percentage of "young carers" who provide family care on a daily basis is 17%, which is about 1 in 5.7 junior high school students. → Continue reading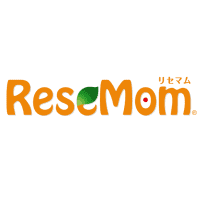 Lysemamu
The educational environment, university entrance examination reform, and the environment surrounding children are undergoing major changes. Amid the changes of this era, parents' interest in the education and career of children is only increasing. Risemum will transmit accurate and useful information centered on educational information, as a medium that is close to the hearts of parents. We will promptly deliver information that parents are interested in such as education reform, international education, examinations, educational events, STEM education including programming.
---
Wikipedia related words
If there is no explanation, there is no corresponding item on Wikipedia.
Young carer
Young carer(English: young carer) Means, while commuting to school or workingObstacle,sickParents, grandparents, younger siblings, etc.Nursing careRefers to children under the age of 18 who are caring for[1].
When a family member's illness or disability requires long-term support, long-term care, or watching, and there is not enough manpower to support it, even a child may take on that role and take care of the family.It is said that there are cases where schooling is delayed due to long-term care, or students give up going on to school or getting a job, so it is urgent to understand the actual situation.
Overview
Seikei UniversityDepartment of literature教授Young carers are "under the age of 18 who take on the care responsibilities that adults take when there are people in the family who need care, and provide housework, family care, long-term care, emotional support, etc." Defined as "children"[2].
Although the existence of young carers is known, the number and actual situation have not been known for a long time.Mainichi ShimbunIn September 2020Ministry of Internal Affairs and CommunicationsIn 2017Employment structure basic surveyAs of 15, there are an estimated 19 young people aged 2017 to 37,000 who are in charge of nursing care for their families, and about 8% of them go to school while studying and nursing care at least 4 days a week. Revealed[3].. Young carers under the age of 15 are not included in this analysis, and the reality is said to be even higher.
Mitsubishi UFJ Research & ConsultingAccording to the `` Survey on the actual situation of young carers'' conducted in 2019, the following actual conditions were clarified.[4][5].
As for the family composition of young carers, "single parents and children" accounted for the largest percentage at 48.6%.Due to the small number of family membersI have no choice but to cooperate with long-term careThere is a situation.
When asked about the impact of young carers on school life, 31.2% of the respondents answered that they could not go to school very often (such as taking a day off).Some people go to school but feel that there are some problems, such as "I am often late", "I can't concentrate on classes", and "I can't participate in club activities even though I go to school" due to family care. 27.4%.[6]
"I don't recognize myself as a young carer" was 44.5%, and "I don't know" was 41.1%. More than 8% of peopleDon't recognize yourself as a young carer.
Regarding the presence or absence of people who support the care that children provide at home, 54.3% answered "None".By grade, the percentage of "none" increases as the grade goes up.More than half of young carers have no supportersLong-term care is provided in an isolated state.
In the above survey, children who are young carersA child who does not protect his or her own rights that should be protectedAs a result, the following recommendations are made.
Disseminate the concept of "Young Carer" and dispel prejudice against "Young Carer"
We need support to expand the options of "young carers" without denying care
Institutional position regarding family support including "Young Carer" is required
Enrichment of measures and responses so that children do not have to take care
The need for mental support for young carers
Support for "Young Carer" is multi-layered
Efforts of local governments, etc.
It is the teachers of the school that the young carer attends that are in a position to easily grasp the actual situation of the young carer.But in reality many schools,Board of educationThere is also a problem with personal information about the home, and there are many policies that you can not step on without talking from the person.Who is this young carer because in a highly homogeneous group like a school, it becomes difficult to adjust to the surroundings, and even if you talk about nursing care to your friends, it is difficult to sympathize with them. I fall into a vicious circle that deepens isolation without talking to me.Because of this, it is difficult to grasp the actual situation and it is difficult for the problem to surface.[7][8][9].Rissho University"It is necessary for schools to find young carers early and connect them to welfare services that can take care of their families," the professor points out.[10].
SaitamaThen, in March 2020, the ordinance to support young carers for the first time in Japan "Carer Support OrdinanceWas established.Schools and boards of education are obliged to confirm the living conditions of children who are thought to be young carers, the living conditions of students, and the need for support, and they are supposed to respond to consultations and relay to support organizations.The aim is to create a mechanism to prevent the isolation of carers by supporting them in society as a whole, and it also includes securing educational opportunities for young carers.
Ministry of Health, Labor and WelfareHas decided to start the first fact-finding survey in December 2020 (Reiwa 2).Through local governments and boards of education, the ministry investigates the number of applicable elementary, junior high and high school students and the content of long-term care, and in addition to the impact on family structure and school life, it is virtually possible for parents to take care of themselves.neglectAlso check if there are any cases of (childcare abandonment)[1]..The results of this survey were announced on April 2021, 3 (Reiwa 4rd year), and announced that 12% of junior high school second graders and 2% of high school second graders nationwide are young carers. It is estimated that there will be about 6 people.When asked about the relationship with students who have a family to take care of, "siblings" was the most common, with 2% for middle 4 and 2% for high 10, and "parents" for 2% for middle 62 and 2% for high 44. It was.It took about 2 hours a day on average to take care of them on weekdays, accounting for more than 24% of the time, and 2 in 30 answered that they were in poor health.[11][10]..In response to the survey results, the government said, "The government intends to consider the support of young carers based on the actual situation."[12].
Overseas situation
AustraliaIs estimated to have 27 young carers[13], Support groups are organized in each state[14].. Also,The United KingdomThere are 70 young carers[15]..Different countries have different definitions of young carers, under 25 in Australia[16], Under 18 in the UK[17]Is targeted.
footnote
References
Related item
外部 リンク