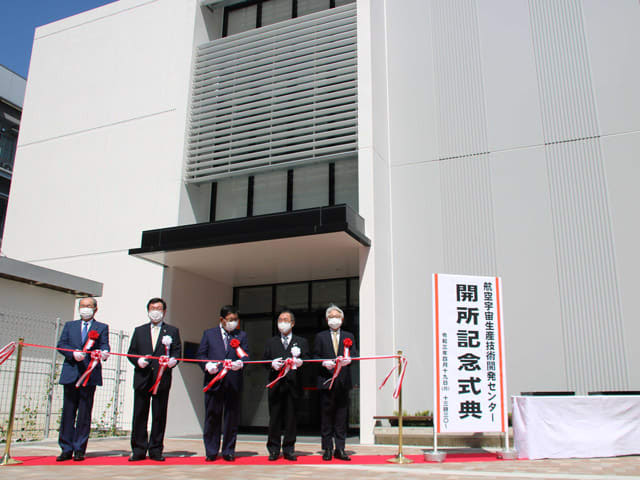 Photo The Aerospace Production Technology Development Center, which was completed at the end of October 2020 and has been in operation since January = Yanagido, Gifu City, Gifu University
Opened at Gifu University, an education and research base for the aerospace industry. Full-scale operation begins.
 
If you write the contents roughly
To commemorate the opening, there was also a special lecture by Nobuo Kishi, a former Mitsubishi Aircraft Vice President and Chief Technology Officer of SkyDrive (Tokyo), a startup company that currently handles flying cars. 
On the 19th at Gifu University in Yanagido, Gifu City, the aerospace industry research and education institution "Aerospace Production Technology Development Center (IPTeCA = ..." → Continue reading
 Gifu newspaper
---
Wikipedia related words
If there is no explanation, there is no corresponding item on Wikipedia.
Nobuo Kishi
Nobuo Kishi(Kishi nobuo, maiden name: Abe(Abe),1959〈Showa34 years>May 4 -) isJapan Of政治家.LDPBelongingMember of the House of Representatives(3nd term).Minister of Defense(21rd generation),Liberal Democratic Party Yamaguchi Chapter FederationChairman.Nika congressional round-table conferenceSecretary-general.
Member of the House of Councilors(2rd term),Foreign Affairs Chairman of the House of Representatives,Deputy Foreign Minister,Parliamentary Vice-Minister of Defense, Chairman of the Liberal Democratic Party's Foreign Affairs Department,House of Representatives Security Committee ChairAnd so on.Although he became the Minister of Defense for the first time, he was said to be a diplomatic tribe rather than a national defense tribe, and he has laid the groundwork mainly in diplomatic posts.[2].
My father was Minister for Foreign Affairs and Chief Cabinet Secretary of Japan.Shintaro Abe, My motherYoko Abe..To my brotherShinzo AbeTo my grandfatherNobusuke KishiTo my great uncleEisaku SatoAnd bothPrime MinisterIs serving.
history
Shintaro Abe-YokoAs the third son of a coupleTokyoBorn in (currentPermanent domicile TheYamaguchi KumageTabuse Town).The eldest brotherHironobu Abe, My second brotherShinzo.. Shortly after birth, my mother Yoko's parents' home, the Kishi familyShinwa・仲子夫婦に養子として迎えられた。・ I was adopted by a middle-aged couple.夫婦に子供ができず、信和自身がNobuwa himself couldn't have childrenPediatric paralysisIt was an adoption due to the difficulty of political activities[3].. (And Nobuo grew up without knowing that he was adopted, but his real parents were Shintaro and Yoko, and his older brother was Shinzo.[4])
Matsubo Kindergarten,Keio Kindergarten,Keio University Regular Club,Keio High SchoolThroughKeio University Faculty of EconomicsProceed to[5].. (I learned that I was adopted and Shinzo was my brother when I entered university.Family registerWhen I ordered, Kishi said, "I remember that I hadn't entered university, but when I ordered a copy of the family register required as a document to be submitted, I found that"Adopted child".The moment I saw it, I thought it was all right.The shock at that time was terrible.それからひと月ほど『何で教えてくれなかったんだ』という思いもあって、頭のなかが一種錯乱状態に陥りました」と言っているThen, for about a month, I thought, "Why didn't you tell me?", And I fell into a kind of confusion in my head. "[4]. )
1981(Showa56) Graduated from Keio University in March[5].
1981 year 4 month,Sumitomo CorporationJoined the company,2002(Heisei14 years) Worked until August[5]..信夫自身は、食料調達のため世界中を飛び回った商社マン時代であったと回顧しているNobuo himself recalls that he was a trading company man who traveled around the world to procure food.[6].
As a politician
(It is said that his brother Shinzo did not agree with Nobuo's entry into politics.[6]. ) 
Member of the House of Councilors
2004(16) of July20rd House of Councilors ordinary electionToYamaguchi Prefectural constituencyFrom the Liberal Democratic Party official recognition,Democratic PartyOfficialHiroko Oizumi(Former Yamaguchi PrefectureDeputy Governor) Defeated and won the first prize.Since October of the same year, he has been the Deputy Director of the Public Relations Bureau of the Liberal Democratic Party, the Deputy Director of the Youth Bureau, the Vice Chairman of the Liberal Democratic Party Agriculture, Forestry and Fisheries Association Committee, and the Vice Chairman of the Liberal Democratic Party NPO / NGO Association Committee.[5].
after thatFukuda remodeling cabinet,Aso CabinetInParliamentary Vice-Minister of DefenseServed.Grated asoAt that time, he signed a signature requesting the holding of a general meeting of both House members, but later withdrew.[7].2010(22) of July22rd House of Councilors ordinary electionDemocratic Party officialDaijiro HaradaDefeated and re-elected.
2011(23)May 4,Great East Japan EarthquakeReconstructionSupplementary budgetTo raise a reconstruction budget whileODANamed as a member of a bipartisan coalition that opposes the reduction plan[8][9].
Change to the House of Representatives
2012(24),46th House of Representatives general electionToYamaguchi 2th districtResigned as a member of the House of Councilors because he ran for[10].Democratic PartyPrevious jobHideo HiraokaI defeated them and won the first prize.
2013(25)May 9,Deputy Foreign MinisterAppointed to.2014May 12Of votes47th House of Representatives general electionRe-elected.
2016(28)May 1,House of RepresentativesForeign Affairs ChairpersonAppointed to[11].
2016(28)May 8,againDeputy Foreign MinisterAppointed to[12].
2017(29)May 10Of votes48th House of Representatives general election3 selections.
2018(30) October,House of RepresentativesSecurity ChairmanAppointed to[13].
2019(First year of Reiwa)May 9,House of RepresentativesParliamentary Steering CommitteeAppointed as the first director.
2020(2nd year of Reiwa)May 9,Yoshihide Suga CabinetFirst cabinet entry.Minister of DefenseAppointed to.
Assertion
Main job titles / organizations, etc.
Country
Other affiliated organizations
etc.
Height is 183 cm and tall.
Family/Relatives
Genealogy
Kishi family (Yamaguchi KumageTabuse Town,Tokyo)
         Yahachi Abekawa ┏━ Kaoru Inoue ┃ ┏━ Ya Ayukawa ━━━━━ Junta Abekawa ┃ ┣━━━ Nobusuke Abe ━━┫ ┗━━━ Tsune ┃ ┗━ ┃ ┃ ┃ ┃ ┃ ┃ ┗━━━ Tatsu Ozawa Masamichi ┃ ┣ ━━━ Tanabe Yuzuru ━━━━━━━ Nakako ┃ ┃ Tanabe Seimin ┃ ┣ == ┳━━ Kishi Nobuo ┏━ Kishi Nobusuke ━━━━ Ryoko ┃ ┃ ┃ ┃ ┃ ┃ Nobusuke Kishi ━ Nobuo Kishi ┣ ━━━ ┳ ━ Nobukazu Kishi ┃ ┃ ┃ ┃ ┃ ┗━ Shusuke Sato ━ ━ Nobusuke Kishi ┗━━━━ Yoko ┃ ┃ ┃ ╋━━ Shinzo Abe ┃ ┃ Hironobu Abe ━━━━ Shintaro Abe ┗━━ Hironobu Abe

References
Yoko Abe "My Shintaro Abe-As the Daughter of Shinsuke Kishi" (1992) Nesco; 文藝 春秋
Tadaoki Nogami "DNA of Shinzo Abe" (2004) Kodansha
Shinzo Abe "Towards a Beautiful Nation" (2006) Bungei Shunju ISBN 4166605240
footnote
外部 リンク