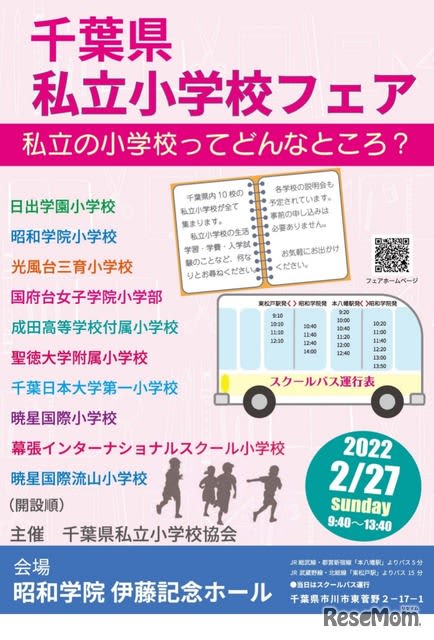 Photo Chiba Private Elementary School Fair
[Elementary school exam] Held "Chiba Private Elementary School Fair" on February 3 for the first time in 2 years ... Participated in 27 schools
 
If you write the contents roughly
Free direct buses also operate from Higashi Matsudo Station and Motoyawata Station. 
On February 2022, 2, the Chiba Prefectural Private Elementary School Association will participate in "Chiba Prefectural Private Elementary Schools ..." in which 27 private elementary schools in Chiba Prefecture will participate. → Continue reading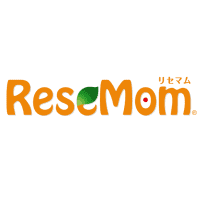 Lysemamu
The educational environment, university entrance examination reform, and the environment surrounding children are undergoing major changes. Amid the changes of this era, parents' interest in the education and career of children is only increasing. Risemum will transmit accurate and useful information centered on educational information, as a medium that is close to the hearts of parents. We will promptly deliver information that parents are interested in such as education reform, international education, examinations, educational events, STEM education including programming.
---
Wikipedia related words
If there is no explanation, there is no corresponding item on Wikipedia.

Higashimatsudo Station
Higashimatsudo Station(Higashimatsudo-eki) isChibaMatsudo-shiHigashi MatsudoIt is in,Hokuso Railway-Keisei Electric Railway-East Japan Railway(JR East)station.
Boarding line
Of Hokuso RailwayHokuso Line, Keisei Electric RailwayNarita Airport Line (Narita Sky Access Line), JR EastMusashino LineIs on board.
Of these, Keisei Electric Railway is operated by renting the Hokuso Railway track (in the section before and after this station, the Hokuso Railway operates.First-class railway operator, Keisei Electric RailwaySecond-class railway operatorBoth lines are treated as virtually the same line because they share the same facilities.On the Hokuso Railway, "HS05", JR East has"JM 13"ofStation numberIs given.
History
Station structure
Hokuso Railway / Keisei Electric Railway
Island homeHave two lines on one sideElevated stationIs. Because it straddles the JR Musashino Line, the platform is 17m above the ground and the 3rd floor isTicket gateConcourse, The 4th floor will be the home, and each floor will beescalatorandElevatorI am contacting you at.The Hokuso Railway owns all facilities including railroad tracks and operates stations, and the signs conform to the Hokuso style.Keisei is marked and guided as "Narita Sky Access Line" instead of "Keisei Line".This also applies to JR trains and station premises.
開業時は現在の下り3・4番ホームである1面2線で、当初から2面4線への拡張を想定した構造となっていたが、工事開始以前は現2番ホームの路盤と橋脚のみが整備されている状態であった。2010年7月17日のNarita International AirportExpansion work has been carried out for the extension to, and from February 2009, 2, two sides (Station), And the new uphill 1st and 2nd platforms are in service.[5]..This makes it possible at this stationTransit refugeandConnectionIs now possible.In addition, the structure is such that 10-car trains can be stopped in the future.
NTTBP OfPublic wireless LANEquipment is installed,docomo Wi-FiIs available. AlsoUQ CommunicationsPublic wireless LAN equipment is installed,Wi2Public wireless LAN service is available.
Bus stop
In part of the morning and evening hours, there is a slow-and-fast connection between the Hokuso Line normal and the access limited express operated by Keisei, and the Hokuso Line normal is at this station.SkylinerMay wait for passage.In addition, the access limited express may be overtaken by the Skyliner at this station.
Station premises equipment
JR East
Relative homeHave two lines on one sideElevated stationIs[2].Reserved seat vending machineAnd short distanceAutomatic ticket vending machineIs installed.There is an escalator / elevator that connects the ticket gate concourse and the platform.WC ThewheelchairThere is also a multifunctional toilet that accommodates such things.JR East Station ServiceIs entrusted with station workNishi-Funabashi StationAdministrativeOutsourced station.2018/May 3From the first train to 6:30 am, remote support (intercom support is availableNew Yabashira StationThe ticket gate staff is absent, and only some automatic ticket vending machines are in operation.[9].
As a station on the Musashino Line1990 eraIt is the only station opened inYoshikawa Minami Station,Koshigaya Lake Town StationIt is the third newest station after.
Bus stop
(Source:JR East: Station map)
Station premises equipment
Usage situation
The number of passengers getting on and off each company isTransfer stationIt is a small number of people.One of the reasons isHokuso LineViaFareIs expensive, and it is easy to avoid it as a regular commuting route (Hokuso Railway # fare problemSee also).
Also, both linesCity centerWhen heading in the direction, you can reach it without changing trains at this station, and the number of lines on both lines is small, so connections are not considered.[Annotation 1]..KeiseiAccess limited expressWas planned to pass through this station, but it was decided to stop at the request of prefectures, cities, local governments along the JR Musashino Line, etc.[10][11].
2000 eraAfter entering, around the stationApartmentThe number of passengers is on the rise at each company as the number of people moving in is increasing and the number of regular commuting users is increasing.
Average daily number of passengers by year
Recent daily averageGetting on and offThe changes in personnel are as follows (excluding JR).
Average daily number of passengers by year[*1]
年度
Hokuso Development Railway
/ Hokuso Railway
Keisei Electric Railway
Daily average
Boarding and alighting personnel
Rate of increase
Daily average
Boarding and alighting personnel
Rate of increase
1991 (Heisei
3 years)
753
Not yet
Open
Work
2000
10,120
2004
11,576
2006
12,659
2007
13,717
8.4%
2008
15,053
9.7%
2009
15,650
4.0%
2010
16,479
5.3%
2011
17,588
6.7%
2,676
2012
18,880
7.3%
3,138
17.2%
2013
16,909
−10.3%
3,472
10.6%
2014
17,009
0.6%
3,572
2.9%
2015
17,648
3.8%
3,757
5.2%
2016
18,118
2.7%
4,040
7.5%
2017
18,539
2.3%
4,250
5.2%
2018
19,082
2.9%
4,405
3.6%
2019 (first year of Reiwa)
19,274
1.0%
4,537
3.0%
2020 (Reiwa
2 years)
2,456
−45.9%
2021 (Reiwa
3 years)
2,919
18.9%
Average daily number of passengers by year
Recent daily averageBoardingThe personnel changes are as follows.
Average daily number of passengers by year[*2]
年度
Hokuso Development Railway
/ Hokuso Railway
Keisei Electric Railway
JR East
Source
1990 (Heisei
2 years)
[Note 1]1,019
Not yet
Open
Work
Not yet
Open
Work
[Chiba Statistics 1]
1991 (Heisei
3 years)
355
[Chiba Statistics 2]
1992 (Heisei
4 years)
456
[Chiba Statistics 3]
1993 (Heisei
5 years)
545
[Chiba Statistics 4]
1994 (Heisei
6 years)
576
[Chiba Statistics 5]
1995 (Heisei
7 years)
655
[Chiba Statistics 6]
1996 (Heisei
8 years)
666
[Chiba Statistics 7]
1997 (Heisei
9 years)
812
[Note 2]3,904
[Chiba Statistics 8]
1998
4,163
5,605
[Chiba Statistics 9]
1999
4,710
7,108
[Chiba Statistics 10]
2000
5,070
[JR 1]7,808
[Chiba Statistics 11]
2001
5,269
[JR 2]8,581
[Chiba Statistics 12]
2002
5,496
[JR 3]9,146
[Chiba Statistics 13]
2003
5,607
[JR 4]9,533
[Chiba Statistics 14]
2004
5,807
[JR 5]9,841
[Chiba Statistics 15]
2005
5,931
[JR 6]10,170
[Chiba Statistics 16]
2006
6,332
[JR 7]11,049
[Chiba Statistics 17]
2007
6,845
[JR 8]11,959
[Chiba Statistics 18]
2008
7,500
[JR 9]13,248
[Chiba Statistics 19]
2009
7,802
[JR 10]13,781
[Chiba Statistics 20]
2010
[Note 3]8,212
[Note 4]1,216
[JR 11]14,513
[Chiba Statistics 21]
2011
8,767
1,383
[JR 12]15,405
[Chiba Statistics 22]
2012
9,412
1,617
[JR 13]16,687
[Chiba Statistics 23]
2013
[Note 5]8,420
1,785
[JR 14]17,691
[Chiba Statistics 24]
2014
8,472
1,843
[JR 15]18,018
[Chiba Statistics 25]
2015
8,796
1,928
[JR 16]18,880
[Chiba Statistics 26]
2016
9,028
2,051
[JR 17]19,586
[Chiba Statistics 27]
2017
9,233
2,147
[JR 18]20,126
[Chiba Statistics 28]
2018
9,512
2,220
[JR 19]20,735
[Chiba Statistics 29]
2019 (first year of Reiwa)
9,614
2,294
[JR 20]20,839
[Chiba Statistics 30]
2020 (Reiwa
2 years)
1,251
[JR 21]15,844
2021 (Reiwa
3 years)
1,485
Remarks
Around the station
The station area used to be a suburban area where housing and agricultural land coexist.Became the main body of development after the opening of the Hokuso LineKamishikiLand readjustment projectWas temporarily stagnant, but it got off to a good start due to the subsequent re-decrease and the leverage of Matsudo City, and the land replacement disposal was completed on February 2012, 2.As a result, the name of the surrounding area including the station was "KamishikiWas changed to "Higashi Matsudo (1-chome-4 chome)".Although shopping streets have not yet been formed, supermarkets and restaurants are gradually being built in front of the station.
Bus route
Keisei Bus,Matsudo Shin-Keisei BusThe route bus operated by is departing and arriving.In addition, each bus platform was changed from June 2016, 6.[18].
Platform 1 (Matsudo Shin-Keisei Bus)
<8B> For Kamishiki Shako
<16B> For Rikodai Danchi
Platform 2 (Keisei Bus)
Platform 3 (Matsudo Shin-Keisei Bus)
Platform 4 (Matsudo Shin-Keisei Bus)
Platform 5 (Keisei Bus)
<Book 37> Medical Center entrance line
Other
It took about three years to open the JR station.This is the station construction siteEmbankmentIt is a structure, and the upper and lower lines are constructed on the outside.Temporary lineAfter relocating to, the embankment was excised and then newly constructed.viaductThis is because the complicated procedure of switching the track again to and building platforms on both sides (temporary track traces) was taken.[2].
Next station
Hokuso Railway / Keisei Electric Railway

Hokuso Line Narita Sky Access Line (Narita Airport Line)

■

Access limited express

■

Limited express

Keisei Takasago Station (KS10)- Higashi Matsudo Station (HS05) - Shin-Kamagaya Station (HS08)

■

Express (only downhill)

Yagiri Station (HS02) → Higashi Matsudo Station (HS05) → Shinkamagaya Station (HS08)

■

ordinary

Akiyama station (HS04)- Higashi Matsudo Station (HS05) - Matsuhidai Station (HS06)
East Japan Railway (JR East)

Musashino Line

Ichikawa Ono Station (JM 12)- Higashi Matsudo Station (JM 13) - New Yabashira Station (JM 14)
footnote
Article Text
注 釈
Source
Primary materials such as public relations materials and press releases
Usage situation
Average daily number of passengers on JR and private railways
JR East's passenger numbers since 2000
JR / private railway statistical data
Chiba Statistical Yearbook
References
"News from Matsudo Assembly" Published by Matsudo City Assembly October 19, 10
三好好三、垣本泰宏 『武蔵野線まるごと探見』JTB publishing, August 2010, 2.
Related item
外部 リンク