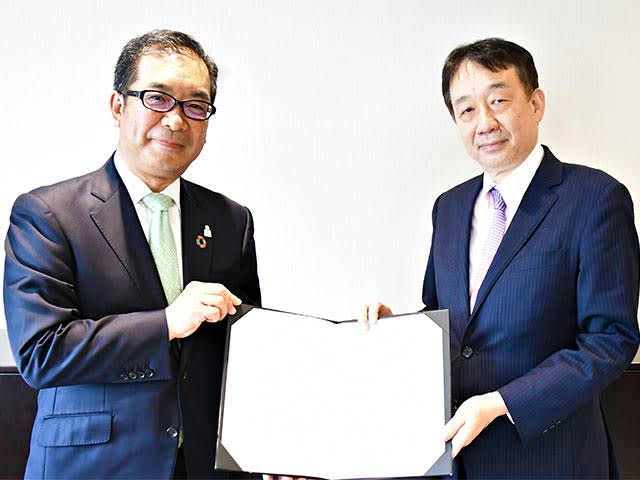 Photo Sekisui House and the National Cardiovascular Research Center have signed a partnership agreement for research related to medical care and health promotion with the aim of extending healthy life expectancy.
National Cardiovascular Research Center and Sekisui House collaborate to extend healthy life expectancy
 
If you write the contents roughly
Contribute to the health of residents by making maximum use of the resident data (lifestyle data and living environment data) acquired by Sekisui House and the abundant research results and knowledge of the National Cardiovascular Research Center in the area of ​​circulatory diseases. Aiming to extend healthy lifespan, we will cooperate with each other in research related to medical care and health promotion, human resource exchange, regional cooperation, health seminars, enlightenment activities, etc., and contribute to the development of both sides. To do. 
According to the 2021nd year simplified life table released by the Ministry of Health, Labor and Welfare on July 7, 30, the average life expectancy of Japanese people in 2 is ... → Continue reading
 Economic News
---
Wikipedia related words
If there is no explanation, there is no corresponding item on Wikipedia.

National Cardiovascular Research Center
National Research and Development Corporation National Cardiovascular Research Center(Kokuritsu Junkan Kibyokenkyu Center)Japan OfOsakaSuita CityIt is inMinistry of Health, Labor and WelfareJurisdictionNational Research and Development Agency.National Center for Advanced Medical ResearchIt is a corporation of (National Center) and is one of 6 specialized hospitals nationwide including this center.Under the direct control of the Ministry of Health, Labor and WelfareFacility, etc.In 2010, it changed from the former National Cardiovascular Center to an incorporated administrative agency.It was installed according to Article 2, item 2.As an abbreviationNational circulation(Kokujun) is widely known.JR in July of the first year of ReiwaKishibe StationRelocated to the north side.
Cardiovascular diseaseDiagnosis and treatment, investigation and research, and training of technicians.
As the name impliesCardiovascular systemJapan's most advancedMedical institutionAt the same time, it is also a medical research institute specializing in cardiovascular disease.
Japan's leadingHeart transplantIt is an implementation facility.
The hospitalSpecial function hospitalIt is positioned in.Other than the university hospital and the National Defense Medical College hospital, it is our center that is recognized as a special function hospital.National Cancer Center,Osaka International Cancer Center (formerly Osaka Prefectural Adult Disease Center)as well as the The Cancer Institute Ariake Hospital,National International Medical Research Centerhospital,Shizuoka Cancer CenterOnly (as of 2017).Patients come not only from within Japan but also from outside Japan.
Organization and characteristics
The center consists of three departments, "Hospital," "Research Institute," and "R & D Infrastructure Center," and it is a major feature that these three departments are operated as one.The hospital is a rare facility in the world that has a "cardiovascular department" and a "cerebrovascular department" and provides cutting-edge medical care in cooperation with each other. The "Open Innovation Center" established in April 2019 promotes research in multiple fields such as promotion of clinical research and epidemiological research, and utilization of intellectual property.
History
symbol mark
Expressing the infinite cycle of interaction created by many encounters and support between people and doctors and patients in the form of [&] facing each other.
The blue and red colors show veins and arteries while symbolizing the mutual inspiration and cooperation of different elements such as brain and circulatory system, intelligence and passion, medicine and research.
Relocation to Kishibe Station
On June 2013, 6, in the same Suita cityKishibe StationIn frontSuita yardSite (Kita Osaka Health and Medical City..Nickname: Kento) officially announced the move.Regarding the relocation of the center, there were invitations from multiple cities in Osaka Prefecture.Ibaraki City and Ikeda City have withdrawn from the competition to attract, and Suita City and Minoo City were the candidate sites at the end. Preparing for relocation with the aim of starting operation in July 2019, the site of 7 square meters before the relocation, including the site of the staff dormitory, was sold to Ark Real Estate (Osaka City) for 7 billion yen.[3].
Executive staff
Successive presidents
First generation: (June 1977-August 6)
2st generation:Hisao Manabe(October 1983-March 8)
Third generation: (April 3-March 1990)
4st generation:Yasunaru Kawashima(October 1995-March 4)
Third generation: (April 5-March 1996)
Third generation: (April 6-March 2000)
7st generation:Soichiro Kitamura(October 2001-March 4)
Third generation: (April 8-March 2008)
Deputy Chief of Staff
First generation: (April 2010-February 4)
Second generation: (February 2-March 2016)
3rd generation: (April 2021-present)
Director of a hospital
Hisao Manabe(October 1977-March 6)
(October 1983-March 9)
Yasunaru Kawashima(October 1990-March 4)
(October 1995-March 4)
(October 1997-March 4)
Soichiro Kitamura(October 2000-March 7)
(October 2001-March 6)
(October 2010-March 10)
Kazuo Minematsu (April 2016-March 4)
Junjiro Kobayashi (April 2018-March 4)
Koji Iihara (April 2020-Present)
Research Institute Director
(October 1977-March 6)
(October 1981-March 10)
(October 1989-March 4)
Tomoh Masaki(October 1997-March 4)
(October 2000-March 4)
Kenji Kangawa(October 2007-March 4)
Naoki Mochizuki (April 2017-Present)
Access
From JR Osaka Station / Shin-Osaka Station / Kyoto Station, about 300m from JR Kyoto Line Kishibe Station (directly connected by a connecting passage) From Hankyu Osaka Umeda Station / Kyoto Kawaramachi Station, about 800m from Hankyu Kyoto Line Shojaku Station
Features
The "cardiovascular department" and "cerebrovascular department" will be set up side by side, and specialists in the "heart" and "brain" will work together to provide treatment.
The "hospital" and "laboratory" can be integrated to solve problems in the medical field through research, and conversely, the results of the research can be directly linked to the medical field.
Established R & D Infrastructure Center in 2010 to further connect clinical and research.Work on clinical research, promotion of epidemiological investigations, utilization of intellectual property, etc.
It is a hospital that specializes in the brain and heart, and does not provide any other medical care (only for specialized outpatients and non-smoking outpatients).
National Cardiovascular CenterNational centerCalled the otherNational centerPersonnel exchanges with (there are 6 specialized hospitals nationwide, including our center) are also active.
We also exchange clerical personnel with the National Hospital Organization Kinki Group, and if you want to work as a clerical worker at this center, you need to take the employment examination of the National Hospital Organization Kinki Group. (Full-time only)
The annual number of operations exceeds 3000.The operating room staff work shifts 24 hours a day, 365 days a year.
The total number of staff is about 1800.Of these, about 300 are doctors, about 800 are nurses, 270 are in the back office, and there are comedics and researchers.
From all over the country "ResidentWe accept doctors such as "specialized training doctors".After training at our center, they are scattered all over the country and play an active role as specialists at the base hospitals.
There is a patient letter to the editor box called the Opinion Box.By writing the patient's opinion, it will be deliberated by the in-hospital medical service committee.In some cases, the person who wrote the letter may be contacted.
It is also popular with nursing school students because of its specialty, height, and good treatment.The school from which the newly hired nurse is fromNational College of NursingIs said to be the most.
Neighboring facilities
VIERRA Kento Kishibe
Kento Innovation Park
Suita City Kento Library
Meiwaike Park
Laurel Square Kento The Residence
Laurel Square Kento The Terrace
footnote
Related item
外部 リンク