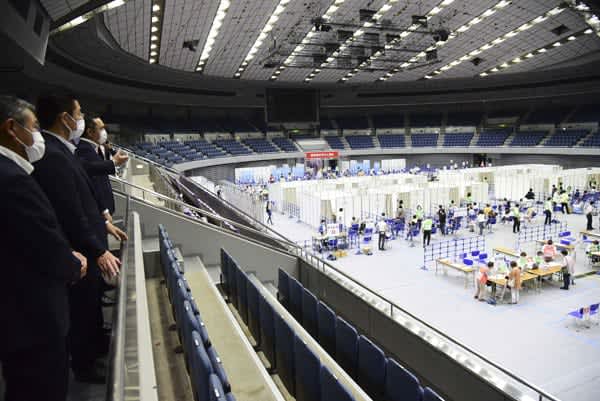 Photo [Visit the new corona vaccine mass inoculation site (from the back right) Governor Suzuki, Mayor Suzuki Ise, Mayor Nakamura Watarai = At ​​the prefectural Sun Arena in Ise City]
Large-scale mass inoculation of new corona begins Ise venue, governor and others inspect the situation
 
If you write the contents roughly
Governor Suzuki said, "We were able to confirm that the vaccine was successfully inoculated with the cooperation of Ise City, Watarai Town, and medical staff." "The vaccine is the decisive factor in preventing infection and protecting lives. 
[Ise] A large-scale mass inoculation of a new corona virus vaccine mainly in Mie Prefecture was held on the 19th, in Asama-cho, Ise City, Mie Prefecture ... → Continue reading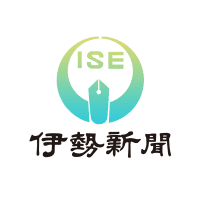 Ise Shimbun
---
Wikipedia related words
If there is no explanation, there is no corresponding item on Wikipedia.
Ise City
Ise City(Ise) isMieSoutheastに 位置 す るcity.
Ise Shrine OfTorii Mae TownIn a city that developed as "ShintoHas the nickname of. Long time agoUjiyamada CityWas calling himself[1].
It is one of the representative tourist cities in Mie prefecture,Nagoya,Kansai such asMetropolitan areaIt is crowded with many tourists throughout the year due to its excellent access from.
Edo PeriodMany people from all over the country visited the city as a city of "Ise Miki", and even nowIse ShimaIt is the central city of. Once every 20 years at Ise JinguShrineRebuild and move the Kamukura "Jingu-shikinen SenguIs held and brings vitality to the city, so it is said that "the town of Ise will be renewed every time it is relocated. It will be rejuvenated every 20 years."[2].. The latest ceremony2013It was held in (25).
1906(MeijiUntil 39 years)Dokai CountyBelongs to and partly oldTaki-gunIncluding the area.Meiji RestorationRight afterKeio 4th yearMay 7からMeiji 2May 7UntilDegree OfGovernment officeWas placed.Abandoned DomainBy WataraiDokai prefectureWill be transferred to Mie Prefecture1876(Meiji 9) Until April 4Prefectural office locationMet.
Geography
Shima PeninsulaLocated in the northeastern part of. The northern part of the cityFlat land(Ise plain(Southern end of)Ise bayFacing. In the southelevation100m-500mhills-MountainSpreads.
City centerIs the Ise Jingu Geku (Yutaka 受大 Jingu) Is formed around. In the forest outside the city, Ise Jingu Naiku (Emperor Daijingu) Is located.
Before it was called "Ise City", it was called "Uji Yamada City", and the area around NaikuUji, Around the outer shrine(I.e.Hit
terrain
river:Miyagawa,Isuzu River,Seta River
Mountain:Asamakumagatake,Takakurayama, Tsuzumigatake ,, Kantake,Mt. Torao(High ground), Mt. Kurata, Washimine,Kyojiyama
climate
Climate of Omata (1981 --2010)
Month
1
2
3
4
5
6
7
8
9
10
11
12
Years
Average maximum temperature

° C

(

° F

)
9.2
(48.6)
9.9
(49.8)
13.2
(55.8)
19.2
(66.6)
23.5
(74.3)
26.6
(79.9)
30.5
(86.9)
31.8
(89.2)
28.1
(82.6)
22.3
(72.1)
16.9
(62.4)
11.9
(53.4)
20.26
(68.47)
Average minimum temperature

° C

(

° F

)
0.0
(32)
0.3
(32.5)
3.1
(37.6)
8.4
(47.1)
13.6
(56.5)
18.1
(64.6)
22.2
(72)
23.0
(73.4)
19.6
(67.3)
13.0
(55.4)
6.9
(44.4)
1.9
(35.4)
10.84
(51.52)
Precipitation amount mm (inch)
56.9
(2.24)
69.9
(2.752)
126.9
(4.996)
137.3
(5.406)
194.2
(7.646)
217.3
(8.555)
175.9
(6.925)
180.9
(7.122)
315.0
(12.402)
196.0
(7.717)
112.1
(4.413)
55.3
(2.177)
1,837.7
(72.351)
Average monthlyDaylight hours
164.5
157.5
177.1
191.2
181.1
140.9
174.1
209.7
157.0
158.0
159.1
175.5
2,045.7
Source:Japanese Meteorological Agency[3] *Daylight hours are 1987-2010 normal values
Ise and Ujiyamada
UjiyamadaPlace nameIn the next yearMunicipal system-Municipal systemRefrained from enforcement1888The end of the turmoil in (Meiji 21)[4], "Ujiyamada Kyoni, with a famous name, Ujiyamada Tosadasu"[5]In other words, it was decided by combining the names of both Uji in Naiku Toriimaecho and Yamada in Sotomiya Toriimaecho because "Uji and Yamada have been familiar to all the people since ancient times."[6].. The name of the town should bear the name of Shinto or Ise[6]In addition to the opinion that Uji should be removed and simply called Yamada[5]There was also a debate about whether to make it a city or a town in the first place, and that Uji and Yamada should have separate town systems.[7].1887As of (Meiji 20), the population was 26,546, which met the standard population of 25,000 in the city system.[8]However, it was decided to depart as "Uji Yamada Town"[6].
after that,1906(39th year of Meiji)May 9It was decided to enforce the city system, but there was another problem with the name.[6].. After all, at this point, it was decided to use Ujiyamada, which is the same as the town name, as the city name, but after that, the city name problem will occur from time to time.[9].. In particular1935Around (Showa 10)1941(Showa 16)Shrine townAt the time of transfer1943At the time of transfer to Ominato-cho, Hamago-mura, and Miyamoto-mura (Showa 18)[9].1948(Showa 23) In MarchWar disaster recovery city planningAsk the pros and cons of changing the city namePublic hearingWas held, but was rejected by 3 in favor, 15 against, and 1 unknown.[10].
The major trend was the merger with Toyohama Village, Kitahama Village, Shigo Village, and Kida Village on January 1955, 30, and the previous year.1954(29)May 11In favor of the city name change public hearing,May 11The name was changed to "Ise City" at the same time as the merger after a decision by the extraordinary city council.[10].. In this way, the name of Ujiyamada as the name of the local government disappeared, but it still remains in the station name, school name, store name, etc.
(Example) KintetsuUjiyamada Station,Mie Prefectural Ujiyamada High School,Mie Prefectural Uji Yamada Commercial High School,au shopUjiyamada store,SoftbankUjiyamada store,Uji Yamada Port
In addition,Uji Yamada ShrineIse Jingu Emperor Grand Shrine (Naiku)SenshaThere is. However, the reading is "Ujiyodajinja".[11].
History
Ise Shrine OfTorii Mae TownAsAncient timesDeveloped fromEdo PeriodToEdo ShogunateAims to manage Ise JinguYamada BugyoshoWas installed. Yamada BugyoshoOoka EchizenKnown asTadashi Ooka magistrateI have served as, around this timeKishu clanWas inTokugawa YoshimuneTherefore, it was decided to be selected later.
MeijiからShowaOverSangu RailwayLine (currentJR TokaiSangu Line)・Sangukyu Electric RailwayMain line (currentKintetsuYamada Line)・Ise Electric RailwayThe number of worshipers increased due to the opening of railways such as the main line (later Sangukyu Express Railway Ise Line, which was abolished in 1942).
さ ら に,National ShintoUnder World War II, it became a place of national prestige as a "god city". Ise Jingu was popular with the people as "Ise-san" in the Edo period, but in the first year of the Meiji era, the number of temples in the city was reduced from more than 300 to 15, and in 1871 the master It was abolished and the private houses in the shrine area were destroyed, and it was transformed into a shrine for the emperor and the imperial family, isolated from the people. "Emperor 2600Corresponds to1940In (15), about 800 million people visited the area to visit the shrine (the city name at that time was Uji Yamada City). At the end of the war, six large-scaleAir raidWas repeatedly received (Uji Yamada air raid)[12].
1946(21)May 11ToIse Shima National ParkSpecified in.
1974(49)May 1, A fire broke out at Funae 2-chome.Fire spread to the vicinity, 36 buildings were burnt down, 1 person died[13].
1974May 7ToRainy season frontbyTorrential rain..It was held on the same day because more than 1000 houses were flooded on the floor and transportation stopped in the city.10rd House of Councilors ordinary electionAlso caused confusion[14].
Origin of city name
The change in the city name from Ujiyamada City is attributed to the fact that the area is the gate town of Ise Jingu and has been called "Ise Miki" since the Edo period.
History
population
Administration/Parliament
Mayor
Parliament
Number of lawmakers: 28
Term:2017(29) From March 11st2021(3nd year of Reiwa) May 11

Chair: Yuji Nakayama (as of December 2015, 12)
Vice-Chair: Shuichi Ueda (as of December 2015, 12)
Audit Committee member: Toyoji Suzuki (as of December 2015, 12)
Composition As of December 2015, 12[16]
*In addition, the constituencies of the lower house election areMie Prefecture 4th ward'[17], The constituency for the Mie Prefectural Assembly election is "Ise City constituency" (constant: 4)[18]It has become.
Place name notation due to merger
Former Ise City → No change
Former Misono Village → Misono Town, Ise City
Former Obatacho → Obatacho, Ise City
Former Futami Town → Futami Town, Ise City
There is no change below the large letters in any of the old municipalities (exception, the two districts of Futamicho Chaya and Hikarino Machi have become independent town names in Futamicho).
public facility
地区
Former Ise City
oldFutami Town
Futamicho Imaichishiki, Futamicho Nishi, Futamicho Mizoguchi, Futamicho Yamadawara, Futamicho Hikari no Machi, Futamichoso, Futamicho Chaya, Futamicho Mitsu, Futamichoe, Futamicho Matsushita
oldOmata Town
Obatacho Motomachi, Obatacho Miyamae, Obatacho Honmachi, Obatacho Sogo, Obatacho Yuta, Obatacho Akeno, Obatacho Shinmura
Misonocho Takamukai, Misonocho Nagaya, Misonocho Ohayashi, Misonocho Shinkai, Misonocho Kamijo, Misonocho Kobayashi
Sister cities/partner cities
Overseas
Partner city
Japan
Partner city
More
National Monzen Town Summit

This is a conference held by local governments, tourist associations, and commercial persons who have Monzen towns that have developed around shrines and temples all over the country to revitalize the region and promote town development.

Food countrySummit
Economy
Special product
Company
Headquartered company
Companies with factories
Commercial
All over the cityGyutora,Maxvalu Chubu,Toyohata,Okuwaetcsupermarket,Zip drag,Cedar pharmacyetcDrug storeIs being deployed. In the city centerIse Ginza Shindo Shopping Street,Ise Takayanagi Shopping StreetAnd manyShopping districtExists.
Large commercial facility
Japan Post Group
(As of 2012 year 12 month)
Ise Post Office(Iwabuchi XNUMX-chome) --Collection and delivery station. ★
Ise Ozeko Post Office (Ozeko)
Ise Shrine (Kamiyashiro) Post Office (Shrine port)
Ise Tsujikuru Post Office (Tsujikuru)
Ise Furuichi Post Office (Furuichicho)
Ise Sujikaibashi Post Office (Tokiwa) ★
Miyamoto Post Office (Souchicho = Socho)
Isuzugawa Post Office (Ujinakanokiricho) ★
Ise Gegumae Post Office (Honmachi)
Ise Funae Post Office (Funae)
Ise Mikimoto Dori (Mikimoto Street) Post Office (Seitacho)
Ise Asama Post Office (Asamacho)
Toyohama Post Office (Higashitoyohama Town)
Ise Hamago Post Office (Kurosecho)
Ise Ominato Post Office (Ominato Town)
Ise Kawasaki Post Office (Kawasaki)
Ise Kitahama Post Office (Muramatsucho)
Ise Ichinoki Post Office (Ichinoki)
Numaki Post Office (Ueno Town)
Ise Shirota Post Office (Uejicho)
Obata Post Office (Motomachi, Obatacho) ★
Misono Post Office (Takabuku, Misono-cho) ★
Futami Post Office (Futamichosho) ★
Akeno Simple Post Office (Akeno, Obatacho)
Misono Nagaya Simple Post Office (Misonocho Nagaya)
Imaishiki Simple Post Office (Futamicho Imaishiki)
Nagoya Branch Aeon Town Ise Lara Park Branch Office (Kogicho = Kogicho) (ATM only / Holiday service)
Nagoya Branch Aeon Ise Branch Office (Kusubecho) (ATM only / Holiday service)

ATMs are installed at each post office except simple post offices, and holiday services are also available at the post offices marked with a star.
* The postal codes in Ise City are as follows (unless otherwise specified, the Ise Post Office is in charge of collection and delivery).
"515-05xx""516-00xx""516-11xx= Part of Ise city area (excluding part of Asamacho) and part of Misonocho Kamijo before the merger
"516-08xx= Former Misono Village area (excluding a part of Misono Town Kamijo)
"519-05xx"= Former Omata Town Area
"519-06xx"= Former Futami Town Area
"517 0081= Part of Asamacho (Toba Post OfficeIn charge of collection and delivery)
Region
It is the administrative and economic center of the Ise-Shima region.
It is said that Ise citizens have a calm and cheerful personality, probably because of the climate or because of the existence of Ise Jingu, as it is said to be "Isekko Honesty."
Ise merchant

During the Edo period, he was steadily doing business such as kimono shops around Nihonbashi, which was the starting point of the Tokaido.
Dedicated to pre-school and extra curricular
Ise City is the largest city in the southern part of Mie Prefecture, and since almost all of the southern part of Mie Prefecture is included in the surrounding population, there are many cultural facilities and high schools.
University
private
high school
public
private
Junior high school
At all municipal junior high schoolsAir conditionIs installed[23].
Ise Municipal
private
primary school
Air conditioning is installed in all schools[23].
All Ise Municipal
Transportation
Train
The central station is connected to both Kintetsu and JR Central, and is located in the central city area closest to the outer shrine.Iseshi StationHowever, as far as Kintetsu is concerned, it is a base for train operation (some end points).Ujiyamada StationThe number of users is increasing.
Tokai passenger railway(JR Tokai)
Kinki Nippon Railway(Kintetsu)
Long time agoIse Electric RailwayMain line (laterSangukyu Electric RailwayIse Line.. 1930-1942.Daijingumae StationSuch),Tram OfShinto Line(1903-1961),Cable car OfAsakuma Line(1925-1944) also existed.
Transit Bus
Express Bus
General route bus
道路
highway
toll road
Regional high standard road
General national road
Main local road
General prefectural road
Tourism
In 2003, about 550 million tourists visited Ise Jingu every year. 2013 people visited in 26,412,049 when the ceremony was held[25], 14,204,816 people worshiped at Ise Jingu[26].
In addition,KinkiMany of the elementary schools in Japan are school trip destinations,JR,KintetsuSpecial trains are also operated. In the tourist guide, "Ise /Nara-京都May be referred to as a "3-piece set".
From June 2012, 6, "Hanateru-chan" (publicly recruited as the mascot of the "All Japan Flower Ise Tournament" held in 1), which was the city's greening promotion character until then, was appointed as the city's tourism PR character and named. It was changed to "Hanaterasu-chan" in Mohiragana notation.[27].
Sights and historic sites
Nearby Tourist Spots
Festivals and events
exposition
Many in Ise so farexpositionIs being held. already1873(6rd year of Meiji)CivilizationIntendedJinguIt is co-sponsored by Watarai Prefectural Office[34].. It was after the Showa era that the exposition was held with the intention of tourism.[34].. Of the expositions listed below, it was held after the beginning of Heisei.World Festival ExpoOther than that, Zennosuke Kitaoka, who had the nickname of "Ise Expo Man" and was the mayor of Ujiyamada, is involved in the event.[35].
Traditional crafts
※allMie designated traditional crafts.
Related celebrities
Celebrities related to Ise City
Historical figure
movies
作家
Entertainment
Politics
Sports
More
Works set in Ise City
"Railway song Vol. XNUMX Kansai / Sangu / Nankai Hen "(Lyrics:Kenki Owada, Composition:Tamei Ju)

When writing lyrics for railway songs, Tateki Owada tends to assign many lyrics to places that have important significance in the nation and history. I'm splitting number 5.
25. The train arrives at Yamada, the outer shrine of Ise. My friend, Isuzu, misogi on the Isuzu river.
26. If you cross the Uji Bridge on the Isuzu River, you will be able to stand by Chigi Takashi, the palace of Amaterasu Okami.
27. Trees in the mountains of Shinji Aoku The water of the Isuzu River (Mimosu Sogawa) The water is exhausted and the Asahi Shimbun spends Chiyo
28. If you climb Mt. Asama, which stands on Kumoi, straddling Ise and Shima, you can just talk to Takane in Fuji.
29. On the descent, when you step on the road and look at it, you can see it as you see it in Futami's two rock paintings.
"Sand bowl』(Seicho Matsumoto)

In the original, the area near Ise-shi station, and in the movie / drama version, the area near Futamiura station appears as a scene.
More
References
Ise City "History of Ise City" Ise City Hall, 43
Ujiyamada City Hall "History of Ujiyamada City Vol. 4" Ujiyamada City Hall, XNUMX
Shuichi Toyama "Ise City, Toriimaecho, which regenerates in the present age" "Kinki I XNUMX Years to Read on Map Kyoto, Shiga, Nara, Mie" (Akira Hiraoka-Haruo Noma Hen,Kokin Shoin, 2006,ISBN-4 7722 3053-X-) Pages 121-124
Hashizume Shinya"Life is an Expo Japan Rankaiya Retsuden" Shobunsha, May 2001, 5, 30pp. ISBN-4 7949-6489-7
footnote
Related item
外部 リンク
Administration
welfare
legislation
Tourism
More
Infection control
Infection control(Kansenkanri), or medical epidemiology,Medical facilityWithininfectionRefers to efforts aimed at preventing epidemics, with an emphasis on practiceEpidemiologyIs a field.public healthActivities and infection control/medical epidemiology have a lot in common, the former is aimed at society as a whole, while the latter generally deals with problems limited to a specific medical institution (group). Also known as "infection control activities," "infection prevention and management activities," and "infection control activities."Infection control teamIt is counted as one of the basic medical safety management systems of hospitals as an activity that many occupations in the facility work together.
Infection control can be roughly divided into two.
Preventive activity
Trend measures

Investigation activities and countermeasures (eg outbreak countermeasures) that are targeted at outbreaks that have occurred or are suspected to have occurred in a specific medical institution.
Infection control in medical institutions
Occurrence monitoring
Surveillance refers to grasping the occurrence status of infectious diseases on a daily basis. To facilitate comparison between facilities and regions,Bloodstream infection-Urinary-tract infection-Nosocomial pneumoniaThe criteria of the National Nosocomial Infections Surveillance System (NNIS) are used to define the main nosocomial infections such as.
actually,Infection control teamPersonnelPatient chartInvestigate orpatientData is collected by directly observing and determining the presence or absence of symptoms and signs peculiar to infectious diseases. Bacterial laboratory data from the bacteriological laboratory is also an important source of information. In recent years, automation of bacterial laboratory data andElectronic medical recordAutomation is increasing the automation of data extraction, enabling staff to spend more time collecting clinical data. Nosocomial infectionAbout 1/3 of these are preventable[1]Infection surveillance and prevention activities are becoming increasingly important by hospital staff. According to the CDC Nosocomial Infection Control Project (SENIC), by focusing on infection surveillance and prevention activities, the incidence rate of nosocomial infections could be reduced by about 32%.
Preventing the spread of infection
Nosocomial infectionOf each pathogen to prevent transmission and protect health care workers themselves from infectionTransmission routeAccording to(I.e.Stand upprocedureTheWell-knownThere is a need to.
Standard precautions centered on hand washing
Vienna OfSemmelweiss(1847) AndDuffel Bag OfOliver W. Holmes(1843), the unique research published byNosocomial infectionRelated to[2].Center for Disease Control and PreventionIn response, the (CDC) reported that "the most important way to prevent the spread of pathogens was effective hand washing".[3].
Handwashing is compulsory at most medical institutions, and in the United States it is not simply a matter of common sense, but is also compulsory by various local and local governments. Occupational Safety and Health Administration (OSHA) standards in the United States[4]Requires employers to have hand-washing equipment available at all times, and wash their hands and other skin with soap and water or run mucous membranes under running water if they come into contact with blood or other potentially infectious substances. We are asking you to guarantee that you can wash.
In Japan, "National University Hospital Hospital Infection Control Guidelines" by the National University Hospital Infection Control Council[5]And other guidelines were formulated in 2002.
It is recommended to wash your hands and wear gloves before and after touching the patient's blood, body fluids, secretions, excretions, damaged skin and mucous membranes regardless of known infections. Depending on the procedure, masks, goggles, face shields, and gowns are also used.
Calls for the prohibition of recaps to avoid punctures and cuts due to needles, scalpels and other sharp instruments, proper placement of medical waste containers for safe disposal immediately after use, and the adoption of needles with safety devices. ..
When environmental surfaces such as floors and walls are contaminated, wear gloves and wipe with a paper towel and disinfectant. Store contaminated linen properly until cleaning to prevent contamination of the environment.
Patients who may be contaminated with blood should be kept in a private room.
Isolation precautions
In addition, if the causative pathogen is known, it is unique to each.Transmission routeTake appropriate quarantine precautions accordingly.
Air (spray nucleus) infection isolation
Healthcare workersN95 maskWear.
In the patient's individual room environment, operating room, bronchoscopy room, and respiratory function testing room, forced more than 1 times per hourventilationKeeps negative pressure.To the outside of the hospitalHEPAExhaust through a filter.If structurally impossible, use a portable air purifier with a built-in HEPA filter and ventilate 12 times.
Wear a surgical mask when passing through public areas to transfer patients, or wear an exhalation filter during endotracheal intubation.
Isolation of droplet infection
A surgical mask is worn for activities within a radius of 1 m from the patient.
When separating individual rooms and groups, beds are placed 2m apart.
Wear a surgical mask when passing through public areas to transfer patients.
Contact infection isolation
Wash hands and wear gloves before and after contact with the patient and contaminated surfaces.
Wear gowns where there is potential for full body contact with the patient or contaminated surfaces.
Medical equipment used in private rooms should be dedicated as much as possible.
Cleaning/disinfection/sterilization
The contact surface of the patient's room and common areas touched by the patient's hands is cleaned by daily wiping. Clean walls and floors that are not touched once a day. In areas where MRSA, VRE, and Clostridium difficile carriers come into contact, daily sterilization is performed by wiping with a quaternary ammonium salt or alcohol. Of reusable medical equipmentdisinfection-SterilizationThe method must be selected according to each possible pathogen.
Personal protective equipment
(Personal protective equipment, PPE) is clothing and equipment worn by medical personnel to protect themselves from danger. What is the danger in the medical field?Viral hepatitis,HIVBlood, saliva, and other body fluids that may contain pathogens such asaerosolExposure to. Personal protective equipment aims to prevent exposure by creating a physical barrier between those infectious agents and health care workers.
In the United States, OSHA standards require health workers to wear protective equipment to protect themselves from bloodborne pathogens when their exposure to blood and other infectious agents is adequately predicted.[6]
Protective equipment: hats, shoe covers, face shields (for mouth-to-mouth breathing)MASKS-goggles・There are types such as. Which combination and how to use is usually determined by the rules set for each medical institution. Most instruments are completelydisinfection-SterilizationConsidering the high cost of doing so, it is designed to be disposable. OSHA standards require that protective equipment be immediately removed and disinfected or disposed of upon leaving a site exposed to infectious agents.[7]
Vaccination of medical staff
Healthcare workers who may be exposed to infectious diseases during work should:vaccineCan be used to protect yourself from infection. Usually usedHepatitis B-influenza-Mixed three(Measles/varicella/rubella)New three kinds of mixture(Diphtheria/Tetanus/Pertussis)Meningococcus-Shingles virusWith vaccines such as these, medical staff and emergency personnel are vaccinated according to facility rules, recommendations, occupations, and individual wishes.In general, the preventive effect of vaccines is not perfect, but side effects are also seen, so vaccination decisions should be made based on sufficient information.[8]
Survey during an epidemic
When infection monitoring finds that the incidence of infections is higher than normal, the infection control team will investigate to determine (1) whether it is a real epidemic or (2) a false epidemic due to contamination of the bacterial testing process. Or (3) determine whether the normal incidence just happened to rise randomly. If it is (1), it will be necessary to investigate the factor that triggered the fashion and eliminate it in order to stop the fashion. It is usually due to lack of correct procedures, but sometimes other factors such as construction work are involved.
Infection control and medical epidemiology training system
There are several educational systems to acquire infection control. The occupational background is often nurses, sometimes clinical laboratory technicians (especially clinical microbiology), and doctors (usually infectious disease physicians). Training courses specialized in infection control and medical epidemiology are offered by the following professional organizations: Those who want to be involved in infection control as a doctor often go through clinical training in the department of infectious diseases.
In the United States,CBIC) Examines the professional background and work experience of health care workers, checks the level of knowledge through standardized departmental examinations, and then licenses infection control personnel. Two years of activity experience is required for application, and renewal of qualification is required every five years.
In the United States, CDC and the American Society for Medical Epidemiology (SHEA) have jointly conducted hospital epidemiology (infection control in hospitals).Our Courses Is held every year, and there is also a course from the Association of Infectious Control Practitioners (APIC).
Infection Control Team and Infection Control Committee
The infection control team is the actual work force in a medical institution, and the infection control committee is in charge of managing the infection control team (Fig. 1).
Infection control profession
footnote
Related item
外部 リンク