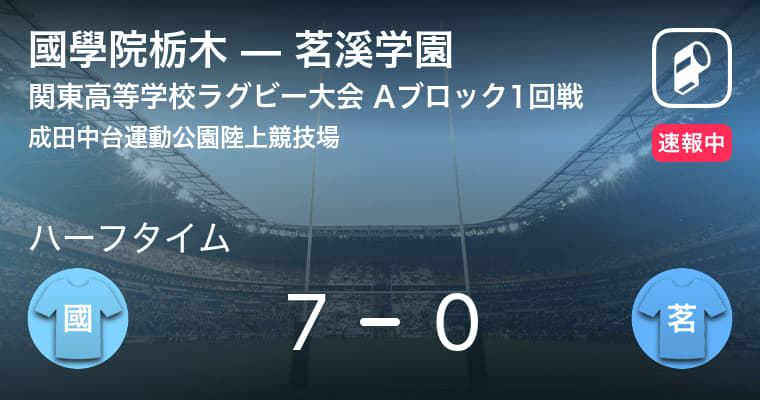 Photo Rugby Match Summary
[Breaking news] Kokugakuin Tochigi vs. Meikei Gakuen, Kokugakuin Tochigi returns the first half with a 7-point lead
 
If you write the contents roughly
Whether Kokugakuin Tochigi can maintain the lead or Meikei Gakuen can reverse the 7-point behind, the match will continue in the second half. 
Kanto High School Rugby Tournament A Block 1st Round Kokugakuin University Tochigi High School held at Narita Nakadai Sports Park Athletics Stadium ... → Continue reading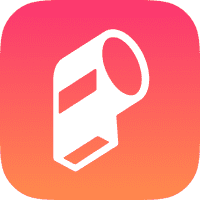 Player!
Sports entertainment application "Player!". We will deliver the latest news, breaking news, schedules, results, etc. of a wide range of sports from soccer, baseball to horse racing to athletics faster than anywhere else.
---
Wikipedia related words
If there is no explanation, there is no corresponding item on Wikipedia.
Makai Gakuen Junior and Senior High School
Makai Gakuen Junior and Senior High School(Meikeigaku Enchu Gakko / Koto Gakko)IbarakiTsukuba CityBefore InariIt is inHigh school consistent school.International BaccalaureateAccredited school.There are various classes such as Meikei, MG, AC, and IB classes.
Overview
Practical education is provided under the slogan "Study-Skills".rugbyPowerhouse school.The management body isUniversity of Tsukuba,Tokyo University of Education,University of Library and Information ScienceAlumni association such asMaikei society(School corporation Meikei Gakuen).The current president2007May 11Was appointed to.
Academia class
The "Academia Class" starts in the first year of junior high school (2021th year) enrolled in 1.
The number of applicants for the "AC class" in 2021 will be 2 classes, and there will be 4 classes including 6 classes of "MG class" (main class of junior high school).In addition, students taking the G course entrance exam can also enter the AC class by taking the AC class exam.
In this case, the students of the G course belonging to the academia class will take the English class in a separate class.
There is no AC class in the current high school yet, and the AC class will be opened from 46 when the 1th year students go on to the first year of high school.
Another class will be recruited for the high school entrance examination in 2024, and the high school AC class will be organized into 1 classes.Students who have been in the MG class for three years in junior high school can also enter the high school AC class by taking and passing the selection test when they enter high school.Students who wish to have a high school IB class will belong to either the AC class or the MG class in the first year of high school, and will belong to the IB class from the second year of high school.
Main way of thinking
"Intelligence = ability to detour"Kunihiko Kodaira Based on the anecdote of, he gives a guideline to develop critical thinking ability, creative thinking ability, and implementation / practical ability.
National language
We share the value that difficult and fun things are truly worth learning, and train the true elite to face the wave of populism that prevails in modern times.To that end, students will acquire the ability to read and write "adult texts", know a wide range of fields, and acquire the ability to perform attractive reading comprehension and exercises at a higher level through their education. Grow an "everything shop".Then, we will share it, criticize it, and create a space where we can enhance each other.
Math
Foster creative thinking by learning mathematics in a way that rediscovers the achievements of the great mathematicians of the past.
Foster critical thinking by examining existing theorems and theories (proofs and problem answers) from a logically rigorous perspective.
Aiming to solve "problems that have never been seen" and "problems worth thinking (not easily solved)", we will go back and forth between the above two and reconstruct the logic to develop implementation and practical skills. ..
As a "basic language of natural science that translates the mechanisms of various phenomena (mathematical phenomena, physical phenomena, natural phenomena, economic phenomena, social phenomena ...)" (= application / comprehensive possibility to other fields) that mathematics has To develop the ability to understand various aspects of the phenomenon from a mathematical point of view (creative thinking ability, implementation / practical ability).
History
1977(Showa52) --Decision to establish Meikei Gakuen as a project to commemorate the 100th anniversary of the founding of the Meikei Gakuen
1979(54)

January-Approval for establishment of school corporation Meikei Gakuen (initially dormitory system)
April-Established Meikei Gakuen School, opened junior high school and high school (initially dormitory system)
At that time, Tokyo University of Education was moving to Tsukuba University, and it was an affiliated school.Komaba schoolThere was a relocation problem such as. However, most of the students were residents of the 23 wards, so the affiliated school could not be relocated. The policy was taken that the Makikeikai, which was celebrating its 100th anniversary at that time, would establish a new school corporation as a commemorative project and operate it.
1988(63)-National High School Rugby Football TournamentEven though it goes to the finalEmperor ShowademiseBecause of the final match (1989<Showa 64>May 1) Was canceled.for that reason,Osaka Institute of Technology High SchoolWon both schools with[2]. afterwards,2015(27) A friendly match was held by the members at that time in April, but it was defeated 4-19.
2005(Heisei17) -ranked first in the nation in the overall results of the junior high school sports club.
2017(29) -International Baccalaureate (IB) certification.Along with that, the "Agora hall" was completed on the site of the former tennis court.
In the same year, the soft-baseball club advanced to the finals of the National High School Soft-baseball Championship for the first time.In the final, he lost 1-0 with Chukyo Gakuin University Chukyo.
Annual events
Paulownia tree festival

Unique to our schoolCultural FestivalIs.It was very exciting before this time, but just two weeks after this, the regular test is coming up.Also, on the day of the school festivalMetropolitan New City RailwayTsukuba ExpressKenkyu Gakuen StationとJRHitachino-Ushiku StationMore shuttle buses arrive and depart. In 2007, about 4000 people visited the venue, setting the highest record in the past few years.

sports festival

There is no so-called athletic festival, but the following school events are similar.

North wind festival (ball game tournament)

Boysサ ッ カ ー, GirlsDodgeball..Also in a common event for men and womenvolleyballOrbasketballchoose.It is held every year just before the winter vacation in December. (High school) This will be the last sporting event for third graders, and it will be very exciting to unite in class units. In case of rain, everyoneDodgeballattend to.

School skills competition

Satomi Camp (1st year of junior high school)

Former Satomi Village(CurrentHitachiota City) Satomi campsite for 3 days.Great East Japan EarthquakeUntil the 41st year, not Satomi,Sashima Shonen Nature HouseThe camp was held in Satomi, but the camp in Satomi was resumed the following year.

Mt. TsukubasanCamp (2nd year of junior high school)

From schoolTsuchiura CityIbaraki Prefecture Chuo Youth House is about 20km on foot, and on the way back, I travel by bus and spend four days at the surrounding campsites.Students who commit violations such as bringing in prohibited items or going out at night will be penalized for walking home.

Domestic training (Hiroshima,京都) (3rd year of junior high school)

Haneda airport1 night 2 days in Hiroshima, 3 nights 4 days in Kyoto (of which 1 night isHieizan Enryakuji Temple※)spend.
※in the pastEiheiji Temple,Myoshinji TempleIt was also done.
Traveling from Hiroshima to Kyoto and from Kyoto to Tokyo by Shinkansen, but the next dayTransfer holidayIt is customary to write a report in the car to get rid of tiredness.

Step-up training (1st year high school)
An accommodation event that began in the 37th year because the seaside training that had been held up to the 39th year was abolished due to safety concerns. After a 20km walk, canned food at the hotel for more than 1 hours a day for self-study and learning.On the final day, the past questions of the Shinken Simulated Exam were solved and the ability was checked, but it has not been done since the 10st year. The 41th year students went to Lake Inawashiro, and the 39th and 40st years students went to Itako, but there are pros and cons from parents.
Overseas training(Australia) (2nd year high school)

Until 18The United KingdomI went to, but nowadaysUKIn the cityterrorism,lbDue to the high impact, after 19AustraliaWas changed to.
Homestay was held in 16, but this program was canceled in 17 and 18 due to the effects of terrorism, etc., and instead,Oxford,Cambridge,Canterbury,Stratford Upon AvonSuburban training was held.The program has also been revived as the destination has changed to Australia.
(Before EnglandTaiwanWas going to)

Short-term dormitory (junior high school 1,3, 2, high school XNUMXnd year)

An event unique to Meikei Gakuen.In the third year of junior high school, both commuting students and dormitory students experience communal living in the same room during this period.

Rugby / Cold training (2nd year of high school)

It is held every year in early February in conjunction with the short-term dormitory in the second year of high school, and short-term dormitory students, dormitory students, rugby members, and kendo members participate.The dormitory students wake up at 2 am, and from 2:5 am for about an hour, boys play rugby on the ground, and girls and kendo members practice kendo at the gymnasium.In Kendo, a very high level of practice is carried out with the cooperation of the University of Tsukuba Kendo Club.The girls in the second year of high school who have experienced this practice will demonstrate their abilities that set them apart from other grades at the school competition in March.In addition, daytime classes are held as usual even during cold training, and many club activities practice after school.Even in such a situation, the purpose of this event is to cultivate a strong mental power by doing everything with all one's might.
出版物
Famous people
Graduate
Directions and Parking
Footnotes and references
Related item
外部 リンク