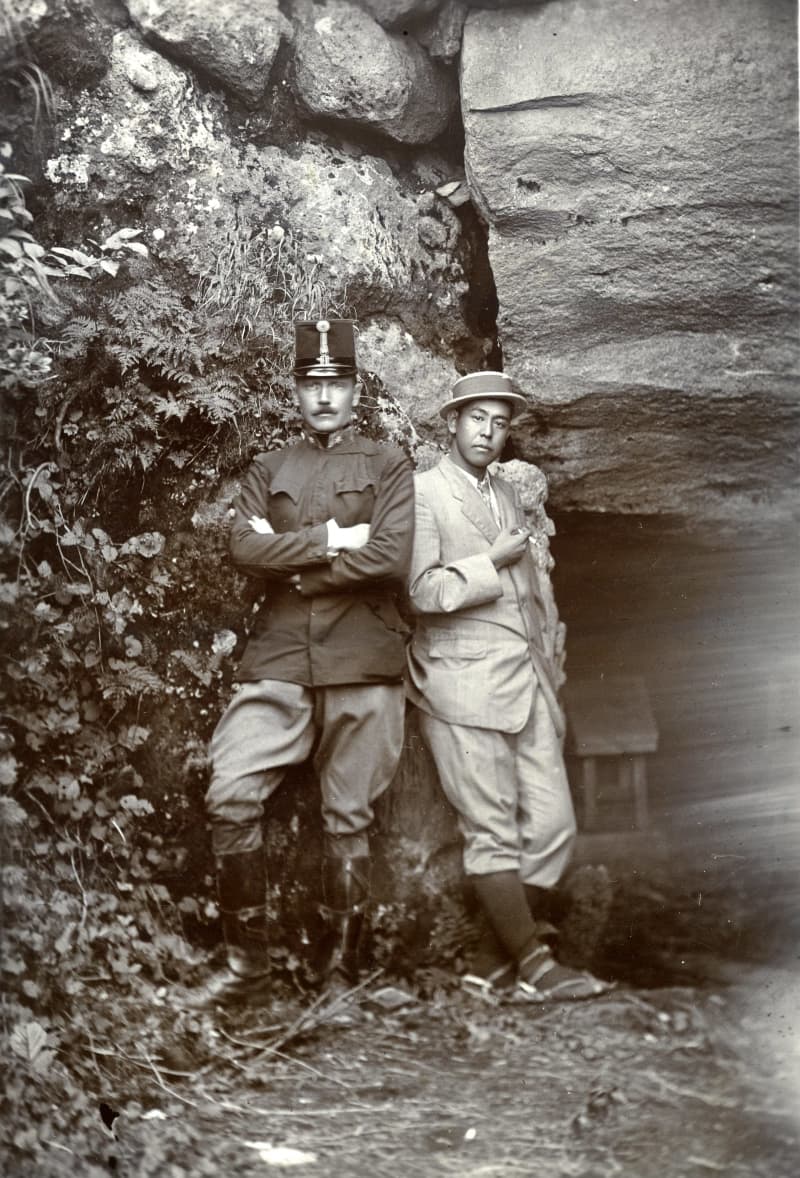 Photo Mt. Myokosan Lerch and Kazuo Okakura in front of Sotaki Fudo (Collection of Japan Ski Birth Memorial Hall)
Lerch and friends of Takada [7/10 (Sat) -9/5 (Sun)]
 
If you write the contents roughly
In commemoration of the 110th anniversary of the birth of Japanese skiing, we will introduce the interaction between Lerch and his friends in Joetsu and Takada, who introduced the full-scale skiing technique to Japan, and the personality of Lerch. 
In commemoration of the XNUMXth anniversary of the birth of Japanese skiing, the relationship between Lerch and his friends in Joetsu and Takada who introduced the full-scale skiing technique to Japan ... → Continue reading
 Joetsu Times
We publish the daily newspaper "Joetsu Times" in the areas of Joetsu City and Myoko City, Niigata Prefecture, and the daily newspaper "Itoigawa Times" in the area of ​​Itoigawa City.
Based on the concept of "local cheering party", the editorial policy is "to support and stimulate the vitality of the area", and the first aspect to be seen in the morning is the citizens (administration) who are doing their best, moving topics, and soothing hearts. It is composed of photographs, etc., and we try to create a page suitable for the start of a refreshing day.
---
Wikipedia related words
If there is no explanation, there is no corresponding item on Wikipedia.
Theodor von Lerch
Theodor von Lerch(Theodor Edler von Lerch, 1869May 8 - 1945May 12) IsAustria-Hungary Empire Ofsoldier..The final rank is Major General of the Army.The first person in Japan to give full-scale ski instruction.
Visited the date and time was a major, when he was a majorSkiTheJapanIn Japan, it is generally "LerchIs called.He was later promoted to Lieutenant Colonel and then traveled around Japan, so he is called "Lt. Col. Lerch" in Hokkaido and elsewhere.
He was Minister of Defense, Minister of Exiles, Refugees and War Victims, and Chairman of the Bundestag in West Germany.Kai-Uwe von HasselIs the nephew of the mother[1].
Career
Advancement and skiing
1869,Austria-Hungary EmpireMake upKingdom of HungaryNorthern Presburg (nowEur-lex.europa.eu eur-lex.europa.euThe capital ofBratislava), Born in a military family.His childhood nickname was "Theo'[2].. Entered the Gospel School at the age of 10.Three years later, the familyPragueLerch is alone in ViennaGymnasiumTransfer to school.Three years later, I have a familyPragueGo to and transfer to German Gymnasium.Lifestyle is extremely serious and has been the chief for three years[2].
1888 years,Wiener Neustadt Of(English edition)Enrolled in 1891 and was appointed as a second lieutenant.Curiously, he was assigned to the 102nd Infantry Regiment in Prague, where his father worked.From the beginning of his assignment, he was excellent in intellectual talent, sense of responsibility, knowledge, and leadership, and was well-received by superiors and subordinates, and was highly evaluated in performance evaluation.[3].. In October 1894, passed the military academy staff training course examination.After completing the curriculumChernivtsi58th Infantry Brigade Staff,Lviv11th Infantry Division Staff,Maro Schwashar HayAfter working for the 62nd Infantry Brigade 5th Detachment Company, 1900InnsbruckBecame a staff member of the 14th Army Command.Became interested in the ski training that Captain Birgery was doing in the same mountainous area[3].
In November 1902, with the change of Minister of War, he was appointed to the Operations Group of the General Staff of the Ministry of War. December,Alpine skiingFounder of(German version)Studied under. In 1903, he was dispatched to border guards in South Tyrol.This environment was a great place for Lerch to study skiing, and the fact that the Department of War building was next to the Alpine Ski Club office across the road also contributed to Lerch's further passion for skiing.[4].
Tudalski emphasizes the importance of skiing not only to the public but also to the military.1890 eraWas instructing some units.However, there were many opinions within the military at that time that skiing was an entertainment, and they were skeptical about its introduction.
During that time,1906January,StyriaA cavalry unit conducting mountain exercises in southwestern Murau encounters an avalanche.Lerch, who participated in the rescue using skis, used his position as a staff member with many contacts with senior military officials to explain the importance of skiing to senior military officials directly or through friends and acquaintances. It was.Chief of StaffFranz Conrad von HetzendorfIn response to his work, the lieutenant general officially decided to introduce skiing. February 1908,TyrolThe first military ski class was held at the foot of a rural mountain, and Lerch devotedly participated in the instruction as an instructor.[5].
Visit to Japan
Russo-Japanese WarでRussian EmpireWonJapanese ArmyFor my research1910May 11Exchange forOfficerCome to Japan as.Mt. Hakkoda OfAccident in the snow marchThe Japanese Army paid attention to the skiing technique of Lerch, a disciple of Mathias Zdarsky, the founder of alpine skiing.For the purpose of improving the technologyNiigataNakakubiki District(I.e.(CurrentJoetsu City)It is in13th Division58rd Infantry Regiment(13th Division CommanderNagaoka Gaishi, 58th Infantry Regiment CommanderBunjiro Horiuchi) Gardening and TakadaKanayayamaI gave guidance in such ways.
On January 1911, 44 (Meiji 1), using the yard of the 12th Infantry RegimentYoshinobu TsurumiTeaching the technique to 14 ski specialists, including the captain, is said to be the first step toward the full-scale spread of skiing in Japan.In connection with this, January 1th is designated as "Skiing Day" every year. In April with Egon von Kratzer (also known as Classel)Mount FujiSki downhill at.
1912January,HokkaidoAsahikawa7th DivisionFor ski instruction toAsahikawavisit.May 421:30, as a complete finish of ski training in HokkaidoMt. YoteiTo climbKutchan TownArrival in. It was scheduled to depart at 16 am on the 5th, but it was postponed for one day due to rain, and Mt. Yotei was climbed on the 1th, and Mt. Yotei was also skated.Reporter Okutani of the Otaru newspaper accompanies Lerch's climbing Mt. Yotei.
Emperor MeijiOn October 10st, shortly after the demise of the crown, Lerch set out on a trip to various parts of Japan.ShimonosekiからHakone,Nagoya,Ise,Nara,京都,HiroshimaAround, in lateMoji PortからKorean PeninsulaHeaded for.Then from JapanRepublic of ChinaOver Manchuria,Beijing,ShanghaiTo, and moreThe United KingdomAreaHong KongIn DecemberBritish Indian EmpireAfter watching the exercise, he returned to Japan in January 1913 at the beginning of the year.
In addition, Lerhi has mastered the technique of both one and two canes, and what he introduced in Japan is the skiing technique that uses only one cane.This is a result of judging from the topography of Takada, which is a steep slope with heavy snow quality.[6]..In Sapporo, which became popular around the same time, the Norwegian style with two canes was the mainstream. At the 2st All Japan Ski Championships held in 1923, the Norwegian style with two canes was overwhelming.The one-cane technique that Lerhi reported declined rapidly.[7].
Return to Japan, and war
After returning to Japan, after working with the Ministry of WarMezzolombardo14th Division Subordinate 4th Hybrid Mountain Regiment 1st Battalion,ScutariInfantry 87th Regiment Detachment Commander.
AustriaEur-lex.europa.eu eur-lex.europa.euIt broke out after declaring war onWorld War IThen, he was appointed as the newly established Chief of Staff of the 17th Army.WarsawDispatched to.Imperial Russian ArmyEven though he engages with, he is forced to retreat by an enemy who is superior in quantity, and for one yearCarpathian mountainsStay in. March, a year later,GaliciaDefeated in the battle. Brest-Litovsk (now Brest-Litovsk) in AugustBrest), But received a counterattack again and retreated to Stolphy[8].. Dispatched to the south after March 16IzonzoAtItaly kingdomEngage with.After thatGerman EmpireArmy group "Prince Rupprecht" (de) As a affiliationWestern FrontTowardsFlandersI fought in rural areas, but details are unknown.[8]..He was forced to retire due to an injury on this front.
After retiring, he started a trading company and assumed the position of business director, but withdrew from the position in just one year.LaterTyrolHe lived a life centered on lecture activities, focusing on working in rural areas and traveling to Japan.Manchurian IncidentIn 1932 after the outbreak, he made use of his career at the Ministry of War and contributed articles and treatises focusing on the situation in the Far East to military magazines such as the "Austrian Military Newspaper" and worked as a military expert.[9]..However, because it was a defeated country, there was no military onkyu, and it was said that his life was quite difficult financially.[10].
1945May 12,Austria during Allied military administrationでDiabetes mellitusDied because of. 76 years old died.He was buried in a communal cemetery in Vienna.
Currently, is installed in Kanayayama, Takada, Joetsu City, Niigata Prefecture, and reports the achievements of Lerch.In addition, various commemorative events such as the "Lerch Festival" are held in early February every year. In 2, Lerch brought skis to Japan for 2010 years, and various commemorative projects were held over 100.
Yearly record
Less than,Austrian Army Official HPTranslated from such.
1879-Enrolled in Evangelical School
1882-Transferred to Gymnasium in Vienna
1885-Transferred to Gymnasium, Germany
1888-Enrolled in Theresia Military Academy
October 1891-Ensign, 10nd Infantry Regiment
1895-Lieutenant
1896-Infantry 58th Brigade Staff
1897-Staff of the 11th Infantry Division Headquarters
1898-Class 2 Captain, 62nd Infantry Brigade 5th Detachment Company
1900-Captain 1st Class, attached to the 14th Army Command
November 1902 --Attached to the Operations Group, General Staff, Ministry of War
1908-Major
1910
1911-Lt. Col.
October 1912-Departure from Moji Port
1913

January-Attached to the Ministry of War
May 5-Captain of the 1st Battalion of the 4th Hybrid Mountain Regiment

1914-Colonel, Detachment Commander of the 87th Infantry Regiment

June-Chief of Staff of the 6th Army

August 1917-Head of the 8th Mountain Brigade
1918
January 1919, 1-Retired
July 1920-Established trading company Ostland (dissolved on February 7, 30)[9])
March 1922, 3-Married to Mrs. Irma
1932-Begin writing articles in the Austrian Military Newspaper
July 1938-Begin writing articles in the military magazine "Military Technology and Science"
honor
Niigata Prefectural Sports Association Physical Education Achievement Award[12]
Statue
A genuine sportsman, not only skiing水 泳,Cycling,skate,ClimbingI did everything.There is also a theory that skating was better than skiing.[13]..He was also good at art and loved painting.Currently, Joetsu City has about 50 watercolor paintings of Austrian mountains and townscapes drawn by Lerch.[14].
Native languageGermanAlso used by the peoples of the Austro-Hungarian EmpireCzech,Hungarian,ItalianToFrench,English,RussianI could speak 6 languages.These are the ones that I learned at my place of assignment[3].JapaneseI learned a little when I came to Japan.
In 1930 (Showa 5), ​​he was invited to the unveiling ceremony when the "Ski Birth Memorial" was erected in Takada, but he refused to come to Japan because he was not feeling well and was financially difficult.Japanese volunteers who knew such a plight cooperated to collect sympathy money, and in the same year, donated 1600 yen (equivalent to 2017-600 million yen in monetary value as of 800) to Lerch.In return, Lerch presented a thank-you note with his own oil painting and watercolor.[10].
家族
The eldest son of four brothers and sisters.Single for a long time, married Mrs. Irma on March 4, 1922, at the age of 3.I've been thinking about it since I came to Japan, and it's been achieved over 27 years.[10]..The wife has two girls with her ex-husband, and they and their siblings' descendants are still interacting with Joetsu City.
Father: Ludwig-Colonel of the Army, from Bohemia, northern Czech Republic. Died 1903
Mother: Clara-Maiden name Thormann.Born in northern Germany, his father is a soldier. Died 1917
Eldest brother: - physicist. Died 1947
Second brother: Christian-Electrician, descendantsThe United States of AmericaMinnesotaImmigrated to
Sister: Magdalena-artist. Died 1938
Wife: Irma- ルーマニアBorn in an aristocratic family. Died January 1976, 1, 16 years old
Second daughter: Hera-Migrated to England, died in August 2004, 8 years old
Aunt: Elise Helene von Hassel-Maiden name Tollman, mother's sister.Vice Admiral of the German ArmyMarry
Cousin: --German Army Captain.Run a farm.
nephew:Kai-Uwe von Hassel --Ministry of Defense, Minister of Exiles, Refugees and War Victims, President of the Bundestag
Yuru-chara Lerch
Born in 2009 as a character of the Niigata Prefecture Tourism Campaign to commemorate the 100th anniversary of the birth of skiing the following year.Imitated LerchYuru Chara.
Character DesignIs outsourced with a connection with Takayoshi Co., Ltd., whose proposal was adopted in a tourism campaign competition.DesignerDue to[15]..It has been gaining popularity due to its cuteness, and sales of goods such as straps sold out are also strong.[16].
After the 100th anniversary campaign, go to "Original Ski Heaven Niigata"TaglineNiigata PrefecturePRHe is active as a character and has been promoting to various parts of Japan. At the end of 2011JR EastAdvertising posters were posted at each station in the jurisdiction.
Also, in February 2012, the unit "Spur Ongakutai" consisting of three elementary school girls living in Niigata City.[17]CD "Lerch-san no Uta" was sold at shops all over the prefecture.[18].
I have participated in the Yuru Chara Grand Prix from the first time.In the first round (1), we won 2010 votes in the mobile voting category and ranked 4,874th.[19]..The second (2) was ranked 2011th with 90,569 votes.[20].
June 2012, 6 Fuji TV ・ Appeared with laughter at the corner to decide the catchphrase of Yuru-charaOta HikaruDecided to be the proposed "Relatives of Mario".
In October 2012House wellness foodsIt is a campaign character for the drink "C1000".This is the "yellow outfit" that appeared in the previously aired "C1000" TV commercial.Drum and fluteThe viewer's toys that only Lerch can seeTwitterBased on the tweet in[21].
Anime produced in 2014 "Robot Girls Z] Appeared as a guest character in Episode 6.5 (BD / DVD Volume 2 bonus video).The voice isTohru InadaPlays.
footnote
literature
Theodor von Lerch (translation), Meiji Japan's Memories, Japanese Ski Father's Note, 1970.
Chuichi Nagaoka "Beginning of Japanese Skiing-Encounter between Lerch and General Nagaoka Gaishi"Baseball magazine company, 1989.ISBN 9784583027234.
Koji Nakaura, Lerch's Association "Japanese Skiing: The True Source: Takada in the Meiji and Taisho Era: 100 Years from Lerch's Guidance" Lerch's Association, 2010.
Yukako Iisaka"If that girl skis (recorded in that girl is a witch!)"Shogakukan, 1990.ISBN 9784091331236.
Related item
外部 リンク