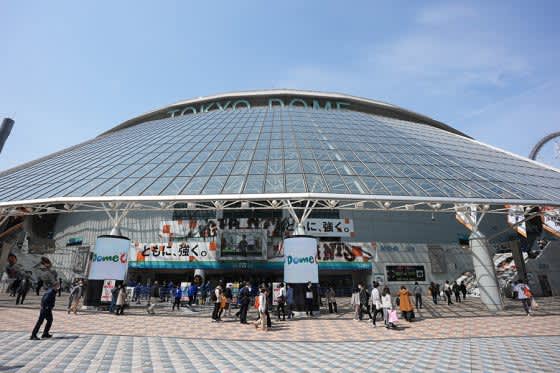 Photo The semi-final of the National High School Baseball Championship East Tokyo Tournament was held at Tokyo Dome (photo is an image)
[High School Baseball] What did the players and managers feel at the East-West Tokyo Games held at Tokyo Dome for the first time in history?
 
If you write the contents roughly
The final is scheduled for August 8, from 2 o'clock at Kokugakuin Kugayama-Tokai University Sugao, and from 10:15 at Kanto XNUMX-Nishogakusha University. 
Kokugakuin Kugayama and Tokai University Sugao advance to the finals in West Tokyo The semi-finals of the National High School Baseball Championship West Tokyo Tournament and East Tokyo Tournament are in July ... → Continue reading
 Full-Count
---
Wikipedia related words
If there is no explanation, there is no corresponding item on Wikipedia.
Nishogakusha University
Nishogakusha University(Nishogakusha University,English: Nishogakusha University) IsTokyoChiyoda WardSanbanchoHeadquarters in 6-16Japan Ofprivate university.1949Was installed in.Abbreviation of universityIs Nisho, or Nidai.
Overview
Whole university
Nishogakusha1877ToMishima Nakasu TokyoKojimachiIchibancho (currentlyTokyoChiyoda WardSanbancho) Begins with the Kangaku Juku.Nishōgaku's name symbolizes unchanging moderation and integrityPineThere were two trees in the garden, andHan YuAccording to "Aida Prefectural Government Office Wall Record", it has a meaning as a learning building, and it was named with the hope that it will continue to future generations as a school.[1].
Also published in the list of public, public and private Tokyo schools1881The number of Nishogakusha students was 300.[2]. this isFukuzawa Yukichi OfKeio University,Keiu Nakamura OfDoujinshaIt was as good as[3]. AlsoMotosawa Chikuun OfKachi Gakushaな どChinese studiesThere were many schools specializing in this at that time, but it gradually declined, and the only one that still exists is Nishogakusha. .
"Kokuhan no Nimatsu" "Sparrow also came to the pine branchArgument"Singing" etc. TraditionallyDepartment of literatureIs famous.National languageTeacherWe are focusing on training.
The old font "舍" and the new font "sha" are often confused with "Nishogakusha", but the correct name is "舍", which has a stick underneath. Nishogakusha ".
Founding spirit (building lessons)
The spirit of "Ikuei" in Nishogakusha is that Mishima, who was worried about the time when he was eager to ingest Western culture, could know the true nature of Japan by learning Eastern culture.Self-study person wo cure me first generation XNUMX useful null person wo trainingBy doing so, we aimed to establish oriental studies and develop nationally significant human resources who will lead the new era.
Education and research
Established two faculties and two graduate schools.Teacher license,librarian,curatorQualification can be obtained.
Academic style and features
Ministry of Justice Law School,Army AcademyAt that time, there were many judicial officers and military officers among the junior high school students because they used Chinese writing for the examination.Mishima contributed to the rise of calligraphy and founded the Gosho Gakuin.Tenrai HidaiIs learning from Nishogakusha.It is also one of the few private universities with a major in calligraphy.
"Kokuhan no Nimatsu" "Sparrow also came to the pine branchArgument"Singing" etc.[4],Department of literatureIs famous .National languageTeacherWe are focusing on training.Students are called Shasei, and graduates are called Shayu. .
The situation at that timeNatsume SosekiIt is written in "Failure" of.A disciple of Soseki Natsume and Chushu Mishima, who later became the principal of Nishogakusha.Jun YamadaWas born in 1867 in the same year, and both are studying at Mishima at Nishogakusha.
History
Biography
Nishogakusha UniversityMishima Nakasu TokyoKojimachi Ward43 Ichibancho (currentlyTokyoChiyoda WardSanbancho) In the private residence1877(Meiji 10) Founded on October 10thChinese studiescram school·NishogakushaIt is a university that originated in.In the past, the school building was divided into Kashiwa and Kudan,2009The university functions have been consolidated into nine stages.
Chronological Table
basic data
Address
Symbol
badge
School emblemIs drawn as "Nishogaku" in the middle of the facing pine needles.
School color
The school color of Nishogakusha University is Matsuba green

■

Is. this isPineWith a leaf-like color,Heian periodIt is a color name from.Pine, a symbol of longevity and immutability Is auspicious The pine needle color of the leaf color has also been regarded as a happy color. .
school song
Nishogakusha University Song (Lyrics: School Song Establishment Committee, Composition:Tokyo Music School)
Student song
Nishogakusha University Student Song (Lyrics:Jikichi Morimoto, CompositionYuji Koseki) Nishogakusha Song (Jun Yamada)
Education and research
組織
Faculty
Department of literature Installed in 1949

Faculty of Letters1949It is the oldest faculty of Nishogakusha University that has existed since the establishment of the university.

Department of Japanese Literature

The Department of Japanese Literature is a department that remains from the time the university was established to the present.

Department of Japanese Literature
Department of Japanese Culture
Video / Drama / Media Major
Department of Comparative Literature and Culture
Japanese major

Department of Chinese Literature

The Department of Chinese Literature is also a department that has remained since the university was established.

Chinese Literature Major
Calligraphy major
Japanese Chinese Studies
Korean major
Chinese major
Department of Comparative Literature and Culture
Each faculty / department is divided into majors from the second year onwards.The Department of Comparative Literature and Culture is a common major in the Faculty of Letters.
graduate School
Graduate School of Literature

Department of Japanese Literature Master's and Doctoral programs (Day and night classes)
Sinology Master's Program / Doctoral Program (Day / Night Course)

Graduate School of International Political Economy

Master's Program in International Political Economy (1 year / 2 year)

East Asian Economics and Business Program (Weekday nights and weekends daytime)

Graduate School of International Japanese Studies

Master's Program in International Japanese Studies (established in April 4th year of Reiwa)
Affiliated organization
library

Nimatsu Gakushu University Library
University materials exhibition room

graduate School

East Asian Academic Research Institute

Japan Research Department
China Research Department
Korea Research Department

The origin of the above three research departments is the Institute of Oriental Studies (established in 1988).

Yangmingism Research Department

Originated from the Yangming Institute, which was established in 1988

Kanji Literature Research Department

Originated from the International Kanji Literature and Materials Center established in 2002

International Political Economy Research Department

セ ン タ ー

Teacher Support Center
International Exchange Center
Career center
Information Center

Study Group

Nishogakusha University Humanities Society
Nishogakusha University International Political Economy Society
Nimatsu Poetry Society
Nishogaku Tanka
Nimatsu Haikukai
Research
21st Century COE Program
21st Century COE ProgramAs a result, one program has been adopted.
2004

Innovative academic fields

Building a global center for Japanese Chinese literature research
Education
School life
School festival
The school festival was called "School Festival", but from 2002 it was renamed to "Souensai".It is held every year around November 11rd at Kudan Campus.
Club activities, club activities, club activities
There are 13 physical education clubs, 15 cultural clubs, and several circles.Most of the activities are on the Kashiwa campus.
University personnel and organizations
University related organizations
Matsureikai
Matsureikai is an alumni association whose regular members are graduates of Nishogakusha Vocational School / University and graduates. "Matsurei" is the "Matsurei" of Nakasu's seven words, "Prolific 茯 蓓 meditation".PoriaIs taken from ..茯 蓓 is used in Chinese root medicine, whose Japanese name is Matsusho.The principal of the vocational school says that the graduates must become Issei's wooden roots and be the philtrum among those who correct the time.Jun YamadaNamed by .
Nishogakusha University Supporters Association
Established with the main purpose of supporting national literature and Chinese studies (philosophy, thought, history, literature), and Asia-Pacific regional political economy research, which are the characteristics of education and research at Nishogakusha University.
More
Nishogakusha Service Co., Ltd.
List of university personnel
Facility
campus
Kudan Campus
Kudan Campus2004It was rebuilt as part of the 125th anniversary commemorative project.The designerHisao Kohyama..There is a public open space on campus2006ToTBSseriesWas broadcast onKeigo HigashinoThe original TV drama "Bai Ye Xing] InAyase HarukaUsed as a location for Yukiho Karasawa's membership boutique "R & Y 2nd store" .
In 2007, we celebrated the 130th anniversary of our founding and laid down a 130th anniversary school building in the south of Kudan to consolidate university functions into Kudan.Yokote across the roadYasukuni Shrine, Behind the school buildingIndiaThere is an embassy. Completed in 2009.
Kashiwa Campus
Faculty of use: Indefinite.Used when taking practical physical education courses or some courses.[5]
Graduate School of Use: Graduate School of International Political Economy (partial).
Directions

JRJoban Line-Tobu Noda Line Sakai StationGet off, 15 minutes by school bus from the east exit
JR Joban Line Abiko Station20 minutes by school bus from the north exit
Students in JapanKabaddiIs the birthplace of.[6]Next to the campusKashiwa Junior and Senior High School attached to Nishogakusha UniversityThere is.
Student cafeteria
The restaurant "Faculty Lounge" on the top floor of the Kudan Campus is open to the public.Cheap and high quality food was introduced in multiple mass media[7].. There are also 14 kinds of drink bars, Friday, July 2011, 7Television Tokyo Channel 12, Ltd.Introduced in Ladies 4.
Lecture hall
There is a Nakasu Memorial Auditorium on the Kudan Campus, which is used for various ceremonies.
Dormitory
We have four student condominiums exclusively for Nimatsusei in Kashiwa City (consignment).
Foreign relations
Agreement with local government
Cooperation agreement between Chiyoda Ward University and Chiyoda Ward
Agreements with other universities
Elementary school teacher training special program (XNUMX types)
Until now, it was not possible to obtain an elementary school teacher's license at Nishogakusha University, but this agreement has made it possible.
Overseas partner schools
Relationship with society
Seishi Yokomizo Old Collection
June 2006, in Setagaya, TokyoYokomizo MasashiManuscripts (about 280 points, about 5,000), including raw manuscripts such as the unpublished short stories "The Events of the Fog Night" and "The Inugami Clan" from the residence, as well as the literature that Yokomizo seems to have used as the material for writing the novel. Ryoichi Yokomizo, a child of Seishi Yokomizo, wrote a scenario of a movie (about 300 points), a foreign magazine (about 290 points), a foreign book (about 170 points), and a movie still photograph (about 880 points). It's been found.These collections and materials are to be kept by the university and open to the public. .
Affiliated school
Wiki related project links
footnote
Related literature
School corporation Nishogakusha "Nishogakusha XNUMX years history" 1967
School corporation Nishogakusha "Nishogakusha XNUMX-year history" 1977
外部 リンク