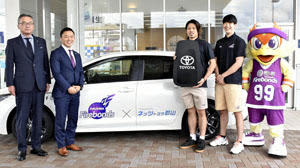 Photo President Komuro (left) provided Bonds Car President Nishida (second from left), Deputy Captain Hasegawa (third), Captain Kanno (fourth)
Designed for the 4th generation "Bonds Car" logo, provided by Nets Toyota Koriyama
 
If you write the contents roughly
The model is "Corolla Touring", and the team and the company's logo were designed. 
Netz Toyota Koriyama (Koriyama City) will be playing basketball at Fukushima Firebonds on the 16th, including the team logo. → Continue reading
 Minami Fukushima Shimbun
A news site of the local newspaper "Fukushima Minyu Shimbun" that represents Fukushima Prefecture. Since it was first published in Meiji 28, we have been transmitting the latest community-based news as a "friend of the people of the prefecture". The prefectural news covers a wide range of local news by connecting 25 news bases in Fukushima prefecture. We are also focusing on recovery from the Great East Japan Earthquake and articles related to TEPCO's Fukushima Daiichi Nuclear Power Plant. We will deliver a variety of articles such as gourmet, sightseeing, events, readable serials.
---
Wikipedia related words
If there is no explanation, there is no corresponding item on Wikipedia.

Toyota corolla touring
Corolla touring(COROLLA TOURING) IsToyotaIs produced byStation WagonType ofPassenger car.Toyota CorollaWill be the 12th generation model.
In this section,platformとDesignOf the station wagon type that shared a part ofEuropeSpecifications for countries "Corolla Touring Sport"(COROLLA TOURING SPORTS) Will also be described in detail for convenience. The Corolla station wagon type of this generation is from Japan.New Zealand, Will be released only in Europe.
History (Japanese specification)
First generation (12th generation in the series) E21#W type (2019-)
2019 May 8

Of the Corolla series for the Japanese marketsedanModel, andWagonModel the same yearMay 9It was revealed that the full model change to[1].

2019 May 9

A full model change was announced as planned[2].. The wagon model isCorolla FielderFrom ","Corolla touringWas named. The catchphrase is "To the center of you. To the center of this world."Shogi Shibata[Annotation 1]とOKAMOTO'S[Annotation 2]Has appeared.
Grade systemgasolinecar·hybridCommon to all cars, 3 grades of "GX" / "S" / "W x B" continued from the 3rd generation fielder[Annotation 3]It became.
The platform is the same as the European model described laterGA-C platformAlthough it was adopted as the 3rd number, the body is designed for exclusive use in Japan, the total height is the same as the model for overseas, but the total length is 155 mm and the total width is 45 mm, respectively,WheelbaseIt is also 60 mm shorter, and like the sedan released at the same time,OverhangIs, of course, shortened[Annotation 4].. In addition, by changing the mounting position of the door mirror, the total width when the mirror is stored is the same as the third generation fielder.
The exterior is unified with a large trapezoidal lower grill frame and mesh grille on the front face,head lampIs the light sourceLEDIt has been made into a one-letter shape that has been rounded to strengthen the round. In addition, the back door is designed to realize three-dimensional modeling.ResinIt was made. 7 body colors are available for "GX" grade and "S" grade, including newly developed color "celestite gray metallic", and "WxB" grade includes newly set color "Sparkling Black Pearl Crystal Shine" Available in 3 colors. The interior isinstrument panelHas become thinner and wider, and APillarWas miniaturized. A reversible deck board is set in the luggage compartment, a flat space can be set by setting it in the upper stage and tilting the rear seats, and a two-stage type that can load tall luggage when set in the lower stage[Annotation 5]And the back side is made of resin that is suitable for tough use.
The powertrain has been completely revampedCVTFor vehicles and hybrid vehicles, the displacement has been increased from 3 L of the third generation fielder to 1.5 L, and for gasoline and CVT vehiclesValvematicEngine2ZR-FAEType, hybrid car2ZR-FXEChange to each type. gasoline·MTCar oppositeDownsizingAndCorolla sportsSame as 1.2 LDirect injectionturboEngine8NR-FTSChanged to type. Also, the hybrid car was not set in the 3rd generation fielder4WDIs newly installed and is equipped with the electric 4WD system "E-Four". Gasoline and MT cars have the same "i-MT" as the Corolla Sport, and have multiple speeds in 6 speeds.
The intermediate grade "S" grade and the upper grade "WxB" grade are equipped with an electric parking brake (with brake auto hold function), and the lower grade "GX" grade is a lever type.
In addition, the first display audio system in Toyota cars in Japan is standard equipment on all models.Apple CarPlay-Android AutoIn response toSmartphoneIn addition to being able to link with, it is possible to use the in-vehicle navigation function by selecting the entry navigation kit or T-Connect navigation kit. Similar to Corolla Sports, DCM (vehicle communication device) is also standard equipment, and it is possible to use connected services.
In the "W x B" grade, two consecutive J-shaped clearance lamps and daylights have been added as special equipment, gray metallic is applied to the wheels and mirror cover, and sporty seats are adopted for the front seats. There is.
As of September 2019, the predecessor model, the Corolla Fielder, has been revamped to a grade system specialized for business users and is sold together.[3].
2019/12

Launched "Corolla Wagon GX" in New Zealand. Only a single grade equivalent to the Japanese "GX" grade will be deployed. In New Zealand, three types of hatchbacks, sedans, and station wagons are prepared as in Japan, but since only the wagons are exported from Japan, the hatchbacks and sedans are "Corolla wagons" compared to the total length and width (3 mm) of overseas specifications. The "GX" has the same vehicle size as the Japanese domestic specifications.
May 2020, 5 (supplement)

TokyoWith the simultaneous sale of all car models in all regions exceptToyota store,Toyopet store, Nets Toyota TotoNets Toyota TamaSales have started at Nets stores excluding.
November

Special model "GX "PLUS"", "HYBRID GX "PLUS"", "2000 Limited[Annotation 6]"Was announced ("GX "PLUS"" and "HYBRID GX "PLUS"" will be released on the same day, "2000 Limited" will be released on June 6)[4].
"GX "PLUS"" and "HYBRID GX "PLUS"" are based on "GX" and "HYBRID GX", and intelligent clearance is a manufacturer option in the base grade.Sonar[Parking support brake (stationary object)] and back guide monitor are specially equipped, and rear door, rear quarter, and back door glass are upgraded to privacy with UV cut function, silver around the meter and steering wheel, etc. The register knob at the exit was decorated with satin plating.
"2000 Limited" is the first 2.0 L dynamic force engine in the Corolla series for Japan.M20A-FKS typeEquipped with, the transmission isPaddle shiftWith 10-speed sportsSequential shiftmaticAdopts "Direct Shift-CVT", an automatic continuously variable transmission with a gear mechanism. Like the hybrid car, it has acquired "30 emission standard 75% reduction level (☆☆☆☆☆)" certification. Appearance is cut bright + 17 inch aluminum wheel with black paint, silver paintRoof railEquipped with. The interior uses the existing high-grade interior, and the front seat uses a high-grade fabric sports seat with improved hold and a water-repellent surface. The instrument panel ornaments and center cluster are decorated with red, and the center console and door armrests are decorated with gray stitches. In addition, seat heater (driver's seat/passenger seat), steering heater, air-clean monitor, nanoe are specially equipped, 9-inch display audio with black decoration, Optitron 3-eye meter + 7.0-inch TFT color multi-information It was also equipped with a display and a color head-up display. Four body colors are set, including specially set colors "Red Mica Metallic" and "Blue Metallic". Limited to 4 units.
November

Some improvements[5].
Two-tone color (white pearl crystal shine, dark blue mica metallic) combined with black mica is newly set as the body color. 17-inch aluminum wheels (cutting brilliance + medium gray metallic paint) option settings have been added to the "S" and "HYBRID S".The "HYBRID" emblem that was attached to the left and right side fenders of the hybrid vehicle was abolished when it was first released.
November

Special specification car "ACTIVE RIDE" was announced (order acceptance started from the same day, released on April 4)[6].
For the powertrain, the M2020A-FKS type 5 L dynamic force engine and the "Direct Shift-CVT" were combined in the same way as the "2000 Limited" released in May 2.0, and a specially tuned suspension was also adopted. ..
The exterior has two tones of bumpers (front and rear) and rocker molding (the rocker molding has a special logo), and is equipped with black-painted 2-inch aluminum wheels and dark gray metallic-painted roof rails. Satin-plated decoration (with water-repellent finish) and orange stitching on the instrument panel and door armrest skin.
In terms of functionality, Blind Spot Monitor [BSM] + Rear Cross Traffic Auto Brake [Parking Support Brake (rear approaching vehicle)], "Nanoe X", and 9-inch display audio are specially equipped.
In addition, special after-sales parts such as a cycle attachment, system rack / base rack (roof-on type), and "ACTIVE RIDE" logo emblem will be prepared as options for installation at dealers.
As for the body color, the existing "Black Mica" and "White Pearl Crystal Shine (manufacturer option)" are set to the special setting color "Urban Khaki", and the two-tone (manufacturer option) "Black Mica x Urban Khaki" Is also specially set.
Limited sale of 500 units.
November

Some improvements[7].
A plus support function that suppresses sudden acceleration due to a mistake in pedaling has been newly adopted and set as a dealer option, and "Nanoe X" is set as a manufacturer option for "S" and "WxB" (assistant) Attached to the air conditioner outlet on the seat side, set as a set option with an air clean monitor).The body color has been changed to red (manufacturer option), and "Sensual Red Mica" has been changed to "S" and "WxB" instead of "Scarlet Metallic" which was set to "GX" and "S". It was set.
Due to this partial improvement, the hybrid vehicle has become a vehicle with excellent fuel efficiency standards in 2 (vehicles that have achieved fuel efficiency standards in 2030) regardless of 2030WD or E-Four.[8].
November

Special specification car "HYBRID W x B" 50 Million Edition "" has been released[9].
To commemorate the cumulative global sales of 5,000 million units in the series, the exterior is based on "HYBRID W x B" with 17-inch aluminum wheels painted in matt black and the frame of the front lower grille painted in black + black gloss. , The door mirrors are changed to colored, and the dedicated logos are on the left and right sides of the fender.DecalIs attached.For the interior, the accent stripe on the seat skin is changed to black, the stitch is changed to orange, and the instrument panel upper part islaserA special logo with engraving is placed, and a skin with a static elimination function is provided in the driver's seat so that it collects in and around the driver.Static electricityUses a static elimination stabilizing plus sheet that reduces the amount of charge by dispersing the material throughout the body and contributes to stable vehicle behavior.In addition, the base grade will be specially equipped with Blind Spot Monitor (BSM) + parking support brake (rear approaching vehicle), air clean monitor, "Nanoe X", 9-inch display audio + 6 speakers, which are manufacturer options.
The body color is platinum white pearl mica (manufacturer option) and black mica, which are standard colors, and three monotone colors are available, including army lock metallic, which is a special setting color. The two-tone color (manufacturer option) is black mica, which is a special setting color. × Army lock metallic is set.
History (European specifications)
Corolla Touring Sports E21#LW/21#RW[Annotation 7](2019-)
Announced at the Paris Motor Show. ConventionalEuropeIt was sold for the regionAuris Touring WagonIt is a direct successor model of[10],The United KingdomDesigned and produced in. Only available in the UK and Europe[11]. The Corolla Touring, a domestic wagon, shares some components such as the back door, but its overall length and wheelbase are larger than those of domestic specifications.[Annotation 8]Other differences in wheel hubs[12]There are also differences in appearance such as the front face and the front face, so it is practically a different model.
At about the same time,Crossover SUVThe "Corolla Trek" tailored to the wind is also on sale in Europe.
Japanese sea bassEuropean division for the European marketSuzuki SwaceAnnounced that it will receive OEM supply under the name.[13]
footnote
注 釈
Source
Related item
外部 リンク