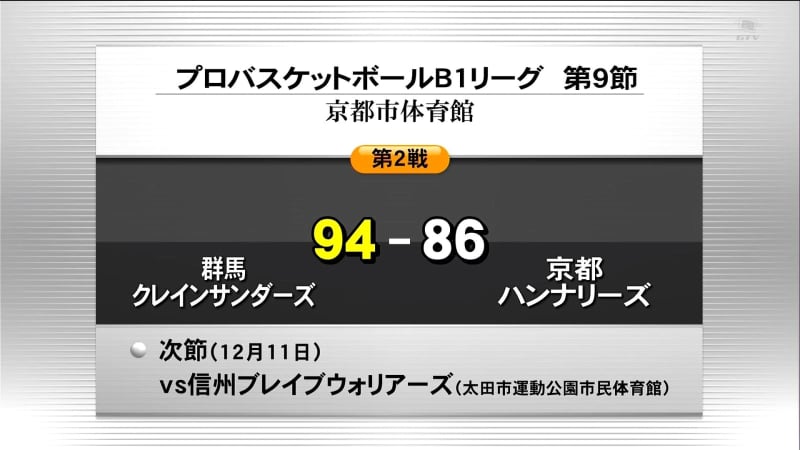 写真 
Basketball B1 Thunders wins Kyoto for the second time in a row Starts winning in a row after resuming the league
 
If you write the contents roughly
The next section will be welcoming the Shinshu Brave Warriors in Ota on the 11th of this month. 
Gunma Crane Thunders, B League 1st division of professional basketball, played against Kyoto Hannaryz and won XNUMX to XNUMX ... → Continue reading
 Gunma TV
It is a prefectural broadcasting station in Gunma Prefecture.
We deliver news focusing on Gunma local topics.
---
Wikipedia related words
If there is no explanation, there is no corresponding item on Wikipedia.

Shinshu Brave Warriors
Shinshu Brave Warriors(Shinshu Brave Warriors,British: Shinshu Brave Warriors) IsJapanThe professionalbasketballteam.HometownNaganoNagano cityas well as the Chikuma.B.LEAGUEBelongs.
Overview
A professional sports team that participated in the top league for the first time from Nagano prefecture.HometownNaganoNagano cityas well as the Chikuma[1]And the operating company is Shinshu Sports Spirit Co., Ltd.[3].
The team name Shinshu Brave Warriors can imagine the entire prefectureShinano countryAlso known as "Shinshu",Sanada"Brave warriors" produced by prefectures such as "Shinshu Brave Warriors"[1][2]..The team logo isJapan AlpsWith the snowy mountainsMonthIs designed, and the combination of these two is a hero'spocketIs also expressed[1][2].
The home game will be held mainly at "Kotobuki Arena Chikuma" in Chikuma City, which opened in September 2018, at "White Ring" in Nagano City and "Matsumoto City General Gymnasium" in Matsumoto City.The dance team active in home games is JASPERS.The mascot character isYukioBlair[1][2].
Home game official battle venue
The 2018-19 season official game venue will be held at the following.
Past venues
Uniform supplier
Successive uniforms
HOME
AWAY
Other
Uniform sponsor (2021-22 season)
Front: Orion Machinery (left shoulder),Hokuto(Center)
Back: Nippon Stainless Seiko (upper back number)
Pants: World Development Industry (front right), Kurita Hospital (top left front), KATEKYO Gakuin (bottom left front), Showa Denki Sangyo (back right), Space Q (top left back),Shinetsu Denso(Center left back),Scrapped car O Funabashi store(Lower left back)
History
Before the bj league starts2005 In August, the "Nagano Prefecture Professional Basketball Team Establishment Preparatory Committee" was established by local volunteers with the aim of participating in the league.[3].. In October 2006, the prefecture's first bj league pre-season gameNiigata Albirex BB vs Saitama BroncosTheWhite ringHeld in[3].. Since June 2007, he has applied for new entry into the bj league several times, but has been repeatedly rejected. In 6, "Nagano Prefecture bj League Entry Council" was established.[3].
2010 On August 8th, it was officially decided to enter the bj league from the 26-4 season as the fourth challenge.[3].. On January 2011, 1, the team name, Shinshu Brave Warriors, decided by open recruitment was announced.[3].. On March 3, the operation will be taken over by "Shinshu Sports Spirit Co., Ltd." from "Nagano Prefecture bj League Entry Council"[3].
bj league
2011-12 season
Formerly the first head coachTakamatsu Five Arrows,Tokyo ApacheHead coachMotofumi AokiTo meet.At draft meetings, etc.Niigata Albirex BB OfTakato Saito(First captain)Takanori GoyaAcquired Japanese players.The season of the first year of entry has begun with contracts with four foreigners such as Lee Roberts and Derek Raivio. Belonging to the bj league Eastern Conference, he won his first victory against Niigata in the second round of the opening game.In the early stages, Shiroboshi took the lead and made a good fight, but the final ranking was 4th in the East.
2012-13 season
With the departure of Aoki HC, the coach'sTakatoshi IshibashiIs promoted to HC.PreviousOsaka Evessa OfWayne MarshallReinforce such as.Marshall got off to a good start with 15 wins and 10 losses in 5 games from the opening, but Marshall left due to a breakdown in the middle of the season (became a coach after losing his player registration).After the middle of the season, there were no consecutive wins, and on the contrary, he suffered a large consecutive defeat (8 consecutive losses, 14 consecutive losses) and lowered the ranking, staying in 9th place in the East and missing out on the playoffs.After the season ended, Ishibashi HC left the group due to the expiration of the contract.
2013-14 season
Before the new HCHamamatsu / Higashi Mikawa PhoenixHCRyuji KawaiIs inaugurated.Former OsakaShota Konno, Mae HamamatsuNakanishi ShojiとJeff ParmerReinforced.In the first half of the season, 11 consecutive wins were recorded in November and 4 consecutive wins in December, leading the winning stars. Off advance (within 12th place) is decided. On April 6th, Eastern 3th place was decided, and he won the right to hold the home of the playoff first round.However, in the playoffs, he lost to Niigata, who was 4th in the East, and could not advance to the Finals.
Held in Komoro City (Komoro City General Gymnasium) in the pre-season and in Ueda City (Ueda City Natural Sports Park General Gymnasium) in the regular season.
2014-15 season
The second term of the Kawai system.The number of wins has decreased significantly from the previous season, losing to the playoff battles with Fukushima, Gunma, Yokohama, etc., and staying in 2th place in the East.
In the pre-season, the event will be held in Iida City (Iida City Gymnasium), Chino City (Chino City General Gymnasium), and Matsumoto City (Matsumotodaira Wide Area Park Gymnasium).
2015-16 season
Former Aomori HCMunakata KojuIs appointed as a new HC.The first half of the game will be a difficult one, but since January, he will advance to the playoffs for the first time in two seasons in 1th place in the East, such as winning 7 consecutive victories to break the club record.In the first round of the playoffs, he lost to Sendai and ended the battle in the bj league.
Held in Azumino City (Hotaka Gymnasium, Azumino City) during the regular season.
B.LEAGUE
2016-17 season (B2 middle district)
Ryutaro OnoderaIs newly appointed as HC[5].. B2's first victory is the 5th match against Tokyo EX.In the middle of the season, he suffered 9 consecutive losses and 13 consecutive losses, with a total record of 14 wins and 46 losses, the lowest among the 6 teams in the middle district.In the overall league ranking, he was 18th out of 17 teams, and although he was supposed to play in a B2 / B3 qualification match, he was 14th overall.Tokyo EXIs the B2 home arena standard, 18th overallKagoshimaDid not meet the B2 financial standards and was demoted to B2 due to the non-issuance of the B3 license, so it was decided that B2 would remain in Shinshu.[6].
2017-18 season (B2 middle district)
The second season of the Onodera system[7]. beforeNagoya DSagae Koichi becomes Associate Coach[8]..Athletes are in frontRyukyu OfAnthony McHenry,Shinji Arashiro,Yusuke Takamatsu, Tim Dezerski, Nick Washburn and others joined, a total of 13 people[9][10]..The captain continues from last seasonYosuke SaitoWill serve.
"B.LEAGUE Tokai / Hokuriku Early Cup 2017""Niigata,Nagoya D,San-enPlay against Niigata and defeat San-en[11][12]..The season starts against Aomori[13]4 consecutive wins, but then stalled and ranked 6th out of 5 teams in the middle district.
2018-19 season (B2 middle district)
Michael KatsuhisaIs appointed as HC.Kaito Ishikawa, Wayne Marshall and others reinforce new forces.Recorded 10 consecutive wins at the opening. The middle district championship was decided with 5 games left[14].. In the "B2 PLAYOFFS 2018-19" finalGunmaWon consecutively at home and achieved the first B2 victory[15].
The club requested Chikuma City to set up temporary seats in Kotobuki Arena Chikuma (1 people) in order to meet the arena standards (capacity of 5,000 or more) for B3,400 promotion, but it violates the Fire Service Act. Could not be realized from.For this reason, it was decided in consultation with Nagano City and Chikuma City that the White Ring (5,791 seats) in Nagano City would be the home arena.The average number of visitors this season exceeded the promotion standard of 1,500 or more, but as of February 2019, the insolvency amounted to about 2 million yen and did not meet the financial standard, so it will remain in B3,900 the next season as well. Is confirmed[16][17], B2 club license issued[18].
2019-20 season (B2 middle district)
The second year of the Katsuhisa system. Five of the 2 players were replaced. At the end of 13 games, he took the lead in the middle district with a record of 5 wins and 15 losses.[19].. Aug. 3,Spread of new coronavirus infectionThe season will be discontinued. With a record of 40 wins and 7 losses, the second B2 middle district championship was decided for the second consecutive year.[20].. B4 license was issued in April, and B1 promotion was confirmed.[21].
2020-21 Season (B1 East Area)
The third year of the Katsuhisa system.3th out of 10 teams in the west area. Although he lost 7 wins and 20 losses, he achieved the highest number of wins for a club in the first year of B34 promotion.On the offensive side, on the other hand, the average season score was 1, finishing at the bottom of B71.9.
2021-22 season (B1 west area)
4th year of Katsuhisa system.Takuya SatoRetired from active duty and became "Shinshu Furusato Ambassador".In addition to supporting the team for five seasons since the inauguration of the B League, and a veteran who supported the team in the first year of B5 promotionRyumo Ono(→Toyama)WhenEdward Yamamoto(→B3 leagueNagasaki) Resigned in one season.on the other handReio Maeda(Shiga),Yudai Okada(Toyama),Ko Kumagai(Mikawa(Specially designated player), etc., immediately after the openingフィリピンOriginally from Japan with Japanese nationalityMatthew AquinoJoined.
Grade
B.LEAGUE
Regular season
play off
#
Season
league
地区
Ranking
Win
Defeat
Win rate
Game difference
Home
Away
Own district
Other district
score
Goal
Point difference
Synthesis
Result
Remarks
HC
ref.
Result

---

1
2016-17

B2

中
6
14
46
(.233)
37 (-)
5-23 (.179)
9-23 (.281)
5-31 (.139)
9-15 (.375)
4347
4803
.
17
Ryutaro Onodera
2
2017-18

B2

中
5
25
35
(.417)
29 (-)
11-19 (.367)
14-16 (.467)
10-20 (.333)
15-15 (.500)
4225
4227
-2
11
Ryutaro Onodera
3
2018-19

B2

中

District 1

48
12
(.800)
- (-)
25-5 (.833)
23-7 (.767)
24-6 (.800)
24-6 (.800)
4805
4181
624
1

B2 championship

Michael Katsuhisa
4
2019-20

B2

中

District 1

40
7
(.851)
- (-)
21-3 (.875)
19-4 (.826)
17-2 (.895)
23-5 (.821)
3721
2968
753
1

Promotion

Michael Katsuhisa
5
2020-21

B1

West
7
20
34
(.370)
28 (15)
12-14 (.462)
8-20 (.286)
12-18 (.400)
8-16 (.333)
3881
4051
.
14
Michael Katsuhisa

---

Game difference: Difference from 1st place (difference from PO area)

District 1

#

:Wildcard

QF

:Quarter finals

3 decisions

: 3rd place match

SF

: Semifinals

FINAL

: Final B1: 9-14th place has no PO

champion

B2 championship

Promotion

Relegation

Residual


Updated June 2021, 12
Past league games
bj league
年度
Regular season
Final result
HC
Remarks
Win
Defeat
Win rate
Game difference
score
Goal
Goal difference
Ranking
2011-12
18
34
. 346
19.0 (7.0)
76.8
81.7
.
East 8nd
16 bit
Motofumi Aoki
First year of new entry
2012-13
17
35
. 327
19.0 (9.0)
78.1
83.7
.
East 9nd
18 bit
Takatoshi Ishibashi
2013-14
33
19
. 635
9.0
77.6
74.0
+2.6
East 4nd
9 bit
Ryuji Kawai
Playoff
Participation in the first round of the district
2014-15
19
33
. 365
East 9nd
Place
2015-16
27
25
. 519
East 7nd
Place
Munakata Koju
Playoff

Participation in the first round of the district
The game difference is 1st outside () and inside ()PlayoffIt represents the difference from the category.
Players and staff
Current roaster
player
ス タ ッ フ

Head coach

Top assistant coach

---

Official Website

| | |
| --- | --- |
| | Player contract registration regulations |

---

Update day: August 2021, 12
Past players
Waribassador
Warriors ambassador is a celebrity related to Nagano prefecture who was appointed as a PR ambassador for Shinshu Brave Warriors, and is an abbreviation for "Warriors Ambassador".[22][23].
Honorary Waribassador
Past
Related item
footnote
^ a b c d Shinshu Brave Warriors, B.LEAGUE official website

2020/11/5

Browse.

^ "Notice of 2017-18 season official uniform supplier decision" (Press Release), Official Website, (December 2017, 8)

2017/9/5

Browse.

^ "New director Ryutaro Onodera, former Saitama director" (Press Release), Shinano Mainichi, (June 2016, 6)

2017/8/27

Browse.

^ "BXNUMX remains decided and there is no qualification match" (Press Release), Shinano Mainichi, (June 2017, 4)

2017/8/27

Browse.

^ "Director Onodera to continue next season" (Press Release), Shinano Mainichi, (20167-5-16)

2017/8/27

Browse.

^ "Contract with Associate Coach with Mr. Kangawa" (Press Release), Shinano Mainichi, (June 2017, 7)

2017/8/27

Browse.

^ "Contract agreement with XNUMX US players" (Press Release), Shinano Mainichi, (June 2017, 8)

2017/8/27

Browse.

^ "Renewal of contract with XNUMX players including Hiroshi Saito" (Press Release), Shinano Mainichi, (June 2017, 5)

2017/8/27

Browse.

^ "Shinshu Brave Warriors, who were injected with" Winner's Mental "by Anthony McHenry, succeeded in" B2 Hunting "for the second time in this tournament!" (Press Release), Basket Count, (June 2017, 9)

2017/9/4

Browse.

^ "BXNUMX defeats XNUMXrd place early cup again" (Press Release), Shinano Mainichi, (June 2017, 9)

2017/9/5

Browse.

^ "Opening XNUMX consecutive wins over Aomori" (Press Release), Shinano Mainichi, (June 2017, 10)

2017/10/8

Browse.

^ "BXNUMX Shinshu Brave Warriors wins the middle district" (Press Release), Shinmai Web, (April 2019, 4)

2018/4/21

Browse.

^ "Shinshu Brave Warriors win B2 for the first time! Win consecutive wins over Gunma Crane Thunders at home" (Press Release), Basketball King, (September 2019, 5)

2020/7/12

Browse.

^ "Shinshu's BXNUMX promotion disappears next season, license conditions are not met" (Press Release), Nikkan Sports Official Website, (March 2019, 3)

2019/4/21

Browse.

^ "Men's Basketball B Warriors Not Promoted to BXNUMX" (Press Release), Chunichi Shimbun Official Website, (April 2019, 4)

2019/4/21

Browse.

^ "2019-20 Season B.LEAGUE Club License 2nd Judgment Result" (Press Release), B.LEAGUE Official Website, (March 2019, 4)

2019/4/21

Browse.

^ "Shinshu makes a good start with a strong defense. (Press Release), Shinano Mainichi Shimbun, (November 2019, 11)

2020/7/12

Browse.

^ "Notice of B.LEAGUE B2 Middle District Champion Decision" (Press Release), Official Website, (December 2020, 3)

2020/7/12

Browse.

^ "Shinshu Brave Warriors, who achieved their long-cherished B1 promotion," The efforts of the team so far have been rewarded "" (press release), Basketball Count, (April 2020, 4)

^ Shuhei Shimada inaugurated as Waribassa and participated in the White Ring Game!Notice of 2017/2/3
外部 リンク