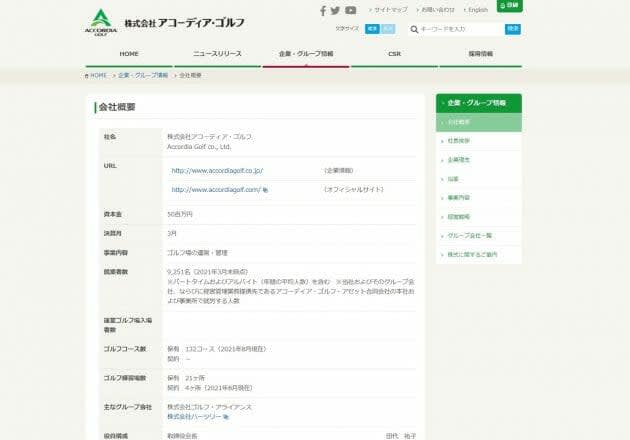 Photo from the Accordia Golf website
Accordia, the largest golf course, why is it a tool for fund money games?Continuous torture
 
If you write the contents roughly
Accordia will continue to carry the fate of being a money game card that is rolled between funds. 
Fortress Investment Group, a US investment fund under SoftBank Group (SBG), is domestic ... → Continue reading
 Business Journal
---
Wikipedia related words
If there is no explanation, there is no corresponding item on Wikipedia.

Accordia Golf
Accordia Golf Co., Ltd.(Accordia Golf Co., Ltd.) Is from all over Japanゴ ル フ 場It is a resort company whose business is to own and operate.
American in 2002Investment bank Goldman SachsBecame a subsidiary of Real Estate Investment Fund, and since thenBubble burstMembership system in various parts of Japan that has suffered from financial difficultiesGolf clubBecame a sponsor of and acquired one after another. In January 2011, it dissolved its capital tie-up with Goldman Sachs.
History
1981/May 9 --Established as Takenuma Golf Driving Range Co., Ltd. in Fujioka City, Gunma Prefecture (as the company name suggests)Driving rangeIt is said that he was in charge of business and management.
1983-Takenuma Golf Driving Range is acquired by Fujioka Development.
March 1991-Fujioka Development sells Takenuma Golf Driving Range shares to Nittou Hotel Golf Course Management Company.
December 1997-Nitto Kogyo and Nitto Life (formerly, golf course management subsidiary)Over-the-counter marketListed) in Tokyo District CourtReconciliationApplication.
January 1998-Nippon Harifu, a subsidiary that succeeded Nitto Life's main business, to the Fukui District CourtbankruptcyApplication.
February 1998-Nitto Kogyo managementResort hotel"Hotel NittoOnumaIs completely out of business (Resort mansionOnuma Lake House in the lotManagement associationSurvived by). With long-term care that converted the guest room in 2004Paid nursing home for the elderlyUntil it becomes a "wildflower"ruinsIt becomes a state.
May 1999-Reconciliation approval.
2002/1 month - Goldman Sachs OfInvestment fund"South Wind Realty Finance Cayman Company" acquires the shares of Nitto Kogyo and takes control.South Wind repaid (takes over) long-term debt in one lump sum.
2002/March --Renamed to Golf Alliance Japan Co., Ltd.
July 2002-Nitto Life applies for Civil Rehabilitation Law to Tokyo District Court
September 2003-Nitto Life merged with Golf Alliance Japan.
2005/March --Renamed to Accordia Golf Co., Ltd.Furthermore, in May, the company name will be changed to the current one ("・" (midpoint)With"Accordia Golf"Re-changed to).
2011/May 1 --433,987 of the total shares (28,000) held by GS and investment fundsTreasury stockAcquired as, and the rest with Goldman Sachs SecuritiesDaiwa Securities Capital MarketsReceived a purchase transaction and resold a part of it to overseas investors.
2012/May 5 ――The president resigned from the position of president after being pointed out about entertainment expenses in an investigation by an in-house special committee[2]..Ryusuke Kamada takes over as his successor.
2012/May 11 - PGM HoldingsBut against AccordiaHostile TOBStart.On the other hand, President Ryusuke KamadaMay 12Announced that it will pay 90% of net income[3].
2013/May 1 - RenoPGM's hostile takeover bid fails as it acquires more than 20% of Accordia's stake with affiliates[4][5].
2013/May 9 - Golf digest onlineCanceled the business alliance with.
2014/May 8 ――According to the implementation of Asset Lite by Business Trust, all shares of consolidated subsidiaries Accordia AH11, Accordia AH12 and Accordia AH03 were invested in kind by an anonymous partnership in Accordia Golf Asset LLC, and the equity interest in the anonymous partnership Transferred.Acquired a unit of Accordia Golf Trust, a corporation in Singapore.
September 2016, 9-Transferred all shares of Chitose Country Club to Biosystem.
2016/May 10 -Head officeShibuya Cross TowerからShinagawa Seaside Park TowerMoved to.
2017/May 1 --MBK P Resort Co., Ltd., a subsidiary of MBK Partners, conducted a takeover bid and acquired 89.18% of the shares to become the parent company.[6].
2017/May 3 --Delisted from the First Section of the Tokyo Stock Exchange.
2017/May 3 - Stock consolidationBecame a wholly owned subsidiary of MBKP Resort Co., Ltd.[7].
Overview
As of September 2015, it operates 9 golf courses and 137 driving ranges nationwide.
From 2006JLPGA Tour"Accordia Golf LadiesHeld.
Tournament held at Accordia Golf courses

Men's Tour (JGTOTours)
Women's Tour (JLPGA Tour)
Scandals/cases
July 2013, 7 Autonomous driving cart goes out of control at Otsuki Golf Garden 7th hole in Yamanashi prefecture. Four were seriously and slightly injured, one of whom was transported by a doctor helicopter.
Related item
footnote
^ Accordia Golf, President Takeo resigns Yomiuri Shimbun May 2012, 5
^ Countering hostile takeovers with a 9% dividend! Golf course giant Accordia defends against abandonment-Interview with Ryusuke Kamada, President of Accordia,Diamond Online,Year 2012May 12
^ "Shinsei Murakami Fund Its Ambition and Insider-How will Mr. Murakami come out in the future?"Weekly Toyo Keizai2013/May 2issue
^ "Accordia acquisition offense and defense, PGM "valve of defeat" -TOB blocked Reno's participation, Toyo Keizai ONLINE, 2013May 1
^ Notice regarding the result of the tender offer for the Company's share certificates by MBKP Resort Co., Ltd. and the change of the parent company and the largest shareholder
外部 リンク