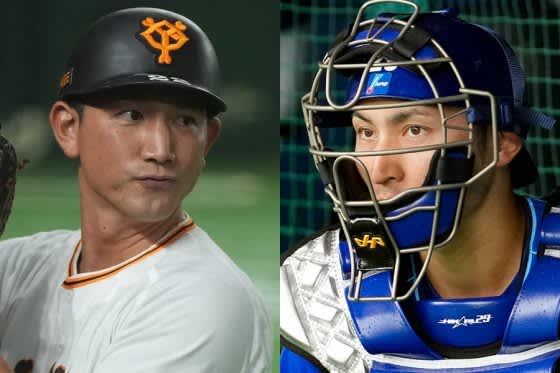 Photo Giants Seiji Kobayashi (left) and DeNA Hikaru Itoh [Photo: Yuji Arakawa]
"Good-looking best nine" selected by fans The first place in the catcher category is the majority of "overwhelming support"
 
If you write the contents roughly
In addition, there were voices pushing for Masato Matsui and Torai Fushimi of Orix and Takuya Kai of Softbank. 
Good-looking best nine / catcher section ... After all, "only Koba won" became a longing for children and made the hearts of fans dance ... → Continue reading
 Full-Count
---
Wikipedia related words
If there is no explanation, there is no corresponding item on Wikipedia.

Toshio Fushimi
Torai Fushimi(Fushimi Torai,1990/May 5 -) isHokkaidoChitoseFromProfessional baseball player(catcher). Right-handed and right-handed.Orix BuffaloesBelongs.
Career
Before entering professional
I started playing baseball in the third grade of elementary school.Junior high school belongs to Sapporo Shiraishi senior, and at that time became a directorcatcherIs ordered.
Tokai University Fourth High SchoolThen, won the all-road tournament in spring, and the best 4 in summer[2].. After graduationTokai UniversityGo to school.
At Tokai University, he became a regular catcher from the fall of 1st year, and is one grade higher.Tomoyuki KannoAnd battery[3]In the second year, he also became the 2th batter.2010/Made in5th World University Baseball ChampionshipThen.Representation from JapanElected to.79 games in total, 287 hits 90 hits, 6 home runs, 52 RBIs, batting average .314, MVP, best nine 2 times each, top hitter 1 time[4].
2012/Made on August 10Draft meetingReceived 3rd place nomination from Orix Buffaloes at. He said he had a dream to be nominated by Orix in October, and at the press conference he said, "It really became a true dream."[5].. On November 11, we agreed to join the group with a contract fee of 18 million yen and an annual salary of 6000 million yen (estimated amount).[6].
Orix era
2013/Was given the opportunity to start a mask and recorded his first home run with a professional.
2014/Stayed in 7 games.
2015/Participated in 20 games and recorded a batting average of .273.
2016/ TheFirst baseman,third basemanHowever, he recorded a batting average of .17 in 242 games, which was lower than the previous year.
2017/Welcomes the opening with one army. On April 4thYamazaki KatsumiBecause the second army was dropped due to the replacement with, he stayed in four games.
2018/Also secured the opening army.at first,Kenya Wakatsuki・ The third catcher after Katsuki YamazakiHittingAccompany the army as personnel[7].. April 6Yomiuri GiantsBattle (Kyocera Dome Osaka), He participated in the 12th inning as a substitute hitter, and released a goodbye hit to stop the consecutive defeat of the giant game at Kyocera Dome with 9.[8].. After late JuneT-Okada,Eiichi Oyano,Hiroyuki NakajimaIn addition to the successive withdrawal of fielders who can protect the first base, he was expected as a center pole batter.Stephen Romero,Chris MareroDue to the sluggishness of both foreigners, Fushimi was started as the first baseman after mid-July, and he was mainly the fifth batter.Off, renewed his contract with an estimated annual salary of 7 million yen, an increase of 5 million yen[9].
2019/Is April 6Yomiuri GiantsHe was taken to the hospital with a pain in his left ankle when he struck out in nine at-bats in the war (Tokyo Dome).[10]..Examination at the hospital revealed a ruptured Achilles tendon on the left foot[11], Was deregistered on June 6th. Although he underwent suture surgery on June 19, bacteria entered and re-surgery was performed in September.[12]..The contract was renewed with an estimated annual salary of 11 million yen, which is a reduction of 30 million yen, which is the full reduction limit on November 550th.[13].
2020/, Recovered from the serious injury of Achilles tendon rupture in the previous year and entered the opening army.Mainly used as a pinch hitter trump card,Sachiya YamasakiHe is wearing a starting lineup mask in the starting lineup. In the match against Lotte on August 8, Yamazaki led Yamazaki to a good throw with no runs in the 6th inning, and he himself contributed to the victory by hitting 6 points in a timely manner, which is an additional point in the bottom of the 5th inning, and the two of them went up to the stand.[14]..Off, renewed contract with estimated annual salary of 1000 million yen, an increase of 2650 million yen[15].
2021/Has increased the number of appearances from the previous year and participated in 91 games of the top catcher of the team.He recorded a stealing prevention rate of .2, which was second in the league.Off, renewed his contract with an estimated annual salary of 415 million yen, an increase of 1850 million yen[16].
Characteristic/person as a player
A smashing catcher that has punching power and can hit wide angles[17]..It also has the dexterity to respond flexibly to busters and hit-and-runs, and is praised by scouts for its calmness that allows it to observe and lead the batter and its quick footwork.[18].
Nickname is "TRY'[19].
At ORIX, the teamMood makersIs[20], On the bench, he raised a loud voice and greeted the players returning from the defense first, raising morale.[3]..Also, even during practice, I talk to each other regardless of seniors or juniors to communicate.[3]..Regarding the voice on the bench, "Because I am older, it is easy to say" Speak out "to young people, but I think that I must be a player who can act on my own. If you think, "I myself, too."[20].
Orix's colleagueYoshinobu YamamotoAsked, "Who is the spiritual pillar of the team?" And named Fushimi.[3].
Father isNational conventionBecause he was a rugby player who has participated inrugby OfTryIt was named "Toraui" after all.[17].
Detailed information
Hit results by year
At the end of the 2021 season
Defensive results by year
Years
Every time
ball
Group
catcher
First base
Third base
Trial

Together
thorn

Kill
Supplement

Kill
Lost

Policy
Both

Kill
Shou
備
率
Catching

Miss
Enterprise
図
Quantity
Huh
Pirate
base
Pirate
base
thorn
Hindrance
only
率
Trial

Together
thorn

Kill
Supplement

Kill
Lost

Policy
Both

Kill
Shou
備
率
Trial

Together
thorn

Kill
Supplement

Kill
Lost

Policy
Both

Kill
Shou
備
率
2013
Oryx
17
67
9
0
0
1.000
0
16
12
4
. 250
-
-
2014
2
3
0
0
0
1.000
0
0
0
0
----
1
0
0
0
0
----
-
2015
15
44
7
0
1
1.000
1
9
5
4
. 444
1
1
1
0
0
1.000
1
0
0
0
0
----
2016
3
4
0
0
0
1.000
0
0
0
0
----
6
33
4
0
1
1.000
4
1
4
1
0
. 833
2017
2
2
0
0
0
1.000
0
0
0
0
----
-
-
2018
29
63
8
0
0
1.000
1
9
6
3
. 333
39
324
23
3
25
. 991
-
2019
30
75
13
1
1
. 989
0
15
10
5
. 333
-
-
2020
48
331
32
4
2
. 989
1
27
19
8
. 296
1
2
0
0
0
1.000
-
2021
86
526
57
4
6
. 993
0
41
24
17
. 415
-
-
total
232
1115
126
18
10
. 986
3
117
76
41
. 350
48
360
28
3
26
. 992
5
1
4
1
0
. 883
At the end of the 2021 season
Recognition
Record
Other records
Uniform number
Appearance song
footnote
Related item
外部 リンク