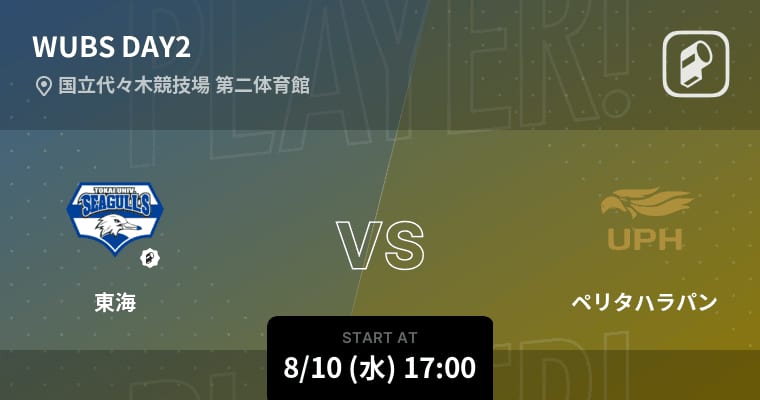 Photo Basketball Match Summary
[WUBSDAY2] Starting soon!Tokai vs Perita Harapan
 
If you write the contents roughly
After this, from 8:10 on August 17th, WUBS DAY00 Tokai University (Men) vs Pelita Harapan University (Men) will be held at Yoyogi National Stadium 2nd Gymnasium.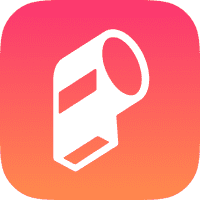 Player!
Sports entertainment application "Player!". We will deliver the latest news, breaking news, schedules, results, etc. of a wide range of sports from soccer, baseball to horse racing to athletics faster than anywhere else.
---
Wikipedia related words
If there is no explanation, there is no corresponding item on Wikipedia.

National Yoyogi Stadium(Kokuritsuyogikyogijo) isTokyoShibuyaIt is a sports facility in.First integrated gym,Second gymnasium, indoor pool, etc.As a common name, 'Yoyogi ○○ (first, second) gymnasium' is also used.
Overview
1964(Showa39 years)Tokyo OlympicsThe Yoyogi National Stadium, which was built in preparation for the event, was used as a sub-venue for the tournament, and will be the main arena, the first gymnasium (main building, or the "Yoyogi Olympics".PoolAlso called)Swimming competitionHowever, in the second gymnasium (annex)Basketball competitionWas opened.Also,2021(Reiwa3 years)2020 Tokyo OlympicsThen.handballof,2020 Tokyo ParalympicsThen.badmintonとWheelchair rugbyIt became the competition venue of.
By the way, in addition to this stadium, there is another national crown.National StadiumTogether,2021Will be held in2020 Tokyo Olympics-ParalympicBut it was used as a venue.
The 2021st Gymnasium and the XNUMXnd Gymnasium will be opened in XNUMXImportant cultural propertySpecified in[1].
Building structure
The design of the gymnasiumKenzo TangeIt is famous as a representative work of Tange.Both the XNUMXst and XNUMXnd gymnasiumssuspension bridgeThe entire roof is hung from two main pillars in the first gymnasium and one main pillar in the second gymnasium.It is a building with an unusual structure that does not have pillars inside, designed to concentrate the audience on the competition.It also stabilizes the ceiling of the suspended structure andtyphoonSo that problems do not occur even in the event of a disaster such asHydraulic damper(Seismic controlA structure that suppresses the vibration of the roof with a damper) is adopted, but the building that adopted a hydraulic damper for the purpose of vibration controlJapan's firstBecame[2][3].
Occupied US military facilities at the construction siteWashington HeightsDue to difficulties in return negotiations with the U.S. military, construction work started the year before the Olympics.19632Was late.As a result, the completion was delayed until just 39 days before the opening of the Tokyo Olympics.19647After that, construction proceeded 24 hours a day, day and night, and it was just a rush work.[4].
It is said that the leader of the American swimming team offered to bury his bones at the base of the diving platform in the future at the time of the Tokyo Olympics.After the warIt is highly regarded as a famous building that represents Japan.Also, thanks to the achievements of designing this gymnasium,International Olympic CommitteeThe (IOC), along with the Tokyo Metropolitan Government and the Japan Olympic Organizing Committee, commends Kenzo Tange as a special meritorious person. IOCAvery brandageAt the award ceremony, the chairman praised Tange's architecture as follows. "Sports have inspired architects, while many world records have been set in this stadium, so it can be said that this work has inspired the players. Fortunately, this stadium. It will be clearly engraved in the memories of those who were able to participate in the competition and those who loved the beauty that they were able to watch. "
In 1999, as "National Indoor Stadium"20 Modern Japanese Architectures (Selected by DOCOMOMO JAPAN) Modern Movement Architecture in Japan)Selected as
After that, it became a building materialasbestosWas included,2006Complete asbestos removal work was carried out from August. From August 82007The second gymnasium was closed in March, and the first gymnasium was closed for eight months from January 3.The main events during this period were other venues in the Kanto area.[5]Was changed to.
2010-From 2011, the entire large roof was repainted (first after completion in 1964) at the XNUMXst and XNUMXnd gymnasiums.[6].
2016On April 4, the Japan Sports Promotion Center (JSC) announced that it would be unable to use the first and second gymnasiums and indoor swimming pools during the first seismic retrofitting work from 20 to 2017.The construction period is scheduled to be 2019 months, and "I would like to make it in time for the pre-convention (the year before the 22 Olympics)."[7].. Construction was completed in November 2019 and use resumed.During this time, the B League "Arbulk TokyoIs provisionallyArena Tachikawa TachihiWas mainly used.
First integrated gym
As of 2022, mainlyvolleyball-Futsal-handballIt is used as a gymnasium.Also held every yearCheerleading Japan ChampionshipThe venue also uses this first gymnasium.High occupancy rate, used for 2015 days in 329[8]..As mentioned above, the space in the arena is wide and flower paths and flashy productions are possible.concertAnd live events,K-1 WORLD MAX andWar poleSuch asFighting sportsIt is also widely used as an event hall for tournaments and other events.
In winter, we can handle events other than swimming.ice skateIt is designed to be used as a gymnasium by pasting a wooden panel on the pool in spring and autumn.however,19938ToTokyo Tatsumi International Swimming PoolIt has not been used as a swimming facility since it was completed, and it was used as a swimming pool in the summer and operated as an ice rink in 1997, respectively.2005Finally finished[9], The remaining diving platform was also removed in April 2002[10]..However, in consideration of the influence on the suspended roof structure, the skeleton of the pool is left, and the pool is simply covered with a steel frame.
The adjacent sub-pool "Indoor 50" still exists as a pool and is rented exclusively for groups.[11].
It is a past work of Tange, as it was considered to be used for purposes other than sports from the design stage (1953Completion,Architectural Institute of Japan AwardThe design as a multi-purpose hall based on the experience of (award) etc. is included, and a certain consideration is given to the sound.[3]. for that reason1983ToCHAGE and ASKASince it was first used as a concert venue, it has also been used more often as a concert venue.However, considering the sound, the facility was built.the 1960sSince it is the technical level of the first half, it can not be said that it is good by modern standards.[12].
The most performing artists in the concert as of 2021 areV6102 times (including non-audience performances)[13].
Second gymnasium
basketballIt is used as a central facility of.The audience seats are shaped like a mortar andwrestlingIt is also used as a venue.
Futsal court
An outdoor futsal court adjacent to the first gymnasium. Pre-opened in January 2012, opened in April.
Equipment outline[16]

Outdoor futsal court: 4 sides

Long pileArtificial grass: 3 sides (38 m x 19 m)
Short pile artificial turf: 1 side (38 m x 19 m)

With night game equipment
広 場
There are three plazas on the stadium grounds, which are used for various events.
Olympic plaza

A plaza to the west of the XNUMXst Gymnasium and to the north of the XNUMXnd Gymnasium.Yoyogi parkIs adjacent to.In recent yearsCirque du SoleilOften used during performances in Tokyo, in which caseHarajuku Big Top[17]Is used.

Shibuya Plaza

South side of the second gymnasium,Shibuya StationA square facing the direction.Shibuya Park StreetTo face.

Harajuku Plaza

A plaza in front of the entrance on the Harajuku side of the XNUMXst Gymnasium.1993から2002Until,ChristmasIn the seasonDREAMS COME TRUEIs titled "WINTER FANTASIA" and is huge in the same areaChristmas treeWas installed.
Main events held
First integrated gym
National high school volleyball selection championship(1st round-The quarter-final will be held in 3 courts, but after the semi-final, it will be held on the same center court as the V League and international competitions)
World Cup-World championshipInternational volleyball games, etc.
Emperor's Cup / Empress's Cup All Japan Basketball Championship(After the quarterfinals, until the beginning of 2017)
B.LEAGUE 2016-17 season opener, final,All star games,Arbulk TokyoHome game.
handballBeijing Olympics Asian qualifying rematch.Japan vs South Korea(2008 1 年 月 日 30)
Professional boxingWorld championship match

K-1Entertainment
HERO'SEntertainment
K-1 WORLD MAX box office
Pro Wrestling NoahEntertainment
F LeagueCentral box office
NHL Opening RoundAnaheim Mighty Ducks vsVancouver Canucks(December 1997, 10th, 4)
68th National Sports FestivalFigure skating competition
Chage & Aska Concert Tour "Invitation to the 21st Century Part 1" (September 1983, 9) -Music EventEclipsePerformance.
Kyosuke Himuro TOUR 1993 "L'EGOISTE"(May 1993, 5 and 9, 10),TOUR 2003 "HIGHER THAN HEAVEN"(December 2003th and 12th, 24),TOUR 2004 "SOUL STANDING BY ~"(December 2004th and 11th, 22),SPECIAL GIGS THE BORDERLESS FROM BOØWY TO HIMURO(2012 12 年 月 日 20)
B'z LIVE-GYM '93 "RUN", B'z LIVE-GYM '94 "THE 9TH BLUES" -PART 2-, B'z LIVE-GYM '96 "Spirit LOOSE" (B'z)
FNS Song Summer Festival(Fuji Television Network, Inc, 2012-2015)
All-Star Red and White Athletic Meet(Fuji TV) -Held from the 21st (1983) to the 23rd (1985), the final tournament.
Theatrical company Yume no Yuyusha"White Night Woman Knight"" "" "" Trilogy performance (June 3, 1986)
New Year All-Star Athletic Meet(TBS)-The 16th (1987), which was the final tournament, was held.
Ayumi Hamasaki Countdown Live Concert Tour (2001-2016/2019-)
BUMP OF CHICKEN run rubbit run(2006年3月4日・5日)GOLD GLIDER TOUR(2012年7月3日・4日・7日・8日)
TEPCO / TEPCO HoldingsGeneral Meeting of Shareholders (2012/2013/2016)
Little Glee Monster 5th Celebration Tour 2019 ~ MONSTER GROOVE PARTY ~(November 2019st, 11nd and 1rd, 2)-The opening performance after the renovation work.
Nogizaka46 3rd and 4th generation live[18](December 2019, 11th, 26)
Year of the reunificationSDF Music Festival
THE ALFEE THE ALFEE 45th Anniversary Best Hit Alfee Final 2019 Winter Ran Battle Starship Alfee III[19][Note 4](February 2019, 12, March 25st, 12)
ONE OK ROCK 2019 – 2020 Eye of the Storm JAPAN TOUR (January 2020th and 1th, 29)
Keyakizaka46 THE LAST LIVE(October 2020th and 10th, 12) -No audience, delivery only
V6 for the 25th anniversary(2020 11 年 月 日 1)
Kumi Kouda 20th Anniversary Live (December 2020th and 12th, 5)
15TH ANNIVERSARY LIVE KAT-TUN[20](2021 3 年 月 日 22)
Sakurazaka46 Risa WatanabeGraduation Concert (May 2022-5, 21)*Ozaki YutakaLast teen age apperance.
Second gymnasium
Futsal court
Blind soccer

World Championships (2014)
Asian Wrestling Championships (2015)
The entire stadium
Access
location information
Related item
footnote
注 釈
Source
外部 リンク
This article is also available in the following categories