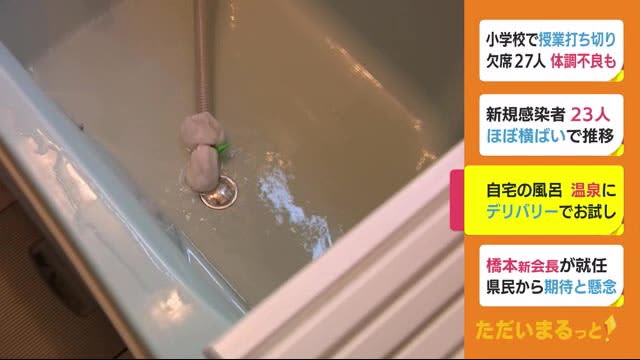 写真 
Enjoy "hot springs" at home Delivering XNUMX liters Shizuoka / Matsuzaki Town
 
If you write the contents roughly
Matsuzaki Town wants to increase the number of subscribers and lead to the effective use of hot springs, which are a local resource. 
Deliver hot spring water.Matsuzaki Town, Shizuoka Prefecture, supplies XNUMX town-run hot springs for business use and XNUMX for private use. → Continue reading
 TV Shizuoka
"TV Shizuoka" (Fuji TV affiliate) news account. We will send you the latest news from Shizuoka prefecture.
---
Wikipedia related words
If there is no explanation, there is no corresponding item on Wikipedia.
Regional resources
Regional resourcesIn addition to natural resources, (chiikishigen) is a characteristic thing that exists in a specific area.resourceIt is a general term in a broad sense that includes human and human resources as a thing that can be used as a product.
In recent years, the local boom,Town revitalization,Regional brandsRepresented byRegional activationIn this attempt, the idea of ​​defining and utilizing the characteristics and materials as local resources is widespread.
2007Of AprilLaw on promotion of business activities by SMEs utilizing local industrial resources(Abbreviation: SME Regional Resource Utilization Promotion Law)PrefecturesLists and certifies local resources from the three types of agriculture, forestry and fishery products, mining and manufacturing products and their production technology, and tourism resources. thislawIs to certify the business plans of small and medium-sized enterprises that utilize local resources, and to foster local brands with support.
Related item
Matsuzaki Town
Matsuzaki Town(Matsuzakicho) isShizuokaKamo-gunIt is intown.Izu PeninsulaLocated along the southwestern coast.Of the townTaglineIs "Flower and Romance Village".Although 64% of the town is forest, the Naka and Iwashina rivers that flow through the center of the town make it the largest plain on the west side of the Izu Peninsula, which has about 500 ha of cultivated land in the basin.
There are many historic sites in the townSea cucumber wallThe built-in building is particularly impressive.Also,SpaThere is also in the centerMatsuzaki Onsen, EasternOsawa Onsen, Southwest (Iwachi Onsen, Ishibu Onsen,Unmi Onsen) Etc., many tourists visit, including summer bathing.
Sakura mochiUsed forPickled cherry leavesAbout 7% of the whole country is produced in Matsuzaki Town.
Geography
Mountains: Mt. Chokurouyama (996m), Basarayama (608m)
Rivers: Naka River, Iwashina River
Lakes: None
History
MeijiAs of the first year, the following 21 villages exist in the current town area.mainlyFlag territoryとKakegawa DomainIt consisted of territories.

Naga-gun : Ena Village, Sakurada Village, Ikeshiro Village, Osawa Village, Funada Village, Minowa Village, Naka Village, Kenkyu Temple Village, Yoshida Village, Kadono Village
Kamo-gun: Matsuzaki Village, Miyauchi Village, Shikura Village, Nango Village, Akebushi Village, Kosugihara Village, Iwashina Village, Kumomi Village, Ishibe Village, Iwashina Village, Michibu Village

March 1882, 15 (Meiji 1)- Benzyo Yoda, For the purpose of developing Tokachi, HokkaidoYodaOrganize. July, Mamekai Steamship Company,Sanihei YodaOpened by.The Mamekai Maru service that connects Nishiizu and Tokyo.
March 1883, 16 (Meiji 3)- YodaOf the 1st ImmigrantsBenzyo Yoda27 people left Osawa Village.
1887 (Meiji 20)-, established the Shunzu Steamship Company (later merged with Izuura Kisen, renamed the Soshu Steamship Company).
March 1889, 22 (Meiji 4)- Municipal systemThe following 3 villages were established by the enforcement of

Naga-gunNakagawa Village ← Ikeshiro Village, Osawa Village, Funada Village, Minewa Village, Naga Village, Kenkyu Temple Village, Yoshida Village, Kadono Village and Nango Village, Kamo District, Akebushi Village, Kosugihara Village
Kamo-gunMatsuzaki Village ← Matsuzaki Village, Miyauchi Village, Shikura Village and Naka Village Ena Village, Sakurada Village
Kamo-gunIwashina Village ← Iwashina Village, Kumomi Village, Ishibe Village, Iwachi Village, Michibe Village

June 1891, 24 (Meiji 6) --Nakanogo VillageNakagawaRenamed to.
March 1896, 29 (Meiji 4)- County systemThe county to which Nakagawa Village belongs was changed to Kamo District due to the enforcement of.
March 1901, 34 (Meiji 3) --Matsuzaki Village enforces the town systemMatsuzaki TownBecomes
1909 (Meiji 42)-Established in Matsuzaki Town, Matsumaru goes into service between Matsuzaki and Numazu.
May 1929, 4 (Showa 5)-The Matsuzaki Mayu market, which was the national standard market, closed.
On November 1932, 7 (Showa 11), the Hamamachi Bridge was replaced with reinforced concrete and the opening ceremony was held.
March 1955, 30-Merged with Nakagawa Village and renewedMatsuzaki TownWas launched.
June 1956, 31-Iwashina Village was incorporated.
September 2013, 25- "The Most Beautiful Villages in Japan" UnionMembership in is authorized.
population
Administration
Matsuzaki Town Hall
Mayor
Seiichi Nagashima (December 2017, 12-, 14st term)
Vice mayor
- Absent as of the end of August XNUMXnd year of Reiwa
Mascot character
Scandal
Abuse by staff "Mendokuse" and neglect of duties
2019 years(ReiwaIn September 9, the staff ranted "Mendokusei" to the townspeople who applied for the subsidy to single-parent households without transferring about 27 yen from 22 households to each household. (Reiwa 2020nd year) Discovered on February 2, the mayor Seiichi Nagashima has one for every household applying.apologyI ended up appearing in[1].
Mayor's power harassment problem
"Power harassment remarks to the mayor's staff" are often taken up in general questions of the parliament, but the mayor says that there is no power harassment.This statement is suspicious, and in fact, as of August 2020, the number of employees on leave is three, which is by far the highest number compared to other cities and towns in Izu.There are pros and cons to the forcible political method of the mayor from the private sector, and the qualities of the mayor are questioned, such as the implementation of policies that ignore the parliament and the rants against the members who disagree with it.[2]
Deputy Mayor Absence Problem
After taking office as Mayor Nagashima, the deputy mayor was not appointed for nearly two and a half years, and during that time, a "general manager" was appointed to supervise the operations within the agency across sections. (In Article 161, Paragraph XNUMX of the Local Autonomy Law, a deputy mayor is to be appointed in the town. It may not be appointed by the ordinance, but as of the end of August XNUMXnd year of Reiwa, there is no ordinance that does not have a deputy mayor. It is maintenance, and this is a violation of the Local Autonomy Law)
The general question of the parliament often asked about "appointment of deputy mayor", but the mayor said that he was "selecting the right person" each time.At the extraordinary assembly in May XNUMXnd year of Reiwa, the case of deputy mayor "appointing a former general manager as deputy mayor" was submitted, but it was rejected.[1]
Concern
We are planning to develop the Iwashina Clinic on the site of the former Iwashina Kindergarten in anticipation of a future shortage of doctors, but the mayor's political method of rushing the plan[2], There are some parts that have not reached consensus with the town council, such as the planned location being located in the flooded area on the hazard map.[3] As a result, the town authorities have announced a one-year postponement in order to prioritize the economic measures of the corona wreck.[4]
Prefecture agency
地区
中(Nakagawa) District-OldNakagawa

Naka-formerly Naka Village
Kenkyu Temple --Former Kenkyu Temple Village
Yoshida-Former Yoshida Village
Funata-Former Funada Village
Kadono-Former Kadono Village
Minewa-Former Minowa Village
Osawa-Former Osawa Village
Ikeshiro-Former Ikeshiro Village
Nango-Former Nango Village
Akebushi-Former Akebushi Village
Kosugihara-Former Kosugihara Village
Matsuzaki(Matsuzaki) District-Former Matsuzaki Town

Ena-Former Ena Village
Sakurada-formerly Sakurada Village
Matsuzaki-Former Matsuzaki Village
Miyauchi-Former Miyauchi Village
Shikura-Former Shikura Village
Iwashina(Iwashina) District-OldIwashina Village(Broad sense)

Michibu-Old Michibu Village
Iwashina-Former Iwashina Village (narrow sense)

North side of Iwashinahoku (Iwashinahokusoku)
South side of Iwashina (Iwashinanansoku)

Miura (Sanpo)

Iwachi-Former Iwachi Village
Ishibe-Former Ishibe Village
Kumomi-Former Kumomi Village
Merger talks
Since 2000, we have been discussing mergers with neighboring municipalities or neighboring municipalities, but this has not been realized.
Sister cities/partner cities
Japan
Other
Participates in local governments and regional federations that create beautiful villages, utilize logo marks, supporter membership systems, hold events, and carry out public relations activities.
Economy
Tourism (hot springs), forestry, fishing, and commerce are thriving in Matsuzaki Town.
Agriculture and forestry
Fishery:
Matsuzaki fishing port
Iwachi fishing port
Ishibe fishing port
Kumomi fishing port
Education
high school
Junior high school
primary school
Existing elementary school
Closed elementary school
Matsuzaki Municipal Nakagawa Elementary School (closed in March 2010. Integrated into Matsuzaki Elementary School)
Matsuzaki Municipal Iwashina Elementary School (closed in March 2007, integrated into Matsuzaki Elementary School)
Matsuzaki Municipal Miura Elementary School (closed in March 2007, integrated into Matsuzaki Elementary School)
Other educational facilities
Transportation
There is no railroad in the town.The nearest station when using the train isIzu Hakone RailwaySuzu LineShuzenji StationOrIzukyuIzukyu LineIzukyu Shimoda Station.
bus
道路
General national road
Main local road
General prefectural road
Ship
Matsuzaki Port --Currently, no regular passenger routes have been opened.Numazu PortThere was a regular passenger ship from, but it was abolished in 2003.
Sights/historic sites/tourist spots
Historic site
Chohachi Memorial Hall
Iwashina School -Important cultural property.
Nakase House
Tokiwa Ohashi
Inashimo Shrine
Spa
Foot bath
One-day hot springs
Open-air bath mountain house
D'Azur Rocks (May-October, Iwachi Beach)
Heiroku Jizo Open-air Bath (May-October, Ishibu Beach)
Akaihama open-air bath (May-October, Kumomi Shore) * Suspended from September 5, 10, no plans to resume business[3]
Beach
Matsuzaki beach
Iwachi beach
Ishibu beach
Kumomi beach
scuba diving
Aquatic
I dive
Duke Diving Service (DDS)
Diving service Hamayu
Collins
camp site
Izu Matsuzaki Asobi Island
Unmi Sunset and Shiosai no Misaki Auto Camping Ground
Kumomi Auto Camping Ground
Auto campsite Hanazawa
Tourist facility
Festivals and events
Filming movies and TV
literature
Famous people
Edo PeriodBorn of
Meijibirth
Taishobirth
Rentaro Mikuni --January 1923, 12 (Taisho 1),GunmaOta Town (currentlyOta CityBorn in Ota area).Raised in Matsuzaki Town, Kamo District, Shizuoka Prefecture.An actor.. [

Transfer

] * When I was 7 months old, I moved to Matsuzaki, my father's hometown.
Showabirth
footnote
外部 リンク