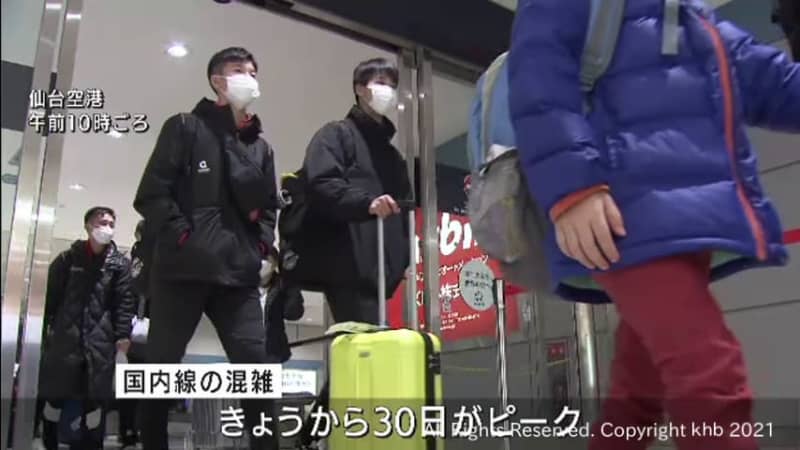 写真 
For homecoming and travel, the peak congestion at Sendai Airport
 
If you write the contents roughly
A person returning from Osaka to Iwate "I wasn't able to go home because I was just on holiday, so I wonder if there is only this timing (the infection situation has settled down)."
U-turn congestion is expected to peak on the 2nd and 3rd of next month, and security checkpoints are expected to be congested both in the morning and afternoon, so Sendai Airport is calling for action with plenty of time. 
Sendai Airport has reached its peak of congestion since the 28th, with people spending the year-end and New Year holidays at Furusato and travel destinations.At Sendai Airport ... → Continue reading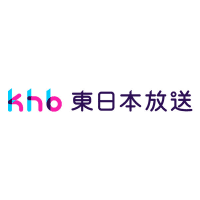 khb East Japan Broadcasting
This is a news account of "Higashinippon Broadcasting" (TV Asahi series) in Miyagi prefecture.
Under the theme of "Getting to know Miyagi's" I want to know "as soon as possible!", We will deliver the events of Miyagi and the interests of the citizens of the prefecture in an easy-to-understand manner.
khb Higashinippon Broadcasting is looking for incidents, accidents, happening videos, etc. as "everyone is a photographer".
---
Wikipedia related words
If there is no explanation, there is no corresponding item on Wikipedia.

Sendai Airport
Sendai Airport(Sendai Ikukou) isMiyagiNatori CityとIwanuma CityLocated acrossTohoku regionthe onlyCountry controlled airport(Former Type XNUMX (A) Airport)[Note 1].2016/May 7Operated bySendai International Airport Co., Ltd.Transferred (privatized) to[2].Airport terminal buildingIs in Natori CityRunwayExtends to Iwanuma City.Nickname isSendai International Airport[Note 2].
Overview
Close to the coast of central and southern Miyagi prefecture,Sendai city OfJRSendai StationLocated about 14km south-southeast ofAirport connecting trainIsSendai Airport Access LineIt is tied with.Vast during takeoff and landingThe Pacific OceanとSendai TaiwanThe sandy beach that continues alongSand protection forestPine forest, flowing north and southTeiyama CanalAndOu MountainsEmbraced bySendai PlainAnd the buildings in the city are under a panoramic view.
RunwayThere are two runways, the 1,200-meter runway A, which has been in operation since its opening, and the 3,000-meter runway B, which was later expanded and extended, and intersects the "y" shape.Basically, Runway ACessnaSmall aircraft such as, Runway BPassenger planeUsed by medium-sized and large-sized machines such asAviation CollegeFor training, small machines such asInstrument landing gearUse Runway B, which can be used by (ILS).Public use at many airports in other prefectureshelicopterCan also be seen,Miyagi Prefectural PoliceThe helicopter is located in Kasuminome, Wakabayashi-ku, SendaiJapan Ground Self-Defense ForceKasume AirfieldTo use.
CurrentTerminal buildingWas put into service in the entire building in July 1997, but it was constructed.Heart building methodStipulated inBarrier-freeIt met the standards and became the first airport facility in Japan to be certified by the law in December 1995.[3]..Enacted after completionTraffic barrier-free lawIt was maintained to match[3][4].
In addition, the walls of the departure lobby and waiting room will be entirely covered with glass to reduce the use of lighting.Resource savingThe point that is given[4] There are also features such as the roof having three wavy shapes.The observation deck has a rooftop "Smile Terrace" (initially 3 yen for junior high school students and above, free of charge when privatized) and an indoor 100rd floor (free of charge).The atrium where escalators gather in the central part of the terminal building is called "Plaza", and when the fountain in the center is drained, it changes to a stage with lighting function, and events can be held. There is an airport museum "Tobucha" on the 3rd floor,Airbus A300-600RMolded cockpit (actual)Boeing 747Business sheets etc. are on display.
statistics
Number of users
Original wikidata queryPlease refer to.
Number of passengers by year[5][6]
年度
Number of passengers (people)
Domestic flights
International flights
Total
1978/
1,059,056
0
1,059,056
1979/
1,298,850
10,832
1,309,682
1980/
1,405,083
17,595
1,422,678
1981/
1,522,252
11,881
1,534,133
1982/
1,311,619
7,140
1,318,759
1983/
1,126,937
2,792
1,129,729
1984/
1,212,063
3,966
1,216,029
1985/
1,050,480
2,924
1,053,404
1986/
1,033,847
3,105
1,036,952
1987/
1,137,747
5,306
1,143,053
1988/
1,157,007
6,711
1,163,718
1989/
1,339,803
11,166
1,350,969
1990/
1,528,234
89,033
1,617,267
1991/
1,632,235
180,445
1,812,680
1992/
1,764,229
232,410
1,996,639
1993/
1,935,526
279,455
2,214,981
1994/
2,140,887
336,099
2,476,986
1995/
2,407,132
407,907
2,815,039
1996/
2,628,534
442,452
3,070,986
1997/
2,803,163
417,806
3,220,969
1998/
2,836,773
401,982
3,238,755
1999/
2,964,603
420,032
3,384,635
2000/
2,774,526
471,699
3,246,225
2001/
2,853,545
392,043
3,245,588
2002/
2,857,099
395,479
3,252,578
2003/
2,892,773
251,103
3,143,876
2004/
2,916,016
307,151
3,223,167
2005/
2,955,977
288,515
3,244,492
2006/
3,047,955
339,508
3,387,463
2007/
2,973,505
349,621
3,323,126
2008/
2,686,360
260,705
2,947,065
2009/
2,552,515
246,385
2,798,900
2010/
2,363,415
258,872
2,622,287
2011/
1,776,717
69,246
1,845,963
2012/
2,513,227
186,421
2,699,648
2013/
2,989,413
175,202
3,164,615
2014/
3,072,541
167,029
3,239,570
2015/
2,954,079
160,169
3,114,248
2016/
2,937,046
225,551
3,162,597
2017/
3,158,572
280,667
3,439,239
2018/
3,301,361
311,377
3,612,738
2019/
3,339,048
378,995
3,718,043
2020/
1,217,766
0
1,217,766
2021/
1,651,427
2
1,651,429
The number of passengers1968/In (43), the number of people exceeded 10 a year.[7] But,1975/In (50), the number of people reached 54.7 a year.[8],1978/Over 53 million people a year in (100)[7]In 1981 (Showa 56), the number exceeded 150 million people / year.1982/(57)May 6ToTohoku Shinkansen(Omiya Station - Morioka Station) Opened, the number of passengers at this airport, where Haneda flights were operated, has been sluggish since the same year.Ueno Station --The section between Omiya Station has been extended and opened.1985/The flight was abolished with (60).
In the 1990sDeregulationByCheap flightsAppeared[9], Personal travel increased[9] In addition to this, the number of passengers is increasing due to the first international scheduled flights to the airport, the extension of the runway and the completion of the new passenger terminal building. In 1999 (Heisei 11), the number increased to 338.5 million / year.After that, it continued to level off, but in 2006 (Heisei 18) it exceeded the peak of 338.7 thousand people / year and 1999.[10]..With the rise in fuel prices, fare increases will begin on domestic flights from 2007 (Heisei 19).[11], The number of passengers has been declining. Since 1996 (Heisei 8), it has maintained more than 300 million people / year,Lehman shockSince the occurrence of 2008 (Heisei 20), the number has decreased below 300 million people / year.2011/(23)May 3Due to the damage caused by the tsunami caused by the 2010 off the Pacific coast of Tohoku Earthquake (Great East Japan Earthquake), business was temporarily suspended. For the first time, it fell below 22 million people / year and remained at 262.2 million people / year.[12].. In 2012 (Heisei 24), the resumption of routes recovered one after another.[13].. From April 2013 (Heisei 25)Cheap airlineThe number of passengers on domestic flights has increased significantly since the first service of the company, and since the same year, it has exceeded 300 million passengers / year again.[14].
The number one destination on the day of passengers with Sendai Airport as the destination side is Sendai City, which is about half of the total (1).%), 2th placeThree Views of Japan-MatsushimaThere isMatsushima Town(7.2%), 3rd place is in the neighboring prefectureYamagataIt is (4.5%), and about 3% of the destinations are outside Miyagi prefecture on the day.In the case of business, 72.4% of the respondents set the destination in Sendai City on the day, while in the case of sightseeing, Sendai City (24.8%), Matsushima Town (15.4%),Naruko Town(CurrentOsaki(Part of), and other destinations areAkitaTazawako Town(CurrentSemboku CityPart of)AomoriTowadaOr Yamagata CityMorioka,FukushimaOf neighboring prefectures such asPrefectural office locationAndTohoku regionSpread to various places[15].
Domestic flights
The number of domestic passengers peaked at 1999 million in 11 (Heisei 296.5) and decreased to 2000 million in 12 (Heisei 277.5).After that, it gradually increased to 2006 in 18 (Heisei 304.8), reaching the 300 million mark for the first time.However, it decreased again after that. In 2011 (Heisei 23), the number fell below 18 million for the first time in 200 years due to the impact of the Great East Japan Earthquake (177.7 million).[12].. 2013 (Heisei 25) degree,Peach(LCC)・Sky markThe number of passengers recovered to 298.9 million, the second highest level after 2006[14]..The following year, 2014, Skymark will open more routes, etc.[16]Recorded 307.2 passengers, the highest number in the history of port opening[17].
The ratio of passengers resident in the Tohoku region on domestic flights at Sendai Airport is 70% in Miyagi prefecture.Iwate9.2%,Yamagata8.2%,FukushimaIt is 7.7% and 4.9% for others, spreading to neighboring prefectures of Miyagi prefecture.[18]..Especially around Yamagata CityMurayama regionFukushima prefectureNakadoriNorthern andHamadoriIn the northern region, Sendai Airport is the airport of choice.
Among domestic passengers, there are more passengers coming from other regions (domestic flight visitor ratio 56.6%. Reference:Nagoya23.4%,Hiroshima52.3%).This is because there are many business customers from Kansai, Hokkaido, and Kyushu, and SendaiBranch economy cityIt reflects that.
International flights
The number of international passengers peaked at 2000 in 12, and the economy was sluggish.American terrorist attacksDecreased due to the influence of. Every 2003 (Heisei 15)SARSThe number decreased to 25.1.After that, the number of people recovered and reached 2007 in 19 (Heisei 35.0).After that, the number remained around 25, but in 2011 (Heisei 23), it decreased significantly to 6.9 due to the impact of the Great East Japan Earthquake.[12], Stayed at 26.5% compared to the previous year[19].. In 2012 (Heisei 24), it remained sluggish due to worsening relations with neighboring countries.Due to a series of suspensions, it was not possible to recover in a V shape.[20].. In 2013 (Heisei 26),Hawaii-ThailandAlthough regular flights to Japan have been launched, short-distance international flights have been suspended or reduced.The number of passengers also decreased slightly[14].. In FY2016, the number of regular flights to Taiwan and South Korea increased, resulting in a significant increase of 4% from the previous year.
Japanese passenger
The ratio of residents in the Tohoku region on international flights at Sendai Airport is 40.0% for residents in Miyagi prefecture, and the remaining 6% is for users from neighboring prefectures (Yamagata prefecture 19.7%, Iwate prefecture 14.3%, Fukushima prefecture 10.6%, others 15.4%)[18]..In particular, the utilization rate of Sendai Airport for Yamagata citizens traveling outside Japan exceeds 50%, and Sendai Airport is the first choice.[21].
The breakdown of airports used by Japanese departures residing in the Tohoku region in 1999 (Heisei 11) isNarita54.1%, Sendai 30.1%,Kansai6.1%,Aomori2.7%,Fukushima2.0%, Haneda 1.9%,Niigata1.2%, others 1.9%[22].
Foreign passengers
The number of foreign passengers at Sendai Airport is about 30% of all international passengers.[23]..The main purpose of travel for foreign passengers using Sendai Airport is for KoreansGolf,Ski, TaiwaneseSpaEtc. (Ratio of users by foreign settlement at Sendai Airport: South Korea50.0%,Taiwanas well as the Mainland China23.1%, Europe 11.5%).
History
As a place once used for airplane takeoff and landing in SendaiMiyagi field,Kawauchi OimawashiAnd so on. In 1933 (Showa 8), in the southeast of Sendai city areaMinistry of CommunicationsThe Sendai Airfield under its jurisdiction was established.Sendai Airfield was a stopover for regular flights between Tokyo and Sapporo[24]..This airfield was requisitioned by the expeditionary forces after the war, and then the Ground Self-Defense ForceKasumime GarrisonIt became.
On the other hand, in 1940 (Showa 15),Natori-gunTamaura VillageとShimomasuda VillageThe Army has set up an airfield in the area that straddles the area, and hereKumagai Army Flight SchoolMasuda branch school education corps was placed[24][25]..This airfield was requisitioned by the expeditionary forces after the war and then returned to Japan in 1956 (Showa 31).Ministry of TransportとDefense AgencyBecame a jointly managed area of[24]..This airfield was called Sendai Airfield[26]..The following year, in 1957 (Showa 32), the regular route connecting Sendai Airport and Tokyo International Airport (Haneda) was transported by Japanese helicopter (later).All Nippon Airways) Was established. In 1962 (Showa 37),Japan Air Self-Defense ForceHas moved from this airfield and has become a facility under the sole jurisdiction of the Ministry of Transport. In 1964 (Showa 39),Airport maintenance lawBased on the designation of Type XNUMX Airport, the name was changed to Sendai Airport at this time.[24].
As of 1964 (Showa 39), when it was established as Sendai Airport, Sendai Airport had one 1200-meter runway.Around this time, Japan was in a period of high economic miracle, and due to the increase in aviation demand, Japan was also in an era when aircraft materials were becoming larger and jets were being used.In response to this, runways were constructed all over Japan.The Ministry of Transport formulated the "First Airport Development Five-Year Plan" in 1 (Showa 1967), which resulted in the development of a 42-meter runway at Sendai Airport.This 2000-meter runway was newly constructed separately from the old runway, and at Sendai Airport, the old A runway and the new B runway, a total of two runways coexisted. Runway B was completed in 2000 (Showa 2), and in that yearJetIn service to Sendai Airport[27].
Since the opening of the port, the number of users of Sendai Airport has been increasing every year. In 1981 (Showa 56), the total number of passengers at Sendai Airport was about 150 million.However, when the Tohoku-Hokkaido Shinkansen opened temporarily between Omiya Station and Morioka Station in 1982, the number of Sendai Airport users began to decrease, and in 57 (Showa 1985) the Shinkansen went to Ueno Station. After the extension, the number of users dropped further.Comparing the required time and fare, the aircraft was disadvantageous and the railroad was advantageous for traveling between Sendai and Tokyo.As a result, All Nippon Airways' Sendai / Haneda flights were abolished in 60 (Showa 1985).[28].
The runway was made 2500 meters during the period from Showa to Heisei. Formulated by the government in 1987 (Showa 62)Fourth National Comprehensive Development PlanThen,Tokyo extreme concentrationThe purpose was to disperse to rural areas and to make the land multipolar.Among them, the expansion of the functions of regional airports was included for internationalization, and Sendai Airport was targeted.Under these circumstances, there was a move toward the launch of regular international flights to Sendai Airport.At that time, Sendai Airport had international charter flights, but no regular international flights. In 1988 (Showa 63), the "Sendai-Seoul Regular Flight Opening Promotion Liaison Committee" consisting of the Tohoku Economic Federation and Miyagi Prefecture was formed, and this member visited South Korea several times to cooperate in opening regular flights. I asked.Asiana Airlines responded to this by launching regular flights between Sendai Airport and Gimpo International Airport in South Korea in 1990 (Heisei 2).After this, regular flights from Sendai to Guam, Singapore, Hong Kong, Dalian, etc. continued.[29]..The 2500-meter runway was completed in 1992, and in commemoration of this, All Nippon Airways and Japan Airlines each flew with a Boeing 4.[26].. From 1996 (Heisei 8) to 1997 (Heisei 9), the new passenger terminal building was put into service, and in 1998 (Heisei 10), Runway B became 3000 meters.[30].. In 2007 (Heisei 19), the Sendai Airport Line, which is an airport connecting railway, opened.[25].
Great East Japan Earthquake
March 2011, 23 (Heisei 3) 11:14,Tohoku-Pacific Ocean Earthquake(Great East Japan Earthquake)There has occurred.The runway was closed immediately[31], About 1400 passengers, local residents and employees have evacuated to the terminal building.
15:56, due to the earthquake(I.e.Arrived and the airport and related facilities were flooded.The terminal building was flooded to a height of 3.02 meters, and a large amount of automobiles and rubble flowed into the first floor of the facility and leaked.gasolineThe freight building ignited.About 80 domestic flights and 8 international flights are scheduled to arrive and depart at Sendai Airport on this day, and passenger planes will not be parked 1-3 times a day, each only at intervals of a few minutes to 4 minutes. It wasn't, but if it operates on time, it will arrive at 20:1, one minute before the main shock.OsakaMiraculously there were no passenger planes on the runway because Japan Airlines flight 2209 from Sendai was delayed due to bad weather.[32].Japan Coast Guard,Aviation College67 aircraft including trainer aircraft, private small aircraft and helicopters[33] Was damaged by the tsunami without being able to take off, such as the hangar door being damaged and unable to go outside, or being damaged by contact inside the hangar.[31]..Of these, the Japan Coast GuardDHC-8-315Only "Mizu Nagi" was repaired, but repairs of other aircraft were abandoned.[34].
Air traffic control stopped due to the evacuation of the controller from the control tower immediately after the earthquake.Toho Airlines Tohoku Regional Development BureauWas entrusted with the operationDisaster recovery helicopter[35]And have a contract with NHKAll Nippon helicopterThe aircraft escaped accidental damage and took off at its own discretion without being subject to air traffic control, collecting information on the damage situation and relaying images of the tsunami that struck.[36][31][37].
1659 people, including passengers, local residents such as elderly homes, and airport staff, evacuated to the 3rd floor of the terminal.Airport loungeWas opened and the water and sweets displayed at the souvenir shop were distributed.[38].. In the afternoon of March 3ambulance,MicrobusArrived, evacuation of evacuees started, and all but the airport staff left the airport by March 3th.[34][39]..Foreigners among the evacueesTohoku UniversityWas only American astronomer Michael Mendiro attending the symposium[38].
XNUM X Month X NUM X Day,US Air ForcePacific Special Operations CommandYamagata AirportI took out a helicopter from the sky and scouted the disaster area from the sky.The U.S. military has been severely damaged in the transportation infrastructure of roads, railroads, and ports, and in order to make Sendai Airport a base for reconstruction support activities by air transportation, Runway B will take two days on the morning of the following day. Requested the Japanese side to remove the rubble and secure a clearance of 14 m, and in response to this, take charge of runway maintenanceMaeda Road[40] The restoration work was carried out at a rapid pace.The scene of the original runway drawn by the tsunami was scattered rubble andAutomobileNot only that, the body was also painful lying down.[34][41][42].
XNUM X Month X NUM X Day,United States Federal Government TheFukushima Daiichi Nuclear Power Plant AccidentConsidering the influence ofUS Army in Japan50 from the nuclear power plant to its own people includingMiles(80 km) Recommended to evacuate out of service area.Sendai Airport was within that range.In the meantime, the US military's Sendai Airport enlightenment operation was started.US Air Force 320th Special Tactical Squadron (Kadena Air BaseIn the early morning with a battle controller (resident)Yokota Air Base17th Special Operations Squadron Transport AircraftMC-130PBut,Japan Air Self-Defense ForceMatsushima BaseI landed on the sub-runway.Combat controllers as they areHumveeI took a ride and headed for Sendai Airport under the guidance of the Self-Defense Forces.When an instant control system using a backpack radio (portable radio) was established at Sendai Airport, restoration equipment and personnel of the 14rd Special Operations Unit were installed at 30:353.MC-130HForced to land on Runway B.Officials who were watching were amazed at the pilot's ability to land on the runway, which is only 1500 meters long."That flight was the scariest thing I've ever done," said the pilot.In addition, by March 3th, will be resident at Camp Kisner.US Marine CorpsCombat Support Regiment consisting ofCamp FujiU.S. Marine Corps entered the airport by land with heavy equipment, and on March 3, a large transport aircraftC-17Has recovered by the time it can land. On March 3,Sagami General Supply DepotからUS ArmyThe 35th Logistics Task Force was dispatched to take over the Air Force and Marine Corps for restoration work at Sendai Airport (removal of rubble and about 3,000 damaged vehicles, etc.)[41][42][43]..U.S. troops involved in the restoration effort on March 3Garbage pickingWithdrew after[44].
The U.S. military will use this airport to transport more than 200 million tons of food, water, and blankets to the disaster area, and until April 4, the U.S. Air Force, the Marine Corps, and the Self-Defense Forces will carry out joint relief activities between Japan and the United States.Operation TomodachiWas used as a base for.
On April 4, "" made using driftwood on the coast near Sendai AirportARIGATOWas discovered by Colonel Robert Toss, the commander of the Sendai Airport restoration work, and he said that he was honored to be able to assist in the restoration of Sendai Airport in a later memorandum.[45][46].
Immediately after the disaster, Sendai Airport, which was thought to take at least half a year to recover its functions, was restored in an astonishing 33 days by the joint work of the US military and Maeda Road.[47][48]On October 4stJapan AirlinesHas resumed the first flight[Note 3][49][50],Japan Airlines·All Nippon Airways-AIRDO-IBEX AirlinesOperates a special flight.May 7All Nippon Airways / AIRDO / IBEX Airlines[51],May 9Regular flights of Japan Airlines resumed[52]..With the complete restoration of the terminal building on September 9, international flightsSeoul/Incheonline(Asiana Airlines) Regular flights resumed, and then the flights were resumed on July 2012, 24.Changchunline(China Southern Airlines) All routes were restored with the resumption[53].
Sendai Airport RailwayWas damaged by the submergence of the tunnel on the airport premises.May 4After that, we operated on behalf of the bus.May 10ToSendai Airport StationReopened on the same daySendai Airport LineHas been fully restored[54].
Airport privatization
Chronological Table
Facility
Terminal building
Overview
Opening

International Passenger Terminal-March 1998
Domestic Passenger Terminal-July 1999

Operation --Sendai Airport Building
Total floor area --44,170.59m2 [74]
Number of gates --52 berths

Jet gate: 14 berths (3 berths for international flights, 10 berths for domestic flights, 1 berth for shared flights)

Large jet: 4 berths
Medium jet: 4 berths
Small jet: 6 berths

Gate for small aircraft: 38 berths
Floor composition
General area
Restricted area
Domestic flights
International flights
R floor

Rooftop observation deck "Smile Terrace"

3 floor

Airport Museum "Tobucha"
Business lounge "EAST SIDE"
Paid waiting room
Restaurants

Sendai Airport Station-
Parking lot connecting passage
2 floor

Domestic departure lobby
Domestic check-in counter
International departure lobby
International check-in counter
Prayer room
Cafe / shopping zone

Boarding gate
Security inspection
Boarding room
Stand

Boarding gate
Security inspection
Immigration control
Departure waiting room
Duty free shops and cafes

M2 floor

Arrival concourse
Quarantine inspection station
Immigration office

Bus/Taxi
Platform
1 floor

Domestic arrival lobby
International arrival lobby
General information center
Service counter
Tourist office
Paid waiting room
Center Plaza
Restaurant / convenience store
XNUMX BankSendai Airport Branch Office

Baggage claim
Customs inspection
Freight terminal
Located to the west of the airport terminal building, adjacent to the control tower.
Control facility
Sendai Airport Office, Tokyo Civil Aviation Bureau, Ministry of Land, Infrastructure, Transport and Tourism
Base organization, etc.
List of routes in service
Domestic flights
If there are two or more airlines, operate with the aircraft / crew of the airlines listed in the upper row.Jointly operated flights (codeshare flights).
IBEX AirlinesとPeach Aviation BaseIt is an airport.
COVID-19Due to the influence of, some routes have been suspended for a long time.For details, refer to the websites of airline companies.
Airlines
Destination
Japan Airlines (JAL) [Note 5]
New Chitose,Osaka/Itami,Fukuoka
All Nippon Airways (ANA) [Note 6]
New Chitose,Tokyo/Narita,Nagoya/Chubu, Osaka / Itami
Sky mark (SCI)
Kobe
Air Do (ADO)
・ All Nippon Airways (ANA)
New Chitose
IBEX Airlines (IBX)
・ All Nippon Airways (ANA)[Note 7]
New Chitose, Nagoya / Chubu, Osaka / Itami, Hiroshima,Matsuyama(Operates until March 2022, 3)[75],Fukuoka
Fuji Dream Airlines (FDA)
・ Japan Airlines (JAL)
Izumo
Peach Aviation (APJ)
New Chitose, Nagoya / Chubu,Osaka/Kansai,Naha
(Departure and arrival at Sendai Airport) Number of passengers / ranking by service route in 30[76]

| route | Number of passengers | Ranking |
| --- | --- | --- |
| Osaka International Airport | About 89 million people | 33 bit |
| New Chitose Airport | About 81 million people | 36 bit |
International connecting flights
Some flights connecting Sendai Airport with Narita International Airport, Chubu Centrair International Airport, New Chitose Airport, and Fukuoka Airport are given the flight number of a foreign airline as a code-share flight.Use with a foreign airline flight number is limited to international connecting passengers, and use only with domestic flights is the flight number of the operating airline.Also, for flights connecting Sendai Airport and Taiwan Taoyuan International Airport, as a code-share flight,Third countrySome flights are given the airline flight number.Use with the airline flight number is limited to passengers connecting to a third country.
International flights
If there are two airlines, the flights are jointly operated by the airline's aircraft and crew listed in the upper row (codeshare flights).
COVID-19Due to the influence of, all flights are suspended.
Destination city
Domestic flights
International flights
Sightseeing flight
At Sendai Airport, four companies carry out scenic flights with Cessna planes and helicopters.For daytime operations, Sendai city area and Matsushima,Zao mountain range,Mt. KurikomayamaThere is a course to see the sky above.Night flights are also held seasonally, and in the summer, night flights to see fireworks held in various parts of Miyagi prefecture from the sky and the end of the yearSENDAI Light PageantDuring the periodJozenji StreetNight flights over Sendai City will also be held.
Future flight plans
New service
Former regular service routes
Domestic flights[79]
International flights[80]
Foreign relations
Overseas sister airport tie-up
Overseas friendly airport tie-up
Transportation
Train
bus
Automobile
As for parking lots, in addition to the public parking lot in the airport (accommodating 1,195 cars), there are 10 private parking lots in the vicinity that can accommodate about 2,400 cars.[83].
Taxi
It takes about 30 minutes from Sendai Station to the airport, and the fare is 5,600 yen.In addition, the expressway toll (500 yen) will be added in addition to the fare.[83].
Around
The Teizan Canal (Teizan Moat) runs north and south on the east side of the airport.This canalEdo PeriodIt was excavated as a wooden moat, and it came to be called the Teizan Canal after the renovation in the Meiji era.The Pacific Ocean is about a kilometer further east across this canal.
oldSendai Army Flight SchoolThere was an aviation shrine that was created in 1939 (Showa 14).Occupation periodIn 1945 (Showa 20)TroopsBecause the school was requisitionedGod bodyIs located in Shimomasuda, Natori City, about 300 meters east of the current airport terminal building.Shimomasuda ShrineWas transferred to[84]..Also, in Ninokura, Iwanuma City, about 5km south of the airport, there is Ninokura Shinmeisha, where the god of aviation safety is enshrined.[85][86].
In Iwanuma city on the southwest side of the runwaySendai Airport Rinku ParkIs installed.Initially, it was scheduled to start operation as Nakatsubo Rinku Park in April 2011, but it will be in service on April 23, 4, which is one year behind due to the effects of the Great East Japan Earthquake. It was started.
Around the airportHotelIt is,business hotel TheMorisekinoshita StationNearHotel Route InnNatori and Hotel Route Inn Natori Iwanuma Interchange-Sendai Airport-.City HotelIs closest to Sendai city.
Incidents / Accidents / Serious Incidents
1963/(38)May 5

ChitoseDepartureMisawaViaAll Nippon AirwaysFlight 802 (Douglas DC-3, JA5040)Landing returnIt became impossible to fly due to the failure of.Detail isAll Nippon Airways Sendai Airport landing failure accidentSee.

1985/(60)May 12
2012/(24)May 2

ItamiAll Nippon Airways flight 731 (Airbus A320, JA8384) departingLanding returnThe rear part of the aircraft touches the runway when doing[88]..No one was injured, and as a result of an investigation by the Japan Transport Safety Board, it is highly probable that the cause was that the nose rose sharply when the go-around was carried out, causing the lower rear part of the aircraft to come into contact with the runway and be damaged.[89]..Although the accident aircraft JA8384 was repaired, it had already been manufactured for 21 years, so it was retired as it was, and after erasing the logo, AirAsia Japan (currently,Vanilla air), And used as a training aircraft until the company's first unit arrived, and was deregistered on July 1, the same year after a series of training was completed.
2012May 10

On the premises, 1.2 km west of the terminal building, 40 m south of the parallel taxiway on Runway B.Pacific WarinsideU.S. ForcesDroppedUnexploded ordnanceWas discovered, and all 92 domestic and international flights were canceled.[90][91]..On the same day, a concrete retaining wall and a protective wall with embankment were constructed around the unexploded ordnance, and emergency measures were taken.Unexploded bullet processingStop using Runway A until the event is held.Operated to bypass the taxiway near unexploded ordnance[91].May 11After temporarily closing the airport in the morningfuseWas removed and removed[92].
footnote
注 釈
Source
References
Sendai City History Edition Committee "Sendai City History" History Edition 9 (Modern 2) Sendai City, 2013.
外部 リンク