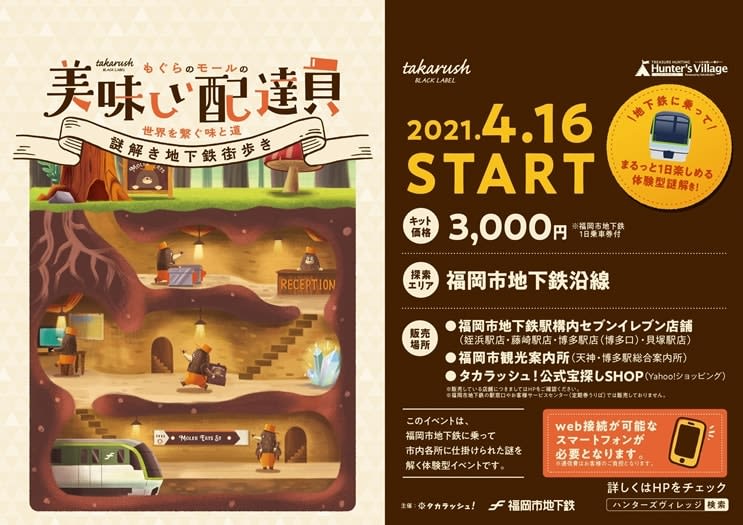 Photo "Mole Mall Delicious Deliveryman" B5 Poster
To hold the first experience-based puzzle-solving event "Mole Mall Delicious Delivery Staff" on the Fukuoka City Subway
 
If you write the contents roughly
The Fukuoka City Transportation Bureau says, "This is an event that will surely make you like Fukuoka and the subway more." 
The Fukuoka City Subway, operated by the Fukuoka City Transportation Bureau, works with Takarash Co., Ltd. and is set in facilities along the subway. → Continue reading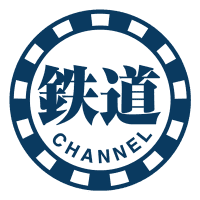 Rail channel
Train channels are always immersed in the train! This is a railway specialized channel for railway fans.
You can check the latest railway news you are interested in at once!
---
Wikipedia related words
If there is no explanation, there is no corresponding item on Wikipedia.
Fukuoka City Transportation Bureau
Fukuoka City Transportation Bureau(Funny,British: Fukuoka City Transportation Bureau) IsFukuokaFukuoka CityAt the innerPublic transport businessIn Fukuoka CityLocal public enterpriseone of.subwayDoing business only, operating 3 lines 29.8km subway line.
Overview
The official name of the Fukuoka subway business isFukuoka City High Speed ​​RailJR's seat reservation systemMars] Is also registered under this official name. After opening, there was a time when it was called "Fukuoka Municipal Subway" in the passenger guide, but now it is "Fukuoka City SubwayIs used.
In Fukuoka City before the opening of the subway, the bus business in the city and the tram business running in the center of the city are not municipal, but are pure private companies.West Japan RailwayIt was operated by (Nishitetsu). Therefore, the transportation bureau will be the first (before the openingFukuoka City High Speed ​​Rail Construction Bureau(As) the organization that was established. From that background, JapanPublic transportThe only business operator to own a transportation system other than buses consistently from the beginning, and have never had a bus business including the past (this is also the only case of a public transportation operator in Japan). Initially, the Department of TransitNishitetsu Fukuoka city line) Was hired to become redundant employees of Nishitetsu, but all of them were retired, and almost all current regular employees except some technical staff were directly hired in Fukuoka City. Staff.
After opening the subway,Nishitetsu busIs located in the center of Fukuoka, where the subway has an overwhelming advantage over the time required.Fukuoka AirportIn addition to abolishing the airport connection bus route connecting the two, parallel line reorganization, abolition, reduced flights, etc., while suburban areas along the subway and city centerFukuoka city highwayWe have also established a new bus route that connects directly to the subway in front of the subway in the required time, and is fiercely competing with each other.
In Fukuoka City, as a municipal transport business before the opening of the subwayFukuoka municipal ferryIs operating, but this businessPort and Airport BureauIt is under the jurisdiction of (General Affairs Department Cruise Ship Office) and has no direct relationship with the Transportation Bureau.[Annotation 1].
Business conditions
Fukuoka City's subway is used by 148,202 thousand people a year (1 people per day) (406,035: 2014 days)[1].
In 2004, about 14 million yenSurplusWas secured. It has been in the black for the second consecutive term since 2003, but again after 2 when the Nanakuma Line opened.deficit[2] It has become. After that, in the fiscal year 2011, it was in the black of about 7 million yen, and in 9700, it was in the black of about 2012 million yen.[3], 2013 surplus of about 15 million yen[4]In fiscal 2014, an extraordinary loss of approximately 82 million yen was incurred due to a review of the public enterprise accounting system, resulting in a deficit of approximately 6300 million yen.[1] Is. In addition, we receive operating cost subsidy from Fukuoka City, and the amount is about 2012 million yen, about 2014 million yen, and about 26 million yen, respectively, from 9400 to 21, respectively.[1][3][4].
Changes in subway transport personnel
(Unit: Thousands)
2003 --104,573
2004 --104,932
2005 --114,211 Nanakuma Line (February 2) opened
2006 --120,811
2007 --123,906
2008 --125,826
2009 --123,865
2010 --127,136
2011 --133,434
2012 --137,246[3]
2013 --143,152[4]
2014 --148,202[1]
2015 --156,081[5]
2016 --160,390[6]
2017 --165,786[7]
History
route
It consists of the following three routes. Airport Line and Hakozaki LineNarrow gauge, The Nanakuma LineStandard gauge OfIron wheel type linear.ElectrificationMethod on all routesDCIt is 1500V. Although all lines are located in Fukuoka city,South wardThere is no route to.
Mutual direct operation section
JR Kyushu on the airport lineChikuhi LineWithMutual direct operationIs being done. The vehicles of the Fukuoka City Transportation Bureau areMeinohama Station - Chikuzen-Fukae StationTake the Chikuhi Line between them, and the JR Kyushu trainKaratsu LineNishi Karatsu StationFrom then, take the Chikuhi Line to all the airport lines.Fukuoka City Transportation Bureau and JR Kyushu trains are all on the subway lineATObyOne-man drivingAnd take the Chikuhi line for JRconductorIs on board and performs two-man driving.
There is no mutual direct operation with other companies on the Hakozaki Line and Nanakuma Line.Connect with Hakozaki Line several timesNishitetsu Kaizuka LineMutual direct operation with was considered, but it is expected to be frozen from the viewpoint of cost effectiveness.
Extension plan
Scheduled extension line
Color
symbol[9]
Route number
Route name
section[Station number in parentheses][10]
About a kilo
绿
N
3
Nanakuma Line
Tenjin Minami Station (N16)- Hakata Station (Undecided)
1.6 km
Nanakuma LineThen, as a whole plan, from Tenjin Minami Station to Nakasu Kawabata Station to connect the Chikko Port, and branch near Watanabe Dori 1-chome (Yakuin Station East)Sumiyoshi StreetviaHakata StationHad a plan to get into[11].. Then from Tenjin Minami StationCanal City HakataPlan to board Hakata Station via the neighborhood[12] Was also considered. Of these, the third plan was adopted, and the railway business license for the section from Tenjin Minami Station to Hakata Station was obtained.[13], Construction has begun.Initially, it was scheduled to open in 2020, but on November 2016, 11, a large-scale road collapse accident occurred near the Hakata Ekimae 8-chome intersection due to this construction, and the construction was temporarily suspended, and in 2 Has been postponed to[14]("Hakata station front road collapse accidentSee also).
またAirport lineBut from Fukuoka Airport StationHigashihirao ParkThere is a concept of extension to the direction[15].
BesidesIsland cityThere is a plan to develop a railway line to, but it is virtually frozen.
symbol mark
The stations on each line of the Fukuoka City Subway are named after the station name, sightseeing spots around the station, specialties, and nature.symbol markHas been enacted. For exampleTenjin StationThe symbol mark of "" is the origin of the place name.TenjinBy the way,Michio ShinoharaLovedplumWith a flower motif,Tenjin Minami StationThen.Let's goIt depicts a child doing. They areFukuoka CityFromグ ラ フ ィ ッ ク デ ザ イ ナ ー,Nishijima IzioWas designed by[16].Nanakuma LineIsao is about the symbol mark of each station2001Was completed by his son, graphic designer Masayuki Nishijima, based on the draft that had been drawn before that.[17].
Station numbering
By March 2011Station numberingHas been introduced and is used in combination with the conventional symbol mark[9][10].. Since the Fukuoka City Subway initially had a symbol mark, numbering was unnecessary, but many countries have numbering, and it is difficult for foreigners to understand without numbering, and foreigners can understand it due to internationalization. I decided to use numbering because of the trend of ease.
Safety measure
PassengersplatformTo prevent it from falling onto the railroad tracks or jumping offHome door(Guard fences) are installed at all subway stations (Mitsubishi ElectricMade[18].. The airport line was installed at all stations in 2004, the Hakozaki line was installed at the end of 2005, and the Nanakuma line was installed at all stations since its opening in 2005). When a subway car arrives at the station, the car door and platform door open and close, allowing passengers to get on and off. Platform doors are the vehicles of the Fukuoka City Transportation Bureau equipped with ATO and JR Kyushu.303 series-305 seriesIn the case of, it opens and closes in conjunction with the vehicle door.
District station
Meinohama District Station-From Meinohama Station to Fujisaki Station
Tenjin District Station-From Nishijin Station to Tenjin Station
Hakata Ward Station-From Gion Station to Fukuoka Airport Station
Kaizuka District Station-From Nakasu Kawabata Station to Kaizuka Station
Tenjin Minami District Station-From Tenjin Minami Station to Chayama Station
Hashimoto District Station-From Kanayama Station to Hashimoto Station
vehicle
Airport Line / Hakozaki Line

Vehicles for the Airport Line and Hakozaki Line are also used for direct access to the JR Chikuhi Line.
Nanakuma Line
Prices
The Fukuoka City Transportation Bureau calls the fare a "fare".
Adult ordinary passenger fare (half price for children, rounded up to less than 10 yen). Revised October 2019, 10[19][20].
| Number of wards | About a kilo | Fare (yen) |
| --- | --- | --- |
| 1 wards | First ride 3Km | 210 |
| 2 wards | 4 - 7 | 260 |
| 3 wards | 8 - 11 | 300 |
| 4 wards | 12 - 15 | 340 |
| 5 wards | 16 - 19 | 360 |
| 6 wards | 20 - | 380 |
Lives in FukuokaWelfare boarding certificateFree for owners.Physical disability certificate-Nursing notebook-Mental disability certificateOwner[21], Caregiver (conditions apply) is half price[22].
Tenjin Station-Tenjin Minami StationThe fare for connecting between the Airport Line / Hakozaki Line and the Nanakuma Line can be calculated by exiting the ticket gate of one station and passing through the ticket gate of the other station within 120 minutes. However, in the case of a regular ticket (general magnetic ticket), it is necessary to go through the green ticket gate at the time of entry (otherwise it will be collected). There are no restrictions on ticket gates for IC cards and special tickets.
You cannot purchase a ticket for the Airport Line / Hakozaki Line at Tenjin Minami Station, or a ticket for the Nanakuma Line at Tenjin Station. A broadcast that conveys this content is being broadcast near the ticket vending machine at Tenjin Minami Station.
JR Kyushu / Fukuoka City Subway Common Prepaid Card "Pretty card(Released in 2011, discontinued) When using, the fare on the subway line was discounted by 20 yen.
Contact transportation
Fukuoka City High-Speed ​​Rail Communication Regulations[23] Based onKyushu passenger railway(JR Kyushu) andWest Japan RailwayThe following among (Nishitetsu)Contact transportation(Mutual communication transportation) is set.
In addition, with JR companies, one-way / round-trip / continuous tickets, commuter passes / group tickets within 100km of the JR line, are as follows.Transit communication transportationIs set. Transit transportation with Nishitetsu (Tenjin Omuta Line-Subway-Kaizuka Line, etc.) is not set.[24].
Airport Line Meinohama Station-JR Chikuhi Line (all lines) / Karatsu Line (via Hakata Station)Ogi Station --Between Nishi-Karatsu Station) Each station and JR KyushuJR West Japan-JR Shikoku-JR TokaiWhen boarding between stations (except for the following exceptions, the Fukuoka City Transportation Bureau will not sell)

Airport Line Nagihama Station-Hakata Station JR Chikuhi Line (Shimoyamamon Station-Karatsu Station), Karatsu Line (Karatsu Station-Nishi Karatsu Station) JR Kagoshima Main Line (Mojiko Station-Omuta Station), Kashii Line (All lines), Shinoguri line (all lines), Chikuho main line (all lines) When boarding between stations, only commuter tickets with a JR line boarding section of 100 km or less will be sold at the Fukuoka City Transportation Bureau.
JR EastandJR HokkaidoThe transportation regulations have been abolished.
Boarding within the IC card area (specifically, "Nishi-Karatsu-Shimoyamamon"-(via Nagihama / Hakata)-"SUGOCA's Fukuoka / Saga / Oita / Kumamoto area stations other than Chikuhi Line / Karatsu Line / Hakata Station In the case of (ride)SUGOCA,HayakakenEven if you board with an IC card, the fare will be calculated as transit transportation.[25](Settle once at the subway ticket gate at Hakata Station, and settle the rest again at the station where you get off after the transfer).
If the total number of operating kilometers of the JR section exceeds 100km, you can get off the train on the way (IC cards are not applicable. You cannot get off the train on the subway line).
If you take the Fukuoka City Subway directly from Hakata Station and head toward the JR Chikuhi Line, you can purchase it at the JR Hakata Station Midori no Madoguchi.
Planning ticket
A one-day ticket that can be used on all Fukuoka City subway lines is issued for 640 yen (320 yen for children). We also offer a service where you can get a discount on some of the facilities in the city by presenting this ticket. For a one-day pass,Hakata Dontakuなどのお祭りや特定イベント、特定日(正月など)の時に限定で、通常より100円安い520円で発売される時もある(発売予定に関しては、福岡市交通局の公式ホームページで確認できる)。2017年現在、1区料金では4回以上、2 - 3区料金では3回以上、4区以上の料金では2回以上利用する場合、一日乗車券の方が安くなる(小児除く)。

Fami Chika Ticket

1000 yen per family (up to 2 adults, no limit on the number of children and toddlers 2RelativeA one-day pass that can be used only by relatives inside.In addition, we are also implementing a "Park & ​​Ride Family Discount" for "Fami Chika Ticket" users to receive a 100 yen discount ticket for the parking lot fee on the day only at the target parking lots at Hashimoto Station and Meinohama Station.[26].. Internet sales also started on April 2021, 4[27].

Family pair ticket

A set of one-day tickets for adults and children, which went on sale on July 2018, 7, can be used by one adult and one child.[28].. 800 yen. Internet sales also started on April 2021, 4[27].

1-day free ticket between Tenjin and Hakata

Contactless paymentCorresponding toCredit card(Visa touch paymentThe first one-day pass in Japan that can be used by touching the card corresponding to) with a dedicated ticket gate[29]..You can get on and off the train between Hakata Station and Tenjin Station on the Airport Line for one day.Also,Jordan OfTransitUse on smartphone with appDigital ticketAlso released as.Release period is from April 2021th to August 4th, 16[30].
All-you-can-ride commuter pass for all subway lines (Airport Line, Hakozaki Line, Nanakuma Line) (planned ticket under the fare system). A one-month ticket costs 1 yen. There are also 12,570-month tickets (3 yen) and 35,830-month tickets (6 yen).[31].. If the regular fare is 3 wards (1 yen per month), depending on how often you go to other areas, if the fare is 11,850 wards or more (4 yen per month. Example: Tenjin Minami-Hashimoto), the Chika Pass Cheaper (excluding children)[32].
Discount system for users aged 65 and over of "Chika Pass". It will be cheaper than for children and commuting, such as 1 yen a month. AlsoDriver's licenseOn May 3000, 2017, we started a service that gives 5 points to voluntary returnees as a "driver's license refund discount".[33].
A commuter pass that includes the Fukuoka municipal bicycle parking lot commuter pass. It will be up to 5,400 yen cheaper than the regular bicycle parking lot fee. You can use the Fukuoka Municipal Bicycle Parking Lot not only along the subway but also along the JR Kyushu and Nishitetsu commuter pass transportation sections.

Avispa Support Ticket

Fukuoka cityJ League-Avispa FukuokaBecause it is a major shareholder ofBest Denki StadiumFreestyle tickets (advance ticket prices for each seating area) that can be used in any of Avispa Fukuoka's home games held at Avispa Fukuoka and a one-day subway ticket are sold at each subway station.

Ito / Campus coupon ticket

Ito / Seaside coupon ticket

Chikuhi Line from each subway stationKyudaikenkentoshi StationviaShowa Bus・ A coupon ticket that allows you to board between "Kyushu University Faculty of Engineering" or "Nishi no Ura" / "Hatanaka" / "Ohara Bridge". Each is a 10-sheet coupon ticket, so please refer to the website for details (no pediatric settings).[34][35]
Prepaid Card
From 2009 year 3 month 7 dayIC card ticket"HayakakenHas been introduced.
Kyushu passenger railway(JR Kyushu) IC card "SUGOCA],West Japan RailwayIC card "nimoca"and,East Japan Railway(JR East) IC card "SuicaIn February 2008, the "Kyushu IC Ticket / Electronic Money Mutual Use Council" was launched in the direction of compatibility with "Kyushu IC Tickets".2010Mutual use started on March 3th[36][37].. Other than thatANA In partnership with (ANA), "ANA Hayakaken" has been issued since December 2009, 12.[38].. September 2013, 3Transportation IC card nationwide mutual use serviceBy the startHokkaido passenger railway(JR Hokkaido)Kitaca, Greater Tokyo area private railways, etc.PASMO, Chukyo area private railway, etc.sense of,Tokai passenger railway(JR Tokai)TOICA,West Japan Railway Company(JR West Japan)ICOCA, Kansai private railway, etc.PiTaPaMutual use has started.
Tickets issued in the past
Neighbor ticket

2006May 4The fare between the station you boarded and the station next to it was set at 1 yen, and a special ticket was sold to the next station under the name of "Neighborhood Ticket" and was introduced in 100. Even when using the IC card "Hayakaken" (including IC cards of other companies that can be used interchangeably), the fare was 2009 yen. The "Efu Card" that can be used until 100 and the "Yoka Net Card" that can be used until 2013 are also 2011 yen, and the "Wai Wai Card" that can be used until 100 is discounted by 2011 yen from the regular fare. It was 20 yen. However, in the case of a commuter pass or a ticket for connecting to another company's line, the discount was not applicable even if the boarding section on the subway line was between one station. With this "neighborhood ticket", there was a section where you could ride cheaper than riding through two stations. In addition, it was not applied in the over-the-counter settlement.

Example: Hakata --Higashi Hie --Fukuoka Airport (260 yen if you ride through, 100 yen for 100 yen + 200 yen if you buy separately. Furthermore, if you use a Wai Wai card, it will be 80 yen for 80 yen + 160 yen. )

2016May 9With this, the next-door ticket will be abolished, and after that, the normal first-ride fare will be required.[39].. As an alternative, we switched to "Hayakaken Hitoshi Station Points," which gives 100 points to Hayakaken when using one station section with "Hayakaken."
Until September 2016, 9, the "Eco Chika Ticket" limited to weekends and holidays was on sale for 25 yen.[39].. Also, until the summer of 2016, the "Chikamaru Ticket" for children was on sale for 100 yen during the long school holidays.[39].. For "Chikamaru Ticket"McDonald'sIt came with a free voucher for orange juice.
From October 2016, 10, it will be used as a regular one-day pass on weekends and holidays.
Only available on Fridays until March 2012, 3No My Car Day"One-day ticket" was also on sale, but it was discontinued in April of the same year as Fukuoka City held "No My Car Weekday".[40].. In the past, the "Eco Chika Ticket" was released only on the second Saturday and Sunday, and the "No My Car Day 2-day ticket" was released 1 days before Friday, but the "Eco Chika Ticket" is available.2009May 3The number of days of use has expanded since then, and the pre-sale of the "No My Car Day 1-day ticket" was abolished from March 3, the same year, and both tickets were only sold at automatic ticket vending machines, and the number of tickets sold was lifted.[41].
In addition, "Yoka Net Card", "Wai Wai Card" with a 1 yen discount for each ride, and "Efu Card" with a high discount have been abolished in order to unify the IC cards.
Mimamori Touch
Mimamori TouchIs a service provided by the Fukuoka City Transportation Bureau from July 2010, 7, that uses the IC card ticket "Hayakaken" to confirm the whereabouts of school children.FeliCaUsing the pocket area, the terminal and systemNippon SignalCompany[42].. For similar servicesAnshin GoupasThere is, but the system is different.
Registration is required in advance. When a child holds an IC card ticket over the IC card-compatible ticket gates at each station and the readers installed at 77 public facilities (as of October 2010), the parent or guardian will be contacted by e-mail. Free for the time being[43][44].
footnote
注 釈
Source
Related item
外部 リンク