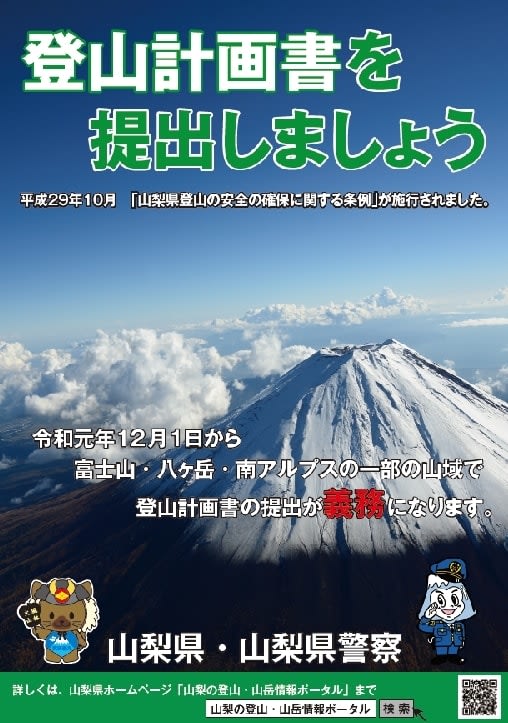 Photo:
In Yamanashi Prefecture, it is mandatory to submit a mountain climbing plan for mountain climbing to designated mountain areas [Yamanashi Prefecture]
Based on the record high number of mountaineering accidents in Yamanashi Prefecture in XNUMX, the safety of mountain climbing in October XNUMX ... Read more
From PORTALFIELD editorial department
It has been a long time since the submission of mountain climbing plans has become compulsory in mountainous areas in various places, but Yamanashi Prefecture seems to be embarking on a full scale.
However, I was a little worried about the "safe mountaineering promotion priority area", which was completely mandatory, but the mountain range and mountains aside, the period was from December 12 to March 1.
This period is just the winter season and the remaining snow season, but is it mandatory only during this period? That is honest. Certainly, it is a season when the risk increases than climbing Natsuyama.
According to other seasons and mountain areas, it is said that it is not a duty but an "effort obligation", but if you make an effort, will the number of submitters of mountain climbing reports increase as expected?
In the first place, if you think that you should submit a mountain climbing report because you are obliged to make an effort, it seems that many people already have the habit of submitting a mountain climbing report, but those who do not submit a mountain climbing report from the usual day Regarding, it was an honest opinion that the duty of "effort" would not have much effect.
As a matter of fact, not all climbing gates have ticket gates, and if you do not submit it you will not be able to enter the mountain at present, such as securing human resources and costs.
However, even with a slight change in the consciousness of climbers, it seems that the submission rate can be expected to improve, and in response to this movement in Yamanashi Prefecture, areas where such efforts will be made will increase in the future. think.
Personally, given that it often becomes a problem whether or not I had to submit it in the unlikely event of a distress accident, I would like to see the mandatory flow of mountain climbing submissions throughout the year.
 Oldness and dispatch